5 tips for improving home office productivity – from top interior designers
Matthew Williamson, Kit Kemp, Andrew Martin and more on how to stay inspired in your home office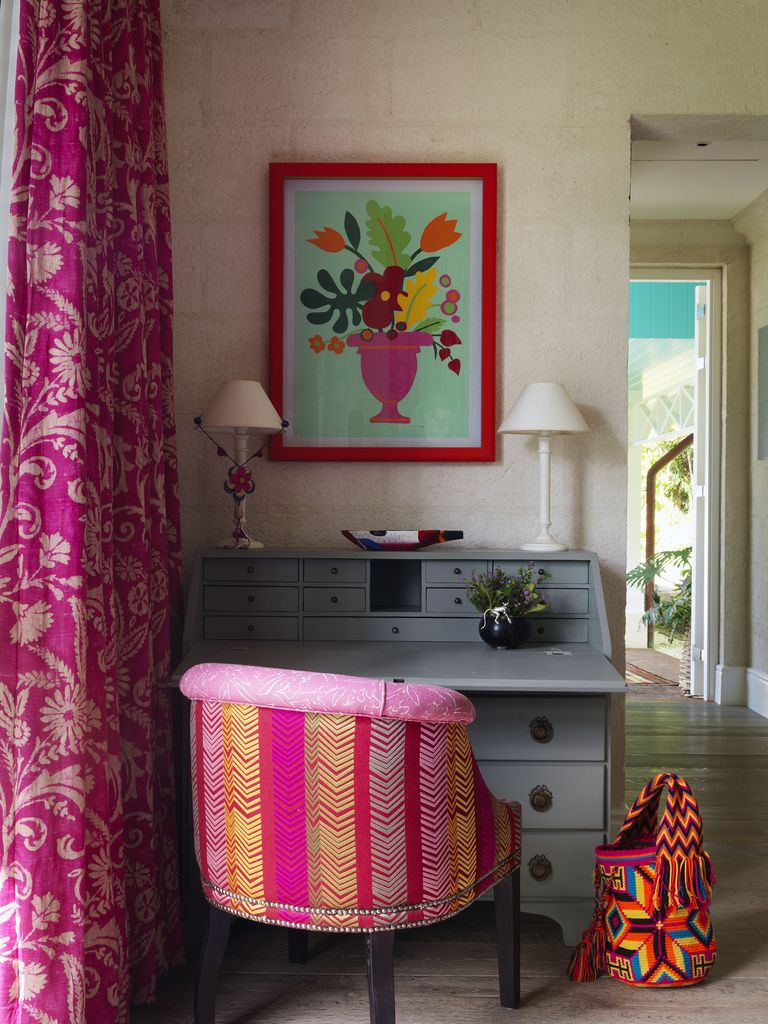 (Image credit: Kit Kemp)
Creating a stylish designated space for optimum home office productivity is key now that working from home is our new reality. Yes, it's time to elevate your work station from your bedroom to a separate space to inspire and boost your energy.
The majority of us have been working from home since March 2020 and, according to research conducted by Savills real estate agent, 44% of people said a separate work space is now a home must-have. 
See: Home office ideas – clever ways to decorate that are smart, practical and stylish
But, whether you have a separate home office or are working from your living room, you will be looking to create the best way to inspire creativity and productivity in your new workspace.
Four top interior designers, including Kit Kemp and Matthew Williamson, offer their tips on creating an inspiring space below, from displaying beautiful trinkets and using vibrant color schemes and artwork to creating clutter-free spaces and picking pretty reading lamps.
1. Feel connected to your space, says Matthew Williamson
'Home offices should be places entirely distinct from your home life,' says Matthew. 'When you enter your home office, be it a separate room or even a corner in your living room, you should feel connected to whatever it is that you want to achieve that day. The way you decorate and furnish this space should be comfortable and inspiring, whether you surround yourself with plants, trinkets, and lamps, or whether you keep it sleek with simply a notepad and a stylish paperweight.
'My own home office is more of a studio. I keep my current visual projects on display around me to maintain the momentum of creative ideas, as well as to catalyze new ones. I love to be surrounded by color, materials, and patterns to help me visualize new design schemes or pieces for the home. My current workspace is in my lounge, so when I'm finished at work for the day, I hide that space with my new circular room divider from my recent collaboration with Roome London.'
2. Make sure it feels uber-luxe, says Martin Waller of Andrew Martin
Andrew Martin's Martin Waller urges us to consider making the home office as luxurious as the rest of our interiors.
'2021 brings with it the continuation of home working, and so the home office becomes ever more pertinent,' he explains. 'This year we will be embracing combining a wide range of materials to create an uber-luxe and inspirational workspace.
'A home office must be designed as a space to induce thought. It wants to have crisp, clear lines, comfort and creative inspiration by way of artwork or patterned wallpaper. A desk light is a good way to add style and design-led angles to an office as well as being imperative for spot lighting. A chair has to be comfortable, but it is important to get the level of comfort right.  From tactile faux shagreen and deep pile velvet, to sleek chrome and hammered iron there's an abundant wealth of textures to choose from.'
3. Be surrounded by beautiful things, says Kit Kemp, Firmdale Hotel 
Kit Kemp, founder and creative director of Firmdale Hotels, brings her trademark eye for print, pattern and color to her work spaces.
She explains: 'Work spaces at home are very important. A place to put pen to paper or Zoom or computer studies.  Everyone needs their private space or desk where they can concentrate.
'The importance of tea breaks and moments of inspiration are now solely our own venture. Having a clear space to sit and work at is paramount, but of course being surrounded by beautiful things is more important than ever to keep us feeling inspired, whether it's beautiful fresh flowers or a pretty reading lamp.'
She adds that beautiful pieces of furniture, like an antique writing desk, and colorful, vibrant prints and artwork can also inspire creativity.
4. Keep your home office calm and clutter-free, say Camilia Clarke and Ottalie Stride, Albion Nord
For optimum home office productivity, your work space needs to be calming, tranquil, relaxing and free of clutter, says Camilia Clarke and Ottalie Stride of Albion Nord.
Camilia says: 'Usually, home is the sanctuary in which we can unwind after a testing day at the office. However, these days the home is the office. For those without a dedicated study or home office, create a space in which you can 'go to work' and leave once the day is done. This way, when you're out of your work nook, your home will still feel like a home. 
'It is so important to differentiate areas of the home to really feel that sense of relief from work when you need it. Keep your work zone calm and clutter-free. Unsightly mess is only going to add any sense of agitation, so try to keep surfaces clear of anything that doesn't motivate you or inform the work you're doing.'
5. Surround yourself with your favorite pieces, say Salvesen Graham
'A corner of calm in a busy house - that's what we all need isn't it? Working at a piece of furniture that is both practical and beautiful whether WFH or just catching up with life admin,' say Salvesen Graham.

'Here we added a chair that works as overflow from the kitchen and large family space beyond – a chair much needed for when numbers grow.

'We love that this space can be for a collection of favorite things and favorite pictures and can be purely personal collected over time. Here a postcard leans against the wall – we like there to be space in the homes we create with our clients for little things like this that make them smile...'
Ruth Doherty is an interiors writer who has worked for Homes & Gardens and Ideal Home magazines among many others.