This is the one thing Homes & Gardens' Editor is buying this Amazon Prime Day
It's a tried, trusted and brilliant buy – plus it's on sale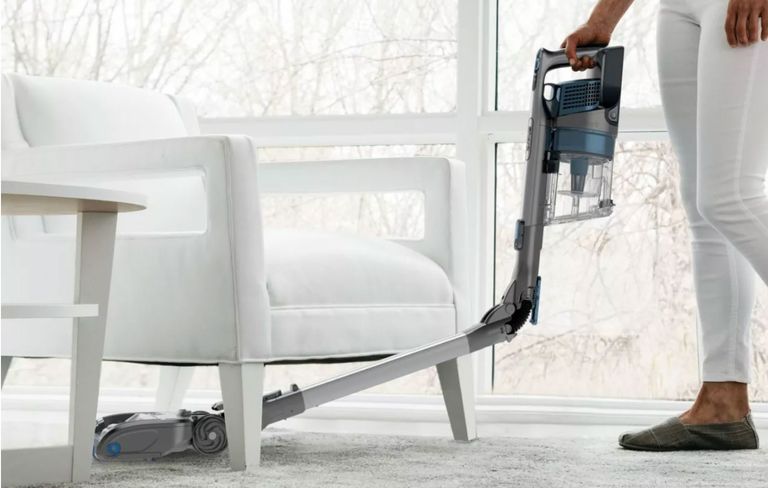 (Image credit: Shark)
By Lucy Searle published
I'm usually pretty nervous about recommending products to our readers – so when I pick something, I only do so with confidence that what I'm highlighting is really good, tried and tested by not just me but the wider team – and, of course, sensibly priced.
This Amazon Prime Day, my top buy is the Shark IZ462H Vertex DuoClean lightweight cordless stick vacuum.
To be clear – I already have my own one of these; this one will be bought as a gift for a family member who has coveted it since seeing it brought out to do a quick kitchen clean up before a special occasion we celebrated before the pandemic. So, yes, I've had mine for a while, and yes, it's stood the test of time.
Be aware – there are different models available at different prices; this is the one I like, but you may find one that suits you more. As a team, we have tried out the majority of them and rate them highly.
Shark IZ462H Vertex DuoClean lightweight cordless stick vacuum | $279.99 $249.99 (save $30) at Amazon
Highly rated by us and buyers, the Shark Vertex is the ultimate in easy cleaning. It bends in the middle (so you don't have to) and has a self cleaning brush roll which pet owners and those with longer hair will appreciate. Oh and the suction and battery life are great.
These are just some of the reasons I rate this cordless vacuum cleaner – if you'd rather, you can read the full Shark Vertex review, carried out by one of our on-staff product testers.
Multi-FLEX Technology
In short, the picture below does the talking. The flex on the arm, created by a quick press of a button, means that you can easily reach beneath furniture without having to bend over or – as so often with non-flexing vacs – get on to your knees.
DuoClean PowerFins and self-cleaning brush roll
I tend to use my Shark on full power (which does cut down on battery life, but I have chosen a two-battery option so one is always charged up, ready to go). Using it on full power does make it a contender against corded vacuums, which are usually much more effective at suction. This is important to me – there seems little point in investing in a cordless vac that just doesn't perform.
So, suction power, with the help of the fins, is good. Better still, the brush roll is designed not to get snagged with hair. With three people (and a dog) with long hair in my house, this is a no-brainer.
Lights!
In all seriousness, for me, every vac head should have lights on it. I'll be honest – I'm at the age where reading glasses are great for my laptop, and driving glasses a must – but that in between distance (in other words, from my eyes to what's on the floor) is fairly blurry. The lights on the brush head illuminate the crumbs, dust and debris and help me get the job done more efficiently. In the dark reaches under furniture, it's a must, even for those with 20-20 vision.
There's another light on this vac worth noting – the one that tells you when the battery is getting low. The power doesn't ebb, so the battery warning light is an essential.
Easy conversion to a hand held
It's safe to say that my Shark Vertex has had a good run for its money – it's been used to whizz around the entire house, to complete quick cleans on countertops, to be used as a hand held in the car and even to vacuum up a few leaves from around the front porch.
The hand held conversion is a plus – it's easy to do (simply remove the arm and clip on the desired accessory). Or you can keep the arm on and remove the brush head to reach cobwebs on the ceiling.
Emptying
It's easy; it's clean – and you can even wash out the dust canister when it's getting dirty. Enough said.
My first job was writing a DIY column for a magazine for the over 50s (which seemed a long way off back then). I then moved to a DIY magazine as deputy ed, then freelanced my way around the homes departments of most women's magazines on the market before working on Your Home and Family Circle magazines as homes editor. From there, I went to Ideal Home magazine as associate editor, then launched 4Homes magazine for Channel 4, then the Channel 4 4Homes website before going back to freelancing and running a social media business (you can see where I had kids from the freelancing gaps!). I was tempted back to the world of big business by the chance to work with the great team at Realhomes.com, where I was Global Editor-in-Chief for two and a half years, taking it from a small website to a global entity. I've now handed the reins of the website to our American managing editor, while I take on a new challenge as Editor-in-Chief of Homes & Gardens.