Homes & Gardens Design Awards 2020: The Winners
The biggest names in design, not just for 2020, but beyond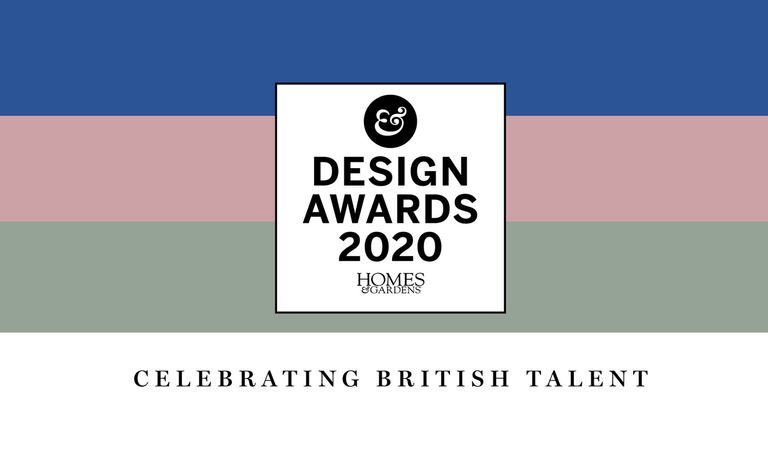 We are delighted to reveal the winners of the Homes & Gardens Design Awards 2020: Celebrating British talent. Discover who our judges see as this year's game changers and watch our short film.
A panel of judges made up of industry experts met virtually earlier this summer – Kit Kemp, Sebastian Cox, Charu Gandhi, Barbara Chandler, Lulu Lytle and Sarah Spiteri – each bringing with them reams of nominations for every category.
It was a day of heated debate, with long discussions on the challenges of true sustainability, the joys of social media as a tool for small producers to sell through and how to define the meaning of pure innovation, but what everyone agreed on was just how rich the talent pool was.
See also... Homes & Gardens Design Awards 2019 Winners
From long established architect studios to recent graduates handcrafting alone, the entrants covered the wealth of disciplines and interests we feature in the pages of our magazine. And what each candidate had in common was that they were thriving, creating work that is both beautiful and interesting and thought provoking in some way or another.
So without further ado, let's reveal our exceptional winners. Congratulations everyone.
Designer of the Year
WINNER Tricia Guild OBE
Celebrating 50 years since she founded Designers Guild, 2020 has been a big year for Tricia Guild. Her most recent book, Out of the Blue, looks back at her body of work, which was brought to life with an exhibition at London's Fashion and Textile Museum.
She is known for big botanical blooms, but in reality her brand offers so much more – soft linens, plenty of neutrals, every sort of fabric you could wish for.
'What she has achieved is truly lovely – from turning her King's Road shop into a department store and making sure that every single label on every product shows where it was sourced, the amount she cares about her work really shines through,' said Barbara Chandler. 'She now has a range of recycled fabrics – her time at the forefront of design is going to continue for some years yet.'
The Architect
WINNER Studio Weave
Founded by Je Ahn, Studio Weave's projects include the Le Haut Perché hiking shelter (above) and part of Great Ormond Street Hospital's redevelopment.
'They are consistently exciting with the forms they choose to make,' said Sebastian Cox
The Interior Designer
WINNER Veere Greeney
With his own fabric, furniture and wallpaper lines as well as a successful interior design studio, Veere Grenney is 'the undisputed master of all things decorative,' says Lulu Lytle.
'His portfolio is extraordinary and he's been designing to such a high level for his whole career.' Sarah Spiteri added that 'he always brings something specific to every project'.
Award sponsored by GP & J Baker
The Pattern Maker
WINNER Caroline Lindsell and Dylan O'Shea, A Rum Fellow
Having travelled to Guatemala, Dylan O'Shea and Caroline Lindsell of A Rum Fellow persuaded local women to create a collection of intricate textiles that can be incorporated into pieces of furniture like headboards and tables, as well as being used as rugs.
'They're always moving forward, their patterns are joyful and feel modern,' said Kit Kemp. 'And I think their work ethos and ethic is commendable.'
'I love when entrepreneurs manage to bring the skills of other countries back and create a market for them here,' said Barbara Chandler.
The Eco Expert
WINNER Edward Bulmer
With a beautiful array of colours made from natural materials such as plant extracts, chalk and linseed, all of Edward Bulmer's paints (above) are entirely non -toxic.
'He is someone who has lived and breathed his real belief in importance in good materials,' said Lulu Lytle.
Award sponsored by Naturalmat
The Crafts Person
WINNER Joe Hogan
Making baskets from driftwood found at Loch Na Fooey, County Galway, Joe Hogan's work is rich with the colours of local willow trees, abstract in shape and stunningly beautiful.
'I just love Joe's designs and I think he is a true craftsman,' said Kit Kemp. 'I particularly admire the large scale he often works to – he's certainly no shrinking violet!'
Award sponsored by Neptune
The Innovator
WINNER Assemble
A collection of designers and architects, nothing is too big for Assemble to tackle. From creating a new public art gallery space for Goldsmiths in London within a Grade II-listed former Victorian bathhouse to a 450-seat pop-up theatre built for a town square in Southampton, England, the group (left) come together to make anything seem possible.
'And their work always has such a brilliantly eco feel and look to it,' said Kit Kemp
The Groundbreaker
WINNER Foresso
This extraordinary material may look like terrazzo, but it's actually made from wood chippings. In close up, the wood grain becomes apparent, as do the different colours that come from different tree varieties. Foresso founder Conor Taylor saw the opportunity for using waste products in a beautiful way.
'He 's really committed to this business – it's a fantastic product ,' said Sebastian Cox.
The Product Designer
WINNER Julian Chichester
In 1995, Julian Chichester (above) launched his first collection of five pieces of furniture, all in black with gilt detailing, and his output has got bigger every year. He now adds around 30 new pieces to his offering annually, all characterized by a passion for artistry and made by craftspeople in the UK and Vietnam.
'There is such a breadth to how you can use his work and his pieces have such interesting materials,' said Charu Gandhi.
'I think he just comes up with extremely usable furniture, every single year,' said Kit Kemp.
'I love how he keeps several artisanal and skilled craft techniques alive,' added Barbara Chandler.
The Colorist
WINNER Yinka Illori
Yinka Ilori brings flair and panache to design, from upcycling chairs in vibrant hues to creating the Colour Palace, an installation at Dulwich in London.
'He's just so bold and confident ,' said Sarah Spiteri.
One To Watch
WINNER Tobias Vernon, 8 Holland Street
Take a trip to either of the 8 Holland Street locations (one in London, one in Bath, UK) and be prepared to want to redecorate. So much more than a shop – though it does sell a wonderful collection of vintage furniture, modern ceramics and works from emerging artists – this gallery space is a reference point for assured good taste. And it all stems from founder Tobias Vernon.
'I love the way he brings in young designers who wouldn't be able to afford their own retail platform – he's a true one to watch as I can't wait to see what he does next,' said Kit Kemp.
Award sponsored by Farrow & Ball