Kit Kemp's ideas for creativity at home – from flower pressing to collage
Kit explains how lockdown inspired her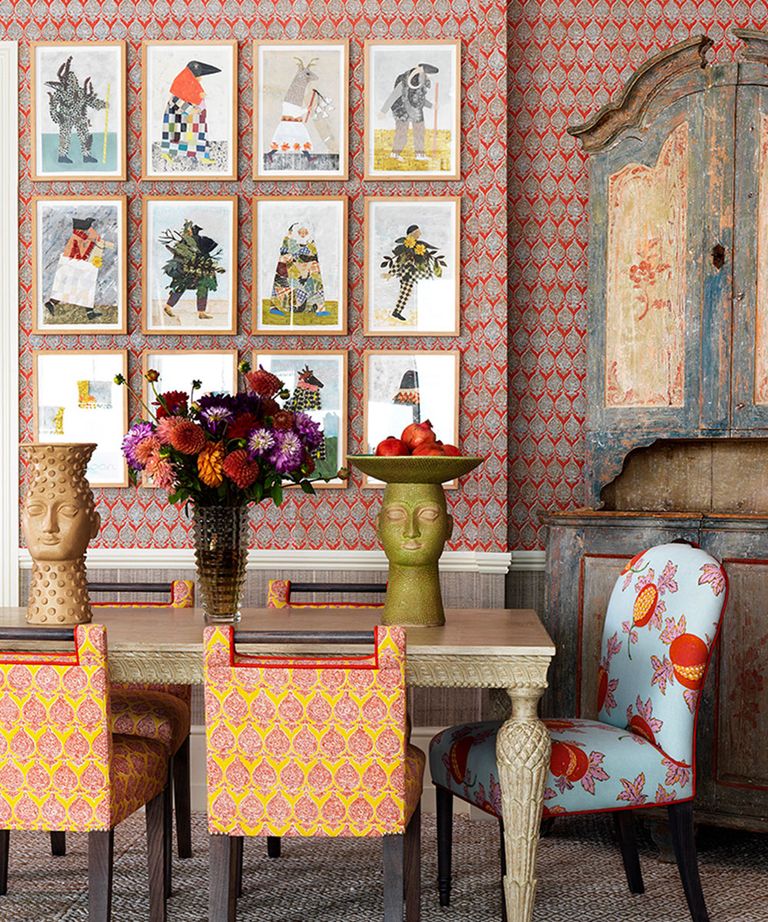 'In my 35 years in the world of design, some of the most remarkable moments have been when the design community comes together during uncertain times.
'We are all looking for a little brightness in our day, and so, to thread the needle and stitch us all together in creative unity, here are a few ideas on how to bring some creativity and fun to your day to day pursuits whilst self-isolating.'
See more: Take a tour of Kit Kemp's home – be inspired by her inimitable creativity
1. Flower pressing
We love to bring the outside in. Flower pressing is a wonderful way to transform something from your garden into cards to send to loved ones, or to create a framed artwork for your home.
Flower pressing is a traditional technique that dates back to ancient Egyptian times and an art form in China and Japan, known as oshibana. It consists of drying flower petals to flatten and preserve them. The result is stunning, as delicate as rice paper with colours which are often slightly softened.
A collection of dried flowers beautifully framed can become a unique and inexpensive artwork. An interesting frame can make all the difference.
How to press flowers
1. For beautiful pressed flowers, gather clean flowers free of blemishes on a sunny day so they are not wet from rain or dew.
2. Place the flower face down in a book lined with parchment paper or kitchen roll works just fine. I have used a large sketchbook here where the pages are good quality thick paper.
3. Close the book, weigh it down, and leave undisturbed for seven to 10 days. You will want to check to make sure all the moisture is gone and your flowers are papery.
At times like these, card writing is such a lovely way to communicate rather than just through a screen. I'll be sending these out to friends and family.
2. Create a collage
We love the art of collage, and if like us you keep your old copies of magazines, save theatre tickets and scraps from your travels – now is a perfect time to tap into collaging and scrapbooking.
We love the work of artist Ruby Kean – each of our hotels has its own unique collage all created from images of the hotel, coat tags, pieces of wallpaper, ribbon and ephemera that evokes the life and soul of each property.
Choosing a theme is a great way to start when collaging, such as encapsulating the faded memories of a beloved holiday, the scraps and trinkets preciously guarded to keep the memories of lazy days and magic moments alive. It's a lovely way to be reminded of happy memories and a fun twist on a photo album.
Another collage artist we admire is Jo Waterhouse, her pieces draw heavily on her surroundings and British folk traditions. Her characterful illustrations are rich with patterns, textures and surprising details.
We love the layering of different hand crafted papers and materials. It's a lovely reminder that we can find beauty in just about anything, whether it be the subject matter or the materials you use. It's so easy to make something beautiful out of things you have collected, or bits and pieces you have at home.
3. Fashion a headdress
There are so many ways we can all be creative with foliage from the garden. Our favourite Lincoln-shire florist, Poppy Nicholson at Vincent & Stubbs Flowers created these beautiful headdresses.
A fabulous and creative idea to make ourselves some stylish headwear for self-isolation, guaranteed to make you feel a million dollars.
4. Food inspired by fabric
With so much time at home, our kitchens are seeing more action than ever. Whether you're cooking for one or a family of five, it's important to keep things interesting.
We've come up with a fun way to mix things up. Food or fabric? We love both so we thought why not combine the two?
Here are a few examples of how we've transformed some of our favorite fabric designs into edible treats whilst at home during isolation.
Kit Kemp was Guest Editor of the June 2020 edition of Homes & Gardens – the first in our 101-year history. Discover more of her work at kitkemp.com