Monty Don shares his top tips for pruning hydrangeas in spring
This expert advice from the celebrity gardener will give you the best blooms from every variety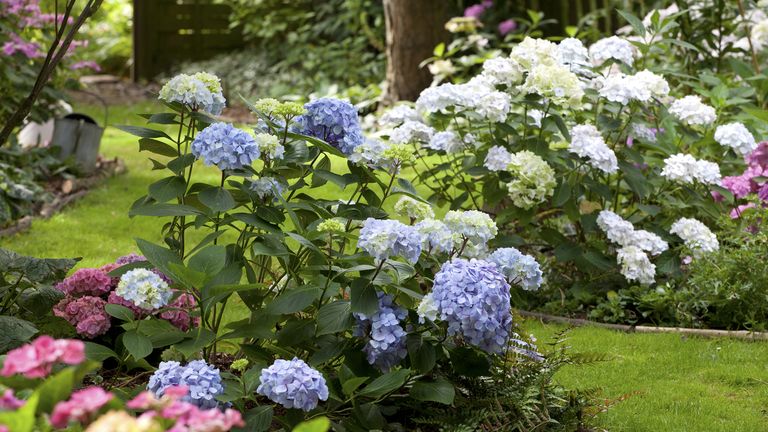 (Image credit: Leigh Clapp)
By Rachel Crow
Many gardeners admit to playing a guessing game when it comes to pruning hydrangeas – snipping here and there and hoping for the best.
But, says Monty Don, there is a trick to pruning hydrangeas in spring – and not all types of hydrangea should be treated the same. Regular pruning encourages new, vigorous growth for a more beautiful display. So if you want to know how to grow hydrangeas successfully, read on.
'Two questions I often get asked are: When do I prune hydrangeas? And, why aren't mine flowering? The two are connected,' explains the gardening guru on a Gardeners' World video.
When it comes to pruning hydrangeas, not all can be treated the same – and here lies the nub.
If have got a hydrangea and are not sure what type it is, Monty has a top trick:
'Just deadhead it now, in spring, and don't prune it, and it will do no harm. If you see flowers on the new growth that wasn't there last year, then you know you can prune it harder next year.'
If you can identify it, however, you will be more successful with your blooms.
Mophead hydrangeas are one of the most common varieties seen in gardens, along with lacecap hydrangeas, and these can both be treated the same.
'Mophead and lacecap hydrangeas produce flowers on older wood. So don't prune them hard, and not at all until this time of year,' advises Monty Don.
Prune Paniculata hydrangeas in spring, too, 'but these produce flowers on new growth, so need to be treated a little differently,' Monty adds.
See: Monty Don reveals the 5 plants you should be pruning now
With mophead hydrangeas, leave the old flowers on over winter – which provides some frost protection for the tender buds below – and then in April, deadhead them.
'Cut them back to above a pair of buds, no more than an inch or two below the flower head. That is all that you need to do,' advises the BBC Gardeners' World presenter.
Cut carefully using the tips of your secateurs. If the plant has many stems, cut at an angle between the buds to remove one of the pair which will direct growth into one shoot.
In the case of very overgrown bushes you can take the biggest stems right down to the ground, to help reshape the plant, he adds.
Pruning paniculata hydrangeas and aborescens hydrangeas, however, is a little different.
If you leave these hydrangeas they will get taller and taller with flowers just growing at the top.
'You need to develop a framework from which new wood will come,' Monty advises, demonstrating how to prune off the stems to create a nice shape.
Prune back to above a pair of buds on each stem, for a healthy framework that's between 30cm and 60cm high.
See: How to grow dahlias – a step by step guide to growing dahlias from tubers
Hydrangea serrata can be pruned in the same way as mophead hydrangeas
Hydrangea aspera and hydrangea quercifolia need only light pruning in spring to remove long stems
Climbing hydrangeas should not be pruned until summer
I am the Content Editor on Homes & Garden's sister magazine, Period Living Magazine. I joined the team nine years ago, after freelancing for years on a range of titles, covering everything from homes and gardens, to history, arts and crafts. I have the joy of covering all of these areas of interest still - handily packaged together in the pages of Period Living Magazine and for the Country Channel of Homes & Gardens.
In the course of sourcing real garden stories, I love discovering how passionate, amateur gardeners have transformed often previously neglected plots into beautiful spaces brimming with blooms, inspiring planting combinations or design ideas for my own plot; I feel privileged to meet and interview many artisans and craftspeople creating unique homeware, and to share their stories and the skills of their traditional crafts; and I find uncovering the background stories of historic properties and antiques endlessly fascinating.