8 secrets of the real House Hunters – the pros who can find the perfect home for you
Here's how a professional house hunter can find your perfect property – and the tips you need if you want to search for your own dream home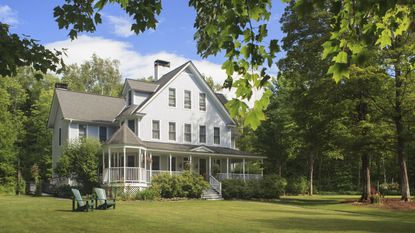 (Image credit: Getty Images)
Forget the hype around HGTV's House Hunters – in real life, house hunting can be a frustrating and drawn out affair – all those properties that look great on the real estate agent's website, only to disappoint when you see them in person, or that are snapped up before you can arrange a viewing.
But what if you could hire a professional house hunter to do the legwork for you in buying a house? A passionate property expert with an enviable contacts book, an encyclopaedic knowledge of your desired area, and the inside track on what homes are due to come on to the market, and who goes the extra mile to find you the perfect properties, even before they hit the listings? Yes, please.
House hunter services are increasingly sought out by clients who want to take the angst out of finding their forever home. We caught up with some of the best on the property trail to find out how they work, and what you can learn from them.
What a profile house hunter does that other real estate agents don't
The whole point of a house hunter is that they have access ordinary buyers don't, and they can leverage their network and insider knowledge to give you the key to the door of an incredible home. This is what they do.
1. Find off-market homes
Native New Yorker, historian and real estate agent McKenzie Ryan says her knowledge of buildings, architecture, and neighborhoods far exceeds that of a standard broker.
'I can really visualize and strategically guide my clients to the exact home that they are looking for,' she says. 'I have an inventory of off-market homes for sale as well as "likely to sell" owners who I can easily match with the right buyer, and vice versa.
2. Use old-school and new-age resources
'Additionally, if we have exhausted all resources,' continues McKenzie, 'I use both old-school and new-age resources like handwritten letters to homeowners who have a property that fits my buyer's search, and will also post stories on my social media to tap my network of brokers and owners.
'I have successfully utilized my social media to discover off-market and whisper listings for my clients, especially in low-inventory markets.'
3. Build close relationships with local real estate agents
'With a good contacts book and by really getting to know an area, a house-hunter will be introduced to houses that you don't find online or in a real estate agent's window,' says Katy Campbell, UK house-hunter and creator of eye-candy Instagram account @katy_campbell_house_hunter.
'I have very close relationships with real estate agents, I know lots of people, and I have a big social media presence, so I get calls every day about houses that are coming up for sale.'
4. Offer virtual, FaceTime house viewings
'Where I operate, which is the whole of the Cotswolds and east towards Oxford in the UK, many of the most sought-after homes are sold off market,' continues Katy. 'I will go to view them and, if it looks really exciting, I might FaceTime my clients from the property and show them around. If they like it, I'll make sure they are the first person through the door and help them to secure it before it even goes to market.'
5. Have a 'getting to know you' buyer interview
For McKenzie, it's all about performing at her peak for her clients.
'House hunting in Manhattan is its very own sport. Luckily, I trained for the Olympics as a Rhythmic Gymnast and have the determination, stamina, and real estate knowledge needed to find my clients the perfect home,' she says. 'I walk my clients through a 10-step buyer interview process so we can get extremely clear on what is most important to them in their future home.'
6. Build a relationship with you, the buyer
The rapport between client and agent is crucial.
'We're working one-to-one, so it's really important to build a relationship. It's reassuring for them to know that if they call, it's me on the line. And that if I recommend a house, it's because I've seen it myself,' says Katy Campbell.
'During the briefing process, I take a lot of time to understand their lifestyle, if they will be living as a family, do they want a separate bathroom and dressing room, how much space they need, how big a garden or yard they are willing to take on. The two key factors are budget and space, followed by the period of the property and any essential features. I only work with a handful of clients at a time, as there's a lot of time and mileage that goes into finding houses.'
7. Know that it's about the community, not just the house
A great house hunter needs a really in-depth understanding of neighborhoods, buildings, history, architecture and of course, relationships. 'Oftentimes, a client will describe how they want to live rather than where they want to live,' says McKenzie Ryan.
'In New York City specifically, a buyer will often describe the type of amenities they want in their neighborhood, their ideal commute time, and the ideal style of the interior space. While a good house-hunter is immediately able to compute a number of options for their client, a great house-hunter can recommend specific buildings, and even listings they've recently toured.
'Additionally, having strong relationships with other brokers who perhaps do a lot of work in specific neighborhoods or, for example, sell a lot of lofts or townhouses, is highly important in being able to facilitate a transaction for your buyer.'
'Clients also want to know about the community nearby, so if there are schools or a good restaurant close by. I might see a house that's not in the precise location we talked about, or is a bit smaller than the clients specified, but I can see there's room to build out the property,' says Katy.
8. Take time to find the right home
'Most of my clients give themselves a year to find a house, but occasionally it can be as quick as 10 weeks between viewing a property and having an offer accepted,' Katy Campbell says. 'Sadly, when I get to a house it's often obvious that there's something wrong with it – it might be close to a road, or have a huge pylon outside, or a quarry at the end of the garden.
How much do house hunters charge and what do you get?
Both McKenzie and Katy work off a percentage of the property sale price for their fees, which is typical for house hunters.
'Everyone will have different fees. I also know that I save my clients' money, as they don't have to take the time off work for lots of viewings,' says Katy Campbell. 'I can also introduce them to architects and designers to help them achieve the home of their dreams.'
'Make sure you know what you are paying for,' suggests McKenzie. 'Communication is at the core of every successful relationship and home purchase. I recommend working with a house-hunter who has an intake or interview process and additionally, offers a weekly "touch base" time.
'It's also important to agree the type of communication that best suits the client – for example, call, email, text, or Facetime. So Happy Hunting!'
Andrea has been immersed in the world of homes, interiors and lifestyle since her first job in journalism, on Ideal Home. She went from women's magazine Options to Frank. From there it was on to the launch of Red magazine, where she stayed for 10 years and became Assistant Editor. She then shifted into freelancing, and spent 14 years writing for everyone from The Telegraph to The Sunday Times, Livingetc, Stylist and Woman & Home. She was then offered the job as Editor on Country Homes & Interiors, and now combines that role with writing for sister title homesandgardens.com.