Best slow cooker deals 2022
The best slow cooker deals: Crock-Pots and multi-cookers from Instant Pot and Ninja on markdown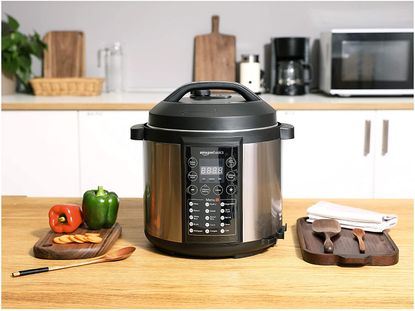 (Image credit: Amazon)
You can shop these slow cooker sales for the best holiday savings on Crock-Pots, Instant Pots, Ninja multi-cookers, and more.
Slow cooker Black Friday deals are always popular, because it's the perfect time of the year to rely on your Crock-Pot to cook delicious stews and sauces and slow cook hearty meals for fall-apart lamb or beef that's meltingly tender.
As a team, we have tested the majority of the best slow cookers on offer, and we only feature quality brands and well-rated buys so that you can shop with confidence.
Pick up a model right now to make full use of it this winter. Some of our top deal picks are on multi-cookers, which can pressure cook and even roast.
Best slow cooker deals 2022
Slow cooker deals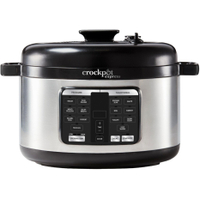 Crock Pot Express 6qt 9 in 1 Digital Max Pressure Cooker| $119.99 $39.99 at Best Buy
Make a huge saving on this super convenient, space-saving multi-cooker will slow cook, sauté, steam and warm all in a single dishwasher-safe, stainless steel pot.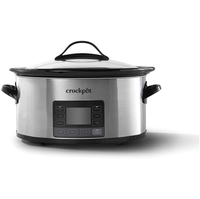 Crock Pot MyTime 6-Quart Programmable Slow Cooker | $69.99 $64.99 at Amazon
This discount isn't massive, as yet, but this classic slow cooker from Crock Pot is our current top pick on our best of list, thanks to its smart digital display and generous capacity.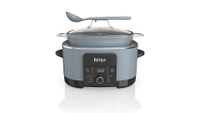 Ninja MC1001 Foodi PossibleCooker Pro, Was $149.99, Now $119.99
Another slow cooker to make our best of list, it has a vast range of easy to use functions, from classic slow cooking to sous vide to braising. We think it's a looker, too, which helps if it lives on the countertop.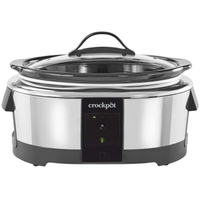 Crock-Pot Slow Cooker with Alexa: Was $159.99, Now $114.91 at Amazon
Featuring an in-built smart speaker mode, the Crock-Pot Slow Cooker with Alexa is a top choice for smarter homes. Control it with your voice and monitor it remotely, perfect for busy families.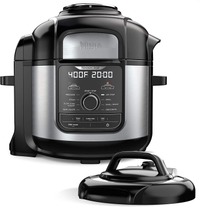 Ninja FD401 Foodi 12-in-1 Deluxe XL: Was $249.99, Now $149.99 at Amazon)
Tried by us, this five star multi cooker can also act as a slow cooker or pressure cooker. It even has an in-built air fryer lid to crisp up meals before serving.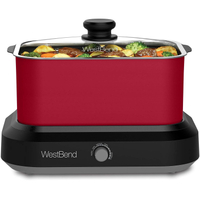 West Bend 87906R Versatility Slow Cooker: Was $69.99, Now $49.99 at Amazon
With a temperature dial and even a griddle mode, the West Bend 87906R Versatility Slow Cooker is more versatile than most. It's got a six quart capacity and the pot can go in the oven or freezer.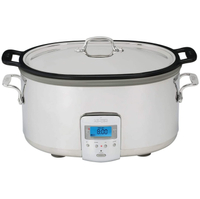 All-Clad SD700350 Slow Cooker: Was $279.95, Now $237.15 at Amazon
With a dishwasher-safe aluminum insert and generous 7-quart capacity, the All-Clad Slow Cooker is a smart choice for family meals. It's got a 20-hour timer and is followed by a 6-hour timer.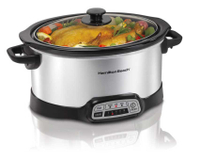 Hamilton Beach Brands Inc. 33463 6 qt. Programmable Slow Cooker | $149.79 $81.56 at Sears
Another versatile buy on our best of list, this slow cooker can whip up stews, chilis or roast meat with the minimum of effort thanks to it clever programmable features. Plus you can see the contents as it cooks and its family-sized.
Which slow cooker should I buy?
Although slow cookers and Crock Pot are still enduringly popular, many also turn to the best Instant Pots to slow cook, as well as sear and pressure cook, in one smart appliance.
Our favorite models vary in size and in price. Some slow cookers are available for under $50, and that's before you factor in any savings. Others come with large capacities and the dimensions to cook generous cuts of meat in one go, for ribs or lamb shank that falls away from the bone after six hours of slow cooking.
We have hand-selected some great discounts, but our handy buying widgets will pull in the top discounts on models we've tried and loved ourselves.
Which brand makes the top slow cookers?
If you want a failsafe, Crock-Pot slow cookers have always been a popular choice. So much so that many call their slow cooker their Crock Pot, or will search for the best Crock Pot when looking for a new slow cooker.
There are other great options on the market though, including more premium brands like All Clad and Calphalon which will have a more sleek finish and high-end digital controls on offer. And of course, while Crock Pot is a mid-range option for slow cookers that will be within budget for most people, there are some great Cyber Monday deals on budget-friendly options from Hamilton Beach and Black + Decker.
Millie Fender is Head of Reviews on the Homes and Gardens Ecommerce team. She specializes in cooking appliances, such as the best kettles, and also reviews outdoor grills and pizza ovens. Millie loves to bake, so she will take any excuse to review stand mixers and other baking essentials. When she's not putting products through their paces in our dedicated testing kitchen, Millie's reviews are conducted at home, meaning she uses these products in her own day-to-day life.