Expert styling tips from an interior designer – for adding character to plain rooms
If your home – or a newly renovated room – is a blank canvas, these styling secrets are for you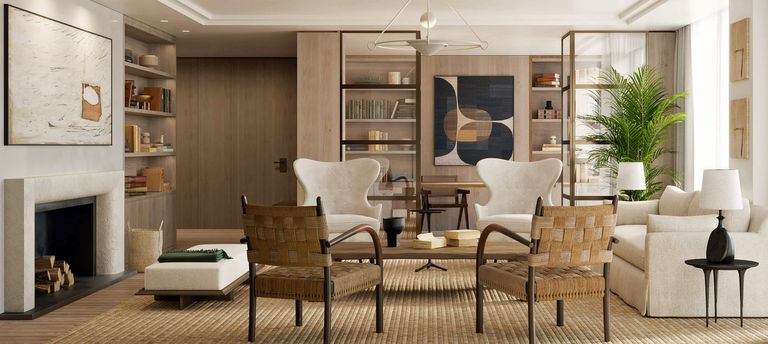 (Image credit: Albion Nord)
By Lucy Searle published
For us at Homes & Gardens, there's little that excites us more than taking an undecorated, characterless space and using all the styling expertise we have built up over the years to transform it into a room that oozes personality.
So if you are starting from scratch, and your main conundrum is how to add character, these styling tips are for you – they are the basis for every successful room, whether you are an avid follower of interior design trends or appreciate a truly timeless scheme.
Ottalie Stride, Creative Director at London-based residential interior design and project management studio Albion Nord, which specializes in European Classicism and British style, offers her expert opinion today.
'Many of our projects are set in architecturally rich sites and feature a mix of exquisite antiques and contemporary design pieces for an overarching aesthetic that is eclectic yet refined,' says Ottalie. 'But if your room is brand new and a blank canvas, there are still many ways to add character. In fact, you can use the perfect, white, straight walls as an opportunity to display furniture pieces and art in a more curated way. A large, contemporary artwork at the end of a corridor can suddenly look like a masterpiece.'
Read on for more of Ottalie's expert styling advice.
Top 3 styling tips for adding character to a plain room
These styling tips are particularly relevant in newer homes – or in rooms that have been renovated and are a blank canvas. 'Charm in older houses often creeps in subconsciously in the form of wobbly glass windowpanes, wonky walls and battered floorboards; things most people are unlikely to immediately notice,' comments Ottalie. 'Newer homes and renovations, however, often suffer from a lack of imperfections, flaunting their shiny new and perfectly flat materials which subconsciously leave you feeling a little cold. A good way to overcome this is by introducing texture and character in the pieces you put inside it.'
These include:
Antiques – 'When styled correctly, antiques work excellently in new homes and renovations. Use them as a statement piece in a room,' advises Ottalie. 'Or use them as accent pieces, combining with timeless, contemporary upholstery pieces. If buying antique chairs or sofas, these can be given a lease of life by re-upholstering in jewel color or pattern.'
Color – 'Don't be afraid to inject color. Just because you buy it painted white, doesn't mean it has to stay like that. If the architectural features are a little lackluster, paint them all in the same color as the walls.'
Texture – 'Break up large expanses of the same materials by introducing natural, imperfect textures such as (our old favorite) a large, chunky sisal rug or upholster a chair in a white wool bouclé.'
Using flooring, furnishings and wall treatments to add character
Being clever with layering and color can really enhance a plain space. Here is what Ottalie has to say about flooring, furnishings and wall treatments?
Flooring – 'Rugs can help add texture, color and pattern and help denote "areas" in open plan living spaces.'
Furnishings – 'Cushions and throws can be an opportunity to introduce color and pattern and well chosen objets such as vases and sculpture can add character and form to surfaces and joinery. We often trawl antiques shops and markets for these. Greenery in any room will bring it to life, we tend to use dried eucalyptus for longevity in an arrangement and a kentia or fig tree in a basket.'
Wall Treatment – 'Painting wall a color will immediately add soul but suppliers like Bauwerk are great if you want to achieve a plaster look for less.'
How to style a traditional kitchen that's a blank space
Yes, you can put a traditional kitchen in a newer property or a renovation. Here is what Ottalie advises you think about?
'We feel that the kitchen or any fitted joinery should speak the same language as the house. This does not mean the kitchen has to feel characterless; you can introduce interesting work surfaces and ironmongery to lift it and of course use the setting as an opportunity to exhibit pieces of interest; an antique pendant or fun, mid-century table and chairs.
Styling secrets for new windows
If you have installed new windows into your home, how can you make them look more interesting? Here is what Ottalie has to say:
'It completely depends on the view. If overlooked, sheer voiles conceal the window and provide privacy while allowing light and giving room softness and elegance. Clever window dressing is the most obvious answer; an architectural forged curtain pole and heavy linen curtains will give an understated sense of luxury and warmth.
'Alternatively, if privacy is not required, a piece of furniture, sculpture or flower arrangement on a plinth in a window reveal can make a strong statement.
'Opt for ironmongery which is simple in form and unfussy in finish. We prefer metals which patinate over time so opt for unlacquered brass, bronze or nickel.'
My first job was writing a DIY column for a magazine for the over 50s (which seemed a long way off back then). I then moved to a DIY magazine as deputy ed, then freelanced my way around the homes departments of most women's magazines on the market before working on Your Home and Family Circle magazines as homes editor. From there, I went to Ideal Home magazine as associate editor, then launched 4Homes magazine for Channel 4, then the Channel 4 4Homes website before going back to freelancing and running a social media business (you can see where I had kids from the freelancing gaps!). I was tempted back to the world of big business by the chance to work with the great team at Realhomes.com, where I was Global Editor-in-Chief for two and a half years, taking it from a small website to a global entity. I've now handed the reins of the website to our American managing editor, while I take on a new challenge as Editor-in-Chief of Homes & Gardens.