Homes & Gardens presents: Wake up with... Heather Dubrow
The 'Heather Dubrow's World' host reveals that the secret to a successful morning at 'Chateau Dubrow' starts with an at-home workout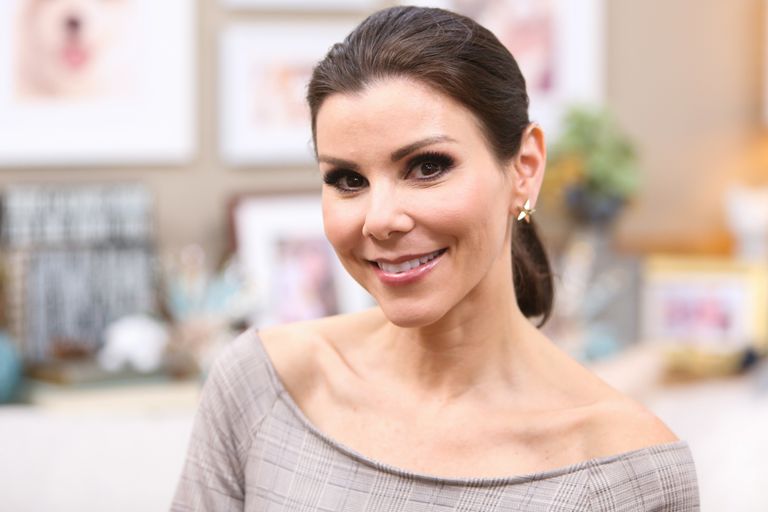 (Image credit: Paul Archuleta/Getty Images)
In our third installment of Homes & Gardens presents: Wake up with... series, we unveil the secrets to Heather Dubrow's successful mornings.
Married to world-renowned plastic surgeon Dr. Terry Dubrow – star of E!'s hit TV series Botched – the Real Housewives of Orange County alum and her husband founded Consult Beaute, a skincare line, 15 years ago. Her impressive list of endeavors doesn't end there.
Check out Heather Dubrow's morning routine below, and continue scrolling to shop her carefully curated list of must-have items too.
Shop Heather Dubrow's Morning Essentials
Before the 52-year-old can even think about running 'Chateau Dubrow', parent her four beautiful children or host her eponymous PodCast One show, Heather Dubrow's World, she takes a few minutes in the morning for herself – and a highly impressive beauty routine.
To keep her skin flawless and looking ageless, she turns to a foolproof arsenal of morning must-haves.
From an anti-aging serum to a cozy chic robe, here is the Heather Dubrow-approved way to look and feel your best each morning.
1. A trendy robe
SKIMS Cozy Knit Bouclé Robe for $128, at Nordstrom
Perfect for cozy evenings at home, this stretchy bouclé knit robe from Kim Kardashian West's SKIMS features handy pockets and a removable belt.View Deal
2. This anti-aging serum
Consult Beaute Xterna-Q Topical Co-Enzyme Q10 Universal Anti-Aging Serum for $36.50, at Consult Beaute
Consult Beaute's Xterna-Q bathes your skin in two unique, clinically studied forms of topical CoQ10. Regular use of topical CoQ10 and smart CoQ10 peptides can help enhance your skin's antioxidant defense against the appearance of aging while helping to support your skin's CoQ10.View Deal
3. This firming facial cream
Consult Beaute Champagne Beaute Lift Firming Facial Creme for $34.50, at Amazon
This unique firming facial creme strikes the perfect balance between a supportive, firming effect and a perfectly moisturized feeling to keep faces youthful as ever. View Deal
4. This top-rated eye cream
Consult Beaute Regenerol Retinol Eye Line Minimizing Orbital Eye Cream for $34.50, at Amazon
Allow this eye cream to help rejuvenate and strengthen delicate eye areas by smoothing and supporting, for a younger-looking appearance.
5. This necessary neck cream
Consult Beaute Volumagen Volumizing Neck Treatment Cream for $33.95, at Amazon
Suitable for all skin types, this Volumagen Volumizing neck treatment is excellent for reducing fine lines and reverse the signs of aging to a minimum. View Deal
Shop Heather's Breakfast Essentials
As an advocate of realistic, fresh, and innovative approaches to health and beauty, it's no secret that internal and external wellness is a priority on all fronts in Heather's life, with an emphasis on her morning routine.
The very first thing Heather does in the morning is 'put on her workout clothes because then there is just no excuse[...] you're working out.'
Now, whether you're working out on the best treadmill or go for the best rowing machine is up to you.
The one tip Heather has? Working out first thing in the day because she prefers to 'cardio fast, which is basically working out on an empty stomach, so you're using glycogen storage and your fat storage instead of the food you ate.'
And, when it's time to refuel? Her breakfast time is contingent on a handful of products that work wonders inside-and-out.
Check out her complete list of miracle workers below.
Consult Health Colla-Holla Collagen Peptide Supplement for $49.95, at Amazon
Give your skin the boost it needs with help from the inside, with the help of this multi-sourced bioactive collagen. View Deal
Four Sigmatic, Lion's Mane Coffee for $11.82, at Amazon
This coffee is perfect for our vegan, paleo, keto, dairy-free, or gluten-free friends; add a splash of coconut milk, almond cream, raw dairy, or whisk a chunk of butter to make it even better for you. View Deal
Bodum Schiuma Milk Frother for $15, at Bloomingdales
While Heather mentions her go-to handheld frother — was gifted from a close friend— this top-rated one from Bloomingdales is not only similar but will do just as good as a job as the real deal. The versatile design allows you the opportunity to create fresh salad dressing, smoothies, or other blended drinks, elevated in seconds. View Deal
Further Foods Collagen Peptide Powder for $29.99, at Amazon
This expertly formulated collagen blend combines our best-selling grass-fed, pasture-raised collagen peptides with decadent dark chocolate and mood-boosting reishi mushroom. With hydrolyzed collagen peptides, this formula contains 18 amino acids (eight essential) that promote muscle and ligament repair, flexibility, and recovery.View Deal
NOW Foods Better Stevia Drops for $19.99, at the Vitamin Shoppe
These NOW Better Stevia drops are a zero-calorie, low glycemic, natural sweetener that is a healthy substitute for table sugar and artificial sweeteners.View Deal
SO Delicious Dairy-Free French Vanilla Creamer for $4.49 at Target
Take your coffee to new heights with SO Delicious Dairy Free French Vanilla Organic Creamer. With a splash of velvety french vanilla goodness, this organic creamer will infuse your favorite coffee brew with a deep, rich flavor. View Deal
The Dubrow Diet: Interval Eating to Lose Weight and Feel Ageless for $14.97, at Amazon
In The Dubrow Diet, Orange County's favorite reality TV couple shares the diet and exercise plan they created to end their decades-long yo-yo dieting and flip on what they call the "ageless switch."
The central concept is called interval eating, a practice based on research showing that when you eat is perhaps the most important factor in weight loss and weight control. With interval eating, the Dubrows will introduce you to a simple eating schedule that can help you. View Deal
Brittany Romano joins Future as their U.S. Shopping E-commerce Editor, residing on the Upper East Side in New York City. Originally hailing from Connecticut and a graduate of New England College, Brittany started her career as a fashion market assistant at Marie Claire, later joining AMI, where she designed a highly profitable commerce vertical. Noted for her award-winning content, she's covered everything from celebrity beauty hacks to the most lavish home decor; Brittany has maintained her penchant for the finer things in life.
If a genie granted Brittany one wish, it would be for Kelly Wearstler to bring her vision to life and transform her living space, but until then? You'll find Brittany continuously evolving her chilled-out sophisticated style, shifting her attention to eclectic pieces (with a hint of retro), grounded by a rich understanding of history, focused on functionality, luxury, and quirkiness.
Find her on Instagram @Rammmyyy