Best rowing machines: the 5 rowers for a full-body workout session
With one of the best rowing machines in your home, your exercise routine will be more intensive than ever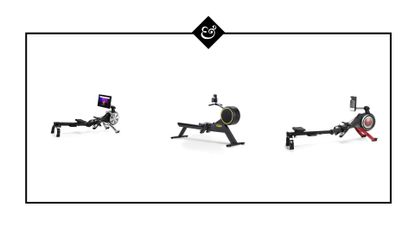 (Image credit: Future)
With one of the best rowing machines to complete your home gym setup, you can challenge yourself to a full-body workout any time. Ideal for training your arms, abs, back, and legs, a rowing machine can break up your circuit training nicely, and provide a break from running or incline walking. This round-up includes rowing machines will different types of resistance too, including water resistance, which can mimic the experience of being out there on the water yourself.
The major factors to consider when it comes to purchasing a rowing machine are space, your price range, and the features that will make your workout feel like a walk in the park, like games to entertain you and a good console to help track your metrics.
Like many of the best treadmills, good rowing machines can continue to challenge you years after you first make your purchase, with various levels of resistance to work your way through. Before we look too far into the future, however, to make the first step into your new fitness regime, simply keep scrolling to find all of the premium treadmills on offer.
The best rowing machines: 5 best buys to invest in
You can trust Homes & Gardens. Our expert reviewers spend hours testing and comparing the latest products, helping you choose the best for you. Find out more about how we test.
1. Nordictrack RW900 Folding Rowing Machine
The best rowing machines: the best gym quality folding rower
Specifications
Dimensions (L x W x H): 850 x 220 x 510 cm
Monitor: 22" HD touchscreen
Resistance / levels: Magnetic and air /2 6 levels
Special features: Folds; includes 1 year iFit Family membership ($468 value)
Reasons to buy
+
22-inch touchscreen display
+
It folds for easier storage
+
Works with iFit for more workouts
+
Switch from silent magnetic resistance or air resistance
Some fold-up rowers can be a bit scrooge-like when it comes to features, not this one.
The first thing you'll notice about the NordicTrack RW900 Folding Rowing Machine is the giant 22-inch touchscreen. The full-color display shows your workout data, including everything from strokes per minute, total strokes, calories burnt, and distance.
The screen also shows 30 built-in workouts led by coaches who'll guide you through virtual lakes around the world.
NordicTrack RW900 also works with iFit, so you can enjoy many more workouts to suit your specific workout routine.
Expect a smooth rowing experience as good (if not better) than most machines you'll find in some gyms. A silent magnetic resistance offers 26 levels of difficulty, or at the touch of a button, you can use ten levels of manually adjustable air resistance for more of a challenge.
2. ProForm – 750R Rower
The best rowing machines: offers great features for a mid-range price
Specifications
Dimensions (L x W x H): 218 x 55 116 cm
Monitor : 5" High Contrast Multi-Color Display monitor
Resistance / levels: Fitted with silent magnetic resistance / 24 levels
Special features: 30 day trial activation iFit Membership
Reasons to buy
+
The display shows your workout stats
+
It folds up for easier storage
+
Trainer-led auto resistance
+
Enjoy thousands of interactive workouts
Reasons to avoid
-
Some features are only suitable for tablet use
Another one of the best rowing machines — that provide a space-saving fold-up design with lots of features — is this one.
The ProForm 7500 Rower includes 24 levels of silent magnetic resistance and a smaller 5-inch display that shows all of your most important workout stats.
Here, you will enjoy thousands of workouts too, but for this feature, you will need to insert a tablet to enjoy virtual rowing sessions around the world on lakes and rivers found outside in the real world.
Plus, the built-in speakers help you get the most from this machine, or you can use them to listen to your home gym playlist.
3. Technogym Skillrow
The best rowing machines: the best minimalist design to match your home's current décor
Specifications
Dimensions (L x W x H): 243.5 x 62.9 x 128 cm
Monitor: 7" LCD display with backlight
Resistance / levels: Air resisted rowing mode - 10 levels, additional power mode - 3 levels
Special features: mywellness® workout tracking through apps
Reasons to buy
+
It feels like you're rowing in the water
+
Dismantle in two parts for easy storage
+
Choose from cardiovascular or power mode
+
Minimalist design
TechnoGym is a name you'll find in many gyms around the country, so you can assume the TechnoGym SkillRow is a top-quality bit of kit.
The SkillRow is well suited to those who take their fitness (and rowing), thanks to the ten levels of air resistance rowing or three additional power mode levels.
TechnoGym says its Aquafeel technology makes it feel as if you're rowing in water, as the resistance gradually increases in a fluid motion to avoid a backlash effect on your lower back.
A control hub shows all your rowing stats, such as speed, distance, and calories.
If you want more features: dock your phone and enjoy virtual training sessions, real-time feedback on your performance, and races against other people's best times in fun yet competitive racing challenges for an extra bit of motivation.
4. Concept 2 Model D
The best rowing machine: a no-frills high-quality rower
Specifications
Dimensions (L x W x H) : 224 x 61 x 36 cm
Monitor: PM5
Resistance / levels: Air + flywheel, variable resistance
Special feature: Folds; Bluetooth and ANT+ wireless capable
Reasons to buy
+
It is easy to use
+
It works with apps
+
It folds away for easy storage
Reasons to avoid
-
Takes up a lot of room when in use
Another brand you'll find in gyms when it comes to the best rowing machines?
The Concept2 Model D — and forewarning: it doesn't look as fancy as some of the other rowing machines on our list, but you're still getting a top-notch, reliable rower that wouldn't look out of place in any professional gym.
Here, the air resistance technology provides a smooth rowing-inspired approach, while the rower in itself is dead-easy to use.
Just strap yourself in and select 'Just row' from the menu or choose from a handful of workouts. The Concept2 Model D is also compatible with a range of applications. Begin by attaching your phone, opening an application up, and watch the stat-tracking begin.
Lastly, the rower can be tucked away when not in use, so it won't always take up space in your home.
5. Sunny Health and Fitness SF-RW1205 Rowing machine
The best rowing machines: the best for casual rowers on a budget
Specifications
Dimensions (L x W x H) : 540 x 200 x 230 cm
Monitor : Basic
Resistance / levels: Hydraulic / 12 levels
Reasons to buy
+
Low-cost rower
+
Easy to use
+
12 resistance levels
Reasons to avoid
-
Better for beginners or casual rowers
-
Not ideal if you're tall
If you're on the fence about the invest one of the best rowing machines that will cost you, go rowing machine go for an affordable manual rower.
Sunny Health and Fitness SF-RW1205 Rowing machine will not give you the fancy features such as virtual training sessions, but you will get 12 levels of resistance, a padded seat, anti-slip footplates, and non-grip handlebars. You can even set goals on the digital monitor.
You'll still get an excellent workout for your upper and lower body, so it's a sensational buy when first breaking into the world of rowers.
Plus, you can always upgrade to one of the other models on our list in the future.
See: Best treadmills – the top machines to get you running and walking in the comfort of your home

---
Browse more of the best rowing machines
How to choose one of the best rowing machines
When shopping for the best rowing machines, there are three things to consider: how much space your home has, how often you will use the rowing machine, and what resistance are you looking for in a rower?
How much space do you have for a rowing machine?
Many home rowing machines fold up or store vertically – or both – to help you save floor space when the rower is not in use. If you are in an apartment setting, this can save you some vital floor space, too.
How often will you use your rowing machine?
The more frequently you plan to use your rowing machine, the more crucial durability becomes. Although buying a rower for only $200 or so might seem like a bargain up front, this type of ultra-budget machine often won't stand up to repeated, heavy use – leaving you with the cost of buying a replacement.
If you're going to be a frequent rower, you'll often save money in the end if shopping with durability and longevity in mind.
How to choose a resistance type
Selecting one of the best rowing machines contingent on resistance (and resistance only) has pros and cons.
For the most realistic workout, some machines use actual drums of water, replicating the feeling of dragging oars through the water.
While other rowers will give you a high-intense workout that your body will thank you for (later). It's both good and bad here.
How we chose the best rowing machines
We are looking to test this range of rowing machines as soon as possible, in order to bring you detailed reviews and experiences of each product. Until then, there are a range of important features that we look for before we include a rower in this round-up of our favorite products, including looking closely at the specifications, the price range and the user reviews of each one. We also look carefully at what customers are searching for before they buy their rowing machine, in order to bring you the most useful advice before you make this expensive purchase.
Molly is the Ecommerce Writer for Homes & Gardens and spends her time searching the internet for the next best thing for your home, with a focus on shopping edits and buying guides. Before joining Homes & Gardens, Molly graduated from the University of Exeter with a degree in English Literature, with previous internships undertaken at The Economist in her summer breaks.