Best rowing machines – the top indoor rowers to suit every fitness need
These rowers offer both cardio and a full body workout, all in one spectacular machine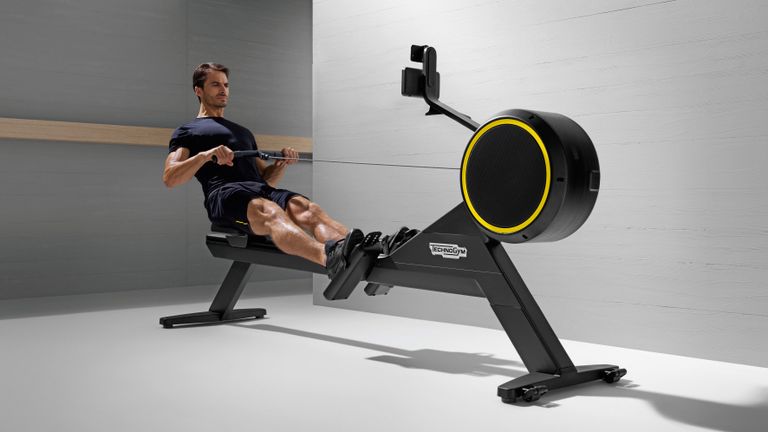 (Image credit: Technogym)
You don't need a gym to enjoy a full body workout. The best rowing machines improve your cardiovascular fitness and strength by training your arms, back, legs and abs. Our pick of the best rowing machines includes machines for all budgets and room sizes. 
When it comes to buying a rowing machine for your home, think about how often you might use it, and what fitness goals you want to achieve. Most of the machines below can track speed, distance and potential calories burned, and can work with your smartphone – these make use of virtual rowing games to help motivate you if you're having one of those days. 
Have a look at our list and see which rowing machine is best for you.
1. Nordictrack RW900 Folding Rowing Machine
Best gym quality folding rower
Specifications
Dimensions (L x W x H): 850 x 220 x 510 cm
Monitor: 22" HD touchscreen
Resistance / levels: Magnetic and air /2 6 levels
Special features: Folds; includes 1 year iFit Family membership ($468 value)
Reasons to buy
+22-inch touchscreen display+Folds up for easier storage+Works with iFit for more workouts+Switch from silent magnetic resistance or air resistance
Some fold up rowers can be a bit scrooge-like when it comes to features, not this one. The first thing you'll notice about the NordicTrack RW900 Folding Rowing Machine is the giant 22-inch touchscreen. The full color display shows your workout data including strokes per minute, total strokes, calories burnt and distance. 
The screen also shows 30 built-in workouts led by coaches who'll guide you through virtual lakes around the world. NordicTrack RW900 also works with iFit so you can enjoy many more workouts to suit your specific workout routine. 
Expect a smooth rowing experience as good (if not better) than most machines you'll find in some gyms. A silent magnetic resistance offers 26 levels of difficulty or at the touch of a button you can use 10 levels of manually adjustable air resistance for more of a challenge.
2. ProForm – 750R Rower
Great features for a mid-range price
Specifications
Dimensions (L x W x H): 218 x 55 116 cm
Monitor : 5" High Contrast Multi-Color Display monitor
Resistance / levels: Fitted with silent magnetic resistance / 24 levels
Special features: 30 day trial activation iFit Membership
Reasons to buy
+Display shows your workout stats+Folds up for easier storage+Trainer-led auto resistance+Enjoy thousands of interactive workouts
Reasons to avoid
-Some features only available if you have a tablet
Another space-saving fold up rower with lots of features. Here you get 24 levels of silent magnetic resistance and a smaller 5-inch display that shows all the important workout stats. 
You can enjoy thousands of workouts too, but for this feature you'll need to insert a tablet to enjoy virtual rowing sessions around the world on lakes and rivers you'll find in the real world. The built-in speakers help you get the most from this, or you can use them to listen to your home gym playlist.
3. Technogym Skillrow
Specifications
Dimensions (L x W x H): 243.5 x 62.9 x 128 cm
Monitor: 7" LCD display with backlight
Resistance / levels: Air resisted rowing mode - 10 levels, additional power mode - 3 levels
Special features: mywellness® workout tracking through apps
Reasons to buy
+Feels like you're rowing in water+Dismantle in two parts for easy storage+Choose from cardiovascular or power mode+Minimalist design
TechnoGym is a name you'll find in many gyms around the country, so you can assume the TechnoGym SkillRow is a top-quality bit of kit. The SkillRow is well suited to those who take their fitness (and rowing) seriously thanks to 10 levels of air resistance rowing or three additional power mode levels. 
TechnoGym says its Aquafeel technology makes it feel as if you're rowing in water, as the resistance gradually increases in a fluid motion to avoid a backlash effect on your lower back.  
A control hub shows all your rowing stats such as speed, distance and calories. If you want more features simply dock your phone and enjoy virtual training sessions, real-time feedback on your performance and races against other people's best times in fun yet competitive racing challenges for an extra bit of motivation.
4. Concept 2 Model D
No-frills high-quality rower
Specifications
Dimensions (L x W x H) : 224 x 61 x 36 cm
Monitor: PM5
Resistance / levels: Air + flywheel, variable resistance
Special feature: Folds; Bluetooth and ANT+ wireless capable
Reasons to buy
+Easy to use+Works with apps+Folds away for easy storage
Reasons to avoid
-Takes up a lot of room when in use
Another brand you'll find in gyms. The Concept2 Model D doesn't look as fancy as some of the other rowing machines on our list, but you're still getting a top-notch reliable rower that wouldn't look out of place in any professional gym. 
The air resistance technology provides a smooth rowing feel, and the rower's dead-easy to use. Just strap yourself in and select 'Just row' from the menu or choose from a variety of workouts. 
The Concept2 Model D is also compatible with a range of apps – just attach your phone and enjoy even more workouts and stat-tracking. The rower can also be folded away when not in use, so it won't always take up space in your home.
5. Sunny Health and Fitness SF-RW1205 Rowing machine
Best for casual rowers on a budget
Specifications
Dimensions (L x W x H) : 540 x 200 x 230 cm
Monitor : Basic
Resistance / levels: Hydraulic / 12 levels
Reasons to buy
+Low-cost rower+Easy to use+12 resistance levels
Reasons to avoid
-Better for beginners or casual rowers-Not ideal if you're tall
If you're on the fence about a rowing machine go for an affordable manual rower. The Sunny Health & Fitness SF-RW1205 Rowing Machine won't give you the fancy features such as virtual training sessions, but you will get 12 levels of resistance, a padded seat, anti-slip footplates and non-grip handlebars. You can even set goals on the digital monitor. 
You'll still get a great workout for your upper and lower body, so it's a good first foray into the world of rowers. You can always upgrade to one of the other models on our list in future.
See: Best treadmills – the top machines to get you running and walking in the comfort of your home

How to buy the best rowing machine
As you shop for the best rowing machine, consider there are three main things to consider: how much space you have; how often you'll use it; and what type of resistance mechanism best suits your needs. 
How much space do you have for a rowing machine? 
Many home rowing machines fold up or store vertically – or both – to help you save floor space when the machine is not in use. If you're in an apartment setting this can save vital floor space, too.
How often will you use your rowing machine? 
The more frequently you plan to use your rowing machine, the more important durability becomes. Although buying a rower for only $200 or so might seem like a bargain up front, this type of ultra-budget machine often won't stand up to repeated, heavy use – leaving you with the cost of buying a replacement. If you're going to be a frequent rower, you'll often save money in the end if shop with durability and longevity in mind.
How to choose a resistance type 
When it comes to choosing a resistant type for your home rowing machine, every option has its pros and cons. For the most realistic workout, some machines use actual drums of water, replicating the feeling of dragging oars through the water.