Cosori 5-Quart Rice Cooker: perfect rice, but takes forever
Offering more than a regular rice cooker, but less than a multi-cooker, the Cosori 5.0-Quart Rice Cooker is an affordable inbetweener that delivers delicious dishes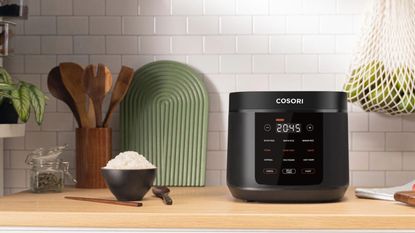 (Image credit: Cosori)
Admittedly the Cosori 5.0-Quart Rice Cooker is not quick, but it is precise, and will rustle up some of the best tasting rice you've ever experienced, and plenty of it. Saute, steam, slow cook and soup are also within its skillset – and it's smart looking, too.
Reasons to buy
+

Multifunctional

+

Dishwasher safe components

+

Delay timer

+

Keep warm function
Reasons to avoid
-

Painfully slow

-

No temperature control

-

Tall
You can trust Homes & Gardens. Our expert reviewers spend hours testing and comparing the latest products, helping you choose the best for you. Find out more about how we test.
They say the best things come to those who wait, and if perfectly fluffy rice is important to you, the Cosori 5.0-Quart Rice Cooker is well worth a little patience. Taking all the variables and uncertainties out of rice cooking (too much water/not enough, too starchy/too chewy etc), hunting down the best rice cooker can save a lot of faffing come dinner time.
With its generous 5.0-Quart capacity, this model will also come into its own when entertaining. Catering for an impressive menu of grain types, from simple long grain white to jasmine, sushi, brown, quinoa and even mixed grains, the Cosori 5.0-Quart Rice Cooker will produce perfect results no matter what you throw at it (or rather, inside it).
Although pitched as a rice cooker, this multifunctional model can deliver so much more, making it a strong contender for our best Instant Pot line-up. We're talking steam cooker, slow cooker, saute, cake, jam/sauce and soup maker. Retailing at just $99.99, you certainly get plenty of bang for your buck.
Should you buy the Cosori 5.0-Quart Rice Cooker?
If you struggle to cook consistently nice rice in a pan, the Cosori 5.0-Quart Rice Cooker will come to the rescue. It's not quick but the results are restaurant-grade perfect. This boxy beast also delivers saute, steam, slow cook, soup, cake and jam/sauce modes, stretching its cooking capability way beyond mere grains. So, if you've ever wondered what can you cook in a rice cooker, for the Cosori 5.0-Quart Rice Cooker, the answer is a lot.
For those with space to spare on the countertops and perhaps not so much space to spare on their regular hob, this smart rice cooker can bring extra cooking capacity to the kitchen.
Personally, I am lucky to have mastered the dark art of cooking decent (nearly always perfect) rice in a regular pan, and also have no problem steaming veg or doing any of the other cooking functions the Cosori 5.0-Quart Rice Cooker offers on my five-zone induction hob (which has a timer, delay start and keep warm).
However, it would be far cheaper to buy this machine than upgrade a basic hob and I do appreciate that some people just love the ease and convenience of chucking ingredients into one pot and always being certain of great results. On that score, the Cosori 5.0-Quart Rice Cooker is a dream machine.
Specifications
Swipe to scroll horizontally
| | |
| --- | --- |
| Dimensions | 12.3 x 10.6 x 9.2 in /31.2 x 26.9 x 23.4cm |
| Power | 1000 Watts |
| Weight | 9.3lb / 4.2 kg |
| Material | Stainless steel and plastic |
| Capacity | 5 qt / 10 cup (uncooked rice) |
| Settings | 17 |
First impressions
The Cosori 5.0-Quart Rice Cooker was delivered in a large sturdy box, inside which there was more polystyrene than I would have liked. We always prefer products to come in recyclable materials rather than polystyrene. However, it was very neatly packed, without wasting an inch of space, which is considerate from a carbon footprint stance.
I was immediately struck by the weight and sturdiness of the Cosori 5.0-Quart Rice Cooker. It feels reassuringly robust. The design is smart, too, and I didn't fear it would blight my countertops, unlike many less attractive small appliances I've tested over the years.
It comes with a couple of nice utensils, also stylishly designed, plus a rice measuring cup, steam basket (stainless steel), recipe book and instruction manual. The (very handy) Quick Start Guide peels off the front panel to reveal a discreet, push-touch LED display.
What is it like to use?
The Cosori 5.0-Quart Rice Cooker is pretty user-friendly, with an intuitive control panel. However, it is fairly tall and the lid needs to flip right up in order to get the non-stick inner pot in and out, so I couldn't put it under the wall cabinets on my countertops and instead chose a spot without anything above.
Before first use, the inner lid (which clips off easily) needs to be removed and washed, alongside all accessories. Cosori also recommends a 'dry run' to sanitize the interior, which just involves running the steam mode without any food inside.
The menu on the illuminated front panel is easy to use, with buttons for different grains, cooking modes, cancel, delay timer and start. You can also scroll the timer display using the + and – buttons.
There's a lot of encouragement on the packaging and user manual to download Cosori's VeSync App, so I downloaded it and set up an account before adding 'My Device' to the Home page. As far as I can tell, this just provides access to more recipes – 14 at the time of testing – and also allows you to add in your own recipes manually. There's no wi-fi or Bluetooth connection between the App and rice cooker so it's not an App that can be used to control or monitor the appliance.
I liked the delay timer function, which means you can set it all up to be ready up to 24 hours in the future. The automatic keep warm function, which will keep contents at 158°F for up to 24 hours after cooking is complete, is particularly handy if you don't get the maths right on the delay timer or are just running behind schedule.
I didn't like the fact that you must remember to manually turn the keep warm function off. Several times we had finished eating and were back in the kitchen clearing up before I realised the rice cooker was still warming away, even with the lid wide open and nothing inside.
I also didn't appreciate that you can't manually adjust the cooking times when cooking rice. You have to go with the number that pings up when you set the menu, which was always higher than I'd like. This, says Cosori, is because the appliance uses Fuzzy Logic technology, which basically means sensors automatically monitor progress and adjust the temperature and timings as it goes along to ensure the best results. I generally found the initial cooking time estimate was accurate though, and if there were any adjustments along the way it was always (slightly) less time, rather than more.
The Cosori 5.0-Quart Rice Cooker is very quiet during operation – no whirring or chuntering away, just the gentle sound of steam escaping or water bubbling.
Test 1: Rice
Starting with basic white long grain rice, I found that the steps are easy enough; measure out the number of cups of rice you want, rinse in a sieve and place it into the inner pot. Then fill it with water to the correct water level marking according to how many cups of rice you are cooking.
Next place the inner pot inside the rice cooker and close the lid. Press the White Rice button on the front (long grain is automatically selected) and then press start. You also have the option to program the delay timer up to 24 hours before pressing start, by pressing the + button.
While all this was simple, I immediately hit an issue. I was only cooking for my husband and I, which meant we only needed to cook one cup of rice and the water level marker for white rice starts at 2 cups. After consulting the user manual, I discovered it includes a Grain: Water ratio listed for 1 cup options for every grain type. For white long grain, I needed to measure 1 and 3/16 cups of water, which, for my numerically challenged brain, wasn't a joy.
Math headache aside, the second issue came when I clocked the timer, which counts down when you press start. It was starting at 45 minutes. "That can't be right", I thought. But sure enough, the reference chart in the user manual lists the cooking time at 35-45 mins for 1 cup, 45-55 for 5 cups and an astonishing 55-65 mins for 10 cups of rice. My usual Easy Cook long grain white rice takes no longer than 15 minutes in a saucepan, which for weekday dinners for my family of four, is just about all the time I can spare.
Resigned to a late supper, I pressed start and got on with cooking our curry. When the finish time finally arrived, heralded with beeps, the rice inside looked promising and, after a few stirs with a fork, I could tell it was superior to my usual efforts in a saucepan. The rice was fluffy and light to eat, not too wet, nor too chewy.
For subsequent rice-based meals, I opted for 2 cups (plenty to feed our family of four), which meant I could measure the water on the level marker inside the inner pot. Alongside more white rice, we tried brown rice and jasmine rice, both of which tasted as good as anything we've had in restaurants. But again, the timings were eye-wateringly slow. There is no option to adjust the cooking time, which some people might like if they prefer their rice a little drier or moister for example.
Annoyingly the 'Quick Rice' setting isn't much faster, and it still took a snail-paced 35 minutes to cook 2 cups of slightly chewy rice.
Test 2: Soup
Soup is one of my favorite ways to get vegetables into our girls and it also allowed me to test out two functions on the Cosori 5.0-Quart Rice Cooker; saute and soup mode. Following the Spiced Carrot & Lentil Soup recipe in the book supplied (which has 35 recipes in addition to those on the App), I set the machine to saute mode, adjusted the time to six minutes (as directed) and pressed start.
The Cosori 5.0-Quart Rice Cooker took a few minutes to preheat, but once the countdown began, the base was a little too hot – almost burning the garlic and singing the onions. I needed to keep all the vegetables moving, using the spatula supplied, the entire 5 minutes to prevent incineration. Again, some temperature control would have been nice.
Once all the herbs, dried lentils and wet ingredients (stock, coconut milk) were added, I could shut the lid, press soup mode and set the time to 45 mins, leaving it to get on with the job. Once completed, again signified with audible bleeps, the rice cooker automatically switches to keep warm mode (this is true of every mode except steam and cake), which is a handy function for busy families, or those who are perpetually running late.
A quick blitz with my stick blender, and some extra seasoning, and the soup was good to go. The consistency was perfect and everything nicely cooked – the whole family gave it the thumbs up.
Test 3: Cake
I only tried to bake one cake in the Cosori 5.0-Quart Rice Cooker, chocolate cake, and it was a total failure. Again, I followed a recipe from the book supplied, trying not to weep when I clocked that it would take 70 minutes to cook.
The cake making process was the same as for a regular oven, but you pour the cake batter directly into the pre-greased inner pot, rather than cake tins. Then I just had to set to cake mode, set the time to 70 mins and press start.
My skewer didn't come out clean on first poke, so I set it going for a further five minutes. The cake didn't rise terribly well (understatement), despite using four teaspoons of baking powder (unprecedented), and the consistency was more brownie than cake. But not in a good way – the flavor wasn't the best. It was edible with generous dollops of ice-cream, but I was too embarrassed to share it with any guests.
Test 4: Steamed vegetables
To steam a basket of vegetables, I used a mix of vegetables that I know usually cook for the same amount of time. I needed to fill the inner pot with water to the Steam level. Then add veg to the stainless-steel basket supplied, taking care not to overfill, put both containers in the cooker, press steam mode, set the cooking time (I went with the 10 min default) and press start. You can also set up a delay start, which would be useful if you want to come home to freshly cooked vegetables.
I was a bit distracted by children and phone calls and forgot to actually put the inner pot (with the water) into the machine, just loading in the basket instead. I only realised my mistake when I caught the whiff of burning vegetables. I quickly rectified the situation and started again but what it taught me was that the rice cooker will attempt to steam, regardless of whether the inner pot is in place, which is not ideal for safety.
The pre-heating took a tedious five minutes, despite using water from our boiling water tap in the inner pot. After the 10 minutes of steaming were up, the vegetables were all cooked perfectly. Not too soft, nor too hard and not washed-out color-wise either.
However, I usually steam all our vegetables in a simple stacking steamer on our induction hob, usually with the timer set to eight minutes (it automatically switches off when done). I can't really see any advantages to steaming in the Cosori 5.0-Quart Rice Cooker instead, especially as it took a good 6-7 mins longer.
Cleaning, Storage, and Maintenance
The Cosori 5.0-Quart Rice Cooker would take up the majority of one shelf in a regular kitchen base cabinet, so I would imagine most people would store it out on the countertops full time. It is good looking enough to do so and will take up a similar footprint to a four-slice toaster.
As most of the removeable components – inner pot, steam basket and utensils – are dishwasher friendly (on the top rack), cleaning is super easy. The inside and outside of the rice cooker just requires a damp cloth to clean, with the flat push-touch control panel meaning there are no protruding buttons to harbour bacteria etc. You also need to empty and clean the steam cap regularly, which just requires emptying the inner lid, rinsing and drying.
There is no real maintenance involved, but if you're storing it away, the user manual does recommend it should be fully dry (including the inner lid/steam cap), with nothing placed on top.
How does it compare?
The Cosori 5.0-Quart Rice Cooker is certainly nicely priced for its functionality but if you want faster rice and even more cooking options, I'd recommend turning your attentions to the Instant Pot Duo Plus. For just a few more dollars, you'll cook rice in a more reasonable 20 minutes and also enjoy pressure cooking capability, alongside sterilizing and yoghurt making. Unlike the Cosori 5.0-Quart Rice Cooker, the inner pot isn't non-stick, but it is stainless steel so, if properly seasoned, will develop its own non-stick coating in time.
How We Test
At Homes & Gardens we take product testing very seriously. Our reviewers test the best rice cookers in their own homes for at least two weeks, to see how products perform in real-world conditions. We aim to test a variety of grains and use any pre-set/timer functions, as well as try various recipes, where applicable.
We always follow the instructions supplied by the manufacturers to ensure our experiences are the same as our readers', should they go ahead and buy. For this rice cooker, we made three types of rice, two batches of soup, one tomato and spice infused rice side dish, and one chocolate cake. We also steamed vegetables several times.
All of this is on top of more fundamental tests into how easy it is to set up a given rice cooker, how loud it is, how easy it is to use and store, and how easy it is to clean. All the rice cookers we test are then judged against each other for capacity, price, warranty, and value for money to find the very best.
Sign up to the Homes & Gardens newsletter
Decor Ideas. Project Inspiration. Expert Advice. Delivered to your inbox.
Linda graduated from university with a First in Journalism, Film and Broadcasting. Her career began on a trade title for the kitchen and bathroom industry, and she has worked for Homes & Gardens, and sister-brands Livingetc, Country Homes & Interiors and Ideal Home, since 2006, covering interiors topics, though kitchens and bathrooms are her specialism.