Ninja Foodi DZ401 6-in-1 XL 2-Basket Air Fryer review
The Ninja Foodi DZ401 6-in-1 XL 2-Basket Air Fryer delivers tasty two-in-one meals with speedy cooking times, but getting started can be confusing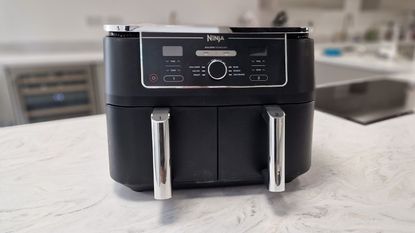 (Image credit: Future / Millie Fender)
Taking a complex but creative approach to air frying, the Ninja Foodi DZ401 6-in-1 XL 2-Basket Air Fryer combines all of Ninja's leading tech to create a does-it-all cooking machine that's big in size but packed with features
Reasons to buy
+

Very large capacity

+

Can use either drawer at a time

+

Easy cleaning

+

Consistent results

+

Many cooking modes to enjoy

+

Wide temperature range
Reasons to avoid
-

No pre-heat timer

-

Controls will take getting used to
You can trust Homes & Gardens. Our expert reviewers spend hours testing and comparing the latest products, helping you choose the best for you. Find out more about how we test.
In this Ninja Foodi DZ401 6-in-1 XL 2-Basket Air Fryer review we put Ninja's flagship fryer to the test. Pitting it against a selection of air fryers from the existing Ninja lineup, as well as some of the best air fryers from Instant brands, we were able to directly compare the cooking results against some of the leading air fryers on the market.
A souped-up version of the existing Ninja Foodi DZ201, the DZ401 has a larger capacity and a dial to select your cooking mode, time and temperature, as opposed to relying on buttons either side of the control panel.
We tested the Ninja Foodi DZ401 6-in-1 XL 2-Basket Air Fryer in the UK, where it's known as the Ninja Foodi MAX Dual Zone Air Fryer AF400UK. There are a few superficial differences, but under the hood it's the same machine no matter where you buy it. Both have fully removable non-stick cooking baskets with non-stick inserts that can go through the dishwasher.
They also come with six cooking modes, an expansive temperature range of 105°F–450°F (although in the UK this is 40°C-250°C), and two modes that can sync your cooking modes or your cooking time for smart finishes when making complete meals. Here's how it held up in testing.
Today's top deals
Ninja Foodi DZ401 6-in-1 XL 2-Basket Air Fryer: specs
Capacity: 10 quarts split between two 5 quart baskets
Cooking modes: Air Fry, Air Broil, Roast, Bake, Reheat, and Dehydrate
Temperature: 105°F–450°F
Size: 17.1" L X 13.9" W X 12.8" H
Weight: 19.8 pounds
Power: 1690 watts
Cleaning: Nonstick and dishwasher-safe baskets and inserts
Cord length: 2.6ft
Getting started
The Ninja Foodi DZ401 came in a large box that was, satisfyingly, packaged in mostly recyclable materials. With the exception of a plastic cover that coated the inserts, the air fryer itself, and the instruction manual, everything else was made of cardboard and could happily be recycled. It's available in black at most retailers, but you can also buy it in red, turquoise, and navy at QVC.
As we said above, we tested the Ninja Foodi DZ401 in the UK, where it is known as the AF400UK. If you're looking for a Ninja Foodi MAX Dual Zone Air Fryer review, this will answer all of your questions, but with the exception of a few small external differences the Ninja Foodi DZ401 is essentially the same machine. It has the same power, dimensions, capacity, appearance, and temperature range.
The main difference is the control panel. In the UK it comes with: Max Crisp, Air Fry, Roast, Reheat, Dehydrate, and Bake. In the US it can Air Fry, Air Broil, Roast, Bake, Reheat, and Dehydrate. The only difference is the Max Crisp setting, which is essentially the air frying setting but at at a higher temperature to create added color and crisp. In the US this is replaced with Air Broil, which is high heat broiling but within an air fryer basket, to create a charred effect. So essentially, it's the same function, but with a different name.
The other key difference is the name given to the Match and Sync settings. In the US you can choose between Match Cook and Smart Finish. In the UK these settings are called Match and Sync. Sync will cook two foods at different settings but with the same finishing time, meaning you can set them up at the same time but the second drawer will only start cooking once the first has the same amount of time left needed for them to finish cooking at the same time. This is the same as Smart Finish on the US Ninja DZ401. The Match setting simply replicates the settings you've applied on the first drawer over to the second.
Cooking fries
In every air fryer review we start with homemade fries. To do this I chopped some potatoes into wedge-shaped pieces and then soaked them to remove the starch, dried them off, and tossed them in oil and seasoning.
We pre-set the air fryer to cook at 360°F for 18 minutes. This fitted well into one cooking basket. The air fryer does not pre-heat like the Instant Vortex Plus 6 Quart 6-in 1 Air Fryer, and I first noticed that it's quite a noisy air fryer at over 80dB.
The fries required a little extra time, although so did all of the air fryers we tested. After the first 18 minutes my fries came out quite pale, but I felt that it might have taken a lot less time at closer to 400°F. After 25 minutes the fries were well browned and even.
There was no reminder to shake mid-way through the cooking cycle but I would recommend doing this to make sure that there is no uneven cooking.
I also noticed that the drawers were very smooth to insert and take out of the air fryer, making the machine feel very high-quality to use. The baskets clicked right into place with no trouble or extra pressure needed.
Cooking frozen food
Air fryers do a brilliant job of cooking frozen breaded food. The Ninja Foodi DZ401 6-in-1 XL 2-Basket Air Fryer was no exception. I cooked some pre-made chicken strips with a breaded coating to see how well they could crisp up the exterior of the chicken.
I tested this by using the maximum heat of the air fryer, 460°F, and set the air fryer up to cook for 12 minutes.
Even 12 minutes was too much time, and I was happy with how the chicken was cooked after just nine minutes. It was very crisp outside, perhaps even a little burnt in some places, and steaming hot inside.
This just goes to show how fast this air fryer can cook when you amp it up to high heat or use the Air Broil mode. The Ninja Foodi DZ401 6-in-1 XL 2-Basket Air Fryer does go up in ten-degree intervals, whereas an Instant air fryer goes up in individual degrees.
Roasting vegetables
Air fryers come with modes that can roast and bake as well as air fry. To test these, I made some roasted vegetables as a delicious and healthy side dish. Vegetables come with a high level of moisture naturally, which will mean it's harder to crisp them up inside an air fryer or even the best toaster oven.
This is a good test of evenness. The Ninja Foodi MAX XL we tested didn't do the best job of this, but the Ninja Foodi DZ401 6-in-1 XL 2-Basket Air Fryer did impress. Although some vegetables were more cooked than others, this is to be expected when cooking zucchini and onion, which have different moisture levels. Across the finished basket, everything was cooked in just 15 minutes at 370°F.
Cooking bacon
We cook bacon when testing to see how evenly the air fryer cooks, and to test how strong the fan inside the air fryer is. Especially with streaky bacon, the internal fan in an air fryer can cause it to move around the air fryer tray when cooking.
I was pleased that my bacon fitted perfectly into one cooking drawer. It was well-shaped to take up to five rashers, although I stuck to three.
The bacon came out evenly rendered and crisp on both sides with no need to turn. After just five minutes at 400°F, the bacon was actually a little overcooked. It was also obvious that it had been blown around the cooking basket. It did not come out in straight rashers but rather curled up and quite hard, a sign that it was overcooked.
If you do cook bacon in this air fryer, be prepared for it to be cooked in as little as three minutes!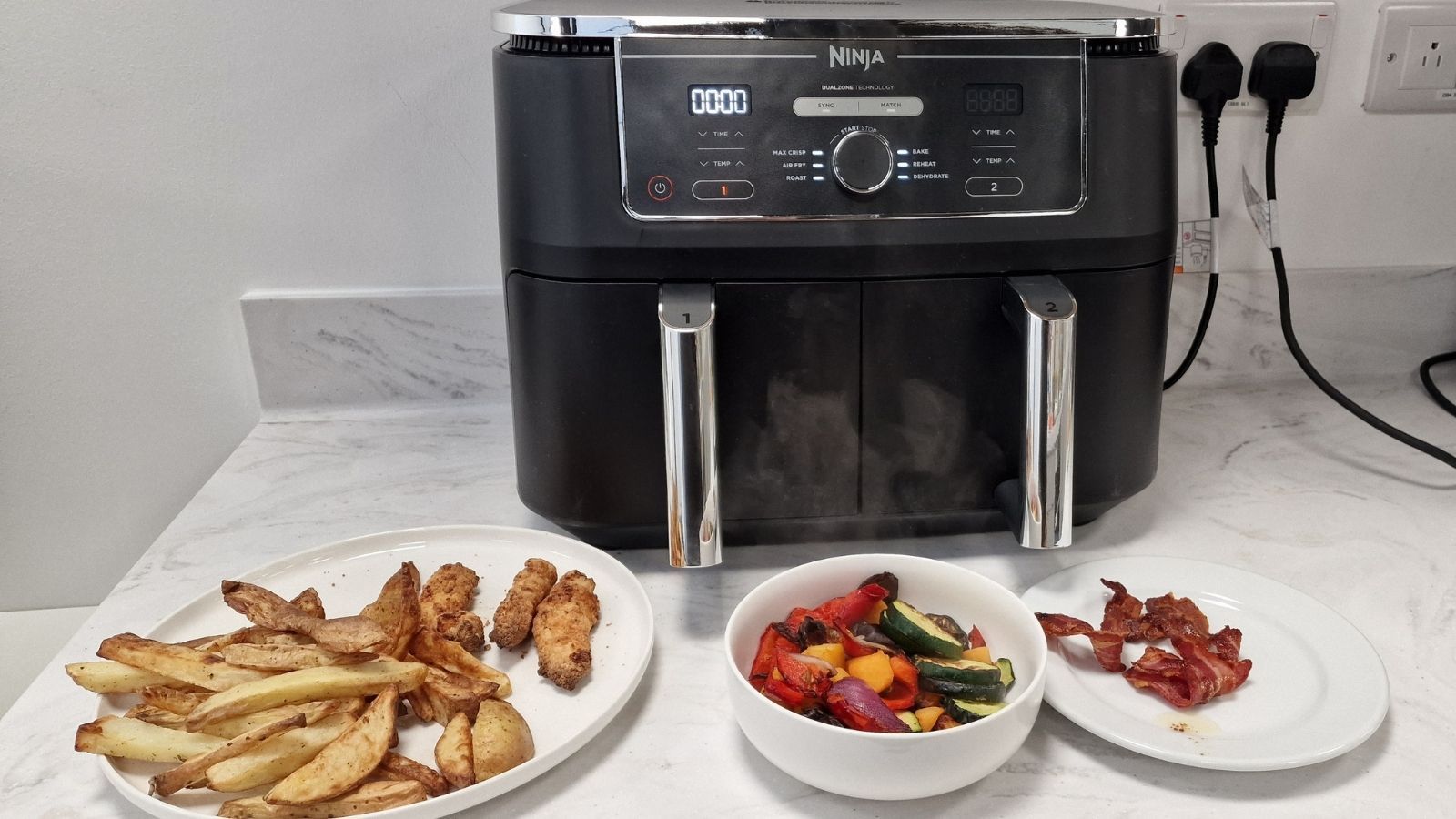 Cleaning
This air fryer is a dream to clean. Just remove the inserts and the trays and put them through the dishwasher. The Instant Vortex Plus 6 Quart 6-in 1 Air Fryer outperformed this Ninja model with fries and bacon, but its basket cannot go through the dishwasher, which is a big setback. It also marked easily, but the Ninja Foodi DZ40 did not have this problem thanks to the dial and physical buttons, as opposed to the Instant air fryer's touchscreen.
Should you buy the Ninja Foodi DZ401 6-in-1 XL 2-Basket Air Fryer
The Ninja Foodi DZ401 6-in-1 XL 2-Basket Air Fryer is a very large air fryer. It's perfectly suited to large households or those who find their solitary air fryer lacking. A dual drawer design does seriously change the cooking options in your home, because you can cook two elements of a meal at once, but note that with the cooking controls on the Ninja Foodi DZ401 I did find that there was a bit of a learning curve. Perhaps it's just me, but I found it easy to confuse the Match and Smart Finish settings.
I also noted the lack of shake reminder or pre-heat settings with this air fryer, which is something that could impact the precision of your cooking times. However, it's a speedy choice with a very high maximum temperature that can crisp up frozen food in under ten minutes. That's really impressive. Plus, cleaning was a breeze.
About this review, and the reviewer
Millie Fender is our Editor for all things small appliances at Homes & Gardens. She spends a lot of time testing everything from toasters to air fryers in her own apartment and recommending the very best ones to readers.
Millie put this air fryer to the test for a number of weeks to make fries, bacon, and roasted vegetables. She will keep this review updated with any thoughts on how it compares to other models on the market.
Sign up to the Homes & Gardens newsletter
Decor Ideas. Project Inspiration. Expert Advice. Delivered to your inbox.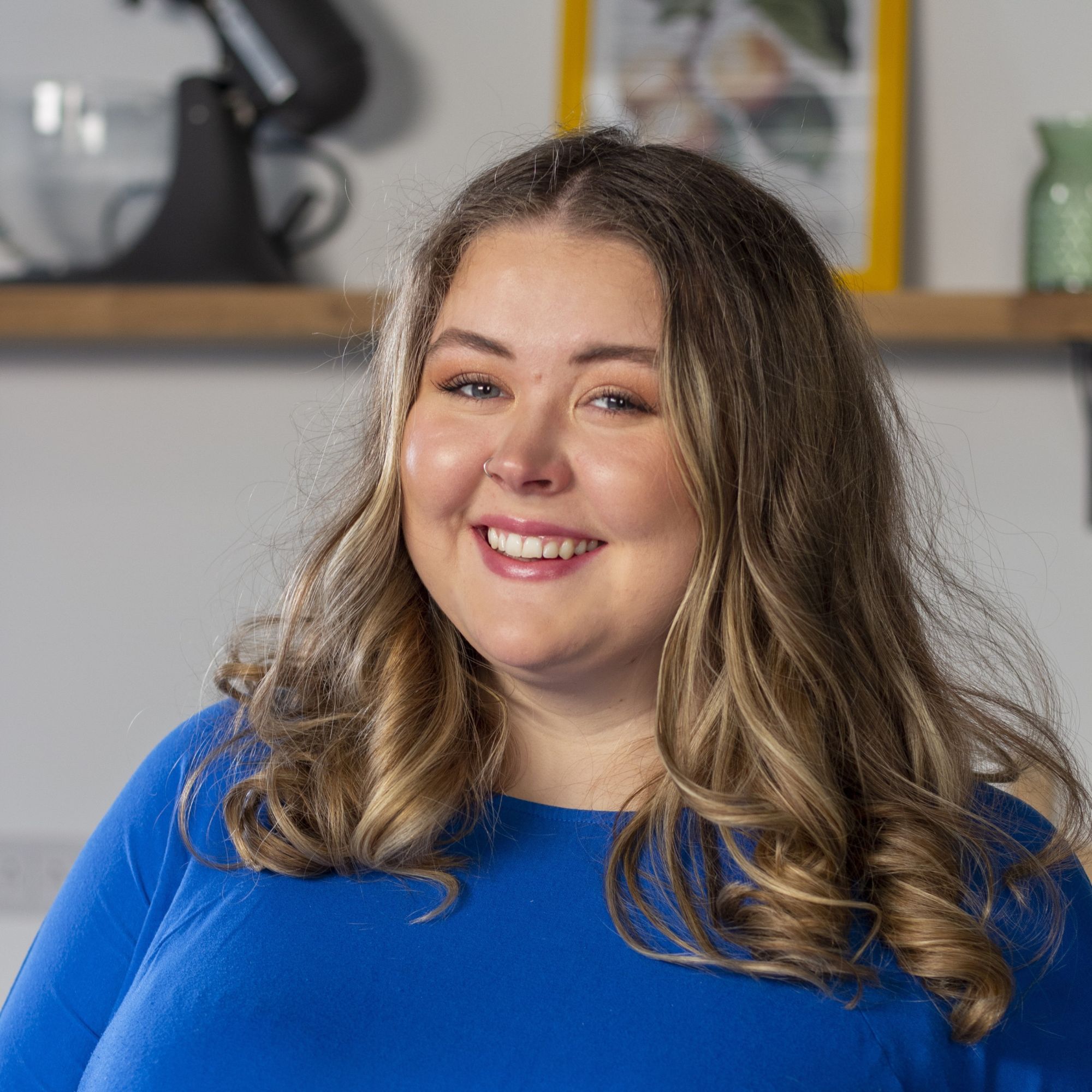 Millie Fender is Head of Reviews on the Homes and Gardens Ecommerce team. She specializes in cooking appliances, such as the best kettles, and also reviews outdoor grills and pizza ovens. Millie loves to bake, so she will take any excuse to review stand mixers and other baking essentials. When she's not putting products through their paces in our dedicated testing kitchen, Millie's reviews are conducted at home, meaning she uses these products in her own day-to-day life.