Shine Rapid Cold Brew Coffee Maker Review: a 10 minute masterpiece
In 15 minutes, the Shine Rapid Cold Brew Coffee Maker made a sweet and smooth cup of coffee. It's easy and fast, but you'll have to compromise on a few qualities.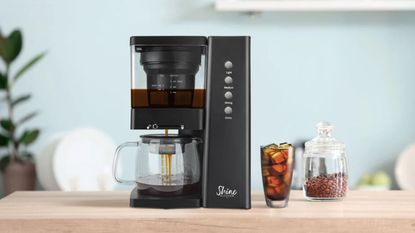 (Image credit: Amazon)
The Shine Rapid Cold Brew Coffee Maker can brew a decent cup of cold brew coffee in 15 minutes. Compared to the 24 hours required by other methods, it's a game changer. You compromise a little on quality, but its not too much to put me off.
Reasons to buy
+

Really fast

+

Compact

+

Easy to use

+

Glass carafe stores in refrigerator

+

Re-usable filter
Reasons to avoid
-

Noisy

-

Some parts feel cheap

-

Taste isn't perfect
You can trust Homes & Gardens. Our expert reviewers spend hours testing and comparing the latest products, helping you choose the best for you. Find out more about how we test.
Sign up to the Homes & Gardens newsletter
Decor Ideas. Project Inspiration. Expert Advice. Delivered to your inbox.
Thank you for signing up to Homes & Gardens. You will receive a verification email shortly.
There was a problem. Please refresh the page and try again.
I've spoken to lots of people who love cold brew, but there's a problem. It takes a long time, and not everyone can wait 24 hours for their cup of coffee. You have to be extremely organized and patient. Thankfully, Shine saw how many people loved cold brew and found the solution for fast, smooth, and sweet cups of coffee.
Using a vacuum, the zero-heat machine makes cold brew in 10-20 minutes. You can make up to 40 ounces, so could easily prepare for the week ahead. Thanks to the glass carafe, you can store any remaining cold brew in your refrigerator for two weeks.
I tested Shine's cold brew machine over a few months. It sat on my compact countertops without any complaints from me. Previously, I've used some of the best French presses to brew cold brew at home, but they take a long time. Over the weeks, I found myself relying on this machine's speed. Now, I couldn't imagine prepping 24 hours ahead.
If you are often in a hurry, the Shine could be a cold-brew game-changer. It's 99% of the way there with flavors and you won't make cold brew any quicker, especially for the price. Cold brew novices who want to move on from home brewing techniques, would spend their money well if they bought one of these. However, fully-fledged coffee fans will find that the taste isn't quite right, and it's pretty noisy.
Specifications
Swipe to scroll horizontally
| | |
| --- | --- |
| Dimensions | 8 x 5.7 x 11.2 inches |
| Capacity | 40 fl oz |
| Weight | 3.7 lbs |
| Filter type | re-usable |
| Sevings | 3-5 |
| Extraction type | vacuum |
Unboxing
Unfortunately, this comes with lots of plastic and non-recyclable packaging, which we never like to see. However, I can't complain, because the Rapid arrived perfectly intact in spite of the fragile, glass carafe.
It arrives assembled. Each part is self-explanatory, so there's no chance you'll struggle to get started. Even if you would, the instructions are thorough and clear, so you're well supported through the whole set-up.
After I had rinsed each component and plugged the machine in, the Rapid was ready to brew. Shine really wasn't kidding with the name 'Rapid' — I don't think cold brew has ever been this quick.
Who would it suit?
If you're new to cold brew, or don't think you can wait 24 hours for a cup of coffee, Shine's Rapid Cold Brew is made for you. Compared to other coffee makers, this is a relatively inexpensive machine. It'll cost under $150, which isn't much more than our favorite French press.
There's no danger of over-brewing, since the machine is fully automatic. It's easy for novice cold brew makers to achieve a smooth cup of joe without having to lift a finger.
The machine is small enough that I had it out on my compact countertop for months without finding it frustrating. If you don't like having appliances on display, it's light and small enough to store in your cupboards too. I'd still be tempted to leave it out, so that it's easy to access, but if you're tight on space, it's good to know you have options.
If you have discerning taste buds, you might find that the Rapid misses the mark for a perfect cold brew. For me, it falls one percent short of the classic cold brew, because it's slightly acidic. Given that it needs just over 1% of a 24 hour brew time, it's a well-proportioned sacrifice for most drinkers, just not the refined cold brew connoisseurs.
What was it like to use?
My first impression of the machine was good. It looks smart and compact on my countertop, but as you get closer, the plastic body looks a little cheap. There are only four buttons for operation, which makes this feel more like a toy than a professional machine.
To start, I filled my water reservoir with five cups of cold, filtered water. There are useful markers on the side of the reservoir to help you pour per cup. I didn't think these would be very precise, so I measured the water myself. They are, in fact, spot on, but I want to protect against human error anyway. Depending on your angle, the water will look like it's up to a different level. You can also remove the reservoir to fill it, but make sure that you lock it back into place securely.
Next, I filled my filter basket with coffee grounds. Shine recommends one scoop of grounds coffee per serving. The average scoop is about 10 grams and I wanted to make enough cold brew for the whole week, so I measured out 50 grams of ground coffee. Always make sure to use coarsely ground coffee for cold brew. This will brew better, because the coffee oils will be slower to extract, so you avoid a bitter, acidic brew. I ground my coffee freshly to make the best possible cup of joe. I'd recommend that you do too. I use the Fellow Ode grinder, which you can buy at Walmart, but you can use any. Just make sure it's good with coarse coffee grounds.
Once filled with water, I placed my filter basket full of coffee grounds, into the reservoir. With the lid on, I selected the 'light' setting for my first cold brew. The machine took just under ten minutes to extract five cups of cold brew coffee. That's seriously impressive. It stops itself when your coffee is done, which is great if you want a machine which is very hands-off.
However, ten minutes has never passed more slowly. This is a loud machine. I recorded 70 dBA of noise, but it felt more like 80. It's pretty grating - I'd recommend leaving the room. I'd still use the Rapid, because ten minutes of headache is worth it for a quick cold brew.
To pour my first cup, I twisted the release lever, so that my glass carafe was free. It's really useful having your coffee brewed into a glass carafe, because it's easy to pour from and it's low enough to store in the refrigerator. I kept mine for a week and the cold brew was brilliant every morning.
When first brewed, my cold brew looked cloudy. Lots of the finer coffee granules had been kicked up in the brewing process, showing me I needed an even coarser grind. I left my cold brew carafe in the refrigerator for five minutes and the sediment had settled. The light cold brew was certainly delicate. I tried a little without adding any milk and felt that it was slightly more acidic than barista-made cold brews. Compared to normal hot-brew coffees, it was mellow, sweet, and smooth, but in the cold brew sphere, it's on the acidic side of the spectrum.
I followed the same process for medium and strong cold brew with the same results. My medium cold brew took about 15 minutes and my strong cold brew took 18. I found that this machine is so loud, I wanted to brew a week's worth at once. That way, I didn't have to face the headache machine every day.
Cleaning, Storage, and Maintenance
The Rapid won't make much mess, so the cleanup is easy. The filter is re-usable, so I emptied my coffee grounds into my food waste, but you can also use it as compost for the garden. Everything else: the reservoir, filter, and carafe can be washed in warm soapy water. Rapid includes a handy cleaning brush for the filter, making a deep clean easier. It's important to clean every ground out, because old coffee grounds can spoil your cup of joe.
Every week, I would recommend soaking the filter in a dilution of vinegar and water. Use a 1:1 ratio and make sure you give it a thorough clean after too. That way your machine will stay in top condition for years.
How does it rate online?
As it's only been on the market a few months, the Shine Rapid doesn't have many reviews yet. On Amazon, the Rapid had a four star rating. Lots of people liked the look of the machine and enjoyed how easy it is to make good cold brew. Most owners cited Rapid as the savoir of their mornings, as they don't have the patience to wait for a longer cold brew method.
I found a few reviews which questioned how 20 minutes can be considered 'rapid', but I would remind them that in the context of cold brew, 20 minutes is lightning-fast. Strangely, most people praise the Shine Rapid with middling phrases. You'll see it described as 'not bad', 'not half bad', 'not too expensive'. I think this indicates that the price and size don't set high expectations, so people seem to feel reasonably pleased with their purchases.
How does it compare?
I'm not sure it's fair compair the new, motorized Rapid to the 60-year-old, manual Toddy Cold Brew system. However, Toddy sets the standard for cold brew, so we have to mention it. Undeniably, Toddy makes a better cold brew. It's smoother, sweeter, and you can make a lot at once. However, it takes 24 hours, and you'll have to store an unsightly and large system on your countertops for a whole day. Even if it's $100, that is enough to put lots of people off. If you're organised and really care about your cold brew flavors, buy the Toddy . However, if you're after speed and don't mind a slight compromise, I'd get the Rapid.
I've also tested the KitchenAid Cold Brew Coffee Maker, which is a similar price to Shine's Rapid machine. The KitchenAid is compact, easy to use, and has a built in tap, which makes it easy to pour a cup of cold brew. It feels premium and you can use it for a range of different brews, from cucumber water to iced tea. However, it uses re-usable filter paper, which is an ongoing cost and will also take 24 hours. Reviewers say that it makes a good cold brew, but, again, if you don't have that time to spare, you'll prefer Shine's Rapid machine.
Should you buy it?
Having used this for a few months, it's well-established in my Monday morning routine. I loudly brew enough cold brew to get me through the week and then tuck my Rapid into my kitchen corner. Once I've added some almond milk, I don't really mind the slight acidity and, for the speed at which it works, I think it's a worthy compromise.
I've tried the Toddy and it did make great cold brew, but the system is big and it takes too much time and effort. So, if, like me, you like to have coffee quickly, but you also like cold brew, Shine's Rapid is perfect for you.
How We Test
We test all coffee maker ourselves before we recommend them to you. Our team of experts start by constantly scouring the market, looking for any coffee maker that's good. Whether they're established classics, or new and innovative, we want to try them.
We take all coffee machines to our test kitchens or homes where we use all of their features. We make notes on each machine, from unboxing to cleaning up, so that you have a clear idea of what every coffee maker will be like to use before you buy one. If you'd like to know more about how we test more details, we have a dedicated page with all the details.
Sign up to the Homes & Gardens newsletter
Decor Ideas. Project Inspiration. Expert Advice. Delivered to your inbox.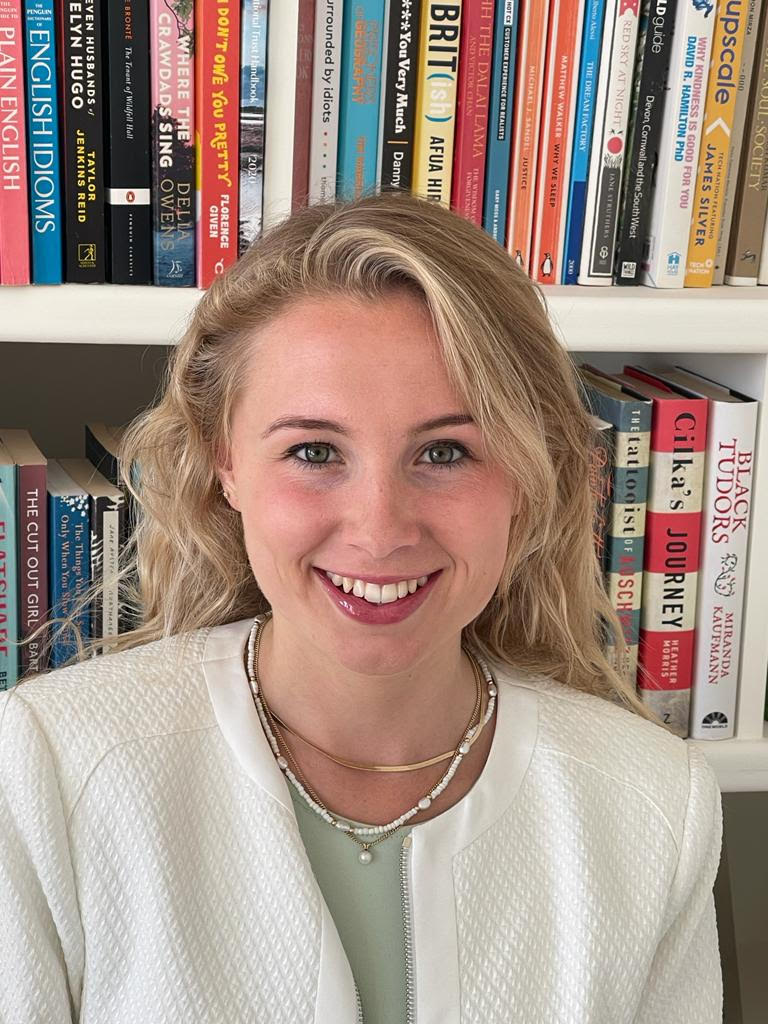 Laura is our eCommerce editor. Before Homes & Gardens she studied English at Oxford University. Alongside her studies, she qualified as a barista and trained as a master perfumer. This makes her our certified expert for all things coffee, candles, and fragrance. She has passed our five-step tests to become a certified Customer Advisor, making her our resident expert. Laura has worked for luxury retail brands, reinforcing the importance of quality and style over quantity and fads. She looks for products which have been designed with thoughtful finishes.