Thermomix TM6 review – a versatile appliance that helps you master even the most advanced cooking techniques
We've reviewed the Thermomix TM6. Here's how we got on...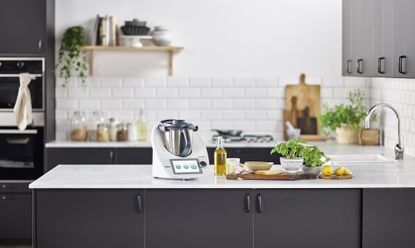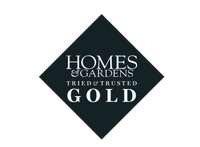 (Image credit: Thermomix)
If you want to spend less time at the hob, have help cooking, be left with less washing up and have a safer all-round cooking experience then you'll find the Thermomix a revolutionary purchase
Reasons to buy
+

Useful for busy families

+

Step-by-step recipes

+

Incredibly versatile
Reasons to avoid
-

Expensive

-

Fair old size

-

Some noisy cooking functions

-

Cookidoo app lacks some Thermomix recipes
You can trust Homes & Gardens. Our expert reviewers spend hours testing and comparing the latest products, helping you choose the best for you. Find out more about how we test.
One of the more disappointing aspects of reviewing the Thermomix TM6 for a few months during a global pandemic is that you can't have people into your kitchen to show the thing off – because, while its looks are far from its main selling point, having the TM6 on your countertop feels like glimpsing the future of cooking.
It's the type of product that's new, different and exciting enough to gain attention – it feels like a leap forward. And in the UK's distinctly private kitchens, when there's only so many times your family will countenance listening to you talk about it, that's a bit disappointing.
This review isn't, of course, about this kitchen assistant's looks. It's also not, necessarily, a review aimed at rigorously testing each of the many functions of the Thermomix TM6. What it aims to do is answer the question that Homes & Gardens readers will be asking – primarily, given its hefty price tag, is it worth it?
What are the practical benefits of this piece of kit, and what difference does it make to our lives? In answer to the latter, a handful of key benefits which make a significant difference to particular households; to the former? Yes, it is worth it – but it's more complex than that.
Keep scrolling to read our in depth review to see how we got on then, head to our best blender guide for cooking up something lighter.
Where to buy the Thermomix TM6?
What is a Thermomix TM6?
A Thermomix TM6 is an interactive kitchen assistant that combines multiple functions specialising in heating and mixing. It was launched in the 1970s and has been given periodic major remodels to add in functionality beyond the core elements, which resemble the best food processors.
What does a Thermomix TM6 do?
In its simplest form, the Thermomix TM6 does what its name suggests – cooks and mixes. While that sounds like a fairly basic proposition, the combination of heating and rotating ingredients at different speeds – from gentle stirring to vigorous blending – forms the basis of so many cooking tasks and, we found, is at the heart of one of the key benefits of the Thermomix – 'wet' foods such as sauces, risottos, soups and stews.
Every function is contained within the assistant. A scale is built into the base of the Thermomix mixing bowl. A variety of steaming bowls sit on top of the mixing bowl - and these various accessories, including a spatula, come with the Thermomix kit.
Of course, the Thermomix is a multi-functional kitchen assistant and can handle a big range of tasks. It can sauté, it can blend, it can steam, is a very good slow cooker and rice cooker, and even handles sous vide.
The latest Thermomix model – the TM6, which we're reviewing – has what could easily be described as the big breakthrough feature, however. A wi-fi connected interactive touchscreen connects the Thermomix through to Vorwoerk's 'Cookidoo' app, which provides step by step cooking instructions for 1,000s of recipes. More on that later, but this form of hand-holding cooking experience, while not for everyone, offers confidence and support to less experienced cooks – it's a transformative cooking tutorial and a real step up from recipe books.
Cooking meals with the Thermomix
We used the Thermomix for a couple of months on a variety of different types of meals. Amongst other things, we cooked:
Mushroom Risotto
Bolognese sauce
Pizza dough
Hummus
Broccoli and Stilton Soup
Pico de Gallo
Pinwheel Pizza
Chicken Enchiladas
It became apparent quite early on in our review process that the Thermomix specialises in key cooking types. We used the interactive cooking tutorials for all of the meals above, and we're now beginning to feel confident enough to venture off piste and use some of the utility functions of the Thermomix as an all-round kitchen assistant – blending and chopping.
We found great success with all of the above recipes – all found on the Cookidoo app and, with the exception of the hummus, which we found a little claggy, offering healthy, easy-to-prepare meals that not only tasted better than our traditional attempts but offer three key benefits: speed of preparation, ease of preparation (meaning that you didn't have to stand at the hob stirring a saucepan for minutes at a time – the Thermomix handles that – and significantly less washing up.
The highlight was the mushroom risotto, which also goes to show off the Thermomix's talents best. It's in its sweet spot with recipes that require chopping, stirring and sauces, and the risotto had plenty of depth and was easily the nicest I'd ever made. It was also the easiest, too – so full marks here. Similarly on soups – the Thermomix is a brilliant soup maker, chopping and cooking the ingredients as it goes, and blending into a smooth texture at the end of the process. I'm told the Thermomix tuna dip is outstanding too. Sauces, soups and dips really are making the most of the Thermomix's functionality.
One of the slight disappointments was on meals such as chillis and enchiladas which required meat as part of a sauce. We found that on different recipes the same problem occurred – the chopping process resulted in a ground rather than the chunks of meat that we were used to. I'm told that this ground meat is common in American food - my wife found it preferable – but I suspect there must be a way around it.
There were many recipes for complete meals that made use of the Thermomix's steaming functionality to cook meat, rice and vegetables on top of the mixing bowl. As yet we have not tried this functionality.
The Cookidoo app
The interactive cooking tutorials on the Thermomix sync in with the Cookidoo app. We wanted to ensure that we were seeing the maximum scope of Thermomix recipes possible. In truth, the app is a mixed bag. It's smart that you can browse through recipes on your phone and save them to your Thermomix ready for cooking later in the week. Even better, the app syncs in with your supermarket grocery account to add items to your weekly shopping list. It feels like the future but isn't quite there, with the app occasionally struggling to translate some ingredients and quantities into what's on the virtual shelves. But it's in the scope of the app where the big disappointment lies. I knew, for instance, that there's a killer Tuna dip recipe for the Thermomix. Searched Cookidoo – nothing. Search Google – top of the search results. Until the app becomes a definitive list of all Thermomix recipes, it's always going to feel a bit of a let-down.
What does the Thermomix replace?
The Thermomix is a kitchen assistant but not a complete cooking solution. It doesn't replace the need for an oven or grill and it's still easier to carry out basic cooking tasks on traditional cookware – frying and boiling being the two most obvious. However for the rest, it is an appliance that removes the need for a food processor and blender, takes on slow cooking duties, and carries out more technical tasks such as sous vide. So it holds its own as part of a kitchen and certainly plays the role of most-used kitchen equipment – but it doesn't offer an all-in-one all-meal solution. Essentially, it's the best kitchen assistant you can have.
What are the key benefits?
The Thermomix is particularly useful for following the step-by-step recipes, but it also serves as a slow cooker, rice cooker, blender, chopper and more too. We tried it out with a few basic cooking tasks – cooking rice, poaching an egg, and making dough, amongst other things. In some areas, it doesn't really provide a benefit. Poaching an egg took a lot longer than it would in the usual way, and felt like a bit of a faff. On the other hand, it was brilliant as a step-by-step dough maker – completely de-tasking the usual process and a big win. Rice was a bit of a mixed bag. We found it slightly less involved than cooking rice in the usual way – and the results were good - but it took perhaps twice as long as making rice conventionally, although it was nicely hands-off.
Best of all, our daughter – a keen amateur cake maker – has used it every weekend for baking. It makes a rich and light Victoria sponge cake mix, and its interactive element really helped give her confidence.
Practical issues
The Thermomix TM6 is a fair old size - it sits at dimensions of 33cm deep, 33cm wide and 33cm tall – and for a classic counter depth of 60cm can feel quite significant. Of course, most modern kitchens have a small artillery of appliances stashed away in various cupboards – from slow cookers to mixers. The Thermomix, however, is something you will need to have out all the time – not least because of its requirement for wi-fi connectivity. So bear in mind where it will live.
Equally, we found some of the cooking functions quite noisy. The rice cooker produced a rather lively crunching sound at regular intervals during the 20 minute cook, in a way that you obviously don't get with cooking rice the conventional way. It's not a deal-breaker, but it's worth preparing for.
Homes & Gardens verdict: is it worth it?
Well, it's pricey. At over £1,000, this isn't something to enter into lightly. In fact, the Thermomix retail model usually involves getting an 'ambassador' to show you its benefits – which is a good idea, because at that price you want to use all of its functions, pretty much all the time.
We agreed that the Thermomix is really useful for busy families looking to eat well and minimise the labour intensity involved in cooking. An accompanying recipe/instruction book includes a page welcoming you to the 'Thermomix Lifestyle' and it definitely does feel like something that can change the way you deal with meals. We use it every other day, or so, and largely as an accompaniment to cooking, rather than a replacement - although it does that once a week or so. In some respects it's outstanding and you wonder how you've ever coped without it. In others, it feels a bit like using it for the sake of using it.
We'd sum up the biggest benefits in four key ways: much less time at the hob; help with cooking for those less confident; less washing up; safer. If those things are valuable to you – as they were to us – then you'll find the Thermomix a revolutionary purchase.
Where to buy the Thermomix TM6?
About the reviewer
Jason Orme is Managing Director of the Homes titles at Future and is one of the UK's leading experts on renovation, extension and self build.
I do 95 per cent of the cooking in my household and would describe myself as a cook confident enough to go away from recipe books but, hey, I have 50 or so recipe books and use them a lot. I enjoy cooking, but equally struggle with time - with a busy job and two pre-teen kids around at dinner time. My wife's cooking skills have been lovingly described as being a 'scraper' – getting the old fish slice out to extricate a melded fishfinger off the baking tray. She lacks time and, it's fair to say, confidence. Our daughter is a very keen amateur baker. We eat well, but I'd happily describe our weekly menus as an exercise in fairly basic modern home cooking – a lot of pasta/sauces, chilli's, Mexican food, and so on. For full disclosure, I first came across the Thermomix being used in Australia by family members around four years ago.
Sign up to the Homes & Gardens newsletter
Decor Ideas. Project Inspiration. Expert Advice. Delivered to your inbox.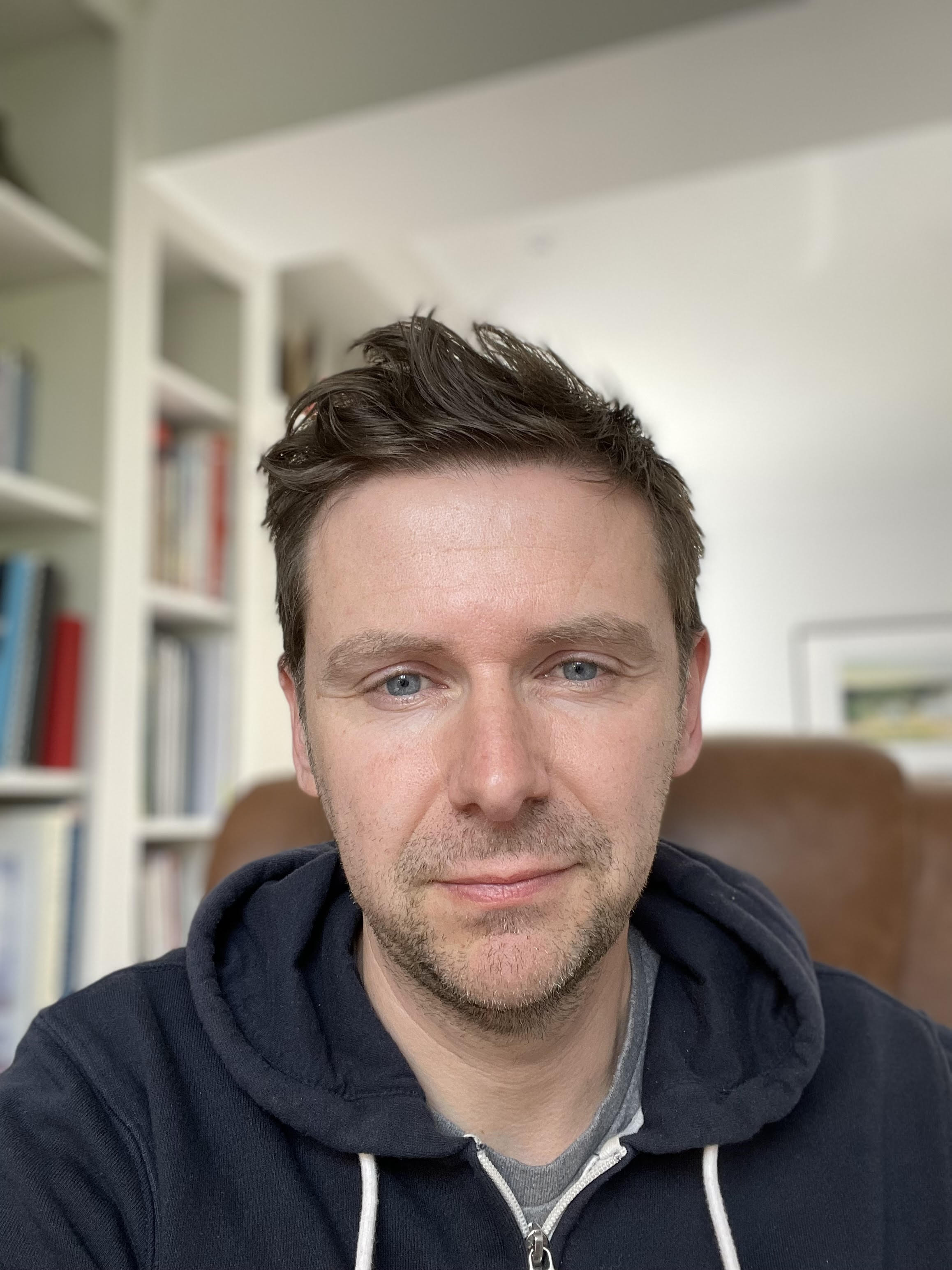 Jason is one of the UK's leading homes and property experts. He has worked in homes media for over 20 years, appearing in all the mainstream national newspapers as well as many specialist magazines, including Homebuilding & Renovating, which he edited for 12 years. Author of The Self Build Dream, he gives advice to 100s of homeowners looking to renovate and build their own home each year, and has renovated and built houses from scratch.