Paris Rhône Air Fryer: an effective but no-frills appliance
A brilliant basic option for an entry-level air fryer, Paris Rhône's latest release is powerful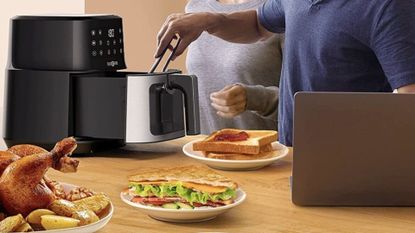 (Image credit: Paris Rhône)
The Paris Rhône air fryer is a powerful, compact air fryer. It's a great entry-point appliance, with a good temperature and function range, but falls short in range.
Reasons to buy
+

Inexpensive

+

Powerful

+

Small for storage

+

Fast and efficient

+

Viewing window with interior light

+

Ceramic non-stick plate

+

No need to pre-heat
Reasons to avoid
-

Limited functions

-

Presets overcook

-
You can trust Homes & Gardens. Our expert reviewers spend hours testing and comparing the latest products, helping you choose the best for you. Find out more about how we test.
Paris Rhône promises to 'better your life' with their appliances and we put this to the test with their air fryer. In a highly competitive, ever-expanding market, we are always looking for the best appliances. Each one needs to be powerful, functional, and effective for specific kitchen needs and we thought Paris Rhône's air fryer is well-suited to smaller households.
With a viewing window, ceramic non-stick basket, and no need to pre-heat, this air fryer is a handy appliance. It is relatively compact and lightweight, so is a potential competitor for the Instant Essentials 4 Quart Air Fryer. After rigorous testing, we think the Paris Rhône has earned its place on compact kitchen countertops.
As you can imagine, our small appliance experts are well-acquainted with the best air fryers. We've tested a variety of models for families, single-servings, small spaces, large kitchens, and multiple functions. I took this one to our test kitchen to see how it performed under the same conditions as all of our other favorite air fryers.
Paris Rhône Air Fryer Specifications
Swipe to scroll horizontally
| | |
| --- | --- |
| Type | Air fryer |
| Dimensions | 9.6 x 16.8 x 12.8 inches |
| Material | stainless steel and plastic |
| Capacity | 5.3 quarts |
| Color | black |
| Weight | 8.6 lbs |
| Power | 1200 watts |
| Presets | 8 with additional manual controls |
| Automatic shut off | yes |
Unboxing The Paris Rhône Air Fryer
Even though the cardboard was a little damaged in transit, the air fryer arrived unscathed. It came surrounded in sturdy cardboard with plastic and polystyrene packaging. Whilst this was evidently effective at being protective, it would be good to see a little less non-recyclable packaging in the future.
Along with a basic instruction manual, Paris Rhône provides a magnetic sheet with air fryer cooking instructions. This covers a range of different food products, and while it might seem trivial, this saves a lot of time when cooking.
Once unboxed and plugged in, with all the stickers removed (including the fiddly ones on the back), this air fryer looks smart and compact. I like it. The front face is touchscreen. There is a menu button which navigates through eight presets (including an egg tart function, a telling sign that this is French-made). There are buttons to manually adjust the time and temperature. The top of the appliance looks touchscreen, but these are printed presets for yet more guidance.
Paris Rhône boasts that you can use their air fryer straight away: there's no preheating or cleaning needed, although I like to give things a precautionary rinse anyway.
Air Frying Asparagus
We like to start every air fryer test with asparagus. We are looking for a crispy outside and tender, well-cooked center.
The magnetic cooking guide suggested that we cook the asparagus at 350 degrees for fifteen minutes. This seemed a little long, so we set the in-built timer to ten minutes, thinking that it's better to check early. Whilst cooking, the inner light switched on and off in twenty second intervals, meaning that we could look at the asparagus through the cooking window.
At ten minutes, the timer went off. It was a little quiet, but this isn't a major worry, because the air fryer turns itself off when the timer goes off. Giving the asparagus an extra five minutes (the full fifteen recommended by Paris Rhône) pushed the asparagus into more crispy territory, but it was cooked through. Lesson learnt: check your food a little before the recommended time.
Overall, the non-stick ceramic plate was effective. Our asparagus caught a little at the edges, but ceramic is a better non-stick for longevity, since it's harder to scratch off.
Air Frying Fries
Fries are an air fryer staple but notoriously difficult for air fryers to master. We were looking for an even cook, crispy outside and fluffy inside. The magnetic sheet suggested that the fries would need 22 minutes at 400 degrees.
The results were fine, for an air fryer. You can see that the color was noticeably uneven, despite turning the fries part of the way through. Some fries slipped through the crisping plate, so they didn't cook properly and were undercooked. Overall, these weren't bad fries. I think the Instant Essentials' fries were better, but these were okay.
Although there wasn't a specific reheat function, we put the cold fries back in for five minutes at 260 degrees. They had warmed through, so got our thumbs-up for reheating.
Air Frying Fish Sticks
Another great feature of air fryers is the way that they handle frozen food. We tried fish sticks on the fish setting for 12 minutes at 350 degrees. The interior was soft and moist and the outside was crispy. I couldn't think of a better way to have these cooked.
Air Frying Chicken Nuggets
We tested chicken nuggets, another handy food to cook in the air fryer. After 15 minutes, at 400 degrees, these were more than done. At the best of times, the Paris Rhône seems to overcook food. It's a little too powerful. The chicken nuggets were dry and the batter on the outside cracked. With a little less time, I think they would have been fine.
Air Frying Bacon
Bacon is another great test for any air fryer. Many compact competitors end up being too small for bacon to lie, full-length in the basket. There wasn't a problem here, although we could only fit three rashers in at once.
After 6 minutes at 400 degrees, the bacon had curled and coloured a little. The fat was crispy, so we were pleased with the results. The only drawback was how few slices we could make at one time.
Air Frying A Whole Chicken
We don't always include this in our tests, but it's one of Paris Rhône's biggest claims. If this averaged-sized air fryer it can handle a whole chicken, it's a great option.
At 2.2 lbs, we chose the smallest chicken we could. We brushed it with an oil and stock cube glaze and roasted it at 250 degrees for an hour. In the absence of a rotisserie function, we rotated it every 20 minutes.
The result was pleasing. It browned evenly and had crispy skin with a plump, juicy inside. It could certainly handle a small chicken, but we wouldn't recommend trying anything bigger.
Cleaning The Air Fryer
This is easy to clean. Although the drawer is dishwasher safe, it's quite bulky and probably best to wash by hand. We used warm soapy water to clean the drawer and non-stick crisping tray. The only fiddly part was the rubber feet, which sometimes unhooked themselves and needed to be reset.
The rest of the machine can be wiped down with a clean cloth. The touch-sensitive face made lots of beeping noises, as it thought we were pressing on the buttons, but that was only momentary. After cleaning, the viewing window fogged up a little, but that should clear as it dries.
How does it compare to similar models?
It would be unfair to compare this air fryer to higher-spec alternatives. Paris Rhône have marketed this as a compact air fryer. It's basic, with no frills and it does simplicity well.
On the day, we tested it alongside the Magic Bullet air fryer. This one was our favorite out of the two. We could adjust the temperature (in five degree increments) and the time (in one minute increments). This was much easier than an old-fashioned dial. The viewing window was a really useful feature and the fryer turns off every time you open the drawer, so you save on energy too.
Comparing the results against the Instant Essentials 4 Quart Air Fryer, Paris Rhône falls a little short. Both are affordable alternatives, but Paris Rhône didn't taste as good: the asparagus, fries, and chicken nuggets were better after being cooked in the Instant Essentials. The main reason you would choose the Paris Rhône over the Instant Essentials is because it has a bigger capacity and more straightforward controls.
Conclusion: should you buy the Paris Rhône air fryer?
If you're looking for a compact, inexpensive air fryer, this is a great option. As I said at the start, it's basic, but does simplicity very well. As a powerful, relatively quiet, and straightforward option, it's a winner. The only place it falls short on is multi-functionality and size: both as a result of it being lower cost and quiet, the epitome of compromise. This fulfills Paris Rhône's claim that their appliances will 'better your life', because it's an affordable entry-point air fryer. It certainly has our approval.
How We Test Our Air Fryers
At Homes & Gardens, we are committed to quality reviews, so we ensure that all our products are tested in person. We have criteria which helps us to discern which product will be best suited to your daily life.
When looking at air fryers, there are a series of tests which each product must undergo.
Unboxing
We look at packaging, how environmentally-friendly it is, the condition of the air fryer and the instructions and extras which come with the appliance. We want to tell you how easy it is to use and store as well as any other special features which might get overlooked.
Air frying food
We want to see how each appliance fares with a range of everyday foods. We test them with asparagus, fries, fish sticks, and chicken nuggets. In this case, we tried a whole chicken too, because it's useful and relevant to this air fryer's size.
Cleaning
This can make-or-break how much you use a product. If it's a hassle to clean, you won't want to use the appliance. If it's easy, you're more likely to integrate it into everyday life.
Read about how we test our products to find out more
Sign up to the Homes & Gardens newsletter
Decor Ideas. Project Inspiration. Expert Advice. Delivered to your inbox.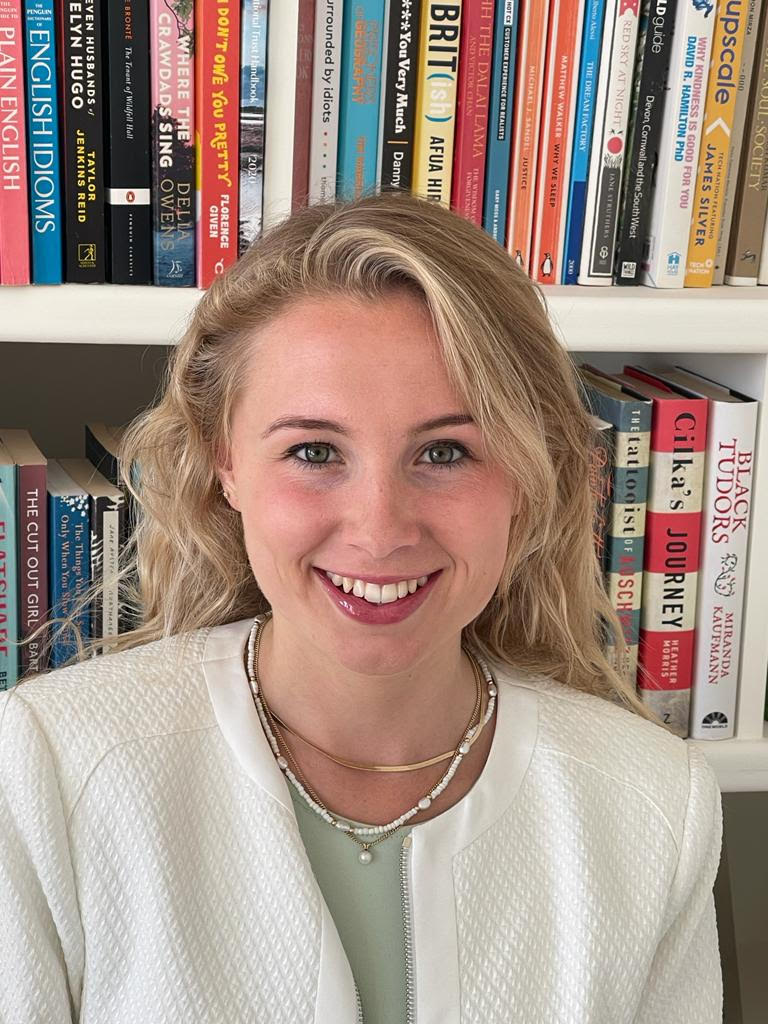 Laura is our eCommerce editor. As a fully qualified barista, she's our expert in all things coffee and has tested over thirty of the best coffee makers on the market. She has also interviewed Q-Graders and world-leading experts in the coffee industry, so has an intimate knowledge of all things coffee. Before joining Homes & Gardens, she studied English at Oxford University. Whilst studying, she trained as a master perfumer and worked in the luxury fragrance industry for five years. Her collection of home fragrance is extensive and she's met and interviewed five of the world's finest perfumers (also known as 'noses'). As a result of this expansive fragrance knowledge, she always puts quality and style over quantity and fads. Laura looks for products which have been designed simply and with thoughtful finishes.