Are scented candles toxic? Medical experts debunk a TikTok trend
I spoke with candle and toxicology experts to make sure that scented candles are safe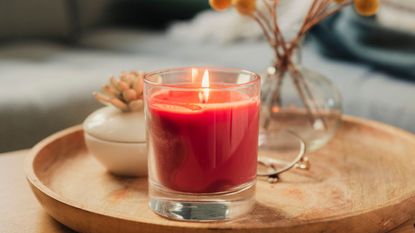 (Image credit: Getty Images)
As a qualified Master Perfumer, I love to be surrounded by scents. I always have a candle lit in my home, so you can imagine my surprise when I saw TikToks with millions of views claiming that scented candles are toxic.
These videos have unnerved a lot of candle collectors. The idea that our relaxation rituals could be poisoning us is horrifying, but I've been reassured by toxicology experts.
I asked medical experts whether scented candles are toxic and what we can do to enjoy clean, fresh air in our homes. Thankfully, they all told me that my aromatherapy routine is safe and yours almost certainly is too.
The bottom line is that most luxury candles - including all of my favorite candles - are safe to use. They're made from premium materials and, if properly maintained, will be fine for your health. The exceptions are cheap paraffin candle wax and wicks with lead cores. If you own these, you should consider throwing them out.
Are scented candles toxic?
I'll get straight to the point. In spite of what some TikTok videos say, if you own a good quality, relatively recently made candle, you're fine. There are decades-old safety standards to help protect your health when using candles.
Alex Ebner, owner of ACE Medical, says that 'soy, beexwax, and coconut wax are natural and safe waxes to use'. As long as you maintain your candle well by trimming the wick and burning it in a well-ventilated room, you should be fine.
Medical expert
Medical expert
Alex Ebner
Alex is a medical expert and founder of ACE medical. He works with major medical corporations, providing them with relevant instruments, so is always keeping an eye on the latest medical trends.
Is the candle wick toxic?
A candle's wick is historically the most 'toxic' part, because it used to be made with lead or other metallic compounds. However, lead wicks are banned from production in the US. Even then, most people stopped making lead wicks in 1974, so unless your candle is an antique, it probably has a cotton wick.
For those who are unconvinced or feeling unsure, there's an easy way to check your wick. Rub an unburnt part of it against a piece of plain white paper. If it leaves a pencil-like line on the paper, then it contains lead. Most candles will either leave a waxy or white mark on the paper, indicating that it's fine.
If you're looking for candles with safe wicks, you should opt for a cotton or wood wick.
Scent notes: black tea, mint leaves, dried apples, and cinnamon
Size: 200g
Wax: Swedish rapeseed wax
Wick: cotton
+ Affordable
+ Cosy, neutral fragrance
+ Refillable
As you would expect from Skandinavisk, their ingredients are all as natural as possible. Aside from having a warm, cozy scent, this candle is made with recycled glass and the wax and essential oils are all vegan-friendly and natural.
Scent notes: cedar atlas, ylang ylang, geranium, rosemary
Size: 6 oz
Wax: organic rapeseed and soy
Wick: organic cotton
+ All organic ingredients
+ Beautiful design
- No refills
All about organics and natural products, Austin Austin makes the perfect candles for balanced aromatherapy. I love their ylang ylang candle, because it smells herbal and calming. The vessel is beautiful too.
Scent notes: tomato leaf, green vine, tarragon
Size: 6 oz
Wax: vegetable
Wick: cotton
+ Beautiful vessel
+ Fresh scent
- Expensive
All Loewe candles have organic cotton wicks and they're made with natural materials. Not only is this a beautiful vessel, the tomato scent is surprisingly good, producing a savory, fresh, and green fragrance.
Is the candle wax toxic?
Most candle waxes are fine. If you buy a good quality candle, made from beeswax, coconut, or vegetable wax, they are fine to burn. However, many cheaper candles are made with chemicals and cheap paraffin, which is where experts are concerned.
According to Nate Masterson, natural ingredients expert, cheap candles 'created with synthetic fragrances and waxes can release harmful chemicals, which can eventually affect the respiratory system when inhaled in excess'.
Drilling down to specifics, Kelly Johnson-Arbor, medical toxicology physician, says that 'the paraffin wax, obtained from petroleum products, can release toluene, benzene, and formaldehyde, all of which are known carcinogens when burned'.
Natural Health Expert
Natural Health Expert
Nate Masterson
Nate is a certified expert in natural product development and care. He is CMO at Maple Holistics where he works on natural and cruelty-free personal care. He's extensively researched the candle health industry, so is incredibly knowledgeable on what is toxic and which candles are best to avoid.
Medical Toxicology Physician
Medical Toxicology Physician
Kelly Johnson-Arbor
Kelly is a medical toxicology physician located in Washington who has done lots of recent, up-to-date research on candles and their health implications.
You'll be pleased to know that Nate, natural ingredients expert, says that 'candles made with natural ingredients such as soy, beeswax, and coconut wax are much safer. Many organic candles use essential oils in place of harmful chemicals, so are better when burnt'. They also come from renewable energy sources and are more environmentally friendly, keeping your walls white and air fresh.
I was consistently referred to a study published in 2014 where candles were burned in a range of room sizes. The tests were carried out using a range of candles, burned for up to four hours in large, medium, and small rooms. The particulate levels of cancer causing substances were less than half of the limits set by the World Health Organization. This means that the air quality remained 'typical' and no different from any other space. They concluded that 'under normal conditions of use, scented candles do not pose known health risks to the consumer'. It's worth noting that these were conducted by researchers within the candle industry, but there are plenty of corroborating studies carried out by independent researchers, too.
Scent notes: chamomile, lavender, and oil
Size: 7.8 oz
Wax: soy wax
Wick: cotton
+ Subtle, versatile appearance
+ Simple packaging
- Small
The perfect candle for your aromatherapy rituals, Eym makes candles using essential oils and natural waxes. They're clean burning, beautiful, and uplifting, perfect for any room.
Scent notes: floral and aquatic notes
Size: 6.35 oz
Wax: vegetable wax
Wick: cotton
+ Refreshing, aquatic notes
+ Beautiful vessel
- Quite small
If you close your eyes and inhale, this candle smells like being by the sea. It's light and bright, taking inspiration from Rio de Janeiro's coast. It's crafted using premium materials too, so there's a lot to love.
Scent notes: green tea, cedar, cypress
Size: 9.5 oz
Wax: coconut, rice, and coconut
Wick: cotton
+ Long burn time
+ Feels premium
- Quite light
This is my relaxing scent. The woody, aquatic notes are light and invigorating. If a candle can have a 'soft' scent, it is this. The vessel is heavy too, making it feel really premium.
Which candles should I avoid?
If you're at all worried, you should avoid candles with paraffin wax. That applies to most Yankee Candles, Bath & Body works candles, and Febreeze candles. If you can buy it at a drugstore, it probably contains paraffin.
You should be able to tell if a candle uses paraffin wax pretty easily. It will be listed on the candle's ingredients. If you're worrying about the candles you already own, cheap candles like these will make black soot on your walls. It's a tell-tale sign that your candle is not only poor quality, but contains paraffin.
What can I do?
For general safety, always make sure to use your candles in an appropriate way: burn them in a ventilated room; never leave your candle unattended, don't place it near pets, and so on. However, there are a few other things you can do which are specific to candles and toxicology.
The first piece of advice is to invest in quality. If you need an excuse to treat yourself to a luxury candle, this is it. Not only do they smell better, but they're less likely to contain harmful ingredients. now they're also passable an investment in your health.
You should also take steps to maintain your candles. Whilst this keeps them looking pretty, it also ensures that they burn safely. If you trim the wick, using a wick trimmer, to at least 1/4 inch, you won't see a black flame, indicative of incomplete combustion. Also, make sure your wax burns evenly, so it doesn't pollute or mix with any unburnt wick.
Best non toxic candles
I've already suggested a few of my favorites, but there's plenty more where that came from. Many luxury candles are made with premium wax and cotton wicks. When I was evaluating our recommendations for best candles, I actually had to make a few cuts to our list. Even though I love the smell of Diptyque's Oud candle (and would still recommend their diffuser), they use paraffin wax. I always think it's good to be cautious.
Even if soy, beeswax, and coconut candles are more expensive, they're certainly worth the price. It's great to enjoy vanilla latte and candyfloss scents, but these are most likely made using cheap dyes and artificial chemicals. Opting for more natural, authentic scents will reduce the risk of letting off harmful chemicals when burned.
Boy Smells' Cashmere Kush
Scent notes: geranium, tulip, cashmere, rhubarb, vetiver, and amber
Size: 8.4 oz
Wax: coconut and beeswax
Wick: cotton
+ Subtle, versatile appearance
+ Unisex scent
- Small
Crafted from the most premium wax blend, this is an excellent candle. The scent is light and woody, perfect for a range of people. I love how simple it looks; it could slot into the background of a range of interiors.
Jo Malone's English Pear and Freesia
Scent notes: pear, melon, freesia, rose, patchouli, rhubarb, and amber
Size: 0.44lbs
Wax: beeswax, coconut, and soy wax
Wick: cotton
+ Light fragrance
+ Relatively slow burn
- Glass can look grubby
One of my favorite candles of all time, this has a delicate scent, which is fresh, fruity, and uplifting. It has a classic style, making it a home staple. Jo Malone uses premium wax and a cotton wick, so it's safe to burn. You can even use the lid to snuff it, preventing smoke in your room.
Harlem Candle Co's Speakeasy
Scent notes: cardamom incense, saffron, plum, tobacco, patchouli
Size: 11 oz
Wax: beeswax, coconut, and soy
Wick: cotton
+ Beautiful fragrance
+ Great burn time
- Bold colors don't suit all interiors
Harlem Candle Co has to be one of this year's most talked about candle makers. They use really premium waxes and make well-balanced, addictive scents. They're not overpowering, but very distinctive and strong.
Alternatives to candles
If you want to be ultra-cautious, there are plenty of options on the market which don't require burning. Wax melts are a popular alternative.
A classic design suited to most homes, this electric warmer is perfect for sitting your wax melts in. It will slowly and safely melt organic waxes without needing a lead wick or set of matches.
Best outdoor candle warmer
This is ideal for indoor and outdoor use. It looks more like a lantern, which means that you can use it to store pillar candles as well as smaller wax melts.
Best retro candle warmer
Vintage Bulb Illumination
The epitome of retro chic, this wax warmer has a vintage bulb underneath it. It melts wax relatively slowly, but will release a lot of scent, inside or outside
If wax warmers don't appeal to you, I think reed diffusers are an excellent and safe way of scenting your space. I'm currently testing the best electronic diffusers at the moment (this motion sensing one from the White Company is my current favorite), but nothing beats a classic.
+ Elegant and strong
+ Stylish vessel
- Expensive
An iconic scent – which happens to be one of Meghan Markle's favorites too – Jo Malone's Wild Bluebell is simply beautiful. It's light and delicate, with earthy notes to keep it fresh.