Valentine's Day gift ideas 2023: 24 last-minute luxuries for your loved ones
From the timeless beauty of a traditional bouquet of flowers to unique houseplants and fun sweet treats, our selection of Valentine's Day gift ideas will be sure to inspire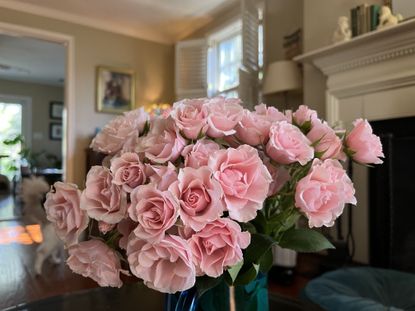 (Image credit: Getty/Cyndi Monaghan)
Valentine's Day always seems to come around so fast after the post-Christmas and New Year's haze that is January. It can be easy to completely forget about it and leave your gift shopping to the last minute.
A time to celebrate those that you love in your life, giving a meaningful gift on Valentine's Day can be the perfect way to show a partner or your friends and family just how much you love and appreciate them.
Our selection of some of the best Valentine's Day gift ideas can help with all of your last-minute gifting before that February 14th deadline. Whether you want to keep things more traditional with flowers and chocolate (call me old fashioned, but I don't think you can ever go wrong with these), or are celebrating the day with your best girlfriends and are in need of some inspiration for Galentine's, we have curated a collection of Valentine's Day gift ideas that cover everything from the classic to the contemporary to the fun and luxurious.
24 Valentine's Day gift ideas
Why you can trust Homes & Gardens Our expert reviewers spend hours testing and comparing products and services so you can choose the best for you. Find out more about how we test.
From Mr. Porter (opens in new tab) and Godiva (opens in new tab) to Anthropologie (opens in new tab) and Uncommon Goods (opens in new tab), explore our selection of Valentine's Day gift ideas from some of our favorite retailers below so you can find the perfect gift to give this Valentine's Day.
1. Nothing beats a beautiful bouquet of flowers
Probably the most popular and timeless romantic gift of them all, nothing says Valentine's Day like a beautiful bouquet of flowers. From a classic red rose, to a joyful bouquet bursting with color and texture, there are always an extensive range of floral options to choose from for Valentine's Day gift ideas, no matter your loved one's taste or style.
Explore our top three picks from some of the best flower delivery services below.
2.
(opens in new tab)
There is nothing more synonymous with Valentine's Day than a beautiful red rose. This simple bouquet is ethically sourced from a farm in Ecuador.
3.
(opens in new tab)
For a twist on the classic red roses, the Eros bouquet brings in fresh bursts of carnations, leucadendron, and eucalyptus.
4.
(opens in new tab)
Celebrate love that lasts with this dried flower bouquet . We love this inventive display from Urban Stems which also comes with a matching matte pink vase.
5. Who doesn't like a sweet treat?
Closely followed by flowers in the line-up of most popular Valentine's Day gifts has to be chocolate (or something sugary sweet!).
A box of chocolates may be viewed as playing it safe, but who wouldn't want a delightful, heart shaped box filled with a selection of chocolatey heaven? I know what my answer is.
6.
(opens in new tab)
Valentine's Day Fabric Heart Chocolate Gift Box
Sometimes it pays to stick with a classic. This 37-piece Valentine's Day Fabric Heart Chocolate Gift Box comes with a pretty keepsake box and a delicious selection of chocolatey treats.
7.
(opens in new tab)
A more modern take on a traditional heart box of chocolates, this colorful gift contains a luxurious assortment of truffles with flavors from around the world, from Montmorency cherry to Bronte pistachio.
8.
(opens in new tab)
Valentine's Day Sweets Gift Box
If your Valentine has a sweet tooth but chocolate isn't their thing, choose a fun gift basket filled with other sweet treats instead, such as this spectacular selection of gourmet sweets from Harry and David.
9. Enjoy a drink – or two
Whether you're planning a big night in this Valentine's Day and want to brush up on your cocktail making skills, or know that the way to your loved one's heart is always going to be through the gift of beer (each to their own) raise your glasses with a celebratory drink – or two.
10.
(opens in new tab)
Veuve Clicquot Brut Yellow Label Champagne
Whether you're celebrating Valentine's Day single, with a partner or with your Galentines, raise a toast to the occasion with a sparkling glass of Champagne.
11.
(opens in new tab)
Flavored Simple Syrup Set
Alternatively, if you're planning a night of delicious homemade cocktails or mocktails at your home bar, then this syrup set is for you. Elevate your concoctions with notes of cucumber, cherry almond, pear and more.
12.
(opens in new tab)
'Beer' My Valentine 6 Beer Bucket
Champagne isn't for everyone. This selection from Gourmet Gift Basket contains six delicious microbrews and collection of savory snacks to enjoy alongside.
13. Gifts for him
From houseplants to beer, cologne to novelty mugs, there are no shortages of unique gifts for him to explore this Valentines Day. Mr Porter always have an un-matched collection of luxurious clothes, fragrances, accessories and more, as well as brands such as Uncommon Goods providing a more unique selection of fun Valentine's gifts.
14.
(opens in new tab)
Whatever the celebration or time of year, houseplants really do make the perfect gifts. It doesn't get more unique than giving your loved one an adorable pineapple plant this Valentine's.
15.
(opens in new tab)
Smart Heated Self-Warming Mug
Ideal if they work from home or are constantly letting cups of coffee or tea get cold, this Smart Heated Self-Warming Mug can keep a drink warm for up to six hours. Includes a ceramic mug, matching lid, heated base pad and a gold-plated stirring spoon.
16.
(opens in new tab)
Jo Malone London Lime Basil & Mandarin Cologne
Give the gift of fragrance this Valentine's Day and treat your loved one to a luxurious new cologne.
17. Gifts for her
Valentine's Day gifts doesn't need to be all chocolate and flowers. Perhaps your partner has had their eye on a particular candle or vase, or you can use the occasion to stock up on their favorite perfume. Explore some of our favorite gifts for her below.
18.
(opens in new tab)
Lowe Ivy Small Candle - Pink
You can never have too many candles, and a luxurious scented candle can not only smell amazing, they can look beautiful, too. We love Lowe home scents, and think the Ivy Small Candle in Pink is perfect for Valentine's Day.
19.
(opens in new tab)
Pair a bouquet of flowers with a pretty vase for the ultimate floral Valentine's Day gift, and these colorful glass Calle Vases from Anthropologie can sit beautifully both when empty or filled with fresh or dried flowers.
20.
(opens in new tab)
Marrakech Intense Eau de Parfum
While we've put this under 'Gifts for her', Aesop pride themselves on creating scents with no gender boundaries. The woody, spicy and fresh florals notes of the Marrakech Intense Eau de Parfum makes for a great gift for all.
21. Galentine's gifts
Originating from the popular TV show Parks and Recreation, the phenomenon that is Galentine's Day is an unofficial event celebrated a day before Valentine's on 13th February. A chance to celebrate the most important non-romantic relationships in your life, Galentine's was originally intended for the gals, but we think it can be enjoyed by all.
22.
(opens in new tab)
A Little Pampering Gift Set
A Little Pampering Gift Set is the perfect accompaniment for a cozy night in with the girls, or for future use when you're in need of a little self care. Includes body oil, shower steamer, soap, lip balm and a candle.
23.
(opens in new tab)
All My Valentine's Cupcakes
Renowned for her colorful sweet treats, we think these delightful cupcake sets from Baked By Melissa are the perfect Galentine's gift. Each pack includes six limited-edition Valentine's Day flavors.
24.
(opens in new tab)
Gold Infinity Personalized Bracelet
Matching friendship bracelets, such as these golden initial charm designs from Etsy, can make for the most special of Galentine's gifts.
What are traditional gifts for Valentine's Day?
As we have explored, some of the most popular gifts for Valentine's Day include: flowers, chocolate, jewelry, and of course, a Valentine's Day card.
Some of us love to keep things traditional with a card and flowers, others like to go all out with their gifts and treat the occasion like a birthday – and some do not celebrate or give gifts at all.
Ultimately, there is no right or wrong way to celebrate Valentine's Day, the cost of the gift or what everyone else is giving shouldn't matter, just give a gift that you know you loved one will love and appreciate.
When is Valentine's Day?
Valentine's Day is always the 14th of February, and this year it falls on a Tuesday. That's important to bear in mind if you're shopping online, as if you're buying on the weekend before, you might have to pay a little extra to make sure your gifts arrive on time.
Why is Valentine's day celebrated?
Valentine's Day stretches all the way back to the Romans. It's a feast day that celebrates St. Valentine; the story goes that he administered marriages between Christians when Christianity was outlawed in the Roman Empire. The folk myth stuck, and centuries later we still mark romantic love on February 14th.
Zara joined Homes & Gardens in February 2022 as a Content Editor. After studying English Literature at University, she worked as an Ecommerce Website Editor, Content Writer and Buying Intern at multiple independent businesses within the luxury retail and lifestyle sectors. Her role at Homes & Gardens unites her love, experience and passion for the world of design and desire to create inspiring written content. She enjoys nothing more than discovering new trends, brands and products, whether that be in fashion, interior design or lifestyle.