My 5 golden rules for a clutter-free living room
Professional home organizer Caroline Roberts shares her golden rules for a living room without the cluttered coffee tables, piles of toys or unruly cables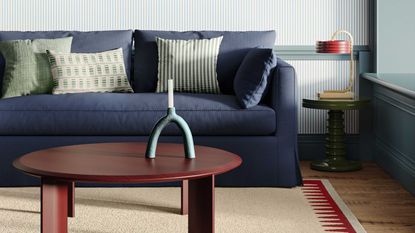 (Image credit: Future PLC)
Sign up to the Homes & Gardens newsletter
Decor Ideas. Project Inspiration. Expert Advice. Delivered to your inbox.
Thank you for signing up to Homes & Gardens. You will receive a verification email shortly.
There was a problem. Please refresh the page and try again.
One of my favorite things to do after a long day is curl up on my couch for a few quiet minutes with my Kindle and kombucha.
Having a cluttered space is a quick way to ruin the moment, so I've discovered some rules that help keep a living room clutter-free and allow me to do a quick pick-up when needed.
With these five golden rules for a clutter-free living room, you'll be ready to relax in a snap!
Golden rules for a clutter-free living room
Perhaps you'd like to declutter your living room before fall for a seasonal refresh, or you're just looking for some general decluttering tips to inspire some action. Either way, I've got you covered.
1. Use closed storage as much as possible
This is a golden rule for keeping a clutter-free space in most rooms of the house, and it certainly applies in the living room. Think of all the items that tend to collect in your living room. It could be anything from TV remotes and pet toys to kids' knickknacks and books, and if all of those things are on a surface, the space will look cluttered quickly.
Use furniture that provides you with some living room storage solutions: end tables with drawers, baskets with lids, at Anthropologie, and closed cabinets to store as much as possible.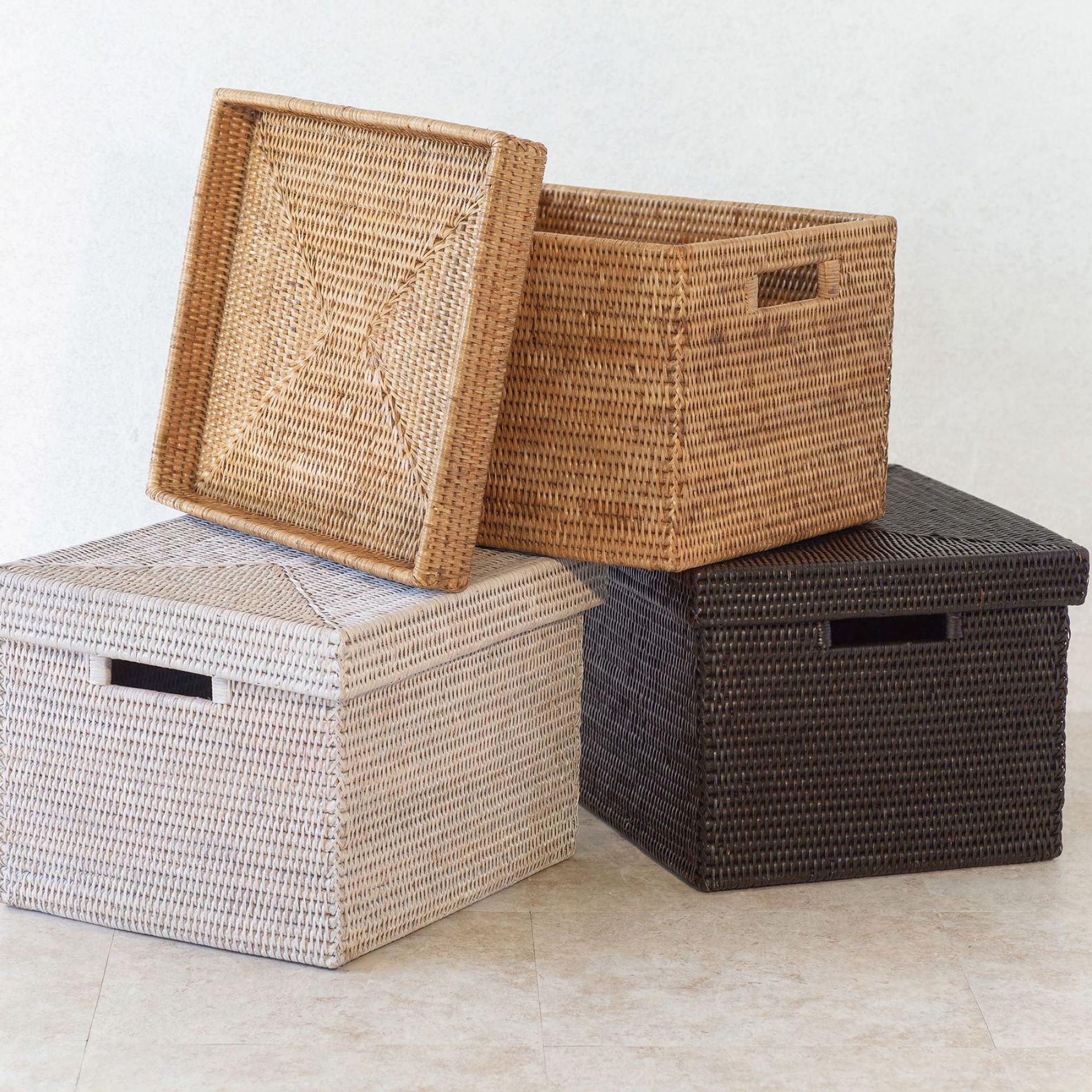 Tava Handwoven Rattan Box
$189
For an easy but attractive storage option, these rattan boxes can be perfect for storing items from any room and can even be labelled to make finding times more convenient.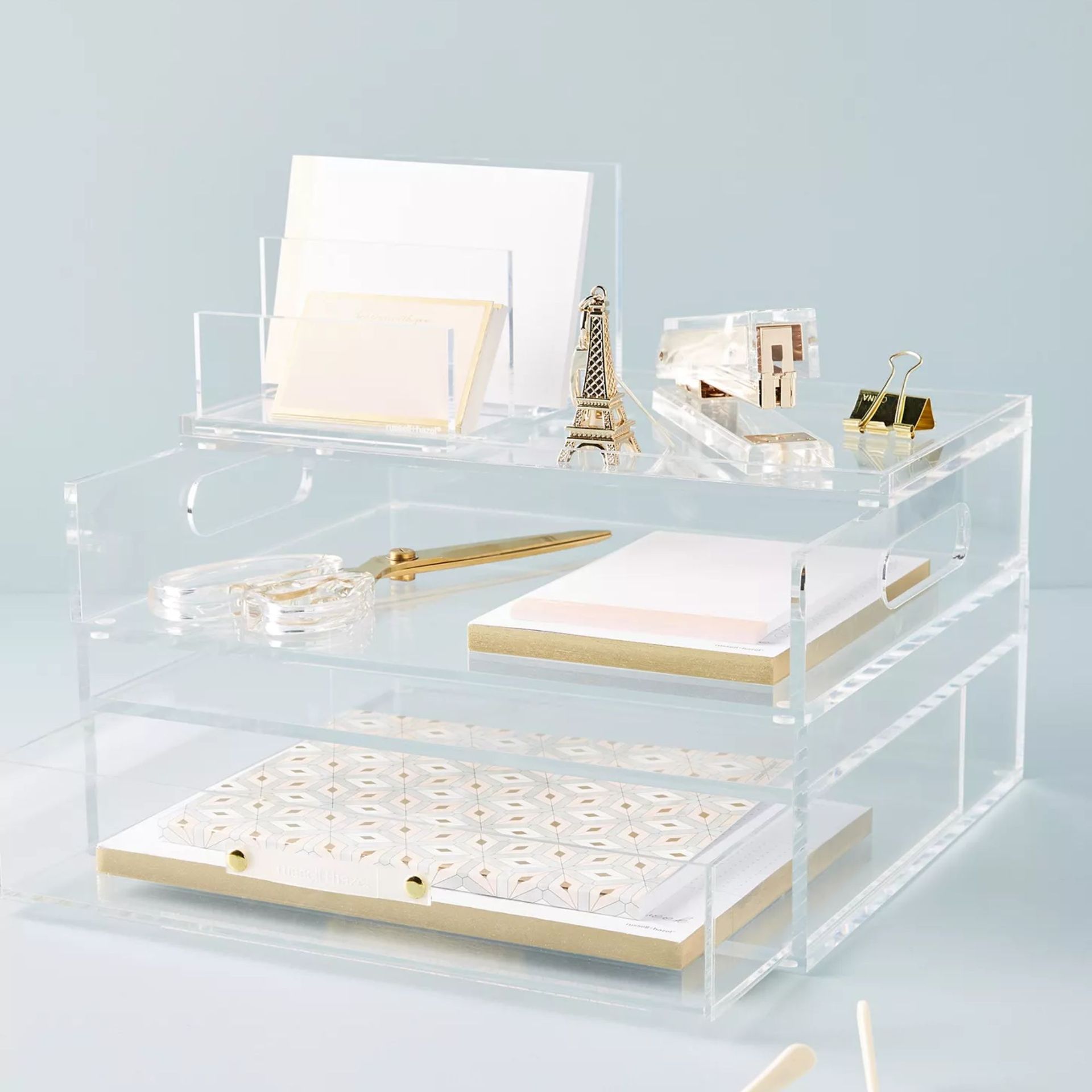 Acrylic Bloc Collection Desk Storage
$106.00
Whether for desk supplies, make up, electronics or craft kits, this storage box is the perfect way to organize smaller items to integrate into your home display.
2. Design your space based on how it is used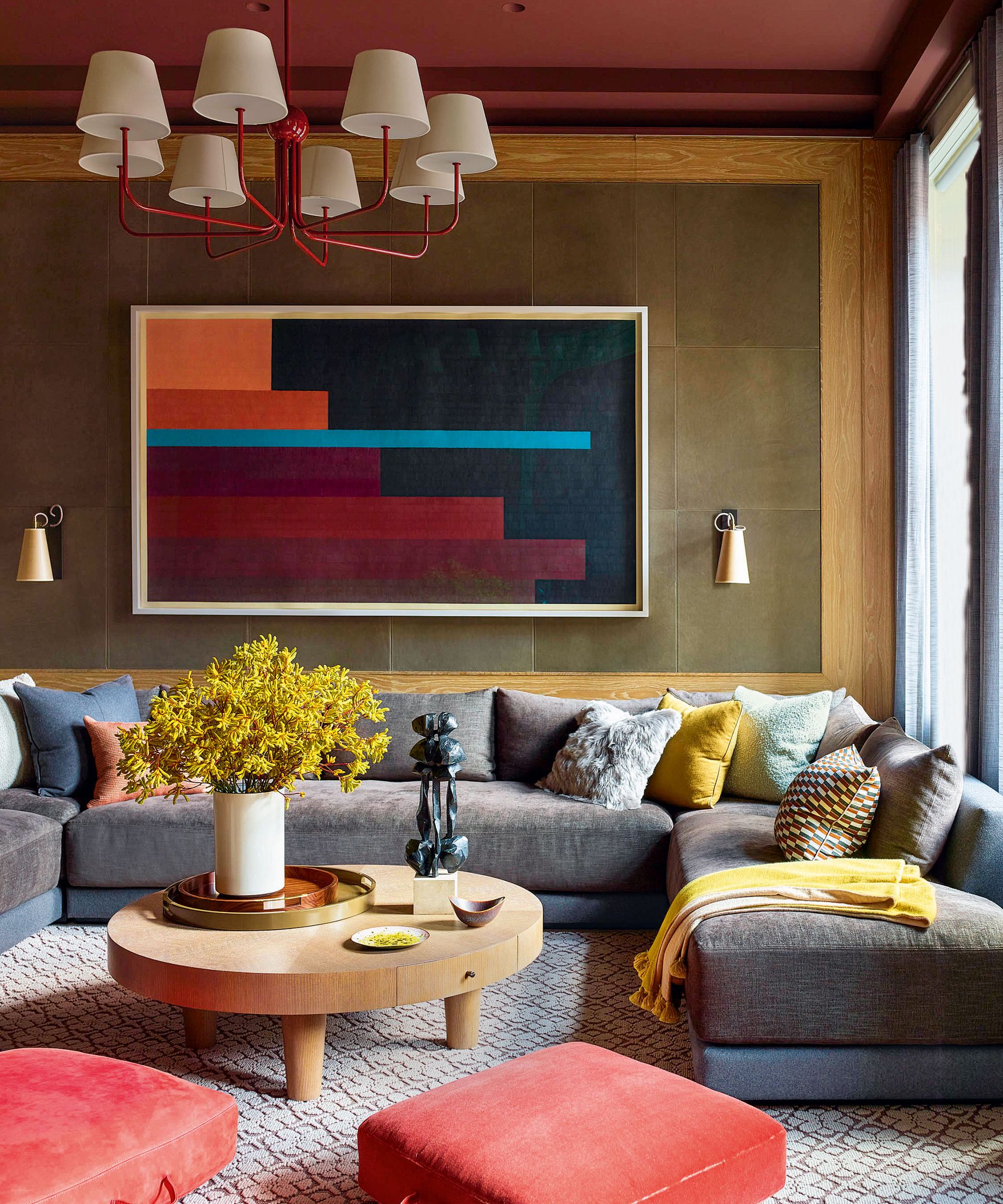 How do you use your living room? Do you have big, family movie nights when you need plenty of seating and surfaces for snacks? Do you need a cozy reading nook or a place to play games? Creating a living room based on how you use the space will naturally have much less clutter than a living space designed for someone else's interests.
If you keep a few books and magazines going, you'll want furniture (ideally near where you sit) to store those things. If your best couch is amazingly comfortable, don't feel you have to load it down with pillows that will inevitably end up on the floor. (More on that soon!)
We love to play card and board games, so we have a cabinet in our living room for games. When they are convenient, we are more likely to play them and put them away when we are done.
Rather than fighting the natural flow of 'stuff,' create a home or designated drawer or cabinet shelf for the items that naturally accumulate in the living room.
3. Ensure decor doesn't translate as visual clutter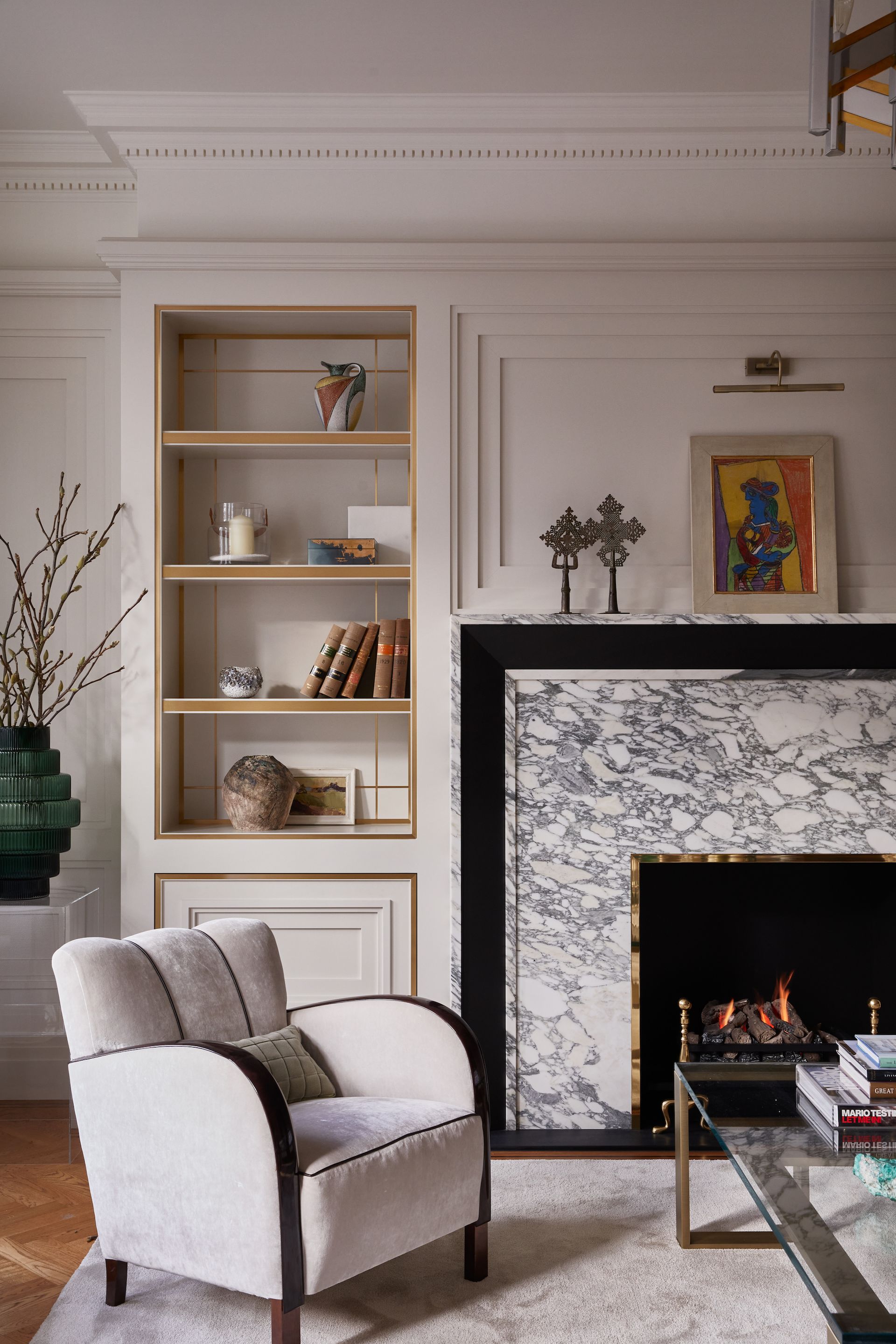 If you have a habit of buying the latest decor at Target and Home Goods, then this rule is for you. Make sure there isn't so much decor in your living room that it looks more like clutter than beautiful, stylish objects. There is a fine line between home decor being beautiful and home decor translating as clutter, so evaluate your space regularly to ensure your room stays beautiful.
A space looks cluttered when there are too many individual items for our eyes to process easily. That is why designers group like items and collections together, often on a decorative tray, available at Anthropologie. Those individual items become one unit for a more cohesive and less cluttered look.
Keep decor items sparse if you tend to have many things on surfaces, such as books and magazines you are reading, beverage glasses, multiple remote controls, etc.
4. Keep floors clear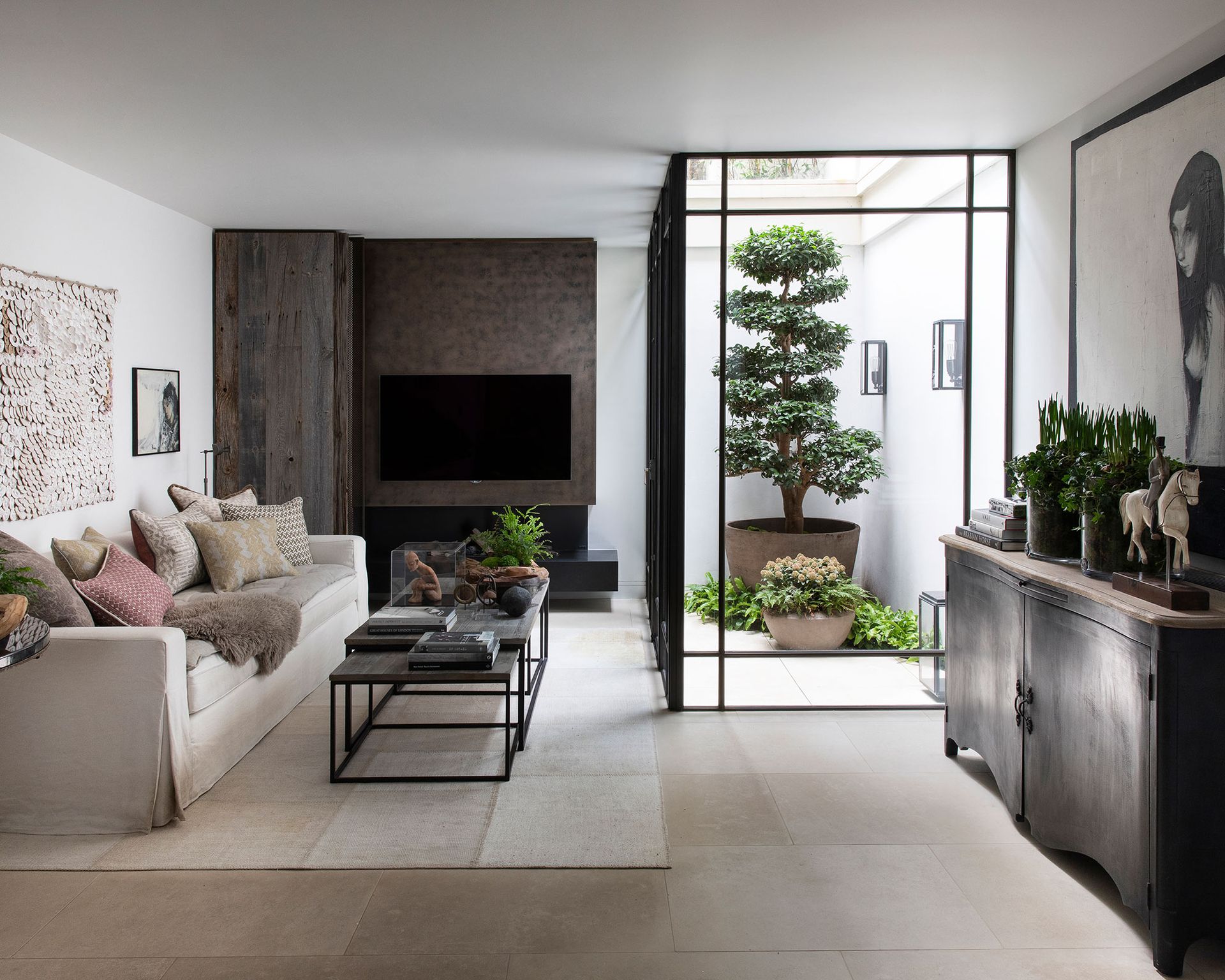 This can be tough if you have kids and pets, but I promise it's worth it. Items on the floor make even a tidy space look cluttered. We've outgrown kids' toys on the floor in our house, but we used to keep a large basket in the living room so that we could do quick pick-up when the clutter became too much. We now have a small basket for pet toys…if only our dogs would put them away!
Throw pillows and blankets often end up on the floor, so consider having fewer of them or a place to put them when you don't need them.
Finally, evaluate your furniture and what's necessary. I'm not telling you to get rid of things you use, but it can be easy to accumulate trendy poufs, side chairs, and floor pillows without needing them.
5. Hide cables and electronic equipment
Visible cables and electronic equipment can clutter a living room in an instant. If your TV is on the wall, consider hiring an electrician to run the wires through the wall. It's often not as complicated as it sounds. Many cable management products are available on Amazon for cables that aren't easily hidden.
Electronic equipment can also be an eyesore and affect a clean, clutter-free space. With IR remotes and devices that work through doors and walls, you can put devices in a cabinet or closet and still use the remote from the couch.
---
Don't be afraid to get creative with how you hide things! We had surround sound in a house with a large subwoofer on the floor in the living space. I bought a beautiful floor basket, drilled a hole in the side, and put the subwoofer in it! The basket was perfect in the space, and no one realized a subwoofer was inside.
I'm sure it affected the sound quality, but not enough that we could tell. If clutter prevents you from relaxing, as it does me, these five golden rules will get you closer to relaxing and recharging in your living room.
Sign up to the Homes & Gardens newsletter
Decor Ideas. Project Inspiration. Expert Advice. Delivered to your inbox.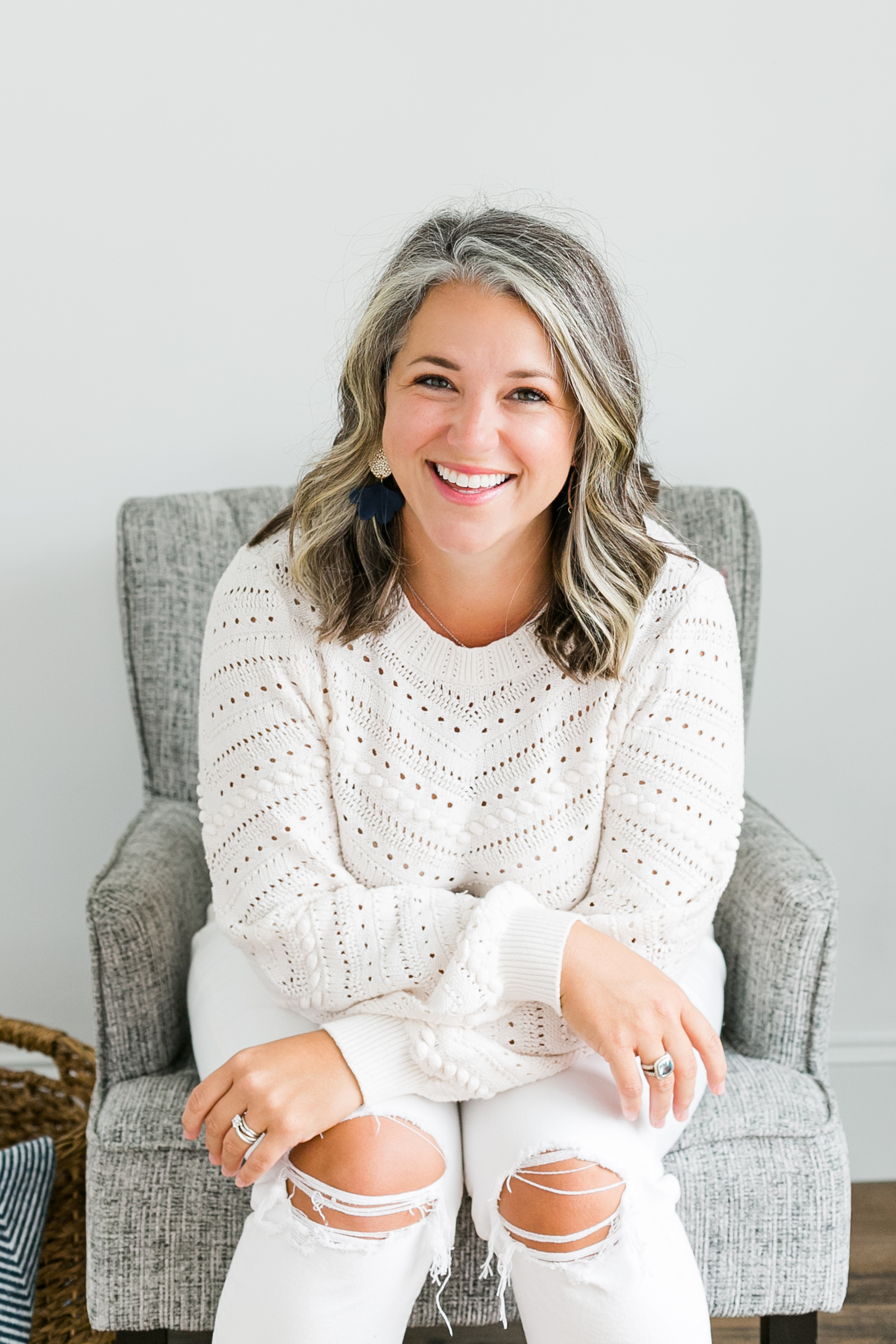 Caroline Roberts, a certified KonMari Consultant and professional organizer, founded the organizing agency The Simplified Island in 2019. Caroline believes being organized goes much deeper than pretty bins and can be life-changing. She recognized her organizing and streamlining skills were unique as she ran her marketing agency, Coastal Connections Marketing, and raised her two sons.