How to declutter a hutch – experts advise how to prioritize function and aesthetics
7 method experts recommend to declutter your kitchen or dining hutch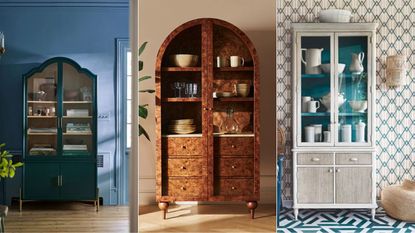 (Image credit: Anthropologie / Future / Jon Day Photography)
Sign up to the Homes & Gardens newsletter
Decor Ideas. Project Inspiration. Expert Advice. Delivered to your inbox.
Thank you for signing up to Homes & Gardens. You will receive a verification email shortly.
There was a problem. Please refresh the page and try again.
A hutch is the ideal storage solution that is both practical and provides the opportunity to stylishly display your items, whether this is your kitchen or dining ware.
However, an overcrowded hutch can make daily tasks more frustrating and bring down the aesthetic appeal of your space, so it's important to know how to declutter a hutch to keep chaos at bay. But how to decide what to declutter?
With so many different items needing to be tucked away in an orderly fashion, you may have to make a few cutthroat decisions about what to declutter from your hutch and what to keep in an orderly fashion.
Our experts have provided their best decluttering tips.
How to declutter a hutch
With all the serving supplies and hosting equipment needing to be stored in your hutch – from dishes, cutlery, table cloths, pots, glasses, vases and more – decluttering a hutch starts with an honest look at the entire contents. Which items are useful and beautiful and what you can let go of or relocate?
1. Decide what the function of your hutch is
The first step to declutter your hutch is to decide what its function is. It is easier to keep your hutch organized if you are able to narrow down which items you should be storing in it.
This doesn't mean that you can only store one type of item in your hutch, but rather that you should edit things down to a few items that serve a key function, which will make it easier for you to find things when you need them.
For example, Homes & Gardens' Feng Shui expert, Suzanne Roynon says, 'I use my hutch as a tea and coffee station to avoid counter congestion in my compact kitchen.'
It will often make sense to use your hutch to store items that correspond to the area it is located in. So, if your hutch is next to the dining table, you should use it to only store dining items such as plates, cutlery, and table mats. In a hutch next to a tap or kettle, it can be used to store and organize glassware and mugs.
This should help you when deciding which items don't belong in the hutch and would be better off elsewhere.
Suzanne is a feng shui consultant, interiors therapist and author of Welcome Home, How Stuff Makes or Breaks your Relationship – available at Amazon. She specializes in understanding the energetic impact of homes and certain possessions may have on all aspects of life, health and relationships, and the ways in which 'stuff' can actively prevent people and families from thriving and enjoying the lifestyle they deserve.
2. Take everything out of the hutch
The next step is to empty your hutch in order to assess each item for its quality and function. Skipping this step is one of the top decluttering mistakes since it's hard to fully understand which items you need without laying them all out.
Once items are out of the hutch you can organize them based on their type, so put all the plates, blows, mugs, spoons, forks, pots, and other items in retrospective piles. This can help you to assess if you have repeats of items that you don't need and to work out if the proportions of items are not quite right. This means if you have plenty of forks and only a few spoons or an unnecessary number of plates and only one bowl, you should consider clearing things out and making new purchases to balance out this ratio.
This should help you assess which items you don't need in your hutch and which you might need to stock up on.
3. Declutter damaged items
Closely observe each item and ask yourself if it's broken or damaged.
'The obvious thing here is broken or chipped items,' Suzanne Roynon explains. 'As an interiors therapist and feng shui consultant, I'm well aware of the impact on the subconscious well-being of using anything that is damaged, so even special mugs with fond memories hit the trash can if necessary.'
Items that are not in pristine condition can be donated, recycled, or stored in a closet, but your hutch should be reserved for your best items to be out on display.
4. Decide if items need to be in the hutch
Suzanne Roynon's next target would be anything that is not used, needed or loved. 'Everyone keeps something in their kitchen hutch "just in case" and this is bad news for both storage and wellbeing. Be brutally honest with yourself. When did you last use it? In reality, is it ever going to be used again? If the answer is no, let it go.'
You should also consider how much space you have in your hutch. Rather than storing glassware in a tight space, display the number of items you will need on a regular basis, and store away excess items that can be called upon for large dinner parties.
5. Find clever storage to keep clutter away
Now you can begin to restock your hutch with the dedicated items. When planning this, consider if installing some storage solutions to your hutch will maximize its efficiency and keep it from being cluttered.
To keep from stacking and cramming items together, leading it to become cluttered and disorganized, there are plenty of customizable storage solutions to maximize space, such as shelf extenders, drawer dividers, adjustable shelves, and organizers.
Find the options that work best for what you have in your hutch as well as its dimensions. The great thing about most of these products is that they have an adjustable size, so can fit most spaces.
Expandable Cabinet Shelf Organizer Adjustable
$26.11
These expandable shelves are the flexible option that can keep smaller items organized without needing to stack, helping you keeping clutter at a minimum.
LOVMOR Pull Out Cabinet Organizer
$227.99
These two adjustable shelves for storage and organization can be installed in your hutch to maximize the space available, preventing you from needing to move items around every time you need to reach something at the back.
6. Categorize items to declutter
It's time to create some order in your hutch to keep it clutter-free in the future since this will help you to keep track of what you have and what items you may not need.
If your hutch has deep shelves, you can layer items such as vases or glasses in height order, with the tallest ones at the back to create visual interest.
This is another way to check if you have repeats of certain items and to assess the ratios of items – if you have too many of some items and it looks disproportionate, declutter some of these items or store elsewhere to maintain a good balance.
7. Keep a minimalist aesthetic
Key to keeping a decluttered hutch and maintaining a beautiful display is aiming for a minimalist aesthetic, especially on open shelving or in hutches with glass doors. This means being very purposeful about which items are displayed and ensuring they complement the overall appearance of your hutch.
'The hutch I have in my kitchen is very much ordered with display in mind, despite the fact that nearly everything in it is entirely practical,' says Lucy Searle, content director, Homes & Gardens. 'What I mean by this is that glassware and pretty china are kept at eye line, with plates below and vases above. Below that, are the more practical but less aesthetic items, such as cookware. Hidden below, behind the doors, are the appliances.
'Over the years, I have carefully collected mostly white or glass kitchen accessories. This means my hutch isn't a jumble of colors, but looks like a curated, clutter-free display.'
Lucy Searle has written about interiors, property and gardens for over 30 years, starting within the interiors departments of women's magazines before switching to interiors-only titles in the mid-1990s. In 2018, Lucy took on the role of Global Editor in Chief for Realhomes.com, taking the site from a small magazine add-on to a global success. She was asked to repeat that success at Homes & Gardens, where she has also taken on the editorship of the magazine, which is the UK's oldest interiors magazine at 103 years old. Lucy is a serial renovator and also owns rental properties in the UK and Europe, so brings first-hand knowledge to the subjects she oversees.
FAQs
How do I find a stylish hutch?
Your hutch should fit the aesthetic of your home, whether that is by theme (classic, modern, rustic), or by color and texture. There is such a wide range of shapes and finishes available.
If you have plenty of beautiful china and glasses you wish to display in a well-organized fashion, then a hutch with an open display may be perfect for you, but your hutch is purely functional, this may not be ideal since it requires more rigid organization.
We've listed some of our favorite hutch buys from Anthropologie.
Was $2,398.00, now $1,918.40
For a sophisticated way to display and store wine, this bar hutch can seamlessly blend with most aesthetics and is undeniably a stand-out piece.
$1,898.00
This fern hutch provides a perfect opportunity to stylishly display items on the shelves and store cutlery or placemats in it's drawers.
---
The rules for keeping a neat hutch are pretty similar to how to declutter a pantry. Whether you are aiming to have a more organized space, improve the aesthetics of your hutch display, or are simply decluttering before fall, it's important to strike a balance between functionality and visual appeal when deciding how to declutter your hutch to keep your space organized.
Sign up to the Homes & Gardens newsletter
Decor Ideas. Project Inspiration. Expert Advice. Delivered to your inbox.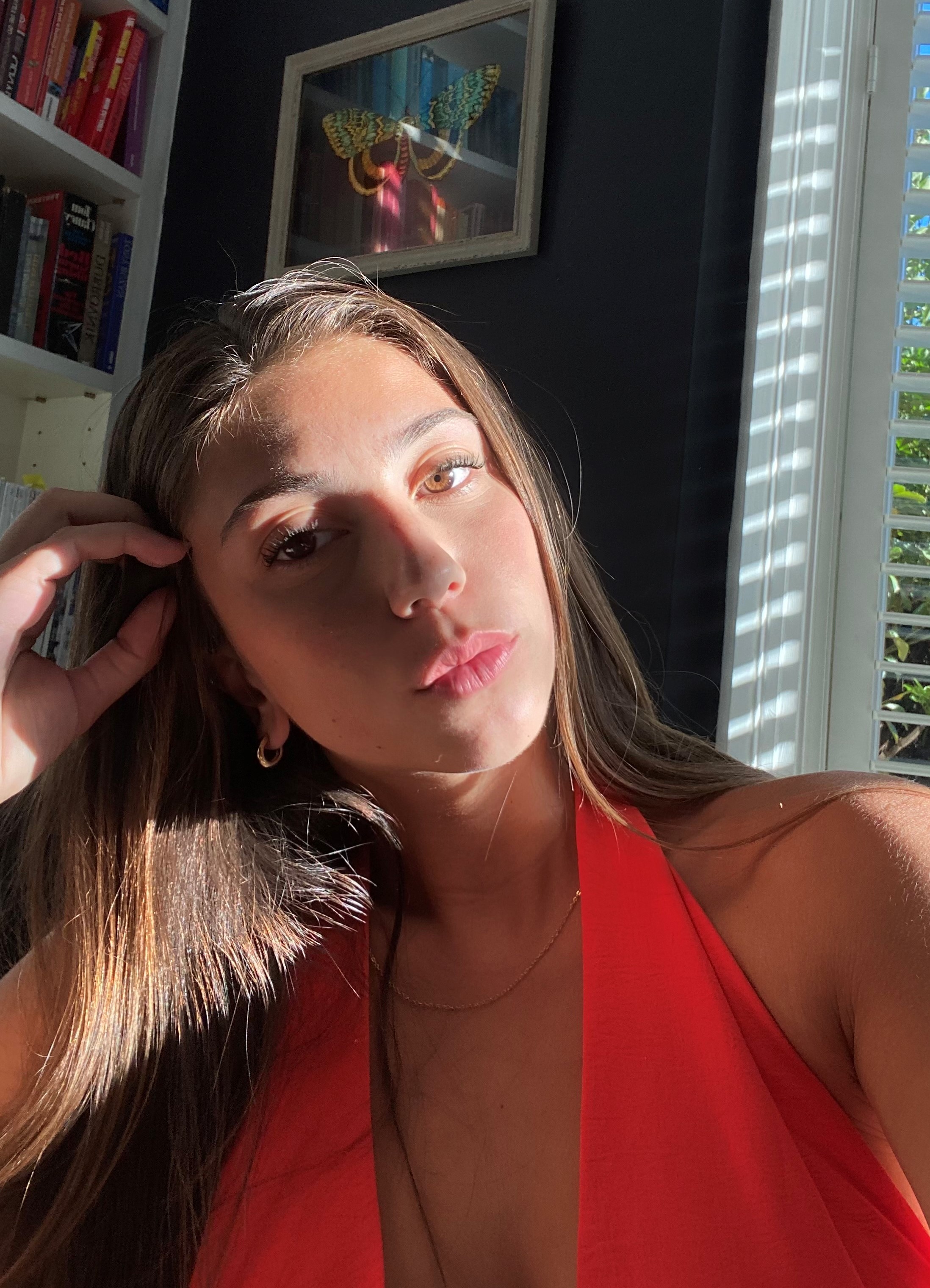 Lola Houlton is a news writer for Homes & Gardens. She has been writing content for Future PLC for the past five years, in particular Homes & Gardens, Real Homes and GardeningEtc. She writes on a broad range of subjects, including recipe articles, reviewing products, writing 'how to' and 'when to' articles. Lola now writes about everything from organization through to house plants. Lola is a graduate student, who completed her degree in Psychology at the University of Sussex. She has also spent some time working at the BBC.