How to declutter and store fall decor –simple ways to safely stash your favorite pieces
If you're looking to get your fall decor in order, here are the best ways to both ditch what you don't need, and safely stow away what you love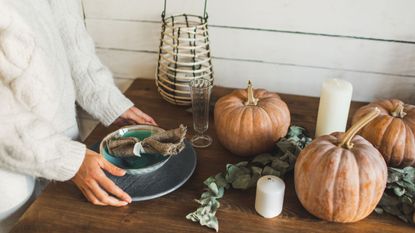 (Image credit: Getty Images)
We might still be at the tail end of the summer, but as we all know, the cooler months will be here before we know it, and it'll be time to start decorating for fall. Then, once the cozy autumn season is over, (not that we're wishing the time away), it'll be time to stash away our beloved fall decor for another year.
Everyone has their favorite fall decor ideas – yours could be simple and neutral, such as your favorite autumnal candles, elegant rustic garlands, or foliage. Or, you might prefer something a little more fun and cutesy, such as decorating with pumpkins, autumnal bunting, and fairy lights. The one thing we know for certain is that, when you have taken your decorations down this fall, it's vital to stash it all away properly, to ensure that it stays in the best condition possible for the other nine months of the year.
Similarly, post-fall can also be the perfect time to streamline your fall decor collection and analyze which items you actually want to keep for 2024. After all, there's no use keeping something that you didn't even enjoy displaying this year.
So for those looking to uncover the best ways to declutter and store fall decor once this November has passed, this is what the experts suggest.
How to declutter and store fall decor
As with any seasonal items, your fall decor should be made up of pieces you love, and are proud to display. When you work out which items these are, stashing them away properly is more important than you might think.
Organization and storage expert Jeff Meyers, President of ShelfGenie, a Neighborly company, says, 'The main objective when storing fall decor is making sure things are organized well, so that come next year, you won't have a headache rummaging through endless boxes.
'Haphazardly throwing garlands, lights, and faux pumpkins into boxes may seem like the easiest approach, but this can lead to a tangled mess next holiday season,' he continues.
To help you work out which items to keep, and which to ditch – and how to keep the items you do love safe and neatly packed away so that decorating next fall is easier than ever, here are the professional's top tips.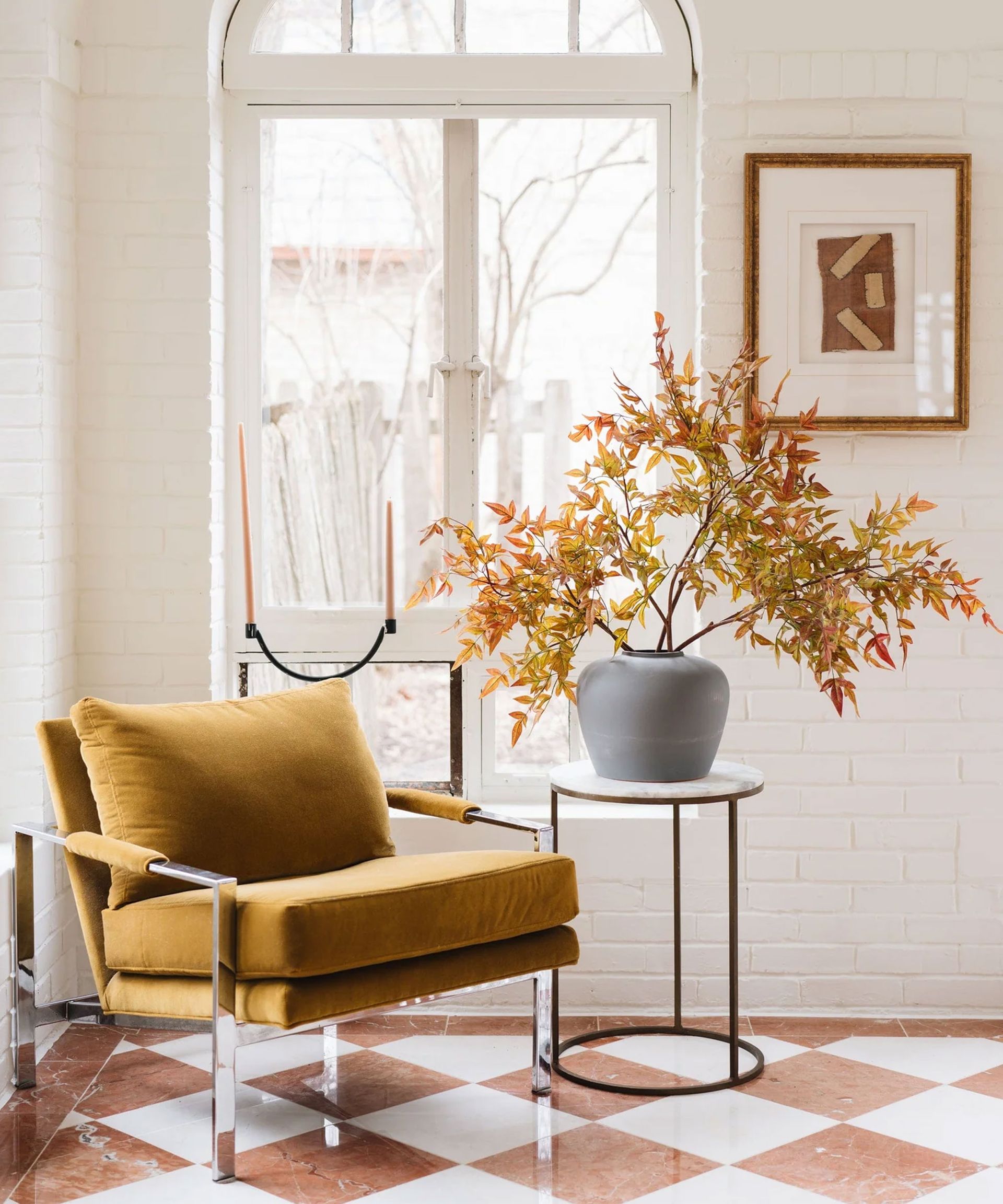 Jeff Meyers is the President of ShelfGenie, a Neighborly company which focuses on home organization and storage solution services.
1. Take stock of the decor you actually use this fall
Excited to start decorating for fall with your favorite felt pumpkins around the house? Or looking forward to showing off your maple leaf garland on your windowsill? These are the items that you should definitely be keeping.
However, if, this year, you feel less inclined to take certain items out of storage, this is an easy way to figure out which items might make for an easy declutter.
If you don't use a certain piece of fall decor this year, consider giving it a new home; alternatively, professional organizer Nicole Gabai, founder of B.Organized, says, 'If you haven't used it in three years, consider donating it.' You can donate good quality decor items to local charities, or perhaps ask around within your local community, to see if public services like schools or community centers need any extra seasonal decorations.
Nicole Gabai has been a professional organizer for over 20 years, and is the founder of B. Organized, which offers organization services for both homes and offices. She is a Golden Circle member of NAPO (National Association of Productivity & Organizing Professionals), and the author of the bestseller The Art of Organizing: An Artful Guide to an Organized Life.
2. Consider your overall interior decor style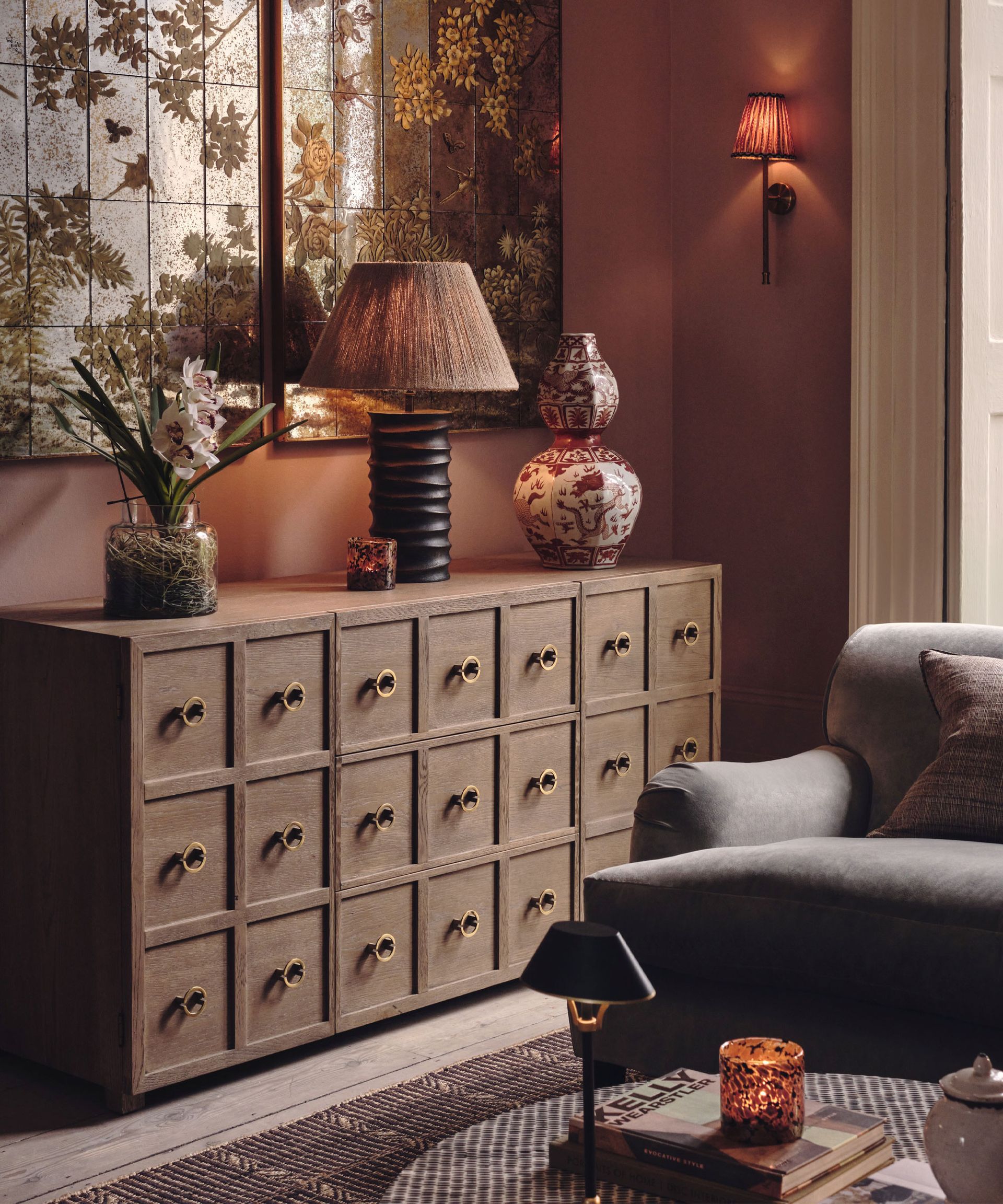 Although fall decor should be fun and playful, it's also important to ensure it fits the overall aesthetic of your home, especially if you want to achieve a level of cohesion between your seasonal items and your permanent design choices.
'Think about if your decor style has changed and if the items you have fit the aesthetic you're now going for,' Jeff suggests. For example, if you've recently switched to a cool, modern look in your home, and all of your fall decor is dark, moody, and rustic, you may want to think about decluttering.
'Consider this good rule of thumb: if you haven't used the item since last switching up your decor, it is either time to donate it or throw it away if necessary,' Jeff suggests.
'It can be hard to get rid of items that you used to love, but things like this come and go, and new memories will be made in no time.'
3. Check if anything is broken or faulty
The logical next step is to bin any fall decor that may not be in the best condition. Nicole explains, 'Inspect your fall decor now to see if anything is broken, and get rid of anything that is.'
This could be string lights with multiple broken bulbs, a delicate candle holder that has smashed or chipped, or even a garland that is missing so many leaves that it no longer looks its best.
Be ruthless here – displaying faulty or broken fall decor is not only unpleasant to look at, but it can also be dangerous, especially if it comes into the wrong hands, such as children.
4. Ask yourself: which items are timeless, and which are more trend-led?
Though there's absolutely nothing wrong with enjoying trendy decor items (they can be so much fun, after all) – if you're looking to declutter your fall items, it's well worth analyzing which items are simply popular right now, and whether you can ditch these items in order to prioritize timeless pieces that you know you'll love for decades to come.
Wondering which items might be timeless and which are more trendy? Jeff explains, 'Faux pumpkins are a timeless staple when it comes to fall decor. Whenever you think of fall, you will always think of pumpkins, and that will never go out of style. Plus, they are durable and versatile, which makes them perfect for decorating both indoors and outdoors.'
Garlands are also a timeless classic, he says. 'Leaf garlands are another timeless fall décor item because their earthy colors create an instant connection to the changing foliage outdoors.'
However, Leslie Kilgour, professional organizer and founder of Get It Straight suggests that more 'kitsch' items could be worth getting rid of if you're on a decluttering spree. 'Trendy decor is anything that can be blown up or has electronics. Those simply won't last or look good forever,' she says.
Not only will timeless fall decor pieces make your home look expensive, and make decorating itself much easier, but they will also save you money in the long term, as you won't feel the need to update your decor every year.
Leslie Kilgour is a professional organizer and founder of Get It Straight. She has been working as a professional organizer for over 20+ years, and loves decluttering and organizing to ensure her clients homes and offices are free of the clutter that can weigh them down. She is also a former member of the National Association of Professional Organizers.
5. Establish the best place to store your fall decor in *your* home
Now that you've decluttered all necessary items, it's time to plan where you'll be storing your fall decor. Nicole explains that her 'zones' principle can be helpful here.
'Many people make the mistake of assigning equal importance to all objects in a room. It is important to give top priority to the objects that you use often – these should be in the most convenient place, which is zone 1,' she explains. 'Objects you use less often should be in zone 2 or 3.'
'Then, items used yearly, such as fall decor, should be zone 4. Zone 4 is great for fall decor because it's important enough to keep, but you don't need to access it often.'
So where might the zone 4 of your home be? 'Zone 4 may perhaps be a special shelf in the basement, or closet designated to seasonal items,' Nicole says. Establishing the perfect 'zone 4' spot in your home will help you store your fall decor in the most convenient place.
Jeff agreed that lesser-used areas of the home work perfectly for fall decor. 'It's definitely smart to store your fall decorations in a secure, low-traffic area of your home to keep them safe and protected from any type of damage throughout the year.'
6. Create categories of fall decor items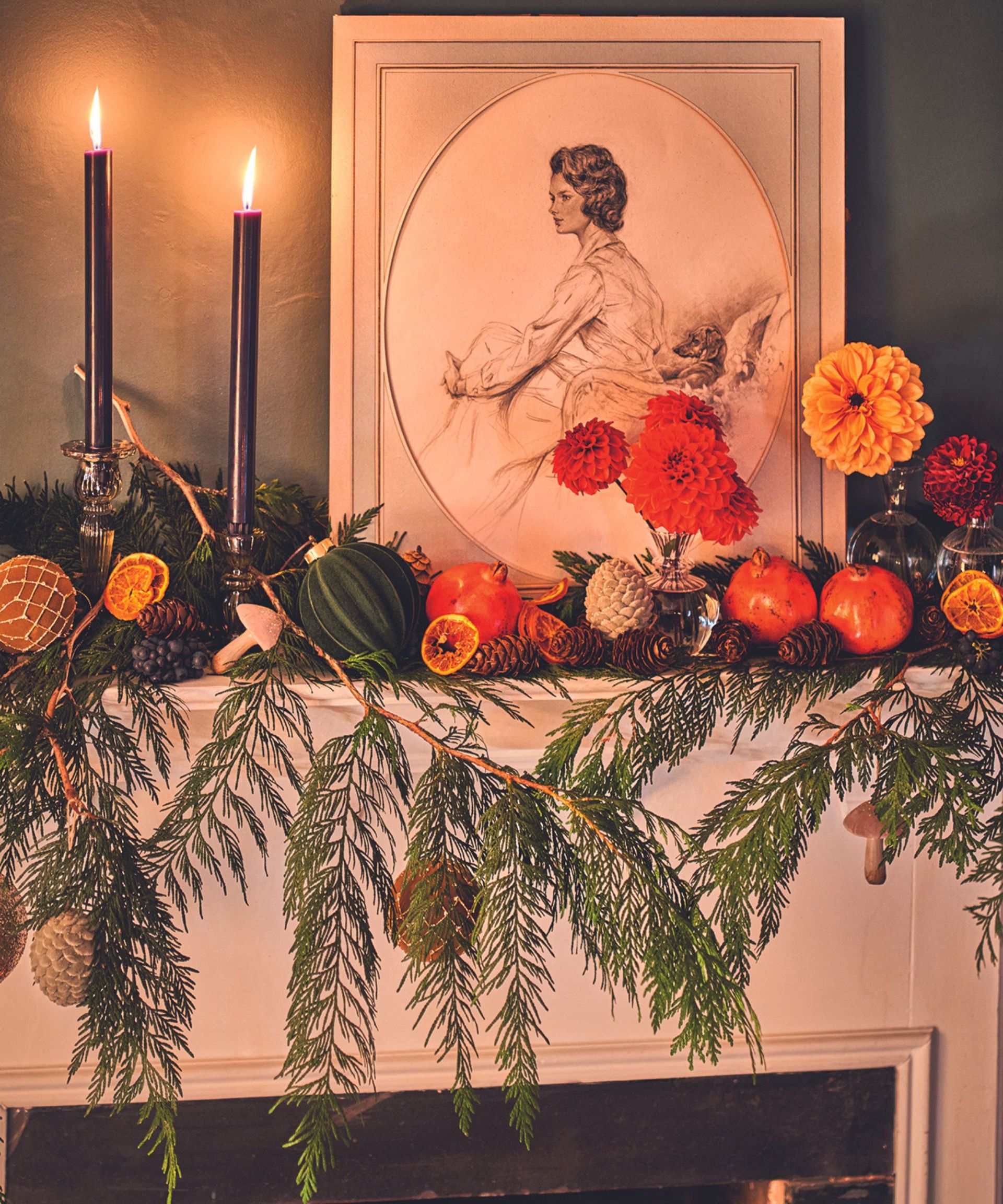 You might assume that all fall decorations can be placed into the same boxes with no order – because you'll be unpacking all of these items at the same time, right? In actual fact, sorting your decorations into categories is often much more sensible, to ensure that unpacking (and repacking again!) is as logical and stress-free as it can be.
Jeff suggests, 'To properly organize fall decorations, it is best to create categories such as these:
Garland and/or lights (or outdoor fall decor)
Fall wreaths
Large decorations
Small decorations
Halloween-themed serving plates, bowls and cups'
Once you know your categories, take the time to sort your decorations into the most appropriate pile. 'Make piles based on each category,' he says. 'Place the piles next to your containers, and eyeball the number of containers you will need per category.'
If you can, he also suggests, 'make labels with a label maker or a large piece of tape and a Sharpie, corresponding to each category.'
7. Opt for clear or colored storage boxes
As is the case with storing all kinds of items, such as clothing, organizing your fall decorations into clear storage boxes is pretty much a no-brainer – doing so will allow you to see the contents with ease, especially if you also have labels.
Leslie says, 'I always go with clear bins so that we can see inside of them, and make sure to label the bin. Since the bins are plastic, they can be safely stored in a shed, basement, garage, or storage space.'
Though clear boxes are fantastic for storing fall decor, it may also be helpful to use boxes that come in seasonal colors – which for fall could be anything from orange to brown, to black (shades from some of our favorite fall color schemes).
This can be especially helpful when storing your fall decorations among other household essentials, as the boxes will be easily recognizable, allowing you to pick out the ones you need instantly.
8. Stow more delicate items away safely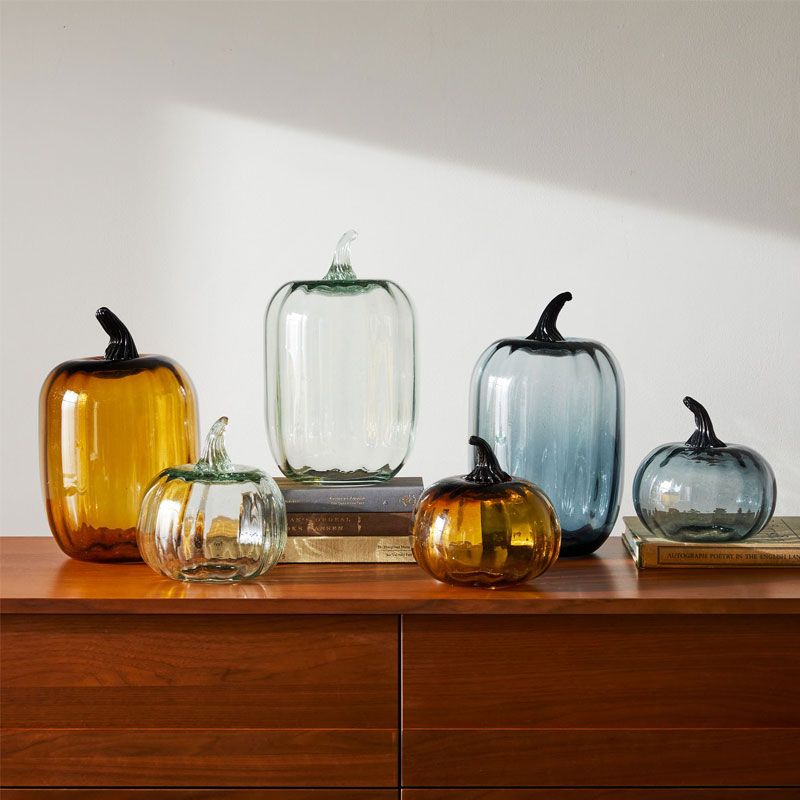 It's tempting to throw everything in your storage boxes to get the job over and done with, but your future self will thank you for taking care when dealing with delicate or fragile fall decor items. Leslie suggests a stacking method.
'If you have ceramic pumpkins (which are great for your fall table decor ideas) or in fact, anything breakable, I would wrap everything in tissue paper and bubble wrap,' Leslie says. 'Then, store anything small and breakable in your smaller storage bins, and put the small bins into a larger bin.'
'Any glass or ceramic fall item that could be easily damaged or broken will need to be stored carefully,' Jeff agrees. 'Wrap these items in bubble wrap or cloth to keep them protected during storage.
'Then, store these decorations in a location that doesn't get a lot of traffic or activity.'
You should also be wary of storing more delicate items in areas of your home that easily become too hot or too cold, at risk of damaging them. 'If you're storing things in the attic and your attic reaches very high or very low temperatures, be sure that what you're storing can withstand intense heat, cold, and moisture,' Nicole says.
'Similarly, never store anything in an attic or garage in a cardboard box, as rodents and other critters are most attracted to natural materials like paper as well as to the glue that holds cardboard boxes together. Instead, as mentioned, opt for large, opaque plastic bins with well-sealed lids.'
9. Save yourself the nightmare of unraveling knots with this storage trick
Anyone who has ever unpacked any kind of decorations knows that knotted lights or garlands – while ideal for our fall mantel ideas – are a nightmare that should be avoided at all costs. And if you know how to store yours away correctly, you can!
'If you use any Halloween themed-lights or leaf garlands, you will want to separate each string and secure them neatly using electrical tape or a zip tie,' Jeff says. 'This will keep each string separated and ready to use next year.'
When your lights or your garland are properly secured, consider the best container to store them in. Jeff suggests, 'Placing them in a plastic container that offers some protection should keep them safe until next season.'
Alternatively, Jeff suggests picking up a storage reel for your lights, at Amazon, which he explains, 'will keep them neat and organized, which in turn reduces the risk of broken bulbs or frayed wires.'
10. Contain wreaths appropriately to help retain their shape
Similarly to Christmas wreaths, fall wreaths can be especially tricky to store given their awkward shape, and the fact that they are liable to breakage.
'Fall wreaths are one of many decorations that need some extra protection when storing them each year, in order to preserve their original beauty,' Jeff says. And luckily, there's an easy way to protect yours whatever its size.
'Wrap your fall wreaths in tissue paper and place them in any box that is wider than the wreath's diameter, so you don't bend any branches while packing it up', he says. 'You could also look for circular boxes designed to hold wreaths.' In fact, there are plenty of wreath storage bags available on Amazon that will fit any size wreath snugly, ensuring it doesn't shuffle around if moved.
When storing fall wreaths, it's also important to remember to place them on top of any other storage boxes, or on their own shelf or surface. Placing other decor, or boxes, on top of wreaths – especially those in storage bags or cardboard boxes – risks squashing and damaging them.
FAQs
When should you take fall decor down?
Unlike Christmas, the dates of the fall season are pretty variable. This means that some people break out their favorite fall decor items mid-September, while others prefer to wait until mid-October, in the lead-up to Halloween. Other homes might even prefer to wait until the days just before Halloween, to tie in with the spooky season.
But how long should we leave our pumpkins, garlands and foliage up, especially as we approach the festive season? Most experts agree that Thanksgiving, which this year falls on 23 November, usually marks the transition point between fall and winter – so it's sensible to assume that your fall decor should be down by this point, at the latest.
However, if you're unsure and want to enjoy your fall decor for as long as possible, it's wise to take cues from your neighbors when it comes to taking seasonal items down. If you're the last person on your street with skeletons, pumpkins and autumnal wreaths, it might be time to get those items back into storage!
---
Now that you've got a plan for decluttering and storing away your fall decor properly, why not consider the things you might want to declutter in a living room before fall, for a real clean slate, September feeling? If you're expecting guests, it could also be well worth thinking about what to declutter from your entryway before fall, too.
Sign up to the Homes & Gardens newsletter
Decor Ideas. Project Inspiration. Expert Advice. Delivered to your inbox.
Amy Hunt is a freelance lifestyle writer and editor primarily covering homes and interiors, wellness, travel and careers. She was previously Lifestyle Editor at woman&home, commissioning and editing the homes, books and features sections of the website,
In 2019, she won the AOP Digital Journalist of the Year Award, for her work on womanandhome.com. Having worked in the industry for over eight years, she has contributed to a range of publications including Ideal Home, Livingetc, T3,Goodto, Woman, Woman's Own, and Red magazine.