How to organize your morning routine, according to the pros
Want stress-free mornings that set you up for a more peaceful and productive day? Here's how to organize your morning routine, according to specialists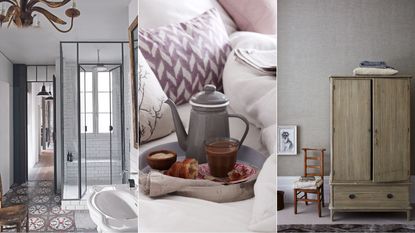 (Image credit: Future PLC)
Sign up to the Homes & Gardens newsletter
Decor Ideas. Project Inspiration. Expert Advice. Delivered to your inbox.
Thank you for signing up to Homes & Gardens. You will receive a verification email shortly.
There was a problem. Please refresh the page and try again.
What is your morning routine like? Is it calm and predictable, or stressful and chaotic? For many of us, it's often the latter, not least because we have so much to do and own so many things.
From remembering to take medicines and supplements to putting together an outfit, just getting through the morning and getting to work can feel like a mission. Add other responsibilities (i.e. kids who need feeding and taking to school, or pets), and it can feel like mission impossible.
Thankfully, learning how to organize your morning routine can take some of the stress out of it. Making a few simple changes to the way you do things in the morning and exploring relevant home organizing ideas can make a big difference.
How to organize your morning routine
Hello, mornings where there's finally time to collect your thoughts and start the day fresh and focused. Here's how to get there, according to home organization specialists.
1. Prepare your outfit the night before
It may be the last thing you want to do, but choosing what you'll be wearing the next morning can take the edge off an already busy morning schedule. Karen Powell, professional organizer and founder of The Organising Lady, recommends hanging your outfit 'together with your accessories to create a grab-and-go wardrobe every day.'
Hanging this complete outfit in a prominent position in your bedroom or living room will allow you to get ready quicker, without needing to spend ages going through your closet. In fact, you may not even need to open your closet at all in the morning. Bliss.
Preparing your outfit in the evening will also give you the opportunity to iron out any wrinkles in your clothes and freshen them with your steam cleaner if necessary.
If you feel like getting super-organized, consider preparing your outfits a week in advance. Powell recommends doing this 'every Sunday'; that way, you will 'know exactly what you are wearing to appointments and meetings all week.'
2. Make your coffee-making accessories easily accessible
Breaking news: streamlining your morning coffee routine doesn't have to involve you putting everything away. On the contrary: the best way to organize your morning routine around getting that magical caffeine shot is by making sure your coffee bar essentials are within easy reach.
Professional organizer and owner of Tori the Organizer Tori Cohen tells us that the reason you may feel like you have to put your coffee-making equipment away is that 'people have gotten into their heads that they need to have a completely clear countertop, which is not possible and just makes people feel guilty.'
So, ditch the guilt, and 'If you're a morning coffee drinker then you want your coffee accoutrements easily accessible: the coffee maker/ French press, etc. need to be on the counter front and center.'
It's also a good idea to keep your favorite mug/espresso cup next to your coffee-making paraphernalia, rather than having to go through all your mugs trying to find it.
If you do like things extra neat, then Cohen recommends using the Yamazaki Tower Pantry Organizer from The Container Store to store your coffee and sugar. It's also useful for storing your vitamins and medications, which brings us to our next point.
3. Keep your medications in a designated storage area
Cohen also highly recommends the Yamazaki for organizing your medications and vitamins, because it has a separate shelf for them. Again, she recommends letting go of the guilt some of us have about leaving these daily essentials out on the counter: 'The truth is that if they're not out, you will probably forget to take them. On that note, there's no shame in using a pill organizer; you don't need to be of a certain age for it to be helpful.'
It's a refreshing approach. If you find that you forget to take your vitamins because they're tucked away in a random cabinet, put them on a designated shelf or even on top of your dresser in the bedroom.
Whatever you do, don't store your medicines in the bathroom. The high heat and humidity in this room can make medicines and vitamins ineffective and even spoil them. They are one of a number of items not to store in the bathroom vanity.
Tori Cohen (aka 'Tori the Organizer') has owned a decluttering and organization business for the last 8.5 years. From Los Angeles to New York City to Michigan, Tori has led her clients through the overwhelm of clutter to a more organized life. Aesthetics are important but Tori's focus is on functionality and systems. She listens to the needs of her clients as individuals and collaborates with them to come up with the best possible solution. As a result, Tori's clients maintain their systems and experience the lasting joy of a decluttered home.

2 Tier Slide-Out Clear Organizer with Dividers
This cabinet organizer at Amazon is a best-seller with lots of positive reviews. It's easy to assemble and maximizes vertical height in cupboards, providing space to store toiletries.
2 Tier Organizer with Baskets
These organizers come in 'carbon' or 'frost' tones and will free up lots of space in cluttered cabinets. They have thousands of positive reviews.
4. Keep all skincare in one place, but not in the bathroom
If you are a minimalist when it comes to skincare, you probably can skip this step. But for many of us, our skincare routines have many steps, with lots of different products involved.
It can be tempting to just keep everything on your bathroom countertop to keep it easily accessible. However, if you're trying to keep bathroom countertops clear it's not an option. Besides, bathrooms aren't the best for keeping skincare for the same reason they're unsuitable for storing medicines.
The answer? Your bedroom closet, or your linen closet if you have one. According to Cohen, this is the best place for keeping your skincare if you are trying to organize your morning routine.
Cohen's top tip is to use a linen closet, and if the closet has a door, 'attach a mirror and a light - you can get battery-operated ones.' That way, you can do your skincare and makeup routine in your bedroom without having to open the blinds. That's especially useful for those of us who live in busy urban areas.
5. Use see-through makeup storage
Organizing makeup (if you wear makeup, that is) is an essential step in organizing any morning routine. Here you are, all fresh out of the shower, with your neatly pressed outfit waiting for you. But, hang on a minute: where is that one lipstick you wanted to wear today? So begins another cycle of frustratedly looking through piles of lipsticks, mascaras, and eye pencils.
There's an easy way around this problem: invest in a makeup organizer that is transparent. Tori Cohen says: 'I love clear acrylic drawers so that you can see everything.' Try a stackable acrylic modular makeup system, at The Container Store.
6. Be kind to yourself
This might seem like the odd tip out as it's not practical, but it's important not to beat yourself up if you can't always stay on top of your morning routine. Professional organizer at The Clutter Keeper Carrie Ypma advises: 'Remember, the essence of a great morning routine is simplicity and consistency.
While it's essential to have a structure, be kind to yourself and leave room for flexibility. Every day might not be the same, and that's okay. The aim is to create a morning framework that aligns with your goals, and yet is adaptable based on daily demands.'
Carrie is an expert organizer and founder of home organization company Clutter Keeper.
FAQs
What is the best order to do things in the morning?
Bearing Ypma's advice to stay flexible in mind, it is a good idea to try and do things consistently so that your morning routine becomes a habit. 'When actions become habits, they're almost second nature and require much less mental effort,' Ypma explains. So, always start your day with a few consistent tasks. The first could be making your bed, which keeps your bedroom tidy and 'immediately gives you a sense of accomplishment.'
If you exercise, do yoga, or meditate in the morning, you may wish to do this before you do anything else.
Next, take a little time to enjoy your morning cup of coffee, tea, or whatever beverage you enjoy first thing, even if it's just a glass of water. If you eat breakfast, have breakfast. Taking this time for yourself before you start getting ready (and getting others ready if you have kids) allows your mind to catch up with the demands of the new day.
Now, you can move on to your morning grooming routine and getting dressed. 'This sequence ensures you kick off your day with positive momentum,' Ypma says. Of course, if you prefer getting ready first and having breakfast afterward, that's completely your choice.
---
There's no right or wrong way to do things in the morning. Do what feels good – your mind and body will thank you for it.
Sign up to the Homes & Gardens newsletter
Decor Ideas. Project Inspiration. Expert Advice. Delivered to your inbox.
Anna K. Cottrell is now a freelance writer, having previously been a Content Editor for Future's homes titles. She writes about interior design, property, and gardening. On H&G, she specialized in writing about property – buying, selling, renting – sustainability and eco issues.