Expert advice for turning your teen's former bedroom into a craft room
'Choose something that sparks creativity and energy'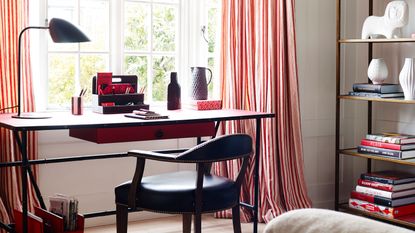 (Image credit: Future PLC)
Sign up to the Homes & Gardens newsletter
Decor Ideas. Project Inspiration. Expert Advice. Delivered to your inbox.
Thank you for signing up to Homes & Gardens. You will receive a verification email shortly.
There was a problem. Please refresh the page and try again.
Once your teen or young adult is out of the house, it's time to make some decisions. Do you keep their former bedroom the same as it was, or is it ok to repurpose it into a new space you'll actually use? If you're a crafter or DIYer, then this could be the perfect time to create the ultimate at-home craft room.
Updating your teen's bedroom into a new space can be tricky, but depending on how often you expect your now-grown children to visit, a craft room is a great option. It's easy to work in a pull-out sofa or daybed, but also create a creative space that you'll use on a regular basis.
With this idea in mind, we talked to a few of our favorite experts to find out their top tips for turning your teen's former bedroom into a crafting room or DIY space.
1. Maximize your storage
Clearing out your teen's things to make room for your crafting supplies is a job in itself, but once that's all sorted, Artem Kropovinsky, founder and principal designer of Arsight, says it's time to consider how to organize your art supplies.
'Crafters accumulate a lot of materials,' notes Kropovinsky. 'Think about incorporating built-in shelves, pegboards, and drawer units. These will keep everything organized and within reach.'
Amanda Wiss, founder of NYC-based home organizing company Urban Clarity, agrees, noting that anything that's moveable or stackable is especially great.
'Stackable craft drawers, at The Container Store, are perfect on a desk or shelf with small compartments,' says Wiss. 'Clear storage boxes, at The Container Store, are the perfect way to keep crafts contained for more significant categories. If you purchase a rolling cart, we love this tray to keep them organized.'
Along with creating a well-organized craft room, Wiss says it's especially key to keep it that way. 'Toss any art or craft supplies that are dried out or old,' she says. 'You do not want to think you have usable products only to discover they are dried and taking up space.'
Artem Kropovinsky, an interior design expert with a decade of experience, is the founder of Arsight, a New York City-based design firm specializing in residential and commercial interior design. Known for his award-winning work, Artem's projects range from new construction and extensive residential renovations to restaurants and retail stores. His design philosophy revolves around the celebration of authenticity and originality, skillfully incorporating natural materials and handcrafted elements to create a distinctive and harmonious aesthetic.
Amanda Wiss is the founder of Urban Clarity, a home organizing company awarded NY Magazine's Best of NY 2023. She is also the founder of home staging studio Urban Staging, whose design-savvy team gets homes market ready, to intrigue brokers and buyers alike. The two companies work in conjunction to do full move management, getting their clients completely unpacked and beautifully settled, while minimizing stress.
2. Consider your lighting
Lighting needs for a bedroom are pretty different than for a crafting space, and Kropovinsky says that's important to keep in mind.
'Natural light is a crafter's best friend,' says Kropovinsky. 'It's essential for color matching and intricate work. If the room has windows, make the most of them. If not, consider installing daylight bulbs to mimic natural light.'
3. Create a dedicated workspace
Maybe you're a general DIYer who loves a project, or maybe you're planning to create a full art studio. Whatever your craft specialty is, Kropovinsky suggests creating a workspace that honors your needs.
'Sewing requires a different setup than painting or jewelry making,' Kropovinsky explains, before noting that if you're using one room for different types of crafts, you might consider creating dedicated zones for each activity. But regardless of the kind of crafting you do, you'll almost definitely need a great table.
'A large, sturdy table is a must,' he says. 'It should be at a comfortable height for working while seated or standing. Consider a table with built-in storage or a foldable one if space is limited.'
Margaret Donaldson, founder and principal designer of MDI Interior Design, agrees, and she also notes that there's no reason to make this a craft room for one. 'Consider having a communal work table with stools where you can spread out, leave an in-progress project, or work on something as a group,' she says.
Margaret Donaldson is the CEO and Principal Designer at MDI Interiors, a leading design firm based in Charleston, South Carolina. MDI Interiors is known for creating sophisticated, yet livable and functional designs that are in sync with the lifestyles of their clients.
4. Show off your work
As you convert the room from a sleeping space into a more creative zone, Donaldson says you should consider how you'd like to display your projects.
'Large pinboards or a framed gallery wall can be a great focal point for a creative space,' says Donaldson.
Even if you don't display your final product, Donaldson a crafting room is a great space to show off the materials you use. 'Exposed or open built-in storage that is organized, but displays supplies can add color and texture, and also allow you to see what you have on hand,' she says.
5. Outfit the room accordingly
As with any room, Kropovisnky explains that a craft room should cover two key areas: a table or workspace and comfortable seating. 'Crafting can be time-consuming,' says Kropovinsky. 'Invest in a comfortable, ergonomically designed chair.'
Donaldson also suggests considering your materials. This is a room that might get messy! 'When making selections, choose less upholstery and more easy-to-clean materials,' he says.
6. Create a stimulating color palette
If you're crafty, then it's likely that you're easily affected by your surroundings – and in this case, you want your room to be both calming and inspiring.
'Bright, vibrant colors can stimulate creativity,' says Kropovinsky. 'Consider a palette of sunny yellows, bright blues, or energizing greens.'
If you prefer keeping things more zen, that can work well in a craft space, too. 'A palette of calming neutrals can create a serene environment,' says Kropovinsky, who suggests skewing soft gray, warm beige, or creamy white if you prefer to shy away from bright, bold hues.
7. Don't be afraid to go bold
While the rest of your home might call for a more cohesive design plan, Kropovinsky says this is a room where you're free to do as you please… so lean into it!
'A crafting room is a place to express creativity, so don't be afraid to mix and match styles,' he says. 'An eclectic mix of vintage and modern, rustic and sleek, can create a space as unique as the crafts produced there.'
Donaldson agrees. 'It can be fun to have a statement color that stands out from your other spaces,' she says. 'Choose something that sparks creativity and energy for your projects. In addition to having extra lighting in this space, consider a fun, statement light fixture that adds style and function.'
FAQs
How do you organize a craft room?
Having a well-organized craft room is key for designing a creative space you'll find inspiring and motivating. Open storage is great for displaying brightly colored materials, like yarn or paper, but if you pursue messier hobbies, you might want to consider making the most of any existing closets. Consider mobile storage options that are easy to keep out when in use or tuck away as needed.
However you decorate the room, one thing is key: it should be a space that you find inspiring. So, while all of these suggestions are worth considering and incorporating, don't discount your own creative needs, either.
Sign up to the Homes & Gardens newsletter
Decor Ideas. Project Inspiration. Expert Advice. Delivered to your inbox.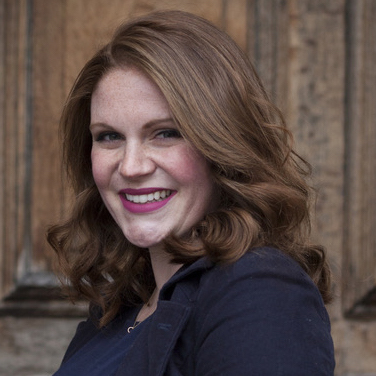 Ashley Chalmers is a freelance writer for Homes & Gardens with over 10 years' experience as a digital writer and content creator. Ashley started her career in entertainment and fashion PR in New York, before moving to the French countryside and taking up travel blogging. Now, Ashley lives in London. Her passion for travelling is only matched by her love of making her house feel like a home, and she loves to include her finds from around the world in her decor.