3 delightful benefits of 'floating' a couch, according to designers
It doesn't always have to lean into the wall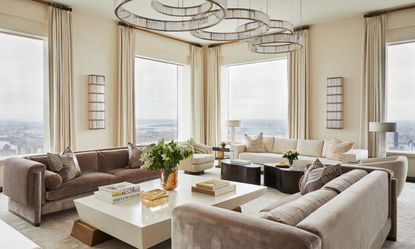 (Image credit: Genevieve Garruppo)
Dressing a living room feels like it should be the simplest design task to get right in the home. There is only so much you can do with your living room layout, after all. At least that's what we thought...
The possibilities are not quite endless, but they are more creative than you might expect. And though your own couch is likely posed up tightly against the wall at this very moment, what if we told you that it might be better placed in a 'floating' position?
What is 'floating' a couch?
Firstly, 'floating' a couch means that its back will not be placed against a wall, but rather a foot or so away from it. In some instances, it will be 'floating' more centrally, in an open plan space, for example.
The couch is undeniably one of the most important elements of living room furniture. Serving both functionally and aesthetically, it is much more than a mere – but very cozy – spot where we rest and recoup our energy levels after a busy day.
Chosen well, and given a truly thoughtful position, your couch may enhance design interest and bring more ambiance to your space. If yours isn't quite ticking all of these boxes, gently adjusting it so that it 'floats' could make all the difference. Interior designer and Associate ASID of Artful Conceptions, Sara Chiarilli Davis, tells us that a sofa against a wall is somewhat of a furniture placement crime.
'I think they should almost always be floated,' says Davis. 'Furniture up against a wall makes a room feel smaller and less connected. It feels under arrest.'
Let us persuade you further.
Sara Chiarilli Davis has been designing since 2003 after graduating from the University of South Florida. She was the designer for season one of HGTV's 100-day dream home, had a segment on the Morning Blend called Design Undefined, and has had her work on ABC, CBS, NBC, and international design publications. She works with high-profile clientele helping them to love the space they are in.
1. It almost instantly improves access
I recently made changes to my parents' home, and as well as reimagining how we display trinkets, I floated two of the couches. The reason being it created better access and more flow. Although in terms of measurements, the couches now sit closer together, this simple edit has actually opened up the space visually.
We also placed a floor lamp behind the couch for both task and ambient lighting and the added space allows easier (yet hidden) access to the switch, making evenings spent on the couch a little more seamless.
Furthermore, the couches themselves became more accessible which is a key component of a balanced lounge space, too. 'The rule of thumb is always that you need to be able to access the seating area in at least two ways,' Davis advises. 'If you can't, it is laid out incorrectly or the wrong size for the space.'
Freeing up a wall behind your couch will present more living room storage opportunities too, and perhaps even offer up another surface.
Davis highlights other furniture items that are suited to this space. 'Sofas feel best when they have a table behind them and can be accessed in multiple ways.' So depending on where you float your couch to, you could consider a styled console table, at Anthropologie, bench, or slimline shelving cleverly positioned behind it.
2. It can give definition to an open plan space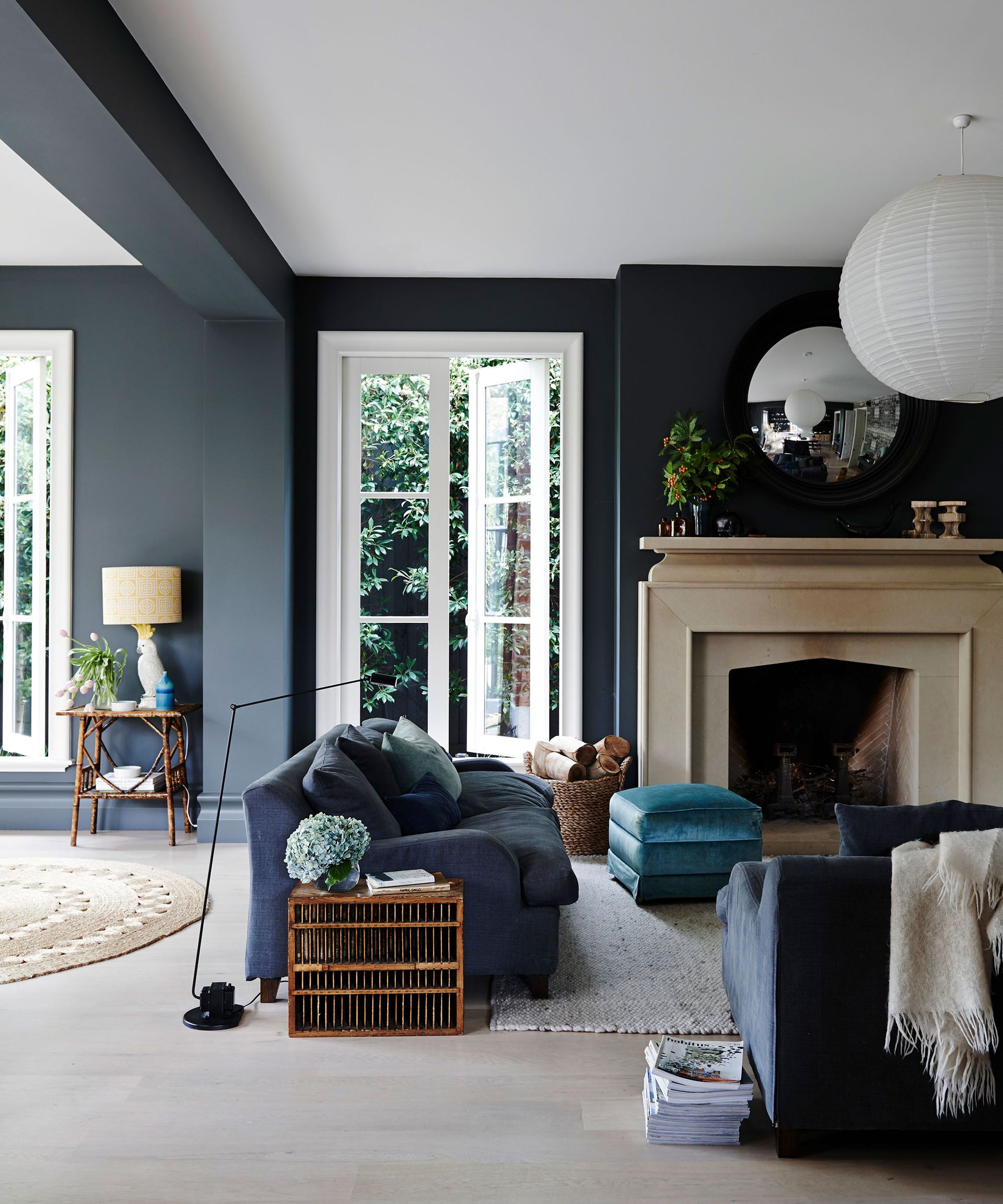 An open-plan living room can make an exceptional design choice. Creating dedicated zones within the space will help make the most of this layout, and this can be easily achieved with a couch, or two.
'Floating a couch can be a great way to create a natural division of functions within a larger, open-plan space,' says Alexia Sheinman, the chief strategy and brand officer of Pembrooke & Ives, a New York-based interior design agency that believes in the power of great design. 'It allows for the room to remain open and airy while giving definition to the various different areas.'
Where you float your couch will depend on its size, but aligning the back with the edge of an area rug will give the illusion of more space and help define specific areas further.
Alexia's passion for design has been inspired by the varied cultures and environments in which she has lived, studied, and worked. She was born and raised in New York, but has worked and studied all around the world. Alexia has studied in Greece, worked in Italy, attended university in the United Kingdom where she received a BSc in Philosophy and Politics, and completed her Masters degree in New York, receiving an MFA in Interior Design from Parsons.
Alexia joined Pembrooke & Ives as an interior designer in 2013, and has been working on multiple exciting projects ever since – including the renovation of a country club in Long Island, a reading room of the Center for Jewish History, and a 10,000 sq ft office space on Madison Avenue.
3. It can 'create intimate areas' for conversation and lounging
Flexibility and ease of movement simply make for a more enjoyable living room; this is important in such a convivial and shared space as the lounge. 'If a room is very large, floating a couch can help to create more intimate areas for conversation or for lounging,' notes Sheinman.
A relaxing ambiance is sure to inspire delight with others, and nodding to the main 'conversational triangle' with your couch placement will encourage a healthy dose of gossiping too. Davis also notes how much of this can be influenced by this specific floating couch placement.
'When designing a space, you want comfortable conversational areas,
'This means more often than not you want to bring things into the center of the room. You should only be 18-20 inches from your cocktail table when seated,' recommends Davis. 'If you are further away your furniture is too spread out. It is much better to have two or more conversation areas in a large room than to be moved too far apart.'
FAQ
How shouldn't you position a couch in a living room?
Every layout is unique and it's important to work with the bones of your home. Only you and your household will truly know how the space feels, whether the couch hugs up against the wall, floats center stage, or is just a few inches away from the wall. Davis highlights how first and foremost, the space needs to feel balanced.
'Don't overcrowd a room. You are better to have a sofa and a couple of small ottomans in a small space than a sofa and chairs,' recommends Davis.
'Scale is important. Too big or too small is most often the worst mistake that most make when designing a space,' warns Davis. While this is a common living room layout mistake, if you have high ceilings, you can usually afford to have taller or larger furniture. It's all about creating a space that is functional and that has flow.
---
When it comes to deciding on where to place a couch in your living room, up against the wall tends to be our default. But branching out and floating one or more couches could enhance the space in many ways.
Sign up to the Homes & Gardens newsletter
Decor Ideas. Project Inspiration. Expert Advice. Delivered to your inbox.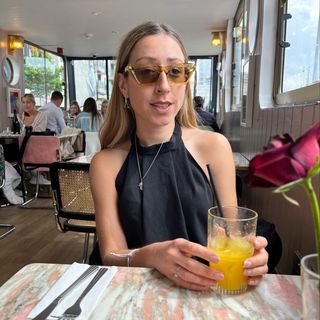 Camille is the former deputy editor of Real Homes where she covered a broad range of topics, including house tours, small space design, and gardens. She studied English language and Italian at the University of Manchester and during a year abroad studying linguistics and history of art in Bologna, Italy she started documenting her adventures and observations in a blog. Camille is always creating and spends her downtime painting, taking photos, traveling, and writing short stories.