My French grandma had the secret to natural stain removal all along
A charming and effective ingredient that is kind to the environment and surprisingly versatile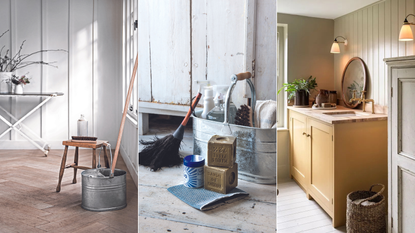 (Image credit: Future PLC / Original BTC)
I recently had the pleasure of going to visit my family in France, where I spent some time strolling around French supermarkets and garden centers where I kept seeing Savon de Marseille everywhere. I had never considered using it for cleaning but I am forever excited by a French-inspired method, especially one that was endorsed by my late grandma, whose home was kept pristine and fresh-smelling at all times.
I asked my mother one day whether she remembered her using Savon de Marseille around the home in her childhood and in a few words of happy recollection: 'Yes, I do actually.' My mother shared with me how it was, in fact, an integral part of my grandma's laundry routine, which was done by hand at this time, but that she has also used it to clean floors (beautiful tile), and other areas in the home using this heritage ingredient too.
'Admittedly, she was very pleased when the washing machine was invented,' continues my mother. I am sure we can all agree on this. Naturally, I was left all the more curious and I wanted to know more so that I might use it in my own home.
The power of a quintessentially French soap
We are aware of how powerful natural ingredients can be in cleaning, and Savon de Marseille is another example of how cleaning products in their purest form can be some of the most potent, making a brilliant addition to DIY cleaning solutions not just for laundry but also around the rest of the home.
I got in touch with Val's Services Cleaning and more professional cleaners to see whether they had ever used Savon de Marseille as part of their cleaning routine. 'When it comes to home cleaning, we often seek products that not only get the job done but also reflect a touch of elegance and tradition,' CEO, Val Oliveira, shared with Homes & Gardens. 'Savon de Marseille, the iconic French soap, has emerged as a timeless and versatile solution that embodies both.'
What is Savon de Marseille?
As the name implies, Savon de Marseille is 'originally' made in Marseille. In true form, and to earn the stamp of authenticity: 'Union des Professionnels du Savon de Marseille,' it must contain at least 72 percent vegetable oil, as noted on Marseille's tourism information page.
It is made using a specific manufacturing process, involving a cauldron, and now it is loved the world over. For this reason, you should be aware, that there are lots of brands out there that might falsely claim they sell 'real' Savon de Marseille or that their products contain it when it might actually just be a similar combination of ingredients.
As La Maison du Savon de Marseille, an authentic manufacturer in Marseille also highlights online: 'The term "Marseille Soap" does not have a protected designation,' and it is important to protect the name as it has been subjected to many a counterfeit in the past.
This is not to say that these products will not be any good or do what they say on the packaging. However, they will not be the real 'Made in Provence' Savon de Marseille. And, the 72 percent of vegetable oil is important for the product to uphold its delicate, and hypoallergenic properties. Products that are not genuine should not have the esteemed label that is emblematic of a rich history, rooted in French, and more specifically, Provencal tradition.
It seems this quintessentially French soap might be the next brilliant and natural addition to our cleaning arsenal, after all.
For laundry
I will start with how my grandma typically used it, for laundry. If you have been impressed by the effectiveness of adding white vinegar to your laundry drum, the chances are Savon de Marseille may enhance your laundry routine once again.
'Savon de Marseille is a versatile soap that can be used for various cleaning purposes, from laundry to household cleaning,' says Angela Rubin of Hellamaid who also notes its natural effectiveness: 'It helps remove stains and odors without harsh chemicals,' adds Rubin.
As Savon de Marseille is gentle and hypoallergenic, it makes a great natural laundry detergent for clothes, delicate fabrics, and household items. For laundry in particular, you will want to use Savon de Marseille flakes, I found a good contender on Amazon by French brand La Corvette. You can find laundry-specific products too.
'We purchase it in its pure format and create cleaning solutions in-house,' says Oliveira who shares a rough method:
'The ratio depends on the task at hand, but a typical mix is approximately 1 part soap to 10 parts water. Adjustments are made based on the surface and material we are cleaning.'
When purchasing from a reputable supplier – more on this below – they will offer guidelines on how to use the product. Be sure to follow these, and, as with trying anything new, we recommend spot-checking it in an inconspicuous area first.
Hellamaid is an award-winning cleaning company in Canada that's been featured on multiple global media brands.
For lifting tough stains
We often think that stained items are beyond repair. This is especially distressing when it is something particularly delicate, or hard to remove, like oil stains on clothes.
Oliveira shared an experience of using Savon de Marseille to restore a tired rug with brilliant results: 'One of our dedicated technicians recently experienced the magic of Savon de Marseille firsthand. They encountered a vintage silk rug, a family heirloom that had seen better days.'
As we know, washing silk sheets or pillowcases is notoriously difficult. Stained silk often feels like a lost cause.
'Stained and faded, the rug was almost relegated to the attic. However, driven by curiosity and a commitment to our eco-friendly ethos, we decided to give Savon de Marseille a try.
'The results were nothing short of astonishing,' continues Oliveira. 'The soap's natural ingredients and soft touch not only lifted the stains but also rejuvenated the rug's vibrant colors, bringing back the shine it had lost over the years. This remarkable transformation of a cherished heirloom is a testament to the soap's enduring charm and cleaning power.'
Especially with something as delicate as silk, be sure to test it first on a small and inconspicuous part of the fabric.
Other uses for Savon de Marseille
I always went to look for Savon de Marseille in the beauty aisle, and it is that item that I try to bring back to London whenever I go – for one friend in particular – but there is much more to it than I had realized. As well as naturally lifting stains or using it in homemade laundry detergent, scour the internet and there are a few more chores people say that Savon de Marseille could help with:
Clean the base of an iron: much like you can clean an iron base using vinegar, try lifting yellow stains by rubbing a block of Savon de Marseille over the bottom, while the plate is switched off but a little warm, as recommended by Fer à Cheval, an authentic stockist. Finish by shining it up with newspaper.
Protect a leather sofa: Similarly, Fer à Cheval also says that Savon de Marseille can be applied to a leather sofa to protect it. Use a clean cloth and massage it into the fabric using circular motions.
As dish soap: You can simply use a sponge or cloth to pick up the soap from a block and scrub your dishes as usual. Some make their own liquid by grating the soap and combining it with water, vinegar, and baking soda. Chateau du Savon has a simple recipe to follow.
FAQs
Where can you buy authentic Savon de Marseille?
You will be hard-pressed to find genuine Savon de Marseille in your local store, but if you do, be sure to check not just for the origin of the product you are buying. Saying this, not even all soap from Marseille is authentic Savon de Marseille, so check for the 72 per cent vegetable oil content, as this is a requirement to verify its authenticity, as is the presence of the logo registered by the 'Union des Professionnels du Savon de Marseille,'
Whether a genuine Savon de Marseille or not, pay particular attention to the ingredients list for any synthetics that do not belong also, this will quickly indicate whether it is a more authentic Savon de Marseille product or not. Genuine products will be none other than white or green, made from a base of palm, copra, peanut oil, or olive oil. So steer clear of anything colorful as it may contain coloring, and therefore not be as delicate as you'd expect.
I was able to find some stockists on Amazon with reasonable international shipping times. La Corvette which notes that it is 'one of the last historical soap factories in Marseille' has a generous range of its Savon de Marseille products on Amazon and I found another couple of products, including a nice soap.
Alternatively, you could pick it up on your next trip to Marseille.
How else can you use Savon de Marseille?
In addition to stain removal and laundry, Savon de Marseille can tackle all manner of household chores.
'Savon de Marseille can also be used for cleaning surfaces around the home, including countertops, floors, and even dishes,' adds Rubin.
It is as versatile as baking soda or vinegar in cleaning, still kind to the planet, and in some ways an even more gentle method of cleaning. Oliveira tells us they continue to see remarkable results in using Savon de Marseille and remain impressed with how it revived the vintage silk rug.
'Whether it's wiping down surfaces, handwashing delicate fabrics, or reviving cherished heirlooms, Savon de Marseille has proven itself as a reliable and eco-friendly partner in our mission to provide exceptional cleaning services.'
---
What is tradition if not a hallmark of trust? Often imitated, be sure to find as authentic a Savon de Marseille product as you can to enjoy the same delightful benefits of generations past. Though I am always inclined to bring back a bar of soap or two whenever I head to France, Savon de Marseille will no longer just feature on my bathroom shelves. Thanks, Grandma.
Sign up to the Homes & Gardens newsletter
Decor Ideas. Project Inspiration. Expert Advice. Delivered to your inbox.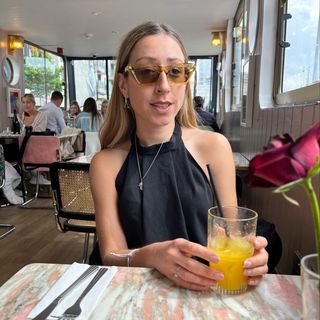 Camille is the former deputy editor of Real Homes where she covered a broad range of topics, including house tours, small space design, and gardens. She studied English language and Italian at the University of Manchester and during a year abroad studying linguistics and history of art in Bologna, Italy she started documenting her adventures and observations in a blog. Camille is always creating and spends her downtime painting, taking photos, traveling, and writing short stories.