6 things minimalists never have in a kitchen – and what to use instead
Prioritize functionality, organization, and sustainability by never using these items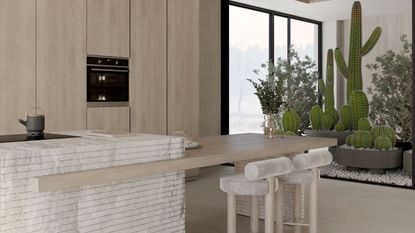 (Image credit: Caffe Latte)
Embracing minimalism in the kitchen not only enhances the visual appeal but also contributes to efficiency, making cooking a more relaxing and streamlined process. By carefully selecting what you have in your kitchen and avoiding these common mistakes, you can prioritize what truly matters in your minimalist kitchen space to make it both practical and visually pleasing.
Minimalists prioritize functionality and sustainability, resulting in a sleek and tranquil kitchen. By adopting these practices you can embrace the minimalist lifestyle.
So, if you wish to adopt a minimalist approach to your kitchen, utilize these expert tips and note the things minimalists never have in a kitchen and how they would design it to create an efficient and clutter-free space.
Things minimalists never have in a kitchen
'Clear, functional spaces are key. Items that earn countertop space are used daily. Everything else is stored out of sight, reducing visual noise and maintaining a serene cooking environment,' explains Tadas Pukas, CEO and founder of Minimalistic Linen.
1. Exposed kitchen appliances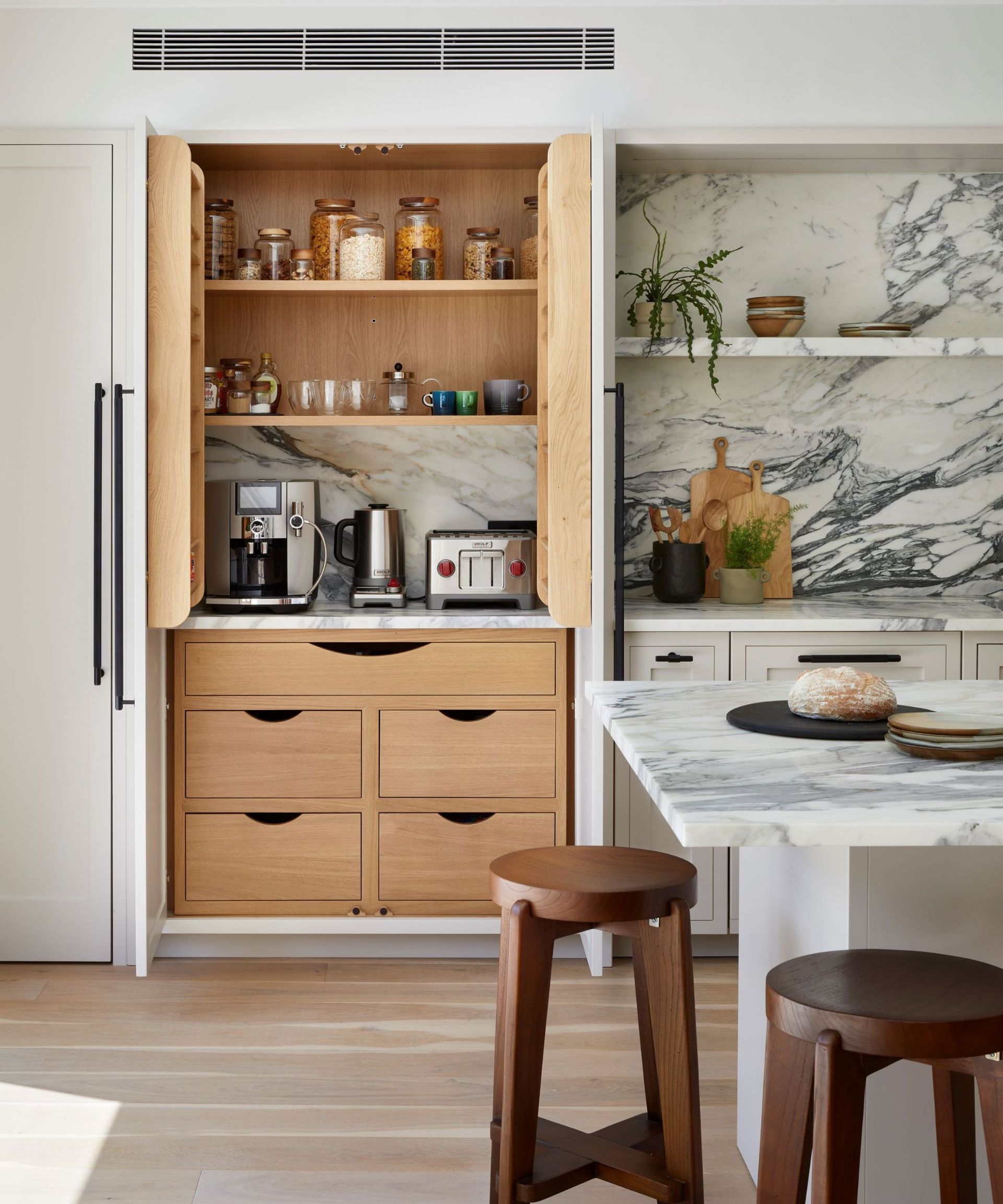 Minimalists tend to have a purpose for every item in their kitchen. Unused appliances or gadgets can quickly clutter up the space. Streamlining your kitchen to include only the essentials reduces visual clutter and makes cooking more efficient. If there are appliances you rarely use, consider storing them elsewhere.
Minimalists aim for built-in, compact appliances, to maintain a cleaner and more streamlined look.
'Minimalist design prides itself on simplicity, functionality, and an abolishment of unnecessary clutter,' explains Karen Miller, founder of the Miller Design Group. 'Minimalists maintain clean lines and clear surfaces by not having large kitchen appliances like coffee machines or toasters which tend to hog counter space.'
Richard Davonport, managing director at Davonport says, 'You'll generally find that minimalist kitchen owners still have the likes of coffee machines and toaster, but through clever kitchen design, they are neatly tucked away and hidden, for example in dedicated pantries.'
'Additionally, smart storage solutions go beyond traditional cabinets and embrace innovative storage technologies. Think about concealed pull-out racks, motorized shelves, and modular storage units designed to optimize every inch of available space,' advises Ritika Asrani, owner of St Maarten Real Estate.
2. Open shelving
Although open shelving can be aesthetically pleasing, they can also lead to visual clutter if not carefully staged to create a subtle, purposeful and organized open shelving display.
Richard Davenport says: 'Minimalist kitchens will very rarely feature open shelving as even the most beautiful-styled shelves can still make it feel cluttered and take away from the uniform nature that minimalist kitchens bring.'
You can check out our guide for items never to store on kitchen shelves.
In kitchens where storage space is limited, minimalists often avoid the potential for overcrowding open shelving, opting instead for concealed storage such as closed cabinetry.
3. Excessive and disorganized cookware
In minimalist kitchens, cookware is kept to a minimum, so duplicate items, multiple sets of kitchenware, or specialty tools that serve only one purpose are a strict no-no in a minimalist kitchen.
'A minimalist will have just enough – no surplus of mugs, plates, or utensils that go unused. Every item is intentional, frequently used, and in good condition,' explains Tadas Pukas, CEO and founder of Minimalistic Linen.
'Think bread makers, garlic presses, or any gadget that serves a single, infrequent purpose. A minimalist kitchen leans on versatile tools like a quality chef's knife, a durable chopping board, and a multifunctional frying pan.
'Excessive storage containers and single-use items, such as plastic wrap or paper towels, might be replaced with sustainable, reusable alternatives.'
Instead, having a few versatile, high-quality pots and pans that suit your needs and are easily stored is preferred over an excess of specialized items. This approach saves space while promoting a more organized and efficient kitchen.
Karen Miller says: 'When it comes to utensils, the one product I highly recommend for a minimalist kitchen is the Joseph Joseph Nest Utensils Plus Set,' which you can find at Amazon.
'This 5-piece utensil set stacks together, minimizing the amount of space they command on your countertop or in a drawer, yet retaining all the functionality of traditional kitchen tools. Each tool has its own intended purpose, so there's no need to have various versions of the same tool, thereby promoting a less is more philosophy championed by minimalism.'
Investing in multipurpose and high-quality cookware and utensils not only simplifies your kitchen but also enhances the cooking experience. Check out our guide on the best Le Creuset buys for some high-quality kitchen cookware.
4. Uncessecary decorative items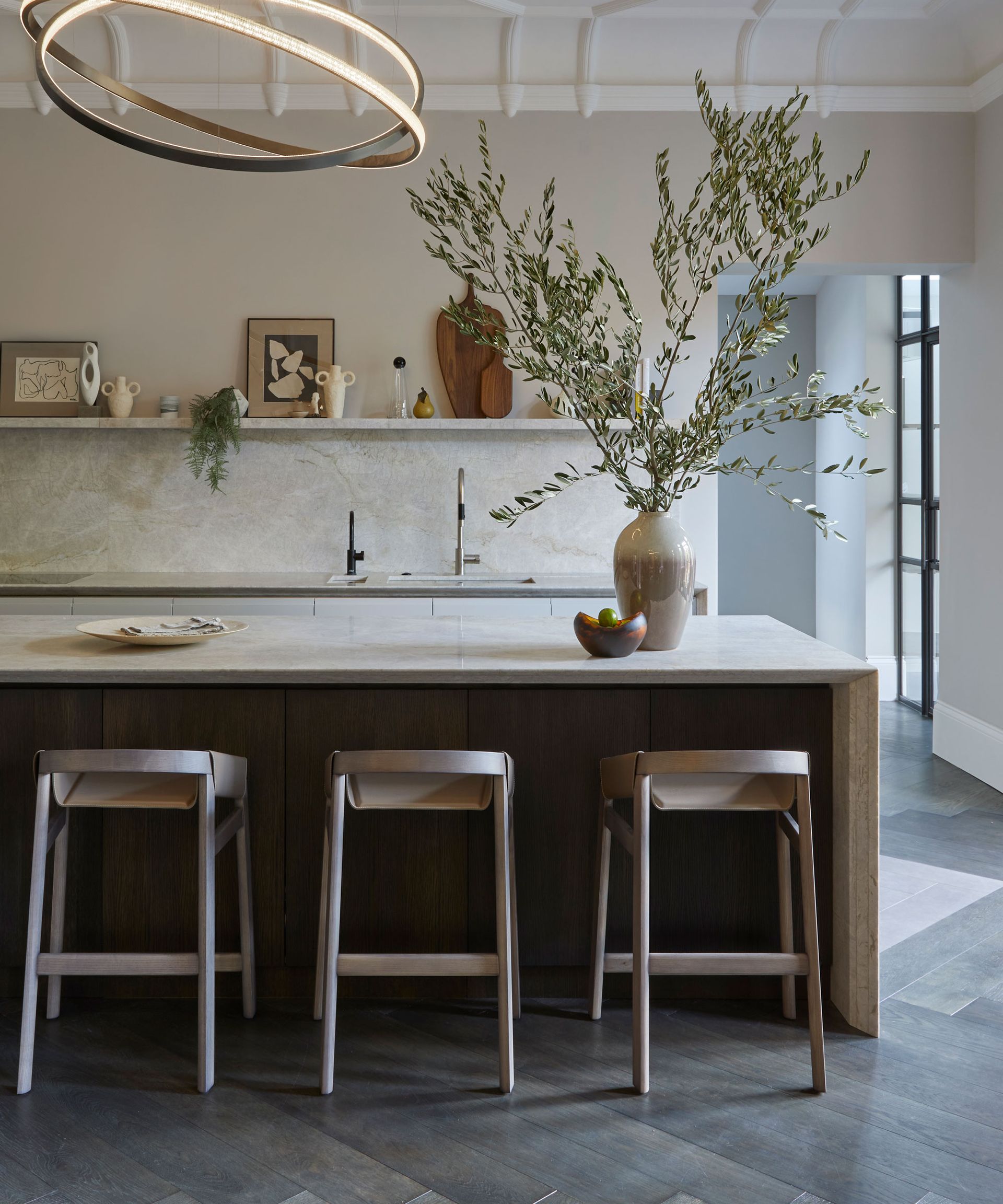 'Another feature you won't find in a minimalist kitchen is an overabundance of decor items. A minimalist kitchen usually opts for one statement piece, like a contemporary artwork, rather than an assortment of decorative items that create visual clutter,' advises Karen Millier.
Minimalist kitchens prioritize simplicity and cleanliness which means avoiding excessive decor, intricate patterns, or elaborate embellishments that don't serve a function.
Tadas Pukas says, 'Decorations, if any, are minimal and intentional, often serving a dual purpose of being both aesthetic and functional,' such as decorative bowls, vases, or chopping boards.
To embrace minimalist decor, choose singular statement pieces, monochromatic color schemes, and simple design elements with clean lines, such as sleek handles.
$58.00
For storing smaller items such as sugar, coffee, or biscuits, this container is perfect to add some color and texture to your shelves while being a convenient storage option.
$54.00
Whether you use this pitcher to store food, display flowers or as a decorative item for your shelves, it is a versatile piece that can elevate your kitchen decor.
5. Mismatched cookware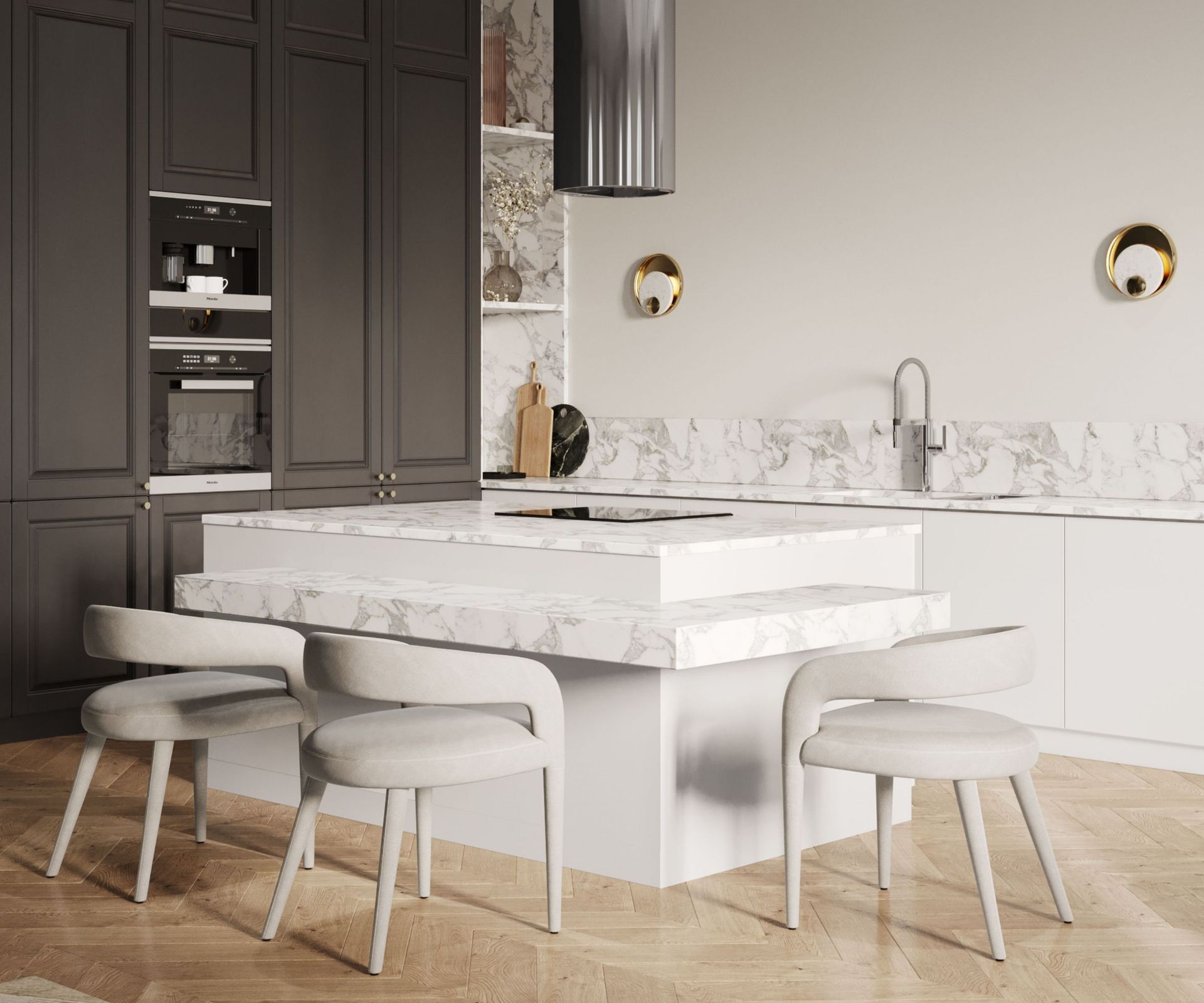 'Minimalists never have mismatched or rarely used sets of dishes or cutlery in various designs in their kitchens. Cohesiveness is key, so they opt for unified, timeless designs,' says Artem Kropovinsky, interior designer and founder of Arsight. 'Large sets of mismatched dishware aren't on the menu. Instead, minimalists prefer a limited curation of essentials, ensuring everything has its place and purpose.'
Opt for a collection of versatile, high-quality pieces that suit your lifestyle and can be mixed and matched. This saves space and promotes cohesive decor.
$64.00
This set of four glasses can add some visual interest and texture to your shelf display,
$80.00
This set of four dinner plates can add an element of rustic charm with a muted blue tone to your kitchen shelves. They also come in four other colors, making them the ideal plates to personalize to your kitchen.
Based in New York, Artem Kropovinsky, founder of Arsight, has a decade of extensive and considerable global design experience. Prioritizing minimalism, sustainability, and authenticity, Artem, alongside his team of professionals, works on projects in the US and worldwide.
6. Disorganized drawers and cabinets
Overflowing drawers and cabinets are never functional, and so will not feature in a minimalist kitchen. This is part of the reason minimalists have only the essential items in their kitchen to ensure storage is simple and not overcrowded.
Artem Kropovinsky says, 'Every item has its place, and everything is in its place,' which is how minimalists approach their kitchen storage. If there is no space in drawers and cabinets, consider decluttering items that are not needed.
FAQs
What's the best way to light a minimalist kitchen?
'Minimalism isn't just about reducing physical clutter; it's also about creating a harmonious atmosphere. Choose customizable multi-zone lighting in the kitchen so you can change it according to the task and mood,' says Ritika Asrani, founder of St Maarten Real Estate.
'Under-cabinet LED strips, pendant lights with adjustable brightness, and task-specific lighting zones not only contribute to a minimalist aesthetic but also enhance the functionality of the kitchen. A well-lit, versatile kitchen is a subtle yet powerful selling point in the competitive real estate market.'
What appliances do minimalists use in a kitchen?
Minimalists emphasize using sustainable and space-efficient appliances in their kitchens. 'This involves appliances designed with minimalistic principles, such as compact, all-in-one kitchen units that combine functionalities like an oven, stove, and dishwasher,' says Ritika Asrani.
These not only save physical space but align with the eco-conscious mindset of many modern homeowners. Homes equipped with these sustainable, space-saving appliances stand out in a market where environmental consciousness is becoming an increasingly significant factor in purchasing decisions.'
What kind of sinks won't you find in a minimalist kitchen?
Richard Davonport, Managing Director at Davonport, says 'The design feature that you will rarely find in minimalist kitchens are Belfast or Butler sinks. They are traditional, chunky and often interrupt the flow of cabinetry as they aren't built into the worktops but this is the beauty of them!'
---
With minimalists focusing on efficient design and items, physical cookbooks are not normally found in minimalist kitchens, since recipes can be found online and unlike hardbacks, digital versions don't take up precious space.
Sign up to the Homes & Gardens newsletter
Decor Ideas. Project Inspiration. Expert Advice. Delivered to your inbox.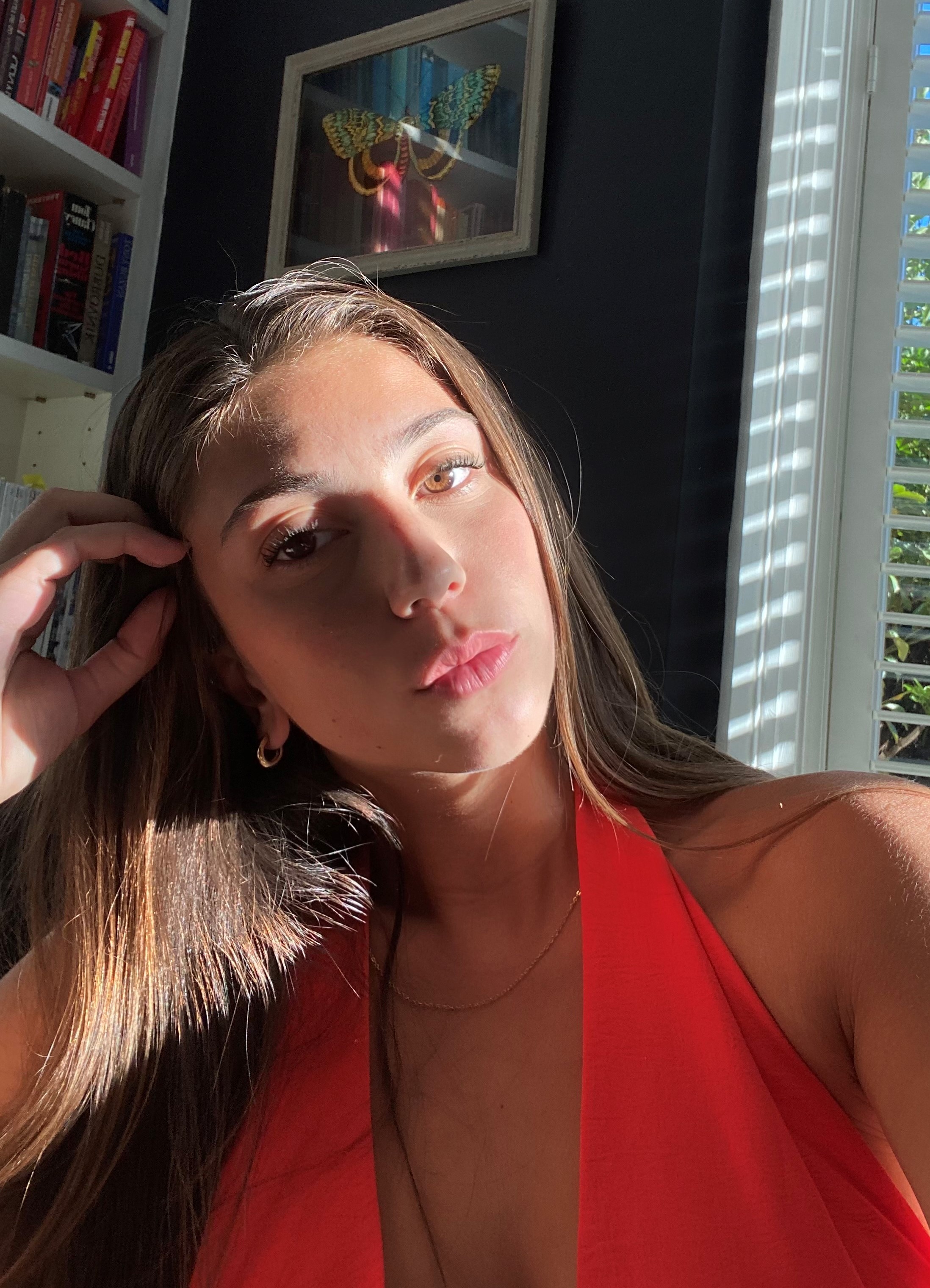 Lola Houlton is a news writer for Homes & Gardens. She has been writing content for Future PLC for the past five years, in particular Homes & Gardens, Real Homes and GardeningEtc. She writes on a broad range of subjects, including recipe articles, reviewing products, writing 'how to' and 'when to' articles. Lola now writes about everything from organization through to house plants. Lola is a graduate student, who completed her degree in Psychology at the University of Sussex. She has also spent some time working at the BBC.