The 3 golden rules of organizing open shelving in the kitchen
For a space that feels stylish, sophisticated, and intentional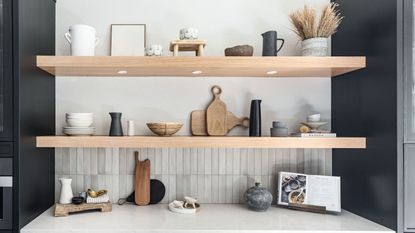 (Image credit: Living with Lolo, LifeCreated Photography)
It is no wonder that open shelving has earned its keep in most areas of our homes, the kitchen included. Done well, it can provide instant aesthetic appeal and function. The secret, however, to forging a space that works hard in terms of visual design and practicality, is in how it is organized.
As with all types of kitchen shelving ideas, location is important. Next, the focus should be on how you can create intrigue while also supporting your daily culinary practices – be that making a morning cup of coffee or pouring a glass of Chardonnay.
3 golden rules of organizing open shelving in a kitchen
'Open shelving can be both practical and aesthetically pleasing in a kitchen,' says Devon Wegman, Designer Director and Founder of Devon Grace Interiors.
It's all about combining subtle kitchen storage ideas with a thoughtful display, in the right area for your household. 'We often like to use it by coffee stations or in butler's pantries to create a beautifully styled space that is also functional and allows easy access to everyday items like mugs,' Wegman tells us.
Lauren Lerner, CEO and Founder of Living with Lolo also shares how she adores using open shelving in kitchens: 'It effectively breaks up the monotony of cabinetry, creating a spacious and inviting ambiance.'
Lerner further highlights how what you keep on display is of utmost importance. Investing in beautiful dishes and items that you love is a valuable piece of advice, especially if your open shelves need to serve as storage. Bear this in mind when following our three golden rules for organizing open shelving in a kitchen perfectly.
Lauren Lerner is the principal designer and founder of Living with Lolo, the interior design firm based in Scottsdale, AZ, since 2017. Fueled by her love for clean lines, mixed metals, colors, and timeless pieces, Lerner thrives on bringing a client's home to life from the very beginning.
1. Keep it curated and uncluttered
Organizing kitchen shelving is important at the best of times, but most especially when they are exposed, sans a concealing cabinet front. For a positive jump-off point, you want to start with truly 'select' items to organize.
'Choose a curated collection of attractive items to display,' says Shara Kay, a certified professional designer. 'Serving dishes, glassware, mugs or even beautiful cookbooks can work well,' adds Kay.
Shara Kay (she/her) is a Certified Professional Organizer® and the owner of SK Organizing, a Los Angeles area company specializing in move management, estate clearing, and helping busy professionals achieve the calm and organized spaces they desire at home and at work. Shara also has over 10 years of experience in the entertainment industry where she produced several independent films, won the NATPE Digital Luminary Award for Best Branded Entertainment Series, and served as a senior development and production executive. She holds a Bachelor's degree in Romance languages & literature from Harvard University.
Victoria Holly, principal and founder of Victoria Holly Interiors says that decluttering is where to start when organizing open shelving in a kitchen space. 'This is helpful not just for styling your open shelves but also for the functionality of your kitchen.'
It's about being thoughtful with what you are keeping on display and if you are one for being, overzealous, shall we say, in your choice of dinnerware and the like, Wegman has some sound advice that is especially helpful.
'It's very easy for open shelves to look cluttered, so it's important to have some rules for the items stored on them. Typically we like to simplify materials, colors, and textures so that things feel cohesive and intentional.'
This might mean opting for dishes and glassware that are from a set, over mismatched items. For anything that feels out of place, reserve it for closed kitchen cabinets instead.
Victoria Holly Interiors is a full-service interior design firm that specializes in creating beautiful and functional spaces for both residential and commercial clients. They pride themselves on their ability to deliver high-quality projects that meet the unique needs and preferences of their clients. Victoria Holly Interiors offers a wide range of professional services, including project management, interior design, construction assistance, and renovations
It really is about paring back where you are able to and paying attention to how everything works together. 'Try to avoid overcrowding your shelves. These can look chaotic and defeat the purpose of open shelving which is functionality and minimalism,' adds Holly.
Choosing more muted tones can create a calm, sophisticated, and balanced finish Lerner tells us: 'To maintain an aesthetically pleasing and well-organized look for open shelving, it is recommended to stick with a neutral color palette and avoid excessively vibrant or flashy items. Remember, simplicity is key when it comes to open shelving, as overcrowding can detract from its overall appeal.'
2. Organize by set style and category
With a curated choice of kitchenware to display, you will find this next stage far easier to tackle.
Holly recommends, 'When styling your open shelving, first and foremost: start organizing by category.'
Champagne flutes, coffee mugs, and crockery should be grouped together respectively; in a way that makes sense visually and in practice. Organizing open kitchen shelving like so will make it easier to stack and access items, as and when you need them.
Note if you use any glassware infrequently, Kay recommends storing this upside down to prevent dust from gathering.
Corraling items by section can help too Holly tells us: 'Keep dishes and glasses in one section of your open shelves versus cooking-oriented items, such as spices or oils.'
Consider positioning ingredients or crockery that you use daily, well within reach on lower shelves. 'Keep frequently used items easily accessible and reserve higher or less accessible shelves for decorative pieces or less commonly used items,' says Holly.
Methods that help make high kitchen cabinets more accessible might come in useful for reaching top shelves too; such as thoughtfully designed stools and ladders that can be stowed away when not in use.
3. Ensure accessories are displayed with purpose
Accessories can make or break a space, and this certainly applies to open shelving in a kitchen. A good way to keep open kitchen shelving good-looking and uncluttered is to find a dual function with items. For example, 'If it's a coffee station, choose mugs that double as accessories and add a beautiful touch to the space,' recommends Holly.
Let us not forget that the 'purpose' of some items can be purely aesthetic. There is no harm in this as decorative additions might actually enhance your organizational efforts. Incorporate what you need into your open shelving to balance the room and create a cohesive finish. Wegman does this with indoor plants for some projects.
'It's also nice to incorporate some styled accessories to make the space feel more curated. We love to layer in plants to soften the shelves and add some earthy texture,' she says.
As we can see above, Lerner also keeps some foliage on open kitchen shelving, alongside beautifully staged wooden cutting boards and pots. Lerner offers a clever solution for those who want to get more storage out of this space too. 'Additionally, utilizing baskets on your open shelves provides a practical solution for organizing smaller items like cutlery or paper products,' she says.
FAQs
Why is open shelving a good choice in a kitchen?
If you still need a little persuading ahead of choosing this look for your kitchen, Holly reminds us that open shelving can help create space while displaying your most coveted kitchenware: 'They provide an opportunity to showcase your favorite collected items, beautiful dishes and glassware, and functional items like spices. It's beautiful but also functional. I love being able to see everything I need when cooking or entertaining. And for the things I don't want to see: I put those in my lower cabinets or in the pantry.'
What's more, if you like to keep up with kitchen trends, and change the look of your space frequently – perhaps with the seasons – this is easily done with open shelving. It is simply a matter of swapping items in and out, to better represent your preferred style. For those with a neutral kitchen, this will be an even simpler process.
Is there anything that doesn't belong on open shelving in a kitchen?
Should any edibles really be on display?
Coffee beans aside, we were curious to know whether dried goods are allowed on open shelving in a kitchen if it is to remain organized on all fronts.
Wegman says: 'Consider canisters or storage containers if you are planning to store food, coffee or tea on open shelves. They'll instantly make the space feel more sophisticated and intentional.
'Cereal boxes or other pantry items should be stored in curated canisters. Shelves should be dedicated to dishes, glassware, canisters of food and plants or decor,' she adds.
For anything good-looking, like the humble coffee bean, striking cayenne pepper, or beautifully spinach-hued tagliatelle pasta, a glass storage canister may work. For anything less inspiring, keep canisters concealed in block colors, or reserve these items for an organized pantry.
'Use glass containers for storing things such as spices or pasta - this way you can see what you have but it also looks cohesive,' says Holly.
What items can help with organizing open shelving in the kitchen?
Lerner tells us that baskets help with keeping open shelving orderly in a kitchen. There is an array of good-looking paniers available on Amazon should you want a quick solution.
Glass canisters will also be essential for anyone hoping to keep food items in view.
For larger items such as appliances and dried goods that you might want to keep in your pantry instead, but still in an open shelving layout, baker's racks are a great option.
---
Being thoughtful with what and how you store items on open kitchen shelving is key for a good-looking and organized kitchen; one that will give you more culinary freedom and let you enjoy your space all year round.
Sign up to the Homes & Gardens newsletter
Decor Ideas. Project Inspiration. Expert Advice. Delivered to your inbox.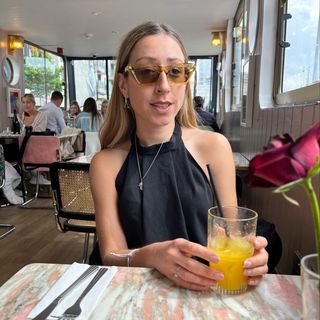 Camille is the former deputy editor of Real Homes where she covered a broad range of topics, including house tours, small space design, and gardens. She studied English language and Italian at the University of Manchester and during a year abroad studying linguistics and history of art in Bologna, Italy she started documenting her adventures and observations in a blog. Camille is always creating and spends her downtime painting, taking photos, traveling, and writing short stories.