Where to hang a mirror in a living room – 6 places experts recommend for more light and design interest
Experts share their favorite places to hang mirrors in the living room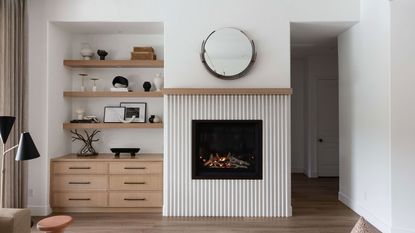 (Image credit: Living with Lolo, Life Created Photography)
Sign up to the Homes & Gardens newsletter
Decor Ideas. Project Inspiration. Expert Advice. Delivered to your inbox.
Thank you for signing up to Homes & Gardens. You will receive a verification email shortly.
There was a problem. Please refresh the page and try again.
Whether you have just bought a gorgeous new mirror home, or are not quite convinced that your current one is sitting in the right place, knowing where to hang a mirror in a living room is not as strikingly clear as we might have hoped.
While there may be many living room mirror ideas to inspire, the key really is in finding the perfect position for your unique space.
Are there specific rules to follow? Above all, you want to prioritize what will be in the mirror's reflection. This is key with mirror placement in every area of the home, but it is even more important in such a convivial space as the living room.
Where to hang a mirror in a living room
Furthermore, square footage, natural light levels, and the overall aesthetic you are trying to create will all play a part in how you go about orchestrating the position of this lovely design essential.
Erick Garcia, Principal of Maison Trouvaille tells us how knowing the intended function of the mirror in your living room will help determine where you hang it: 'When it comes to placing a mirror in a living room, there are a few things to consider. Firstly, you'll want to think about what purpose the mirror will serve.'
Erick Garcia is the founder of design studio, Maison Trouvaille and he creates spaces that explore and enhance a client's personal style. Trouvaille is actually French for 'lucky find', to express discovering something wonderful by chance. This is a defining part of Erick's design process, of which he draws inspiration from his travels, as well as the art world, culture, and fashion.
For instance, someone bringing a mirror into this space purely to add visual interest will position theirs differently from someone using a mirror to address spacing issues. Here are some suggestions for mirror placement in a living room:
1. Above a fireplace
Hanging a mirror above a fireplace is a firm favorite among our experts, for visual interest on all fronts. The decorative impact will naturally depend on the design of the mirror itself, but what is being reflected in the mirror will also define the ambiance of the space.
'We love adding a mirror over the fireplace in the living room,' shares Lauren Lerner, CEO and Founder of Living with Lolo.
'This allows the beautifully decorated room to be displayed in the mirror's reflection and act as a piece of art on its own.'
Lauren Lerner is the principal designer and founder of Living with Lolo, the interior design firm based in Scottsdale, AZ, since 2017. Fueled by her love for clean lines, mixed metals, colors, and timeless pieces, Lerner thrives on bringing a client's home to life from the very beginning.
Positioning a mirror over a fireplace might even promote good Feng Shui, especially if it is reflective of greenery like house plants, trees, or flowers. Depending on where your living room sits in your home, these can 'feed' different elements like Fire and Water.
2. In lieu of the television
It's all too easy to let a television take over a living room. Consider a statement mirror as a focal point instead; it's sure to spark conversation and create a lofty feel. Joshua Smith, principal and founder of Joshua Smith Inc tells us: 'I love to use a mirror in lieu of a TV in the living room. It's a bright focal point that can be used to make the room feel lighter and airy in addition to reflecting gorgeous views from the outside.'
Named a Rising Star by House Beautiful and part of Traditional Home's New Trad Class of '23.
With projects on both coasts, Joshua Smith Inc, offers full-service residential interior design – and life-changing spaces. Joshua draws on decades of experience transforming functional spaces into inspiring environments that engage the senses and nourish the soul. By cultivating the connections between mind, body, spirit, and space, he helps his clients elevate their experience each day.
3. Where it will reflect a sculptural element
Interior designer Ginger Curtis explains the positive impact that hanging a mirror in a living room can bring when done thoughtfully: 'In the living room, mirrors orchestrate a symphony of spatial creativity. Placing a mirror across from a statement piece, like a sculptural sofa, or an incredible art piece grants a sense of creativity and impact.'
Of course, a mirror needn't be hung. As we can see here, a large floor mirror makes an elegant addition to the 'corner office' of this lounge space, reflecting the striking stone desk and opening up the room further.
Rooted in simplicity and elevated by extraordinary beauty, interiors by Dallas-based Urbanology Designs bring organic luxury to life. Their soft, modern approach allows clients to relax in the warmth of a comfortable and crafted home. Their design-forward sensibility looks beyond today's times, trends, and whims to create homes with longevity and intention.
4. As part of a gallery wall
There is no denying the charm of a gallery wall, and mirrors can certainly find their place here for a creative living room addition. Consider juxtapositioning different shapes on the gallery wall itself for interest as Ginger Curtis has done in this North Dallas home.
5. Opposite a window
Light-starved space or not, positioning your mirror in such a way that you can make the most of natural light coming in is a failsafe option. Depending on where your living room has light coming through, this might mean hanging the mirror high above a mantel as Lauren Lerner has done here, at an angle resting against a wall or close to a window where it can reflect some of the outdoors in.
Jamie Young also endorses the strategic positioning of a mirror to enhance not just the design of a room, but also how it feels. 'Hanging a mirror across from a window will reflect the natural light and make the room feel brighter and spacious,' she says.
Jamie, born and bred in California, loves to bring non-traditional yet approachable design into the home. Finding inspiration from her home, she elevates the joy and warmth of coastal living with modern yet comfortable design. But it was through travel, around the country and around the world, that Jamie found a harmony between her and her husband's sculptural aesthetics. Together they started Jamie Young Co. to bring their vision to life, and into the homes of others.
6. Behind a couch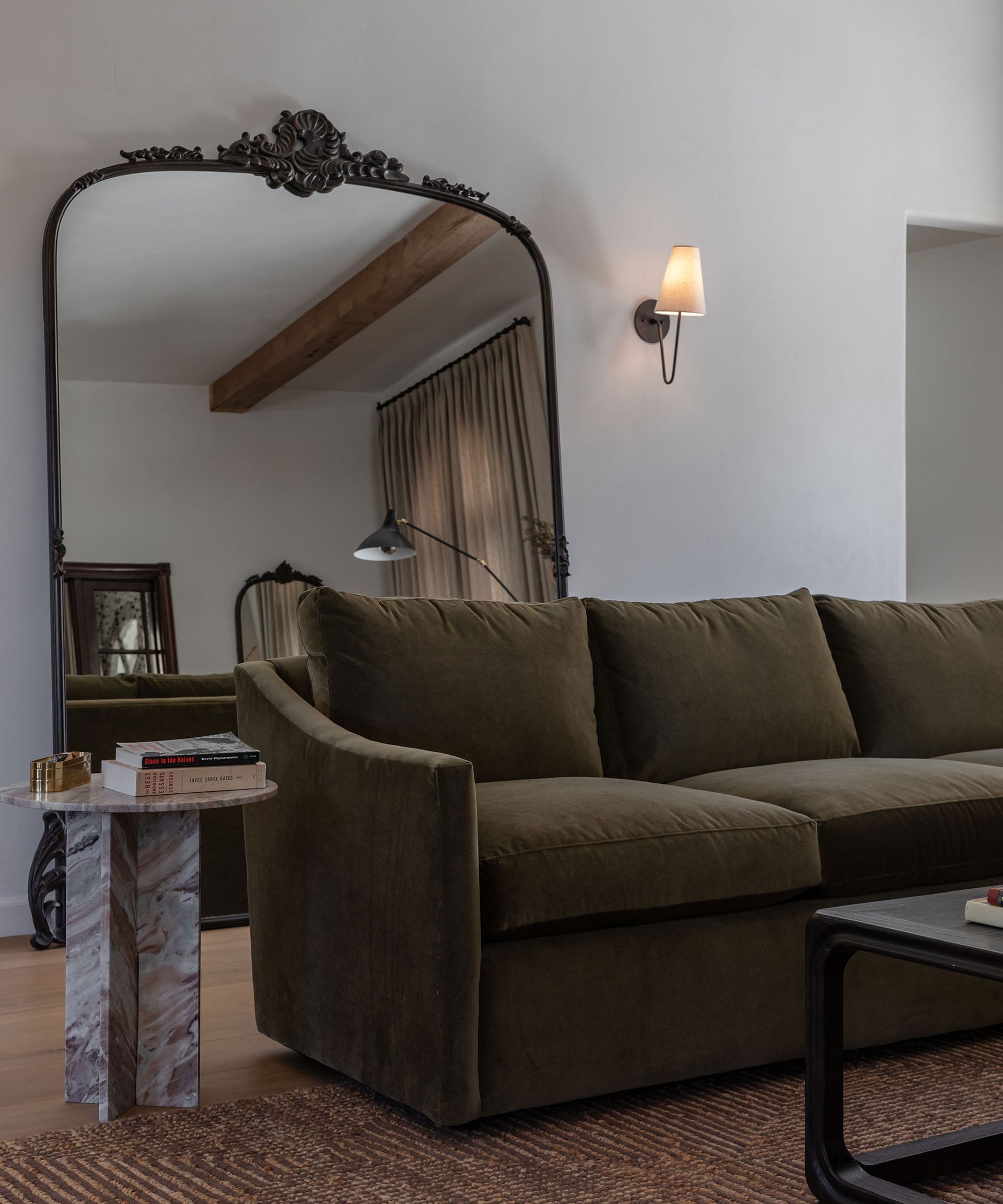 We have seen how mirrors can be works of art in and of themselves. The Amelie Grand Floor Mirror by Arhaus brings dramatic detail to this living room and is grand enough to even catch another mirror in its reflection. Nicely done. Where your living room design and layout allow, consider positioning an ornate mirror behind a couch for a twist.
FAQs
How do I arrange mirrors in my living room?
You want to be sympathetic to your living room's natural design and enhance it in a way that you find aesthetically pleasing.
'If it's simply for decorative purposes, you may want to place it in a spot that adds visual interest to the room, such as above a fireplace or on a feature wall. If, on the other hand, you're looking to use the mirror to create the illusion of more space, you may want to place it opposite a window or in an area where it will reflect the most light,' Erick tells us.
'Ultimately, the best placement for a mirror in a living room will depend on your own personal preferences and the specific layout of the space.'
If you are hanging a large mirror, you may want to read up on the best ways to hang a heavy mirror to protect your walls from any marks and ensure it is safely secured.
Where should mirrors not be placed in a living room?
Though there is not necessarily a wrong place to hang a mirror in a living room, you do want to be conscious of the size of your space, how many mirrors you keep, and of what they are each reflecting.
Ginger calls out some 'graceful living room faux pas.'
'Mirrors, when not judiciously placed, can misfire. In smaller living rooms, avoid excessive mirror coverage, which can lead to visual chaos. Large living rooms demand bold mirrors to maintain proportion. Subtlety is key in small spaces, while grandeur rules the expanse.'
Furthermore, you want to only reflect positive features in your space. Think greenery, works of art, and more light over blank spaces, uninspiring corners, and – dare we say it – clutter.
'The cardinal 'rule' of mirror placement is always carefully considering what you are reflecting. Consider the room's purpose, layout, and light. Placing mirrors opposite windows amplifies natural light, infusing life into dim corners. However, avoid reflecting clutter or opposing doorways, as it disrupts the mirror's magic,' says Ginger.
---
Instead of hanging a mirror on the first blank space you see in your living room, consider whether it can work a little bit harder to bring in more natural light and reflect the most impressive design features of your space.
Sign up to the Homes & Gardens newsletter
Decor Ideas. Project Inspiration. Expert Advice. Delivered to your inbox.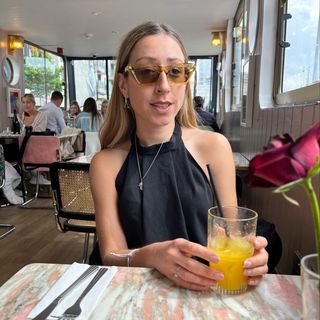 Camille is the former deputy editor of Real Homes where she covered a broad range of topics, including house tours, small space design, and gardens. She studied English language and Italian at the University of Manchester and during a year abroad studying linguistics and history of art in Bologna, Italy she started documenting her adventures and observations in a blog. Camille is always creating and spends her downtime painting, taking photos, traveling, and writing short stories.