See how Elizabeth Hay transformed her Singapore homewith colour and pattern
Mixing print, colour and pattern with clever structural tweaks, interior designer Elizabeth Hay brought new life to her home in Singapore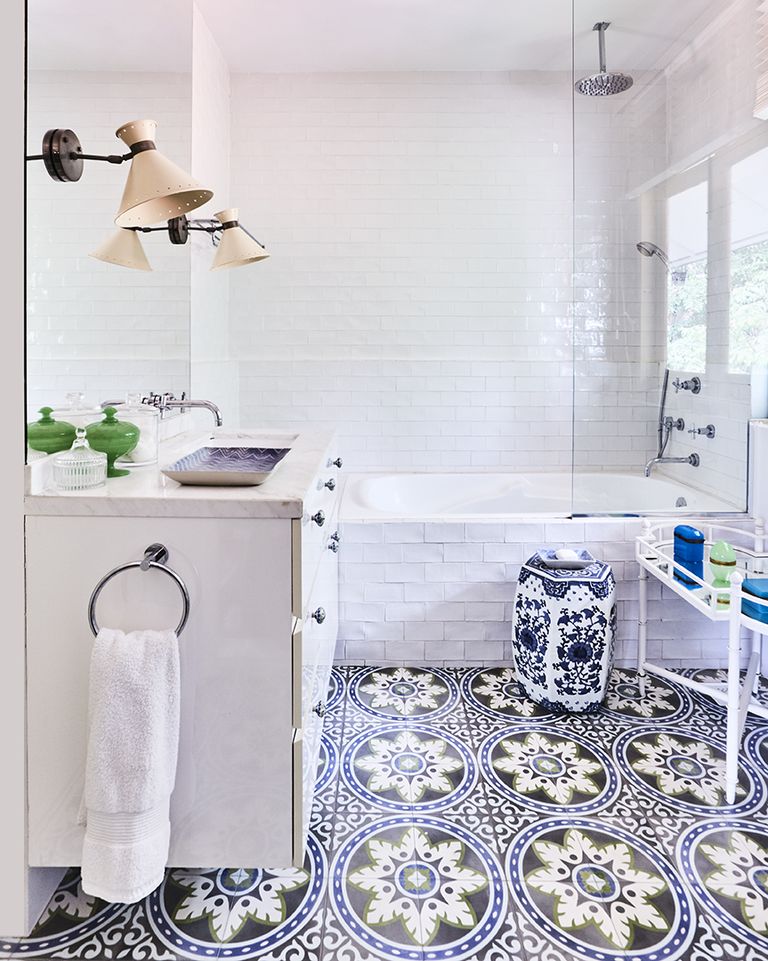 'I spent much of my childhood at my grandmother's house in Kenya – it's decorated with masses of faded Jean Monro chintzes,' says interior designer Elizabeth Hay of Elizabeth Hay Design, who grew up in the UK. 'So when I saw this house it felt so familiar to me.'
The two-storey layout of this property has hardly changed since it was built. On the ground floor, there is a separate dining room and sitting room and the kitchen with 'retro carpentry' remains in an annexe.
Upstairs, Elizabeth had partition walls removed between the bedrooms and the terraces that wrap around the house, which has made the rooms feel much lighter. There is no air conditioning (apart from in the bedrooms), but thick walls and high vents keep the house surprisingly cool.
Having trained with leading interior designer Veere Grenney ('a genius who taught me the importance of detail and avoiding fads'), Elizabeth runs her practice from home and enjoys working with local craftsmen to design furniture, such as the lacquered daybed and pale oak table with turned legs. Elizabeth's collection of textiles and art, gathered during travels both East and West, cement the feel of a home that's been lived in – and enjoyed – for years.
Living room
Elizabeth conserved the traditional feel of the ground-floor room, adding art and antiques gathered on her travels. Using a mix of inherited pieces and her own designs, Elizabeth has achieved the inviting air of a home that's been lived in for many years.
Meeting room
Knocking through the wall that divided the house from the former garage has created a home office and studio.
Dining room
Japanese woodblock prints jostle for space on pink walls, a look inspired by a visit to Monet's house in Giverny, France. There are reminders of home, too: marbled lampshades, fireside armchairs, paintings by Bloomsbury Group artist Duncan Grant and a lamp from Colefax and Fowler, where Elizabeth had her first job.
Office
By being brave with colour, Elizabeth has revived this former chauffeur's room, filling it with creative energy.
Bedroom
Rather than the standard neutral palette associated with guest rooms, Elizabeth chose a deep-hued scheme for hers. It tones with the souvenirs from Kenya that she displays here.
Children's bedroom
Clashing patterns and prints across the walls and on textiles bring a playful mood.
Bedroom
This space was brought to life with wallpaper emblazoned with crocodiles and exotic creatures and the matching antique beds, snapped up locally, were painted a deep red to give them a new lease of life. 'I've used colours that work in this light,' says Elizabeth. 'Grey and yellow, for example, looked surprisingly flat.'
Bathroom
To be more sustainable, Elizabeth coaxed the bathroom back to life with a mix of new fittings and tiles made locally.
Pavilion
In the garden, Elizabeth recently added the attap, a traditional Malaysian pavilion built on site from wood with a roof made of woven palm leaves. The furniture, a mix of cane and bamboo, was made to Elizabeth's designs. 'A lot of those fabulous mid-century Palm Beach designers used wicker; so I've found inspiration in that era.'
Words/ Serena Fokschaner
Interior designer/ Elizabeth Hay Design
Photography/ Alecia Neo