Backyard farming – a guide to homesteading for beginners
Embrace a more sustainable lifestyle through backyard farming with this guide to homesteading for beginners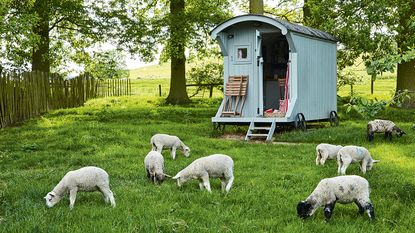 (Image credit: Bridget Pierson / Future Publishing)
Backyard farming is as much a lifestyle choice as a means to self-sufficiency.
The desire to grow crops or keep animals in your own backyard is driven by many factors: a wish to live sustainably, eat healthy, organic food, reduce grocery bills and your carbon footprint, or raise livestock to high welfare standards.
There is great satisfaction to be derived from controlling what you put on a plate and feeling a connection with the land. So if it is your dream to be more self sufficient, this guide to homesteading for beginners will help you on your way to achieving it.
Backyard farming, or running a smallholding as it's known in the UK, can also be incorporated with other backyard ideas to create an outdoor space to satisfy all of your needs.
Backyard farming: a guide to homesteading for beginners
You don't need a large outdoor area to try your hand at backyard farming. Even the smallest space can still be put to productive use for growing crops to feed you and your family, and there are many small vegetable garden ideas to try.
'There is great satisfaction derived from controlling what you put on a plate – eating good quality food and knowing the provenance from start to finish,' explains Rachael Geddes of working farm Humble by Nature, which also provides training on running a homestead – or smallholding, as it's sometimes called.

Not all of your yard needs to be devoted to use as a homestead, either, and you can section off areas to enjoy the ornamental beauty of blooming herbaceous borders and outdoor living areas, too.
Homesteading for beginners should be approached in stages. Don't do it all at once, start slow and plan carefully.
'Take the time to get to know your land and see what it is suited to, speak to other people who have started a smallholding and ask questions about what has worked for them. Start small when it comes to keeping livestock,' advises Rachael.
Gradually create a backyard that provides you with much of your food and gets you closer to living a self-sufficient lifestyle.
What is a homestead?
A homestead can mean different things to different people, but in terms of backyard farming it essentially amounts to living a more self-sufficient lifestyle by growing crops in a kitchen garden or raising livestock.
What crops you choose to grow, or animals you choose to keep on your smallholding, will be dictated to some extent by the size of your backyard, as well as the rules in the State where you live.
It is more economical to raise vegetables than livestock, but if it is your dream to have your own flock of chickens, or small herd of sheep, then find a way to follow your heart's desire.
How do I start a homestead in my backyard?
Your first step on the road to homesteading for beginners could be growing a few well chosen crops. Start with one raised garden bed, or even a few container gardening ideas, and then gradually add to these over time as you gain more confidence in your crop growing skills.
Then, if you have the space, and the laws allow, consider keeping some animals.
Don't buy livestock on a whim, though, until you have first investigated fencing, housing, bedding and feed requirements, and any regulations you need to comply with.
A small flock of chickens will produce freshly laid organic eggs daily for you to enjoy. Or try beekeeping for your own source of delicious and nutritious honey – not to mention the invaluable service bees provide in pollinating plants and flowers in your vegetable plot and garden.
Before you embark on backyard farming, consider:
What do you want to get out of your backyard farming – is it to produce some of your food or complete self-sufficiency?
The time involved in backyard farming – taking care of crops and livestock can be time consuming so be realistic about what you can achieve
Is everyone else in your home on board – backyard farming can involve a significant lifestyle change
Some land will be unsuitable for growing crops or certain types of crops; different animals prefer specific types of terrain, have differing needs, and may require outbuildings, so factor these points in to your decision making
You will need to do background research and possibly some training on homesteading for beginners – particularly if you want to keep animals, so do you have time for that?
How much space do you need for backyard farming?
There is no minimum area for a smallholding, but using the space available to the best advantage is the key to success.
'The best thing about smallholding is that you can grow produce on any sized plot of land,' explains experienced homesteader Georgina Starmer of Let's Grow Wild .
If you want to combine growing crops with keeping some animals, however, then 'half of an acre to one acre would give you adequate space for chickens, a polytunnel, some bees, a workshop and a few weaner pigs,' explains Rachael.
'For a small flock of 12 sheep, you need about five acres,' she adds.
For best use of space in terms of kitchen garden ideas, 'divide the allotment area into four parts, allowing for crop rotation and to maintain soil health. Train fruit trees as cordons or fans up a sunny wall or fence; grow vertically to maximize yields, and include a compost area to recycle plant and vegetable waste,' says Georgina.
How time consuming is backyard farming?
The amount of time backyard farming will take depends on the size of the yard and whether you have crops, livestock, or a combination of the two.
A lot of smallholders are growing their own food and keeping livestock while also holding down full or part-time jobs.
'All animals need daily checking, food, water and potentially mucking out – depending on time of year and whether they are inside or outside. You need to maintain fences and hedges, and keep on top of tending to a veg plot. There will always be jobs that can be done,' explains Rachael Geddes.
'Even a busy household can find time to grow a few crops, and once you get into a routine, tending to livestock will get quicker while more thorough duties can be left to the weekend. For those who do have time, the only limit is the space they have to work with,' adds Georgina.
While homesteading for beginners can be time consuming, consider that tending your backyard or livestock for 30 minutes daily is also a good source of physical activity and will get you out in the fresh air, so it will be beneficial to your health.
Do I need permission to grow vegetables in my backyard?
While you do not need permission to grow a vegetable garden in your backyard in the US, if you want to extend your homestead to your front yard then you will need to look into the rules governing growing vegetables in the front yard in your State, or city.
There are some States and municipalities where it may may be illegal to grow your own food, with the laws mainly concerned with how front yards should look, and the belief that vegetable gardens are unsightly.
It is therefore best to check beforehand, or easier still – just keep the vegetables to the backyard farming.
Are there laws on keeping livestock in backyards?
Laws about keeping chickens or other livestock vary from State to State, county to county and town to town. Zoning regulations combine with the laws and bylaws of each area.
Laws are also liable to change, either due to the campaigning of local groups, or at the instigation of a local mayor or council.
Sometimes there may be a limit on the amount of animals you can keep in a backyard, which can also depend on the size of your plot and the zone in which you live.
There are many states that will limit the keeping of livestock to agriculturally designated zones, so if you live in an urban zone you may be unable to keep livestock.
Where you are allowed to keep livestock, including chickens, permits may be required. In some cities hens will have to be kept in a coop and not allowed to roam free range.
If you do choose to keep poultry in your yard, 'consider that a rooster will be noisy and could be deemed a nuisance,' explains Georgina Starmer of Let's Grow Wild . In fact, many States do not allow keeping roosters in a backyard, although there are exceptions.
In the UK, 'to legally keep livestock – including a flock of more than 50 birds – you need to register the land for a County Parish Holding number, register for a flock or herd number, understand the legal requirements of tagging livestock, animal movements, and keeping veterinary records,' explains Rachael.
So always do your research into the laws pertaining to the area in which you live at the stage of planning backyard farming.
Once you decide you want to try backyard farming, there are lots of courses and books available to help guide you on your chosen path. There are also many communities of homesteaders across the States who will be happy to share their advice and experience in choosing this lifestyle change.
Sign up to the Homes & Gardens newsletter
Decor Ideas. Project Inspiration. Expert Advice. Delivered to your inbox.
Rachel is senior content editor, and writes and commissions gardening content for homesandgardens.com, Homes & Gardens magazine, and its sister titles Period Living Magazine and Country Homes & Interiors. She has written for lifestyle magazines for many years, with a particular focus on gardening, historic houses and arts and crafts, but started out her journalism career in BBC radio, where she enjoyed reporting on and writing programme scripts for all manner of stories. Rachel then moved into regional lifestyle magazines, where the topics she wrote about, and people she interviewed, were as varied and eclectic as they were on radio. Always harboring a passion for homes and gardens, she jumped at the opportunity to work on The English Home and The English Garden magazines for a number of years, before joining the Period Living team, then the wider Homes & Gardens team, specializing in gardens.