8 of the best places to buy property in Europe – for your next vacation home
These are some of the best places to buy a second home in Europe, according to real estate experts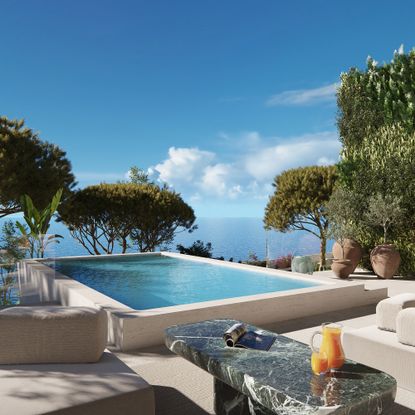 (Image credit: www.londas-residences.com)
Sign up to the Homes & Gardens newsletter
Decor Ideas. Project Inspiration. Expert Advice. Delivered to your inbox.
Thank you for signing up to Homes & Gardens. You will receive a verification email shortly.
There was a problem. Please refresh the page and try again.
With so many beautiful regions to choose from, it can be hard to know the best places to buy property in Europe. With almost year-round sunshine, sparkling azure seas, sun-soaked hidden coves and pristine beaches, there's certainly plenty of alluring holiday hotspots.
A top tip is to start your search in an upscale region or up-and-coming area. 'When you think about buying a second home, you should always consider buying in prime locations, as these will always keep or increase the value of your investment,' suggests Smadar Kahana, Managing Director Engel & Völkers Marbella.
However, if return on investment isn't your main concern, you can widen your search area to suit your needs. If you are second home hunting from the UK you might be wondering if you can still buy property in Europe after Brexit. The good news is yes you can, but there will be a little more red tape involved.
But don't let the red tape deter you from buying a home in Europe. From high-style spots in France (Deauville is divine, to wellbeing destinations in Switzerland (Davos is a beauty), we've tapped a host of international real estate agents to give your the steer on the best places to buy property in Europe below.
Best places to buy property in Europe in 2021
1. Limassol, Cyprus
Cyprus is reachable in a little over four hours from either London, Moscow or Dubai. Along with easy access, its obvious appeal lies in the fact that it's known as Europe's sunniest island.
Matea Leko, Marketing and Sales Director from Londa Residences says: 'Offering the biggest port on the island, Limassol is a buzzing destination offering the best of cosmopolitan lifestyle mixed with a rich history and old world charm, with a vibrant centre including restaurants, bars, boutiques and the acclaimed Limassol Marina.
'With a dedicated cohort of discerning guests returning year after year, seduced by Limassol's coastline location and boutique offering, it's no wonder there is high demand for properties in the area.'
2. St Emilion, France
St Emilion is a stunning medieval village surrounded by some of the most highly regarded vineyards in the world. The picturesque town is a UNESCO World Heritage Site, and boasts charming cobbled streets and bucolic views.
'Along with excellent access (Bordeaux airport is 45 minutes away and the TGV rail service at Libourne is 15 minutes), St Emilion has incredible restaurant choices and some of the best croissants you will ever buy,' says Anthony Mackle, Agent Commercial at Maxwell-Baynes / Christie's International Real Estate.
'The beach is 90 minutes to the west and, if you're here at the right time of year, the ski slopes are two hours to the south, offering a varied lifestyle choice.
'In the local area, there's also bicycle tours, wine tours, walking tours, subterranean cave tours, cultural music events, jazz festivals – offering the very best of the south of France.'
3. Montuiri, Mallorca
The Balearic Islands are considered to be one of the top regions in the Mediterranean to invest and own a holiday home. Hans Lenz, Managing director Engel & Völkers Mallorca Southwest explains that this year has seen an unprecedented demand for real estate in Mallorca where Engel & Völkers has 19 property shops.
'The company is on track to beat all previous sales records in its 30-year history,' he explains.
'Mallorca offers a great variety of landscapes from the Sierra Tramuntana (a UNESCO World Heritage Site) to the sandy beaches along the southwest, south, east and north east coastline to the more rugged and wilder west and north west coastline.'
One secret hotspot? Montuiri. Andrea Berchtold, Executive Manager & Partner at Luxury Estates Mallorca/ Christies International Real Estate, says 'The surroundings of Montuiri are characterized by wide cultivated fields, dry stone walls and a tranquil picturesque landscape.
'In the surrounding area there are many large finca properties, some of which are used as holiday homes, but many as permanent residences. The village of Montuiri offers everything you need and there are plenty of weekly markets in the surrounding villages where you can stock up on local produce.
'The central location is an ideal base to get to all parts of Mallorca in under an hour. The airport of Palma can be reached in 20 minutes, in the city of Palma in 25 minutes and you get to the beaches in the south or north in 30 minutes.'
4. Davos, Switzerland
Health and wellbeing destinations are becoming increasingly popular as we become more aware of the importance of mindfulness and nature on the impact of our lives.
'Davos has long been renowned as a high-altitude wellness resort, becoming fashionable from the 1950s when German physician Alexander Spengler moved to the area and began to notice the exceptionally good health of those who lived there,' says Florian Walther, General Manager, Hard Rock Hotel Davos.
'Soon, visitors started to flock to sample the unique microclimate of the Alps' highest town.
'Davos, now popular all year round, is becoming more prominent amongst travellers seeking unspoilt landscapes for wellbeing journeys. Many visit for its pure, clean air and opportunities to explore its breathtaking trails whilst taking in the beauty this Alpine destination has to offer.'
5. Marbella, Spain
The Costa del Sol offers the best microclimate in Europe with 320 sunny days a year, high-quality and modern infrastructure, beautiful beach clubs, international schools, and high-level health care - making it one of the best places to buy a second home in Europe.
'Marbella has experienced a 22% jump in sales so far in 2021, confirming itself as one of the preferred hubs in Spain for those seeking a second home or a more permanent relocation,' says Mark Harvey, Partner, Department Head International Residential at Knight Frank.
'This is due to the many opportunities the city has to offer. Indeed, for those professionals who can now work from anywhere in the world, many are prioritising health and wellness, seeking proximity to golf courses, tennis academies, marinas and spas, all on tap in Marbella.'
Smadar Kahana, Managing Director Engel & Völkers Marbella, expands that Marbella and the Costa del Sol have been luring in international buyers for years. 'The population here is a mix of many nationalities, which makes it easy to establish yourself in the area.'
So where are the best areas to invest? 'The most prestigious areas in Marbella where the demand is always higher than the supply are Sierra Blanca, Golden Mile, Los Monteros, Puerto Banús and Guadalmina,' says Smadar.
'Also the area of Benahavís is developing rapidly and it is a great place for investments as the prices are constantly rising.'
6. Deauville, Normandy, France
With its race course, harbour, international film festival, marinas, conference centre, villas, Grand Casino, and sumptuous hotels, Deauville is regarded as the 'queen of the Norman beaches' and one of the most prestigious seaside resorts in all of France.
As the closest seaside resort to Paris, the city and its region of the Côte Fleurie (Flowery Coast) has long been home to French high society's seaside houses and is often referred to as the Parisian riviera. Since the 19th century, the town of Deauville has been a fashionable holiday resort for the international upper class.
Deauville is also a desirable family resort for the wealthy. In France, it is known perhaps above all for its role in Proust's In 'Search of Lost Time'.
'Only two hours from Paris, the Normandy region is a true haven of peace between sea and countryside,' says Alexis Caquet, Managing Director Engel & Völkers Paris. 'Deauville is very much sought after for its countryside-chic character, historic center and very authentic shopping streets.
'Deauville is a destination that has benefited from the renewed interest in second homes and green spaces in the context of the pandemic and confinements: in 2020, the Deauville market recorded an increase in demand of nearly 45%.
'As well as the seafront, a popular area in the heart of Deauville is the 'Golden Triangle', located between the Normandy Hotel, the Royal Hotel and bordered by the Hippodrome. You'll find very beautiful houses in the Anglo-Norman style dating from the end of the 19th century, accessible from 1,500,000 euros for a beautiful well maintained property of about 200 sqm.'
7. Algarve, Portugal
The Algarve is one of the best beach and golf destinations in Europe. It boasts some of the most beautiful beaches in the world, especially in the western Algarve (from Lagos to Sagres).
'The coast west of Lagos, as far as Aljezur, passed through Sagres remains one of the least spoiled parts of the Algarve, largely thanks to the Parque Natural do Sudoeste Alentejano e Costa Vicentina, which prohibits large-scale building on the coastline west of Burgau,' says Sandra Matos, Director Office Manager at Engel & Völkers Lagos.
'More than 60 per cent is a nature conservation area making it particularly attractive and one of the best places to buy a second home in the Algarve.
'Lagos is also among the first cities in Portugal to join the movement 'Slow City', that calls us to live in proper rhythm for wellbeing and personal, social, community and environmental development.
'The city, benefits from all the factors necessary to enhance an excellent vacation as well as a high-quality of life, as it offers the main tourist attractions including the beach, golf, culture, leisure, gastronomy, sports, and nature.'
8. Tuscany, Italy
It wouldn't be a round up of the best places to buy a second home in Europe without Tuscany. Italy's famous verdant region, filled with rolling hills and vineyards.
'Tuscany distils the best of Italy into one region, so rich in heritage: art, architecture, history, culinary pleasures, and with a plethora of spectacular landscapes,' says Amy Redfern-Woods, Associate at Knight Frank.
'With everything from an awe-inspiring coastline, through to rolling countryside, from the UNESCO World Heritage sites of Siena and Florence through to the undulating hills and vineyards surrounding Lucca and Pienza or high-end coastal enclaves along the Italian Riviera, Tuscany is a place to inspire like no other - and the perfect spot for a second home in Europe.'
8. The South of France
The allure of the glitz and glamour of the French Riviera is stronger than ever, and second home buyers can choose from sea-view style or a more rustic hilltop hideaway.
'The South of France continues to attract international buyers from around the world. Much of the South of France is able to offer a mixture of cuisine from both sea and land, and one benefits from local delicacies including olives, wines, and truffles,' says Jack Harris, Partner at Knight Frank.
'The ease of connectivity by train, plane, sea and road means that it is a firm favourite of those in mainland Europe and from further afield. The South of France is not simply the beautiful beaches of the Riviera, but also includes enchanting hilltop villages, expansive lakes, and rolling vineyards.'
Marie-Claire Sangouard, Managing Director Engel & Völkers French Riviera, says some of the most sought-after towns and regions on the riviera include: 'Menton (a pretty town that has retained its quaint village character); Saint-Jean-Cap-Ferrat (one of the most expensive residential areas in the world offering proximity to Monaco and natural beauty; and Fayence, Mougins, St Tropez, Cap d'Antibes and Cannes.'
What is the cheapest country in Europe to buy property?
If you'd like to own a second home in Europe but have a keener budget, there's still a host of beautiful, affordable options. Kate Everett-Allen, Partner, Head of International Research at Knight Frank, recommends looking to more modestly priced markets such as Bulgaria, Montenegro, Moldova, Romania, Latvia, and Lithuania.
Alternatively, if you are interested in renovating a house you could scoop up some amazing deals in more expensive regions. However, be prepared to commit a couple of holidays to the renovation work.
Which country is best for a second home?
Whether you're looking for sun or ski, there's a hotspot for everyone. 'For sun-seekers looking for a retreat in a liquid and transparent market with low purchase and ownership costs and strong holiday rental demand Marbella, South West France and Lucca would be hard to beat,' says Kate Everett-Allen.
'Skiing enthusiasts should look to Chamonix for a year-round resort, less than an hour from Geneva airport offering good skiing, a range of non-ski activities, a packed events calendar and a broad range of retail and leisure amenities.'
Sign up to the Homes & Gardens newsletter
Decor Ideas. Project Inspiration. Expert Advice. Delivered to your inbox.
Ruth Doherty is an experienced digital writer and editor specializing in interiors, travel and lifestyle. With 20 years of writing for national sites under her belt, she's worked for the likes of Livingetc.com, Standard, Ideal Home, Stylist and Marie Claire as well as Homes & Gardens.