Best trees for clay soil – 11 varieties for every garden
Discover the best trees for clay soils to make a lasting feature in your garden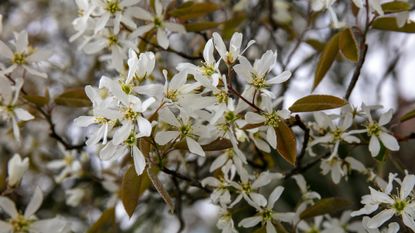 (Image credit: Getty Images )
Knowing the best trees for clay soil is important if you have heavy, clay soil in your garden. Having this type of soil can be a big challenge when it comes to gardening as it is hard to work and has poor drainage which can prevent many plants from thriving. Clay soil also warms slower than sandy soils – and can be hard for roots to penetrate.
If you're looking to bring height, structure and year-round interest to your garden ideas then trees are a brilliant addition which will make a lasting feature decades to come and there are plenty of beautiful options available suited to clay soils – we've gathered a selection below with help from some of the experts.
Best trees for clay soil
Despite these drawbacks, clay soils are often nutrient rich and can be advantageous to certain kinds of plants and trees.
'Clay soils hold an ample supply of moisture which makes them perfect for some trees and shrubs that require high moisture tables to thrive,' explains Tammy Sons, CEO of Tennessee Nursery.
1. Crab apple
The crab apple or 'Malus' is one of the best trees to grow in clay soils as it offers interest throughout the year – and is also a great pollinator. In spring, this beautiful tree is covered in a profusion of white blossom with green foliage in summer.
In fall, they bear fruits which are beautifully decorative and can range from glossy red to pink-flushed orange to yellow. Due to its high levels of pectin – most commonly used to thicken jams, jellies, and preserves – the fruits are often used to make Malus 'Jelly King'.
They are compact trees only growing to a mature height and spread of around 13ft, so are perfect for smaller gardens. They thrive in full sun with moist soil that is well-drained.
Fruit trees require a fertile, nutrient rich soil that retains moisture, so they are best matched to heavy clay soils. Whilst some have the tendency to be tricky to work with, clay soils are highly beneficial when it comes to producing thriving fruit trees,' explains Marcus Eyles, horticultural director of Dobbies.
2. Alder
Alder – or Alnus glutinosa – grow vigorously in cool, wet conditions and are often found by rivers and lakes making them a good choice for sites with poor drainage.
'In the Pacific Northwest where there is clay soil, we also usually have drainage issues due to all of the rain we get here. A good choice for these types of environments, rain and clay soils, are Alders,' says Lisa Tadewaldt of Urban Forest Professionals.
'Two great choices are White Alder Alnus rhombifolia or Red Alder Alnus rubra. The toughness of these trees is really the primary reason to plant them.'
Alders have racquet-shaped, leathery dark green leaves with serrated edges and put on a beautiful display of catkins between February and April. Alders are monoecious so have both male and female catkins on the same tree. The female catkins turn into tiny cones during the fall season.
3. Sorbus Commixta
Sorbus, also known as Japanese Rowan trees, are a brilliant choice for fall color due to their ash-like foliage which turns from green to a dazzling array of orange and red. They also have blossom flowers in spring, and fruit in fall, so therefore offer plenty of ornamental interest throughout the year.
Growing to around 25-40ft, Sorbus are deciduous trees which are hardy in the UK and can be grown in North America in zones 5-9. They require pruning in the dormant season to create a strong structure to support their fruit.
4. Birch
Birch trees or betula are beloved for their snowy white peeling bark which makes a beautiful feature during the winter months, as well as their elegant form and attractive foliage which turns from mid-green to yellow in fall.
'This tree can grow in a variety of conditions and is tolerant of heavy moisture, meaning it's ideal for soils with high clay,' says Marcus Eyles, horticultural director at Dobbies.
Betula utilis jacquemontii or the 'Snow Queen' birch is a slender specimen which will grow to around 22ft tall making it a good choice for small garden ideas. Plus, this specimen requires minimal pruning.
5. Cornus Kousa
Also known as Japanese Dogwood, this abundant semi-evergreen tree offers year-round interest with flowers, fruits – and beautiful red leaves in fall. Come June, it features four-petalled creamy white flower bracts which turn pink over time and come fall it bears pink strawberry-like fruits.
It can be planted in all soils but prefers a position that is moist but well-drained in full sun or part shade. It is suited to growing zones 5-8.
6. Magnolia x Soulangeana
A spring show-stopper, this deciduous tree, also known as the Saucer or Chinese Magnolia, has large tulip-shaped flowers in late spring, these are white with a pink tinge at the base and can be scented. Its obovate leaves are glossy green, but they start of red in spring before turning to yellow in fall.
The Saucer Magnolia grows to a height of 20ft–30ft tall with a 25ft spread and prefers moist but well-drained soil. In North America it is suitable for growing zones 4-9.
Heavy pruning can cause shock; remove damaged or overcrowded branches or prune to shape in late summer early fall.
7. Amelanchier
Also known as the Snowy Mespilus, or Juneberry tree, the Amelanchier is a good, hardy tree for growing in poor conditions.
'The amelanchier is a great tree for clay soil and is known for its clusters of white blooms in spring and splendid fall color,' advises Marcus Eyles, horticultural director at Dobbies. 'This tree thrives in moist soil so is perfect for planting in heavier, clay soils that take longer to warm up, and will add drama and interest to your garden year-round.'
Offering plenty of interest from season to season, Amelanchier has bronze tinged foliage in spring, turning to green in summer and to orange-red in fall, it also bears a star-shaped flowers in spring followed by berries that ripen in summer and turn from dark red to purple black.
It can tolerate part shade but will flower best in full sun. Amelanchier needs minimal pruning; damaged and criss-crossing branches can be removed in fall or early spring. It will reach a mature height and spread of 15-25ft.
8. Japanese Red Maple
Japanese maples – or acer palmatum – are small deciduous trees that bring magnificent fall color. They make brilliant specimen trees planted singularly and are slow growing, reaching mature heights of 15–25ft with a spread of around 20ft, making them a good choice for your courtyard garden ideas.
They prefer a sheltered spot – and variegated varieties will need partial shade as full sun can scorch the leaves. They are hardy in Europe and in North America are suited to growing zones 5-8.
9. Holly
'If you're looking to add a touch of festive greenery to your garden with clay soil, consider trees like the Crataegus, known as the Hawthorn, or the Ilex, more commonly known as the Holly tree,' suggests Marcus Eyles, horticultural director at Dobbies.
'These seasonal trees will add warmth to your winter garden ideas with their ruby red berries, and they are tolerant of heavy moisture, making them ideal for clay soils.'
The glossy evergreen leaves of hollies will bring color year-round; for added interest consider variegated varieties such as 'Golden King' which has an RHS Award of Garden Merit. Another benefit of Hollies is that they are able to tolerate exposed, coastal sites – provided they have ample sun. Size can vary between varieties so be sure to do your research.
10. Cotoneaster
Cotoneasters range from ground cover plants to wall or border shrubs through to larger trees with long weeping branches with a dome-like habit such as 'Cotoneaster x Watereri' or 'Cornubia' which can grow to around 18ft.
Cotoneasters will provide year-round interest and are an excellent choice for wildlife gardens. Their dark leaves are great foil to clusters of white spring blossom which keeps the bees and insects happy, while their copious berries are a good source of food for birds throughout fall and winter. Berries can range in color from yellow through to red and purple.
One of the advantages of Cotoneaster trees is that they can tolerate any soil type and can be grown in all positions, even in rough, coastal areas. They are fully hardy in Europe and in America and are suited to growing zones 6A-9B. Pruning is not required but they can tolerate harsh pruning if reshaping is needed.
11. Laburnum
Also known as the 'Golden Chain' tree due to its beautiful trails of golden yellow flowers, Laburnum is a small deciduous tree that can be grown alone or trained around arbors.
Fantastically, it is quick growing and low maintenance as it does not require pruning. You can simply tidy it up and remove damaged branches during the dormant period. Laburnums will flower better in full sun but can tolerate some shade and will not do well in the heat or waterlogged soils. They are hardy in the UK and are suited to USDA planting zones 5-7.
Be area that Laburnum is highly toxic to humans and animal. We recommend that you do not plant this variety near children and pets – and gloves should be worn when handling.
Planting trees in clay soil
When planting trees in clay soil there are some steps you can take in order to help them establish.
'Horbeam, hawthorn and birch are medium to large trees well suited for heavy clay soils. That being said, no newly planted tree will thrive in waterlogged conditions therefore it's essential to prepare the tree pit carefully,' says landscape designer Henry Scott of Pehrsson Scott.
'Breaking and forking the base of the pit will allow the roots to penetrate the soil and adding a good amount of grit to the base of it will mitigate against water pooling.'
You can also look to improving the soil prior to planting, as Marcus Eyles, horticultural director of Dobbies explains.
'To get the most out of your clay soil use a peat free mature plant compost (John Innes No. 3) and mulch with Bloomin Amazing, or Dobbies peat-free soil improver. When planting with heavier clay soils add horticultural grit to the base of the planting hole to help open up the soil and improve drainage.'
Sign up to the Homes & Gardens newsletter
Decor Ideas. Project Inspiration. Expert Advice. Delivered to your inbox.
Pippa is Content Editor on Homes & Gardens online contributing to Period Living and Country Homes & Interiors print issues. A graduate of Art History and formerly Style Editor at Period Living, she is passionate about architecture, creating decorating content, interior styling and writing about craft and historic homes. She enjoys searching out beautiful images and the latest trends to share with the Homes & Gardens audience. A keen gardener, when she's not writing you'll find her growing flowers on her village allotment for styling projects.