Gingerbread house recipe: how to make a gingerbread house in 6 easy steps
Get the whole family involved in baking this festive gingerbread house recipe – it will make an adorable, edible table centerpiece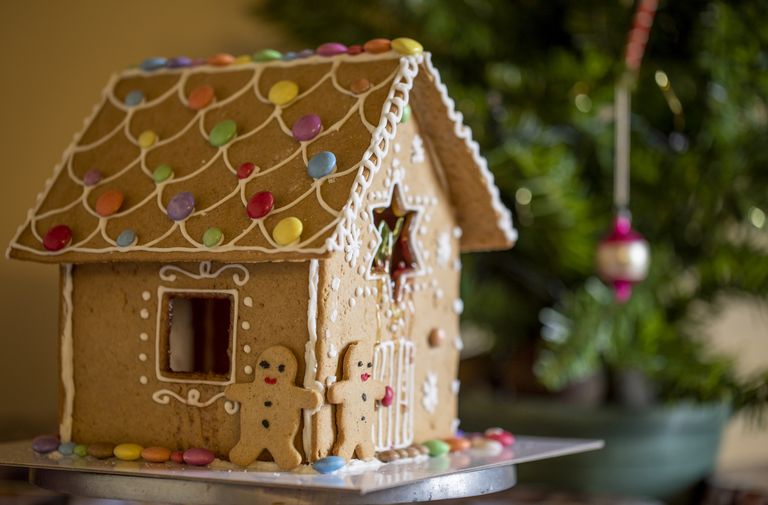 (Image credit: Dave Burton)
By Rachel Crow
This gorgeous gingerbread house recipe will help you create one of the most enjoyable festive traditions really easily. The whole family will love crafting and baking the gingerbread shapes and then decorating the delicious mini edible home with a selection of sweet treats for a unique creation.
This recipe proves that it is simple and enjoyable to make a gingerbread house and a project that all generations will enjoy completing together.
So turn up the Christmas tunes, don your aprons and get baking, making and decorating your gingerbread house. The only challenge will be how long you can resist eating its delicious walls!
The ginger craze doesn't have to stop and these amazing gingerbread houses either because this unique gingerbread brownie recipe which is too delightful not to try.
Gingerbread house recipe
Use this gingerbread biscuit recipe to craft the components for your own festive gingerbread house (or people!).
Ingredients:
175g dark brown sugar
85g golden syrup
350g plain flour
1 tsp bicarb of soda
1 tsp ground cinnamon (optional)
1 tbsp ground ginger
100g butter
1 beaten egg
To decorate:
Ready-made royal icing
Selection of sweets, smarties, chocolate buttons or your choice of edible embellishments
Method:
Preheat the oven to 200°C (180°C fan) 400°F, Gas Mark 6
1. Grease or line with baking parchment two baking trays.
2. Melt the sugar, butter and syrup in a saucepan. While it is cooling, combine the dry ingredients in a mixing bowl, add the warm liquids and stir together. Knead the mixture in the bowl until it is smooth and well blended.
3. Roll out the dough on a floured surface to around 1cm thickness. Using festive cutter shapes, cut out the shapes for your gingerbread biscuits. If you are making a house, use a knife to cut out the shapes of the walls and roof. Re-roll any surplus and create more shapes until the dough is all used.
4. Using a slice, gently lift the biscuit shapes onto the baking trays and bake in the oven for 10 to 12 minutes, turning half way through. Leave them to cool on a wire rack.
5. Once they are cold and crisp, decorate the biscuits with ready made icing, and use the icing to glue together the sides and roof of gingerbread house sections. Decorate your gingerbread house with piped icing, sweets and chocolate buttons.
6. Place your gingerbread house in a spot for all to admire the creation - then see how long you can last before you have to start eating it!
See more: Clodagh McKenna's Christmas recipes – discover delicious new twists on this classic meal.
I am the Content Editor on Homes & Garden's sister magazine, Period Living Magazine. I joined the team nine years ago, after freelancing for years on a range of titles, covering everything from homes and gardens, to history, arts and crafts. I have the joy of covering all of these areas of interest still - handily packaged together in the pages of Period Living Magazine and for the Country Channel of Homes & Gardens.
I love discovering how passionate gardeners have transformed often previously neglected plots into beautiful spaces brimming with blooms for our real garden stories; I feel privileged to meet and interview many artisans and craftspeople creating unique homeware, sharing their stories and the skills of their traditional crafts; and I find uncovering the background stories of historic properties and antiques endlessly fascinating.