Gingerbread brownies – try this easy recipe by The Home Edit's Joanna and Clea
Plus, they talk about their weirdest Christmas traditions and using and organizing holiday spices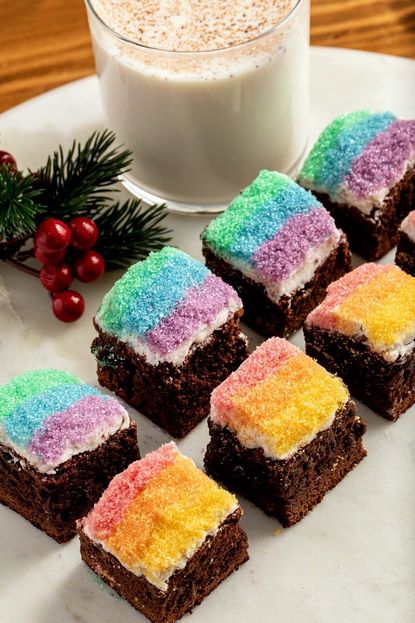 (Image credit: McCormick/The Home Edit)
Clea Shearer and Joanna Teplin are known for making organizing trendy, with their Netflix show Get Organized with The Home Edit, their best-selling books and popular product line. They're also known – thanks to the mentions they give it – for their lack of prowess in the kitchen.
So, when we heard they had partnered up with the McCormick Flavor Maker App to create a gingerbread brownie recipe – plus organize all the holiday spices in their pantries – we were curious.
Here, we bring you their gorgeous, colorful, tried and tested recipe – it's sure to become a new Christmas must-have for everyone. Plus, read on to find out more about who does the cooking in their homes, their favorite Christmas traditions and foods, how they organize their spices – and more about the app.
An alternative to Christmas pudding? For some diners, definitely.
The Home Edit's Easy Gingerbread Brownies with Eggnog Frosting
Prep Time: 15 minutes
Cook Time: 45 minutes
Makes: 16 servings
Ingredients:
1 package family size fudge brownie mix
3 eggs
1/3 cup vegetable oil
1/4 cup molasses
1 tablespoon water
2 1/2 teaspoons McCormick® Ground Ginger
1 teaspoon McCormick® Pure Vanilla Extract
For the eggnog frosting:
2 cups (about 8 ounces) confectioners' sugar
1/4 teaspoon McCormick® Ground Cinnamon
1/4 teaspoon McCormick® Ground Nutmeg
1/2 cup vegetable shortening, softened
1 teaspoon McCormick® Pure Vanilla Extract
4 teaspoons water
Brownies method:
1. Preheat oven to 350°F. Line 8in square baking pan with foil, with ends of foil extending over sides of pan. Spray with no stick cooking spray. Set aside.
2. For the gingerbread brownies, mix all ingredients in large bowl until well blended. Spread evenly in prepared pan.
3. Bake 40 to 45 minutes or until toothpick inserted in center comes out with fudgy crumbs, rotating pan halfway through baking. Cool completely in pan on wire rack.
Eggnog frosting method:
1. Sift confectioners' sugar and spices into medium bowl; set aside.
2. Beat shortening in large bowl with electric mixer on medium speed until light and fluffy.
3. Add vanilla; mix well.
4. Gradually beat in confectioners' sugar mixture, scraping sides and bottom of bowl after each addition. Add water; beat until light and fluffy.
To finish:
1. Use foil handles to remove cooled brownies from pan onto cutting board.
2. Spread frosting evenly over brownies and cut into squares to serve.
Vegan gingerbread brownies
Looking for a vegan version of this tasty brownie recipe? Skip the eggs and use this replacement!
1. Whisk 3 tablespoons ground flaxseed and 9 tablespoons water in small bowl until well blended. Let it stand for 10 minutes.
2. Whisk again and immediately stir into brownie mixture (don't forget to check the brownie mix to make sure it's vegan-friendly) in place of the eggs.
3. Continue as directed, increasing bake time to 45 to 50 minutes.
The Home Edit Christmas organizing tips, tricks and traditions
We quizzed Joanna and Clea about their Christmas holiday traditions, who does the cooking – how they get organized... and even which spice best represents them.
What's your favorite and/or weirdest holiday tradition?
Clea: There is nothing in this world that I love more than holiday decor. People might call me obsessed... and I'm okay with that. My ROYGBIV (rainbow) tree is my favorite. I put it up every year right after Halloween and then cry when I'm forced to take it down in the New Year.
What's the holiday dish that always must be on your table?
Clea: Another thing I look forward to over the holidays is my Grandma Ruthie's latke recipe. No one will ever make them as good as she did, but sub-par latkes are better than no latkes at all.
Who does most of the cooking in your house these days?
Joanna: My son, Miles, and my husband actually love cooking together... and I happily let them. But during the holidays when things are busier, I have to sub in from time to time. The more organized and prepared I feel in the kitchen, the more comfortable I am... so that's the key!
How do you make sure things are organized for the holidays?
Joanna: It's all about creating systems that streamline your routine. I've found that it helps to prep all of my recipes ahead of time... even days beforehand. I'll gather all of my ingredients (including kitchen tools) and store in a designated spot.
If I'm cooking with fresh ingredients and I'm able to chop them ahead of time, I'll store in the fridge in separate air-tight containers and label them. This takes all of the guesswork out of cooking and if you happen to be missing an ingredient, you avoid scrambling the day-of.
Which holiday spices most represent your personality?
Joanna: I'm vanilla and cinnamon, because I'm the perfect partner and I'm sweet with a kick.
Clea: I'm ginger with a dash of red pepper, because I'm bold, tangy, and spicy, of course!
What have you learned about organizing spices?
Joanna: Maybe this is common sense, but we had *no* idea that in order to keep your spices as fresh as possible, you should keep them away from moisture, sunlight, and heat from the stove.
Thankfully, we've always kept our spices in turntables in the pantry anyway. The more visible and organized they are, the easier it is to check best by dates (fun fact: McCormick products all come with best by dates, who knew!) regularly.
Clea: We are very visual people, so we like our spices displayed on our very own two-tiered riser. From there, we'd alphabetize so that everything is easy to find. For you bakers out there, you could always have a baking riser and a cooking riser. Make it your own!
Joanna: And, other than salt and pepper, I had no idea how to properly use most of the spices in my pantry. Sad, but true. The Flavor Scan feature on the app is a game-changer because I'm able to search for recipes that include the spice I want to use. So many possibilities! It's like a fun game of cooking roulette. I would have never tried or even heard of certain recipes without it.
You talk about not knowing much about cooking or baking in your show – can you describe a few things that made getting into it a little easier?
Clea: I'm 100% a digital person. Traditional cookbooks never worked for me. The Flavor Maker App makes it easier for me to follow and access recipes, which is super helpful. The digital pantry feature was also a game-changer for me. Now I'm able to take a quick inventory of what I have and what I need ahead of time so I'm less stressed in the kitchen. Plus, who doesn't love finding new ways to use their spices?! The app has taken a lot of stress out of cooking... which I never thought was possible!
Joanna: As organizers, we're all about finding more ways to provide efficiency in our routines. The Flavor Maker App is such a genius idea. We're looking forward to showing people that organization and cooking definitely go hand-in-hand, especially when it comes to spices.
You collaborated with McCormick Kitchens to create a custom The Home Edit recipe. Tell us about it
Clea: We both *love* brownies, and ginger is one of our favorite holiday flavors... so it made perfect sense! We'll be honest, our families were nervous to try the recipe initially. They don't have much confidence in us as far as cooking or baking goes. But to their surprise... they loved them. We love being able to say, "I told you so!"
More about the Flavor Maker app
Exclusive content from The Home Edit, available through the free Flavor Maker App, has been created to help cooks get their physical and digital pantries organized for the holidays.
Combined with Joanna and Clea's organizing know-how, anyone can scan and digitize their pantry items into the McCormick Flavor Maker App (free on iOS and Android) to simplify meal prep. With everything all in one place, users instantly have access to thousands of curated, easy-to-follow recipes based on available ingredients.
The app also offers a ready-made shopping list, how-to videos, tips and hacks for cooking and baking, and product information. Cooks of any level can explore new flavors so they can rediscover, refresh, and remember to use all those essential spices in their pantries.
In their exclusive video on the app, Clea and Joanna organize a pantry full of spices, scan and add spices to their digital pantries, and share pro-tips as they go.
With their ingredients in order, they bake a custom recipe: The Home Edit's Easy Gingerbread Brownies with Eggnog Frosting, (above) created with help from the McCormick Kitchens. This holiday-themed dessert is simple enough for anyone to make, with decorating options and a vegan version for Joanna.
Sign up to the Homes & Gardens newsletter
Decor Ideas. Project Inspiration. Expert Advice. Delivered to your inbox.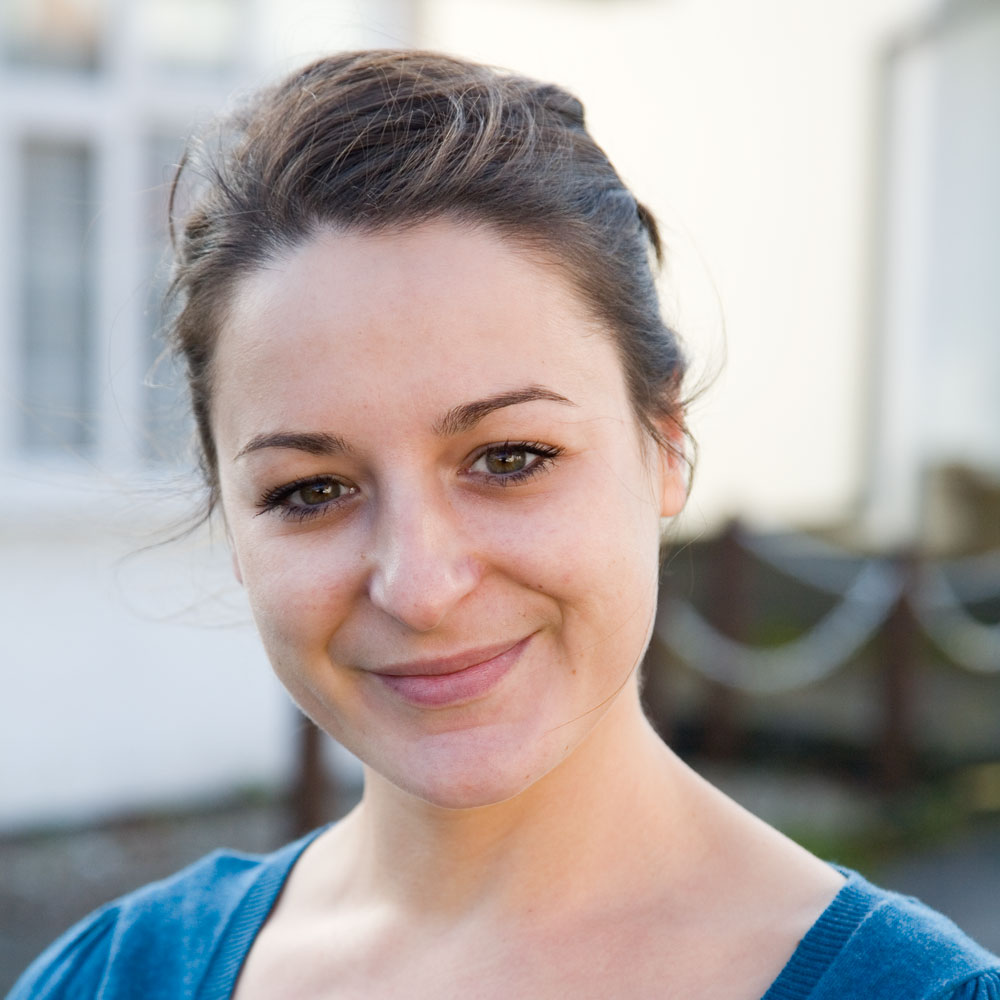 Ginevra Benedetti is Associate Editor on the Homes Content Team at Future. She has been writing about interiors for the past 16 years on the majority of Britain's monthly interiors titles, such as Ideal Home, Country Homes & Interiors and Style at Home, as well as Livingetc and of course, Homes & Gardens. This naturally lead her into writing for websites like HomesandGardens.com.