How to adjust kitchen cabinet handles that are misaligned
Set your hardware straight and learn how to adjust kitchen cabinet handles with these top tips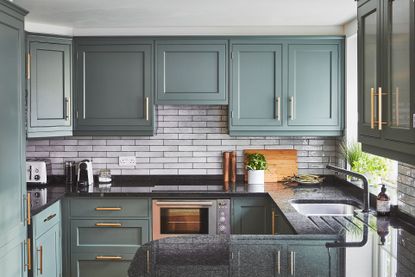 (Image credit: Malcolm Menzies/Plank Hardware)
Is your kitchen hardware looking tired and wonky? Learning how to adjust kitchen cabinet handles means you don't have to do a full renovation or call in the professionals for a refresh of your cooking space.
The hardware is a large part of a kitchen's aesthetic, and wonky or misaligned handles will leave the kitchen looking less than professional, adding to a shabby appearance.
After learning how to paint kitchen cabinets or perhaps, if they're made from wood, how to stain kitchen cabinets or how to refinish kitchen cabinets, brush up on how to adjust kitchen cabinet handles with our expert tips below.
How to adjust kitchen cabinet handles
When installing kitchen cabinet handles with two fixing points (i.e. T-Bar Handles), one of the biggest challenges you'll experience is ensuring that your drill holes are perfectly aligned. Here are some top tips from specialists Plank Hardware.
1. Measure with masking tape and a spirit level
Make sure your kitchen cabinet handles are perfectly aligned by measuring with the right technique and tools.
Tom Revill, Co-FounderPlank Hardware, suggests: 'Tape a length of masking tape across the width of your handle's CC (center-to center) hole distance.
'Mark the center points of your holes on the tape. Remove the tape and apply it to your cabinet, using a spirit level to re-adjust until perfectly horizontal or vertical.'
2. Drill into it
'Pick up your power drill, starting with a small drill bit for your first hole,' advises Tom.
'Larger drill bits tend to be harder to control, meaning it's easy to lose your hole center point and end up with two misaligned holes.'
Once content with your entry holes, size up your drill bit to one that's closer to your screw size.
3. Fill old holes or add backplates
If you make a mistake and have to re-drill (or if you're installing new handles that have different hole distances as part of updating kitchen cabinets without replacing them), you might want to consider adding handle backplates.
Tom comments: 'Avoid the hassle of filling old holes with Polyfilla by selecting an elegant backplate to cover up the holes, all the while adding a more traditional, elevated aesthetic.'
How do you align kitchen cabinet handles?
To ensure your kitchen cabinet handles and knobs are perfectly aligned whether you're installing kitchen cabinets that are new and adding them, or doing a swap, you're going to need a ruler and spirit level for your preparation work, then a steady hand for drilling.
'Drilling confidently is imperative,' says Tom. 'If you don't apply enough pressure into the drill bit, it will edge off center and result in misaligned holes.
'For the more high-tech DIYers, using a laser level is a highly accurate way to project a straight, horizontally levelled line around your whole kitchen, ensuring perfectly straight handles and knobs.'
How do I get my cabinet pulls and hardware straight?
'Cabinet pulls and hardware are often tricky to get straight, especially T-Bars that have two drill holes,' says Tom.
'First, use a ruler and pencil to mark the ideal placement of your two drill holes on your cabinets, then check that your holes are perfectly straight using a spirit level.
'It's handy to mark the position of your handles on your cabinets using lengths of masking tape that are cut to the same length as your hardware, then taking a step back and evaluating the placements across your whole kitchen.'
How are cabinet handles measured?
To measure your cabinet handles and hardware, you'll need a ruler, spirit level, power drill and, most importantly, a steady hand.
Tom comments: 'As a rule, you'll always want your hardware to be positioned 50mm away from the top and side edges of your cabinet doors.
'Where they sit along the length of your cabinet doors is up to you but, as a general rule, you'll want handles and knobs that are on low-level cabinets to be in the top third of cabinet doors.
'Then, on high-level cabinet doors, you'll want your hardware positioned in the bottom third.'
Sign up to the Homes & Gardens newsletter
Decor Ideas. Project Inspiration. Expert Advice. Delivered to your inbox.
Ruth Doherty is an experienced digital writer and editor specializing in interiors, travel and lifestyle. With 20 years of writing for national sites under her belt, she's worked for the likes of Livingetc.com, Standard, Ideal Home, Stylist and Marie Claire as well as Homes & Gardens.