How to plant tulip bulbs – for a dazzling display of spring flowers
Learn how to plant tulip bulbs to enjoy their beautiful color and varied blooms in your spring garden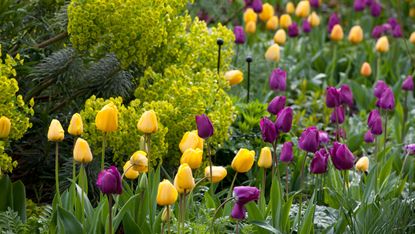 (Image credit: Leigh Clapp)
It's worth knowing how to plant tulip bulbs for a beautiful spring garden display. This classic flower represents new life and certainly enjoys global popularity for its exquisite blooms with their range of sparkling colors that make a striking presence.
Tulips, like other flowering bulbs, need to be planted in fall or when the outside/soil temperatures are at 60ºF or colder; this gives their roots time to develop for spring during the cold weather.
One of the best spring bulbs, whether you want to know how to plant tulip bulbs as part of your flower bed ideas, for containers or even hanging baskets, you are guaranteed plenty of spring color.
With some 8,000 varieties, in 15 different groups, tulips come in almost every color of the rainbow; only blue and true black are missing.
There are also many shapes, flower sizes and heights; some flower early, others later, so do check when you buy so that you can have a continuous display.
'Tulips are my favorite spring bulb – I love their big statement colors, their interesting shapes and the life they bring to borders and containers,' says gardening expert and author Sarah Raven.
'They have not lost their power over people,' agrees Anne Olivieri, whose vibrant and intricate 6,000-strong tulip display draws visitors to the UK's annual Tulip Festival, held in the gardens of her home, Morton Hall. 'Tulips are versatile and scalable, anyone can grow them – in pots, or parklands, town or country, but density is key.'
The small species tulips will increase naturally year after year; however, most tulips, although technically perennials, are better planted fresh each fall. With a little expertise in how to plant tulip bulbs gained from our guide, you will find tulips easy to grow in pots or the garden.
How to plant tulip bulbs in the ground
The first thing to know on how to plant tulip bulbs is that they do best in a well-drained, neutral to alkaline soil. You can of course improve soil health and conditions in borders with compost or leaf mold; if your soil is acidic you will want to add lime for best results. If you're not sure, you can find out how to test the pH of soil with our beginner's guide.
Always buy your tulip bulbs from a reputable source and inspect the bulbs carefully. Look for white or beige, firm, healthy bulbs with no sprouting shoots, spots, cuts, streaks or mould.
'When making your selection, keep in mind that it's not all about the size, as far as bulbs go; a nice clean bulb which is good and heavy for its size carries far more energy to make flowers than a large, lightweight one,' advises tulip grower Mark Eves of Belmont Nurseries, who supply through Taylors Bulbs.
Tulip bulbs should be planted around three times deeper than the height of each individual bulb. If not planted deep enough, they may suffer in really cold – or unseasonably warm – weather. For most tulip bulbs, the hole depth will need to be around 5 to 7in. If you live in a really cold zone, you may want to plant them a little deeper.
'To help you plant your tulips more easily, you can use a traditional bulb planter. If you're planting through herbaceous plants and shrubs or through grass, a bulb planter is brilliant – it's like a massive apple corer and when you press it into the ground it cuts out a core of soil,' says Sarah Raven.
Place each tulip bulb carefully in its hole, pointed end facing upwards, blunt end downwards.
'Pop a little bit of spent compost or grit into the bottom of the hole, add the tulip bulb and backfill with grit and compost just like you would in the trench,' continues Sarah.
Space tulips around 4 to 5in – or twice their width – apart so they do not compete with each other for the soil's nutrients.
Cover the bulbs back over with soil and press the soil back into the hole firmly.
Water the planted bulb and step away.
How to plant tulip bulbs in pots
If you don't have perfect soil conditions in your borders – or you simply want to plant tulips in pots near the house – you can create the perfect environment in containers as part of your container gardening ideas.
Planting in tulips in pots is also a great opportunity to create a bulb lasagna – whereby layers of bulbs that flower at different times can provide a prolonged display in spring.
Gardening expert Monty Don in his blog promotes 'a tulip lasagne, with an earlier variety such as "Orange Emperor" planted deepest that will flower first, followed by a mid-season variety like "Negrita" planted above it and then finally, in the top layer a late-season one such as "Queen of Night"'.
'If you're short of space, cover the bulbs with soil and then add a second layer of bulbs before filling in the hole. There is still enough soil above the bulbs to allow you to overplant the tulips without damaging them,' advises Sarah Raven.
Another tip is to 'pot up some containers that you can simply pop into any gaps in your borders, plunged into the soil or sitting on the soil with the pot camouflaged by foliage from surrounding shrubs,' advises gardening writer Leigh Clapp.
'We do lasagne planting in the containers, with the display beginning with species tulips that last really well and are not as affected by rain and wind, and mix in different bulbs, including dwarf narcissi, muscari and crocuses, as well as bedding plants such as viola, forget-me-nots and low growing carex,' explains Greg Ovenden, head gardener at Pashley Manor, home to the world-renowned annual tulip festival each spring.
'Tulips do better when there is a cold period in the beginning of April and if they look like flowering too early we move the containers into the shade,' Greg adds.
For how to plant tulip bulbs in containers, follow these steps:
Remember to select your container that will suit the height of the tulips
Fill a well-draining container with loose soil – you can add some organic matter to loosen the soil if necessary. It's important that bulbs do not sit in boggy soil.
Place each tulip bulb carefully in its hole, pointed end facing upwards, blunt end downwards.
Bulbs will be closer together than in borders – just ensure they don't touch each other.
Water once after planting
Leave the containers in a cool, protected spot until spring.
One thing to bear in mind if you plant tulip bulbs in pots: if you live in hardiness zones 3-7 or are expecting unusually cold or warm temperatures, you will need to move your containers into an outhouse or garage, greenhouse or sunroom – anywhere cool (no warmer than 60ºF), ventilated and dark.
When to plant tulips
Tulips should be planted in fall to bloom in spring. In southern states or warmer zones, this will be October or as late as November; in northern states or cooler zones, in September to October.
You can plant outside of these months – but you should wait until the soil temperature is 60ºF or lower; otherwise the tulip bulbs will not thrive.
'The cold temperatures help to wipe out viral and fungal diseases that lurk in the soil and which may infect the bulbs. Planting late is a traditional means of disease protection,' says Sarah Raven.
Where to plant tulip bulbs
Tulips bulbs generally like full sun or partial shade – although different tulips have different preferences, so do check when buying the bulbs. 'The whites and pale colors work particularly well in shade, glowing out from dimly lit corners,' says Sarah Raven.
While some tulips don't mind shade and a damp soil – perhaps under a tree – many prefer free-draining compost in a sunny spot.
'Tulips are like us and hate wet and cold. Soil type does not matter as long as it's not too heavy, but they won't survive if water logged and they do love a sheltered spot – a little sun trap in a corner will have them flowering before anyone else,' explains Mark Eves of Belmont Nurseries.
If tulip bulbs sit in wet soil it will cause them to rot. This might mean that you need to improve soil conditions with organic matter – and when planting tulips in pots, ensure that the pots drain freely or your bulbs will not thrive.
'If you garden on heavy soil, cover the base with 2in of washed sharp sand, horticultural grit, or spent compost. You can also add a handful of bone meal to encourage formation of next year's flowers and mix it into the soil/grit at the base of the hole or trench,' says Sarah Raven.
In a sunny border, create ample space for tulips to flow in between existing perennials and herbaceous plants. Set out and repeat bulbs in their planting positions, in loosely grouped drifts of five to six. Intermingle a few bulbs where heights transition, avoid straight lines and isolated groups.
As well as using the odd tulip for landscaping ideas around trees, for containers and for borders or rock gardens, consider mass planting tulips for swathes of color. You can, of course, mix up the tulip colors if you want to embrace cottage garden ideas, but you can also group tulips of the same colors to create an impactful garden color scheme.
If you are planning a cut flower garden, tulips are perfect, too. Again, you will need to mass plant them, putting the bulbs close together but not touching. These will grow best in a trench that you water well after planting and a few times throughout the winter.
'You can plant tulips in your borders individually or in small groups amongst existing perennials, but if you are planting a lot of bulbs, it may be easier to dig out a trench or hole about 8in deep,' says Sarah Raven.
How to store tulip bulbs
If you need to store tulip bulbs, even for a short time, it's really important to do so properly – otherwise they could die. This means taking them out of any plastic or airtight containers and storing them in a cool (40 to 70ºF), ventilated, and dry space.
How to care for tulips
After you have planted your tulips, water them well, but just once. 'Don't water them again until the foliage appears. Winters in their native Turkish mountains are cold, rain comes in spring, and the summers are hot and dry so those are the conditions you are wanting to replicate,' explains Leigh Clapp.
Water well through spring if it hasn't rained for a few days – ensuring the soil isn't allowed to become boggy. 'They need to bake in the sun from June to September so that the bulbs won't rot. Deadhead blooms after the petals have dropped,' adds Leigh.
You can apply a general fertilizer as the first green shoots appear above ground.
Once your tulips have finished flowering, you can deadhead them. After the foliage has died back, many gardeners lift and store the bulbs for summer and then replant in the fall, for more blooms the following year.
To protect and care for tulips:
Keep an eye out for slugs and snails from the time of planting
Prevent rodents, rabbits, deer and squirrels from feasting on your tulip bulbs by putting some fine chicken wire over pots and in the ground. 'Many people suggest a liberal sprinkling of cayenne pepper and well-rotted cow manure. Another tip is to place strongly scented or thorny plants, such as holly, in with the bulbs to deter those pests,' says Leigh Clapp.
Tulip fire is a fungal disease, which thrives in warm, damp conditions and presents with discolored and twisted leaves that look burnt. If the flower does emerge it will look spotted and will turn moldy. Aim for prevention, by not planting any bulbs with small black spots, and if any flowers pop up with the disease dig them up, destroy immediately, and don't plant other tulips in that spot for at least three years.
The types of tulips
The groupings of tulips are based on flowering time, from March to May, early or late, and the shape of the flower; single, double, fringed, lily-flowered and parrot.
New cultivars are constantly being developed and take around 20 years to reach the garden center shelves.
The following are the different tulip types:
Species or botanical – smaller, delicate, very hardy, long-lived
Parrot – flamboyant, ruffled petals
Fringed – petals trimmed with fine fringe
Rembrandt – modern, virus-free version of broken tulips
Darwin hybrid – one of the most reliably perennial return bloomers
Triumph – the largest group, mid-spring
Lily-flowered – reflexed, pointed petals, lovely for cutting
Single early – cup-shaped flowers
Double early – mainly short stemmed, peony like flowers
Single late – mainly long stemmed
Double late – large peony-flowered, layered petals
Virdiflora – green streaks or marking on their petals
Kaufmanniana – compact, flowers open like stars
Fosteriana or Emperor – large richly coloured flowers
Greigii – ideal for a rock garden
What is the best month to plant tulip bulbs?
Tulip bulbs can be planted in September (zones 3 to 5) through to October and November (zones 6 to 7), and December (zones 8 to 9).
However, watch the soil temperature: the soil needs to be 60ºF or colder for tulip bulbs to thrive, but the ground should not be frozen.
'The cold weather helps reduce the risk of tulip fire that can disfigure the flowers. If you plant too early, these eager beauties will send their leaves up only to freeze through winter,' explains gardening writer Leigh Clapp.
How deep do you bury tulip bulbs?
Tulip bulbs should be planted between 5 and 7in deep (or around three times the height of the tulip bulb) in most climates, but 7 to 8in in particularly cold zones.
'I prefer planting tulip bulbs much deeper. If planted deeply, tulips are less likely to try to reproduce and are more likely to flower for year after year,' advises gardening expert Sarah Raven.
Ensure tulips don't touch – ideally they might be 4 to 5in apart, or twice their width.
As editor of Period Living, Britain's best-selling period homes magazine, Melanie loves the charm of older properties. I live in a rural village just outside the Cotswolds in England, so am lucky to be surrounded by beautiful homes and countryside, where I enjoy exploring. Having worked in the industry for almost two decades, Melanie is interested in all aspects of homes and gardens. Her previous roles include working on Real Homes and Homebuilding & Renovating, and she has also contributed to Gardening Etc. She has an English degree and has also studied interior design. Melanie frequently writes for Homes & Gardens about property restoration and gardening.