How to get rid of shower curtain mold and mildew – for a healthy bathroom
Find out how to get rid of shower curtain mold and mildew and keep it pristine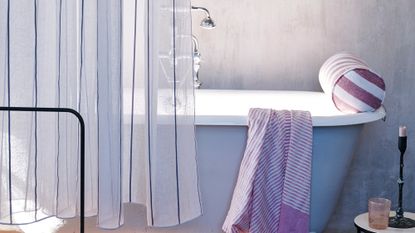 (Image credit: Future Publishing Ltd Photograph: Emma Lee)
For a healthy bathroom environment, it's vital to know how to get rid of shower curtain mold and mildew. The warm and humid atmosphere allows these nasties to thrive, and their spores can cause health problems. Of course, mold and mildew on a shower curtain is unsightly, too.
The good news is that getting rid of shower curtain mold and mildew is really easy to do and, perhaps surprisingly, doesn't require store-bought cleaning products – you can get the job done with pantry ingredients it's also worth finding space for as part of your laundry room ideas.
We've got the lowdown on how to get rid of shower curtain mold and mildew, as well as a few handy tips on how to prevent it coming back, so that your shower curtain ideas can remain looking as good as new.
How to get rid of shower curtain mold and mildew
It's important to know how to clean a shower curtain and its liner, and it's something you should do regularly. But if you spot mold and mildew, these should be tackled right away.
While mold sprays are highly effective, it doesn't always require store-bought cleaners; a couple of staple pantry ingredients is all it takes to keep it looking as good as new. Here's how to get rid of shower curtain mold and mildew.
Get rid of shower curtain mold and mildew with vinegar
'Vinegar is made from acetic acid, making it a natural disinfectant – and cleaning with vinegar is something you can do around the home,' says Lucy Searle, global editor in chief of Homes & Gardens. 'And it's a go-to when you want to get rid of shower curtain mold and mildew.'
Make up a solution of equal parts white vinegar and water in a spray bottle – add in some essential oils to give it a nice scent – and spray your curtain regularly (some experts advise doing this every time you shower but at least once a week should be enough).
Not rinsing every time allows the cleaning solution to do its job; it'll just wash off next time you shower anyway, but at least once a week, rub it down with a gentle brush to get rid of any residual soap scum.
Get rid of shower curtain mold and mildew with baking soda
It may be humble, but this cleaning with baking soda can take on the toughest of tasks and is also an eco-friendly way to keep your shower curtain mold-free.
Kerry Hale at Mira Showers explains how best to use it: 'Sprinkle a layer of baking soda over a damp, clean microfiber cloth, then use it to scrub down the curtain, focusing on mold and mildew buildup. Leave the baking soda to soak into the stains, then after a couple of minutes use a warm damp cloth to scrub it all away. You may need to rinse and repeat a few times to ensure that no traces of baking soda remain.'
Get rid of shower curtain mold and mildew in the washing machine
Want to know how to get rid of shower curtain mold and mildew with the help of your washing machine? Most shower curtains are machine washable, even plastic ones. Depending on the material, different temperatures and cycle settings might be required, so you must check the laundry symbols on the care label beforehand. Add one or two bath towels to the load – these will help to scrub off the dirt and prevent the shower curtain from wrinkling and tearing.
'As well as adding the usual amount of laundry detergent, include one cup of baking soda to remove tough stains and wash on a warm, gentle setting,' says Kerry Hale. 'When the washing machine switches to the rinse cycle, pour in half to one cup of distilled white vinegar to ensure all the baking soda is removed.'
Skip the fabric softener as it can add a layer of film to your shower curtain that attracts dirt and grime.
Dry the shower curtain thoroughly afterwards. As a rule experts advise against putting a shower curtain in the dryer as it can melt or distort the fabric. However, some fabric curtains can tolerate machine drying – again, check the care label. If there's no temperature specified, opt for a low heat setting and hang immediately after the drying cycle ends to avoid creasing.
Vinyl and plastic liners always require hang drying. Hang them back up on the shower rod and stretch out to their full length.
How to prevent mold and mildew building up
There are a few routine things you can do so you don't have to worry about getting rid of shower curtain mold and mildew so often.
First of all, always close the curtain fully after your shower so it can air dry thoroughly and hang the bottom of the curtain over the side of the bath, so it's not bunched up or sitting in water.
'To save yourself a bigger cleaning job further down the line, ensure the shower curtain is sprayed down on a regular basis with a mixture of water and distilled white vinegar and keep the bathroom well ventilated,' says Kerry Hale.
How do I clean the bottom of my shower curtain?
If the bottom of your shower curtain is particularly moldy, use a brush or scrubber sponge first to loosen the grime, then spray with a solution of equal parts vinegar and water and clean as you would the rest of the curtain. If stains remain, mix equal parts water and baking soda in a bowl to create a paste, and scrub the offending areas. Rinse away and repeat if necessary.
How do you clean a moldy shower curtain?
To clean a plastic shower curtain that's moldy, bleach could be the best solution. 'If you are specifically looking to kill mold spores or remove mildew, we highly recommend using bleach as your washing product choice,' says Vera Peterson, president of Molly Maid, a Neighborly company. 'After washing, simply hang your plastic curtain back up to dry.'
Always be mindful that mold or mildew can grow on shower curtain liners because of the humidity and warmth of a bathroom, and dealing with it is crucial to avoid health issues.
Sign up to the Homes & Gardens newsletter
Decor Ideas. Project Inspiration. Expert Advice. Delivered to your inbox.
For 10 years, Tara King worked as a Content Editor in the magazine industry, before leaving to become freelance, covering interior design, wellbeing, craft and homemaking. As well as writing for Ideal Home, Style at Home, Country Homes & Interiors, Tara's keen eye for styling combined with a passion for creating a happy – and functional – family home has led to a series of organization and cleaning features for H&G.