'Make it special': interior designer Melanie Hay reveals her rules for giving a dining room a glow up
The Toronto-based designer knows a thing or two about mixing high and low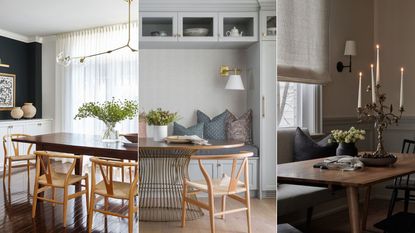 (Image credit: Melanie Hay Design)
Recently, Melanie Hay's clients have been keen on revamping their formal dining rooms to achieve a more functional and usable environment at home.
Since dining rooms don't typically get used as often as other areas in the home, Melanie suggests making a splash in this space and not hesitating on adding a little drama.
Here, she shares how she goes about it.
1. Make it special
'When designing a dining room, MAKE IT SPECIAL. Dining rooms don't usually get used every day, and are generally a space reserved for special gatherings and celebrations. Why not make this space just a little bit special and dramatic?' says Melanie, Principal at Melanie Hay Design (opens in new tab).
2. Save 'sensible' for the kitchen
'For core everyday spaces that you spend A LOT of time in, like the kitchen, family room, living room etc, I generally suggest being more conservative in selections to make sure that you don't tire of it over time.
'However, I think there's a bit more room for whimsy and drama in a dining room space. I always think about how I want a space to make me feel, and the dining room is a place for conversation, good times, celebration, and coming together over good food and wine with family and friends, so I think this room can handle more dynamic visual elements.'
3. Add in a statement piece
'Dining room lighting is vital. I recommend adding in a statement piece such as a gorgeous chandelier. Its large scale can create both drama and just a touch of glam without going overboard. I'm not usually a fan of really shiny, glitzy items but a dining room statement fixture like this can ride the line between glam and elegance perfectly.'
4. Think: low level lighting
'Wall sconces are another great touch for a dining room upgrade – they can be gorgeous and sculptural. They also add a really cozy wash of light to the walls in the evening, further playing into the sense of drama and ambiance that you want while entertaining.'
5. Add pattern with window dressings
'Roman blinds are a great choice for a dining space! Adding playful patterns here is a good idea! Repeating shapes and visual elements reinforces the visual theme and keeps things cohesive.'
6. Make sure chairs are comfortable for lingering
'Furniture selections are key in a dining room space and they always need to be highly functional and durable in addition to visually pleasing. For example, choosing fully upholstered high back chairs that ensure comfort for long nights around the table is a great idea – there's nothing worse than an uncomfortable chair (even though they are often beautiful!).
'You also needed to consider durability. Think of upholstering the seat and inside backs of each chair in a vinyl, which is wipeable and less susceptible to spills and stains.'
7. Keep tablescaping subtle
'Don't go overboard with your tabletop accessories! Fresh florals, a lovely vase and some tableware or candles will do the trick. These can easily be swapped out for every season or hidden away when the formal dining room is not in use.'
Lola Houlton is H&G's long-term intern. Currently student of Psychology at the University of Sussex, she began writing content for Real Homes around the subjects of children's and teenagers' bedroom, in particular covering the psychology of teens and their approach to tidiness. From there, Lola expanded her knowledge of a broad range of subjects and now writes about everything from organization through to house plants while continuing her studies.