5 backyard design mistakes that instantly outdate a space – according to experts
Create a stylish outdoor space that stands the test of time with these expert tips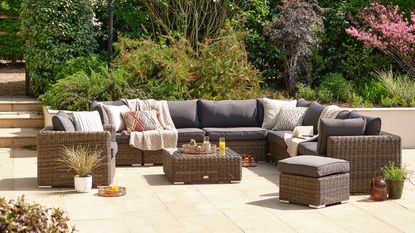 (Image credit: Bridgman)
Designing a backyard is exciting. After all, they're extensions of our homes, and come summer, our patios often replace our indoor living rooms as spaces to relax and entertain.
But backyard makeovers are an investment, so when planning a transformation, you'll want to ensure it will still look chic beyond a year or so. And to maintain an inviting ambiance that stands the test of time, it's important to bear a few factors in mind during the planning stage.
5 mistakes to avoid for a timeless outdoor space
Steer clear of these design mistakes for a plot that stays stylish across the seasons.
1. Sticking to a restricted color palette without incorporating texture
Opting for a monochromatic color scheme can be tempting to curate a cohesive look – and it's a well-suited option for many modern backyards. However, according to Drew Clancy of C.A.R.E. Property Services Inc., it can look flat and unexciting.
To avoid this, the trick is to incorporate different textures, whether with different plants or hardscaping elements. Brooks Turner, the Co-Owner of CTX Land Clearing and Forestry Mulching, suggests using different materials such as stone for your patio or deck, wood for your fence or pergola, and plants for privacy screening or accents. These can all be in the same spectrum of color for a sense of harmony, but the different finishes and forms will give the space more personality and depth.
It's also worth considering a pop of color to bring life to your backyard, as suggests Patrick Grayson, the Founder & CEO of Paramount Property Buyers. For example, you could add cobalt outdoor pillows to match agapanthus in an otherwise all-white scheme, or drape a soft pink throw over your outdoor sofa to complement pink roses in patio pots.
Brooks Turner is the Co-Owner of CTX Land Clearing and Forestry Mulching, a professional land clearing and site preparation company dedicated to providing efficient and reliable services to residential and commercial clients in Central Texas.
2. Installing overly-fussy fences
'Any type of fencing that is more than just basic slats and beams is bound to become outdated,' says Chris Estes, the Owner of Top Notch Homes. 'As soon as it's built, the time is ticking before it looks outdated and old, even if it looks good at the moment.
'We've seen fence designs come and go, from shapes being carved out of the wood to different style knobs atop the posts. We've seen red fences, extremely tall fences, fences with odd designs, and more. But they always look outdated sooner than later.
'The basic fences with simplistic design features are always the ones that remain over time and will continue to look good years later,' he continues. 'You don't need any fancy designs on your fence, and it doesn't have to be anything more than what a traditional fence is supposed to look like.'
Chris is an experienced entrepreneur, with over 12 years of experience working in various positions in the manufactured housing industry. Chris eventually decided to begin his own dealership chain in North Texas four years ago and founded Top Notch Homes. His dealership provides affordable housing options throughout Texas. Chris also owns Top Notch Mobile Home Services, a multi-state manufactured housing installer and repair service with branches licensed in Oklahoma, Florida, and Texas.
3. Making poor planting choices
'One of the most overlooked aspects of backyard planning I see regularly is neglecting a fundamental fact about plants – they grow!' says Mark Bradley, CEO of Landscape Management Network. 'Not taking this into consideration can lead to overcrowded and messy-looking flower beds and backyard areas, which makes the entire yard look unkempt and cluttered.
'When planning a backyard, be sure to take into account how much your planting will grow and don't be afraid of spacing plants out to accommodate for this growth.'
Mark also highlights how plants should be selected for year-round appeal. 'Often, folks pick a group of plants that all bloom and look appealing in the same season,' he says. Instead, opt for a mix, including evergreens and winter plants, so you can enjoy a beautiful backyard every month.
Mark Bradley co-founded LMN in 2009 based on his company's need for landscape software that didn't exist. Now the industry's best business management software, he credits LMN as a catalyst for helping him scale TBG Landscape from a backyard business into one of the Top 100 landscape contractors in North America.
4. Following the trends rather than choosing timeless designs
When designing a backyard, it's tempting to make it fit whatever's currently in vogue. But to ensure its style doesn't date, it's often better to stick to a more traditional approach – whether that's with your furniture or your backyard paving choices. This means choosing simple, clean lines and natural materials.
'Trends come and go, and using too many trendy elements in your backyard design can quickly make it look outdated,' warns Carmelo Carrasco, an Interior Designer and Realtor of Axel Property Management. 'In my opinion, it's best to stick with classic and timeless design elements and add in a few trendy pieces to keep it fresh. For example, you could add a trendy outdoor rug or some decorative pillows to your seating area.'
5. Opting for smaller-sized containers and borders
If you want your outdoor space to look contemporary and up-to-date, it's best to avoid going miniature, particularly in a small garden, as Davin Eberhardt, Founder of Nature of Home, highlights. Small planters and slim garden borders are perfect examples of this common mistake in action.
Instead, be bold with a handful of large, structural patio pots filled with tall, statement plants, and keep those borders wide and billowing. Planting a few select types of plants en masse is also an easy way to create impact and looks much more modern than lots of different plants scattered throughout a scheme.
---
The key element of a successful outdoor makeover is a proper plan. So, take the time to really think about every aspect, from your colors and materials to the functionality of the space.
Remember, less is often more, but that doesn't mean to say you can't have a gorgeous outdoor space as a result. Stick to classic designs, be bold with proportions, add character through texture, and plant en masse while giving each plant enough space to grow – you'll soon have a backyard that will hold its good looks for years to come.
The garden was always a big part of Holly's life growing up, as was the surrounding New Forest where she lived. Her appreciation for the great outdoors has only grown since then; over the years, she's been an allotment keeper, a professional gardener, and a botanical illustrator. Having worked for Gardeningetc.com for two years, Holly now writes about plants and outdoor living for Homes & Gardens.