Best plants for beginners – 10 easy-care choices for your backyard
New to gardening? Start with these varieties – they're simple to grow and look gorgeous, too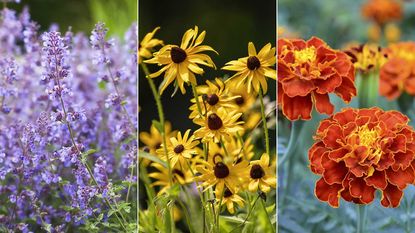 (Image credit: (From left to right) AlpamayoPhoto / E+ / Getty Images – Ali Majdfar / Moment / Getty Images – svf74 / iStock / Getty Images Plus / Getty Images)
Growing fabulous flowers for the first time is super exciting, but it can feel a bit daunting, too. Whether you've recently acquired an entire backyard to fill, or you just fancy adding a few containers to your patio, step one is choosing your plants. But with so many varieties to decide between, how do you narrow it down?
Sure, you'll want to pick ones that look beautiful in your flower beds or pots. But for beginners, it's best to go with plants that are not only gorgeous, but also non-fussy about their care regime. After all, some of the more diva-ish varieties need relentless watering, frequent feeding, careful pruning, and protection from a myriad of threats (think inclement weather, pests, and disease) – an overwhelming list that can prove tricky to stay on top of, at least at first.
So, make your life easier by picking those that are happy with a more hands-off approach. You can always add more challenging varieties later, as your confidence builds.
10 garden plants that are great for beginners
Ease into gardening with these pretty plants. Just remember to check the label for specific planting instructions, and that the hardiness rating is suitable for your region.
1. Rudbeckia
Nancy Awot-Traut, a Horticulture Specialist at Burpee, recommends these cheerful yellow daisies, rating them as one of the easiest perennials to grow. 'They are drought and heat tolerant and don't need much care.
'Plant the flowers early in the spring and choose a sunny spot with well-drained soil,' she advises. Removing the spent flowers will encourage them to keep blooming for longer.
'They are hardy in zones 3-9,' she adds. They're great for attracting pollinators, and make a beautiful addition to cut flower gardens.
Try 'Goldsturm', available from Nature Hills, for a classic option that grows up to 24 inches in height.
2. Nepeta
'Catmint (nepeta) come in many different varieties and once they start blooming in late spring, they will bloom for the rest of the season,' says Joanna VonBergen, a gardening expert and the owner and writer behind the popular gardening website, Gingham Gardens. It graces backyards with masses of purple flowers which offset the scented foliage, and bees adore it.
'If they start looking a little ragged, they can be sheared back and they will send up fresh blooms within a week or so,' she adds.
Apart from this, it's a very low-maintenance perennial plant, being drought-tolerant once established. It's a good choice for planting along pathways to soften hardscaping. Try 'Walker's Low', available from Burpee, a popular edging plant that flowers for weeks on end.
3. French marigolds
'French marigolds are an annual that belongs in every garden,' says Nancy. 'All they need is a sunny spot to grow, making them the perfect plant for beginners.
'They are equally at home in a container, a flower bed, or even in a vegetable garden. They can be directly sown in the garden, so no need to start inside.
'In the vegetable garden, they have the added benefit of repelling bugs,' she says – making them a perfect companion plant for kale, eggplant, beans, and more.
In the past, they were thought of as simple yellow or orange flowers, but today's varieties showcase white and orange or even orange and red tones, with single or double flowers, Nancy says. 'Burpee has one variety, "Strawberry Blonde", with pink tones that change color throughout the season.'
4. Chives
'Herbs are generally very beginner-friendly and easy to grow,' says Mallory Micetich, a Home Expert at Angi.
Chives are a great one to start with. Not only are they tasty (simply snip harvested chive foliage over salads for a mild, onion-like taste), but they also offer pretty, purple, pompom-like blooms – which are also edible.
'Chives are cold-tolerant and can repel insects from eating the other plants in your garden,' says Mallory. 'I recommend planting chives in the spring in well-drained soil for the greatest chance of success.' They like plenty of sun, too.
Mallory Micetich is a Home Care Expert from Angi, with particular expertise in small home living and consumer protection. While currently renting in Denver, CO, she has been a homeowner, investor, landlord and renter over the last decade. She is committed to minimizing her environmental footprint and to small home living, having lived in only properties of 1,000 square feet or less.
5. Hellebores
'Hellebores are lovely little evergreens that are often overlooked, but they are such an easy addition to any shade garden,' says Nancy.
Also known as the Lenten rose, these cool-weather perennials bloom late in winter throughout the early spring when the rest of the garden is just starting to come out of dormancy, Nancy explains. The elegant flowers come in white, pinks, greens, and purples.
'Resistant to deer and rabbits, these slow-growing tidy plants are non-invasive. They are easy plants that don't need much care at all, making them a perfect starter for any beginner gardener.' Just keep an eye out for slugs.
6. Crab apples
'Crab apple trees tolerate a wide range of soils, making them one of the easiest fruit trees to grow,' says Mallory. They are beautiful trees that produce fragrant blossom in spring, which attracts pollinators. The fruit can be used to make jams and jellies.
'Keep in mind that crab apple trees take three to five years to produce fruit after planting, so this isn't the best crop to plant if you want fast results,' she adds.
7. Lavender
'Lavender is a beautiful and fragrant addition to any backyard, and it's relatively easy to grow,' says Tom Monson, Owner of Monson Lawn & Landscaping.
Grow this Mediterranean plant in a sunny spot – somewhere where it gets at least six hours of direct sunlight every day, Tom advises. It can be grown in containers or flower beds, as long as the soil is well-draining.
Prune your lavender back a couple of times a year and you should have a lovely, low-maintenance bush, he adds. And if you fancy growing more of these plants for free, you can propagate them from cuttings.
8. Heucheras
Heucheras, also known as coral bells, are perennial plants grown mainly for their stunning foliage, as Joanna explains. There are many varieties, with leaves ranging from acid-green to warm orange and purple. They also offer delicate spikes of flowers from spring to summer.
These plants are suitable for shadier areas of the garden, and are a favorite for containers. Although they appreciate regular watering during the height of summer, most are relatively drought-tolerant once established.
'They pair nicely with hostas,' Joanna adds – an attractive foliage plant that is also easy to grow (if you opt for slug-resistant varieties).
Nature Hills has a variety of heucheras to choose from.
9. Sunflowers
Sunflowers are one of the easiest annual flowers to grow from seed and are a great beginner plant for adults and children alike. They can be direct-sown, and will shoot upwards quickly, with some varieties reaching soaring heights.
These tough plants appreciate frequent watering and plenty of sun. There are lots of different varieties to try – the 'Fun N Sun Blend' sunflower seed mix from Burpee features a range of colors and forms, including fluffy doubles.
10. Sea hollies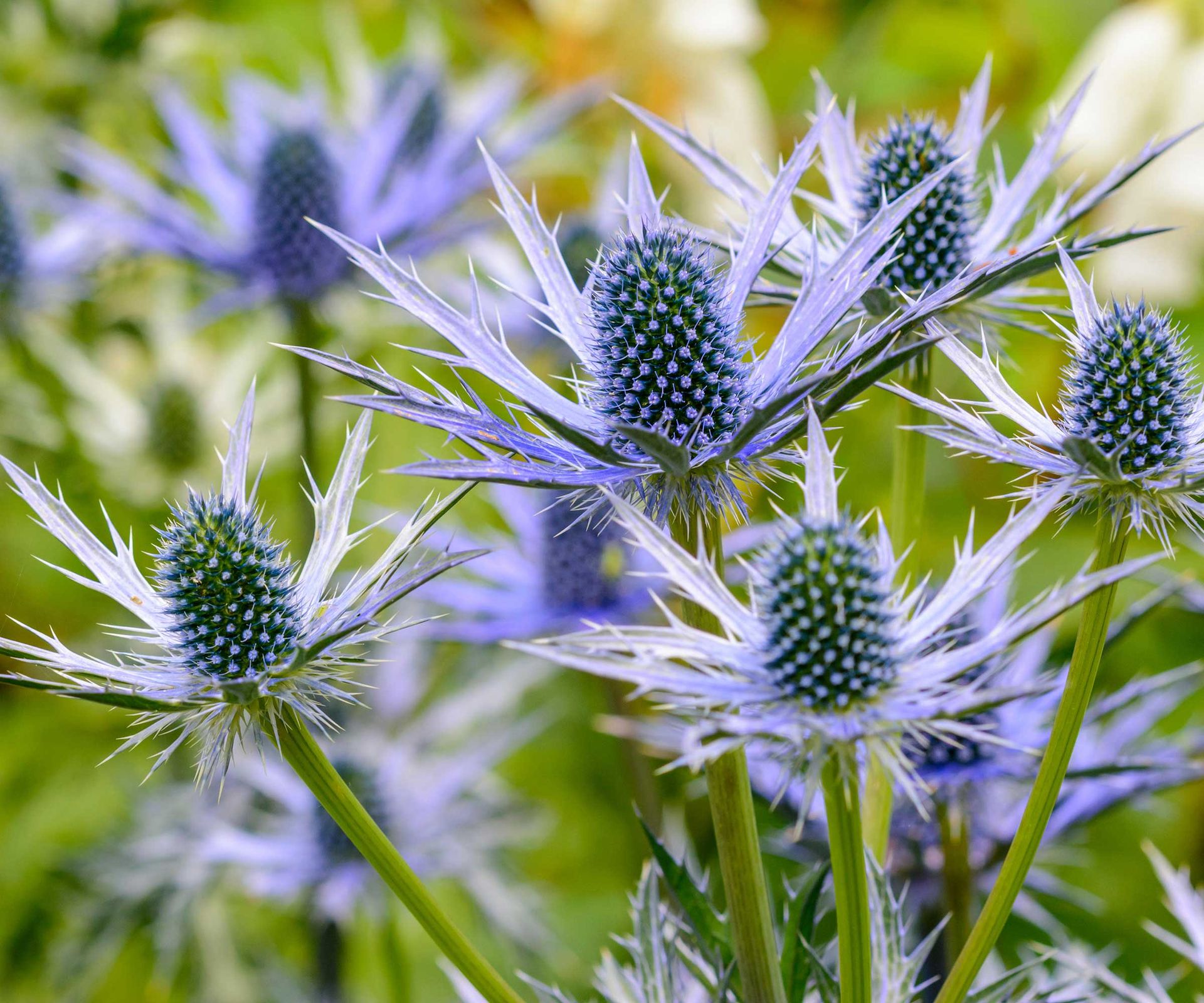 Sea hollies are tough perennials that can handle drought, wind, and sandy soil, which makes them ideal coastal plants. But whether you're oceanside or not, they're easy to look after, as long as your soil is well-draining and they're planted somewhere sunny.
Their spiky structure adds something a little different to a planting scheme, and they work well in bouquets. Their blue-purple tone practically shimmers in the sun (try 'Blue Glitter', from Nature Hills), but look out for the silvery-white varieties, too.
---
Hopefully, this list of beginner-friendly plants has inspired you to start planning your new garden display. And once you've mastered these varieties, you'll soon be branching out and bringing more into your space.
Sign up to the Homes & Gardens newsletter
Decor Ideas. Project Inspiration. Expert Advice. Delivered to your inbox.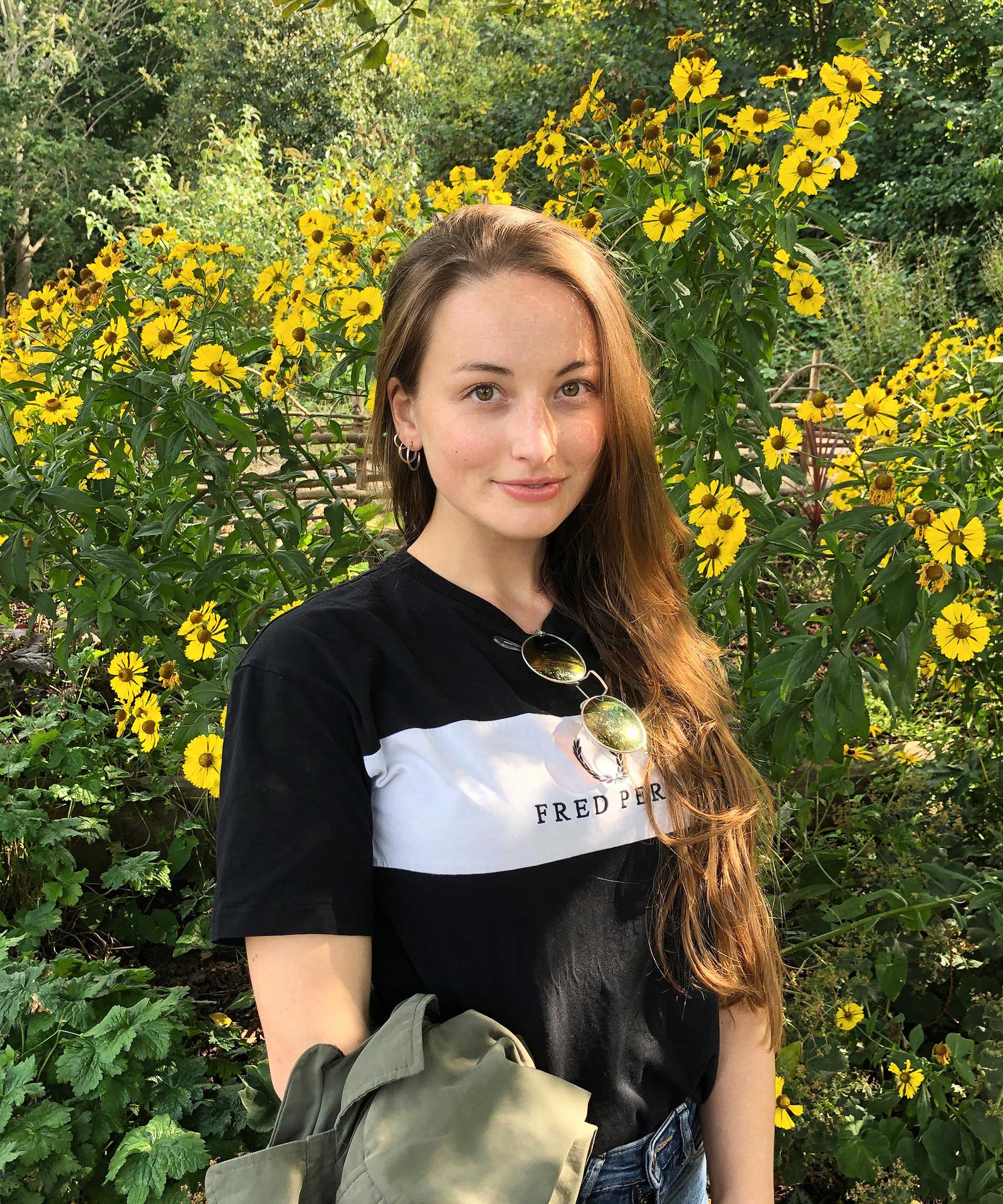 Freelance Gardening Writer
The garden was always a big part of Holly's life growing up, as was the surrounding New Forest where she lived. Her appreciation for the great outdoors has only grown since then; over the years, she's been an allotment keeper, a professional gardener, and a botanical illustrator. Having worked for Gardeningetc.com for two years, Holly now regularly writes about plants and outdoor living for Homes & Gardens.