Best plants to cover a fence – 10 ways to disguise a fence with beautiful flowers and foliage
Transform your fence into a fabulous flowering focal point that showcases the best climbing plants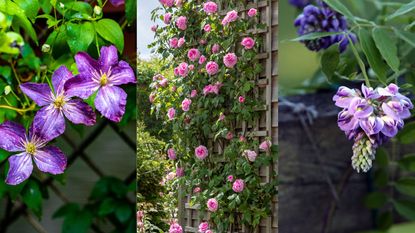 (Image credit: Getty Images/David Austin Roses/Alamy)
Sign up to the Homes & Gardens newsletter
Decor Ideas. Project Inspiration. Expert Advice. Delivered to your inbox.
Thank you for signing up to Homes & Gardens. You will receive a verification email shortly.
There was a problem. Please refresh the page and try again.
Make climbing plants your go-to when looking for the best plants to cover a fence. Choose the right varieties and they will grow vigorously to disguise fence panels with beautiful-looking flowers and foliage. Transforming a fence with scented nectar-laden blooms also offers up opportunities for enticing bees, butterflies and birds into your yard to create a more biodiverse space.
There are just a couple of points to take into consideration before you choose. First, take into account the aspect of your yard, and choose sun-loving or shade-loving plants accordingly. Next, check your plant's water and fertilizing requirements, and make sure you give them what they need. Then if you offer climbing plants something to cling to such as wires or trellis, you can watch with amazement as they quickly scramble over it to transform your garden fence ideas.
If your garden is already packed with plants or if it's small, adding the best plants to cover a fence is a win as anything growing vertically takes up so little space. Our selection of the best plants to screen a fence has been picked by experts and there is sure to be one that will enhance your yard.
10 of the best plants to cover a fence
If you're looking for the best fast-growing climbing plants to transform your fence you're in the right place. We asked some of our favorite garden experts to share their ideas for the best plants to cover a fence. From fragrant climbing roses and heavenly wisteria blooms to scented honeysuckle and jasmine flowers, pick one (or two!) and watch as dull fencing panels disappear for good.
1. Crossvine
Vines are one of the best plants to cover a fence as they provide plenty of foliage and flowers, grow quickly, and attract birds and butterflies. When planting vines, install a wire, string, or steel cable for them to crawl up. They climb by using tendrils that will latch onto a fence, and give great coverage as they grow so quickly.
'Crossvine is a vigorous vine in the trumpet creeper family and a superstar for being one of the best fast-growing flowering vines. It's super-hardy, as well as giving great coverage,' says Amy Hovis, principal at Eden Design and co-owner of Barton Springs Nursery, both based in Austin, Texas. 'There are many cultivars to choose from but I often use 'Tangerine Beauty' because it's fast-growing and able to withstand the freezes.'
This vine will grow well in shade to full sun, but the more sunlight it receives the brighter the blooms will be. 'In severe winters, the vine may die to the ground, but the roots are usually hardy enough to survive and will sprout new growth the following spring,' says Amy.
2. Star jasmine
'One of my favorite plants to completely cover fences is the star jasmine vine shrub,' says Alex Kantor, owner of Perfect Plants Nursery in Monticello, Florida. 'This was a very popular choice when I owned a landscaping business. I recommend it to anyone looking to enhance the charm of their chain link fence or any other type of fence.'
Star jasmine is a versatile climbing vine that effortlessly thrives along fences, trellises and walls, enveloping them with lush green foliage all year round. During the spring and early summer, it is covered with small white blooms that offer an intense yet sweet fragrance.
Alex has the star jasmine vine in his own yard. 'I chose this plant for my own home because it will quickly cover any desired surface and requires minimal effort.' Find out how to grow jasmine, the most fragrant of climbing plants.
Alex has worked in the horticultural industry for over 20 years and grew up on the farm. He is an expert on landscape trees, shrubs, and indoor plants. He is passionate about growing and helping others learn the trade. You'll see him driving around the farm with his sidekick, Brittany spaniel Cricket, in tow.
3. Clematis 'Jackmanii'
'Clematis 'Jackmanii' is a stunning vine that adds elegance and color to any fence,' says Andrew Connolly, the New York-based founder of Little Flower Cottage. 'Its abundant purple flowers create a breathtaking display that makes for a striking contrast against the backdrop of a fence.'
It's a vigorous climber and thrives in full sun to partial shade and can cover large areas with its sprawling growth. 'I particularly love 'Jackmanii' for its versatility,' adds Andrew. 'It can be trained to climb fences or allowed to cascade over walls which make for a really visually interesting effect.' You can find Clematis 'Jackmanii' here at Nature Hills.
Popular and easy to grow, choose this variety and your fence will soon be covered in a profusion of dark velvety purple flowers that gradually lighten to violet. Or find out more best clematis varieties to grow if purple isn't your thing.
4. Butterfly pea plant
'I have tried many climbing plants to cover unsightly fences, and the butterfly pea (Clitoria ternatea) easily stands out as the top choice,' says Fern Berg, gardening expert and founder of TreeVitalize. 'Its rapid growth helped cover my fence with attractive green foliage in no time.'
Another highlight for Fern is the edible deep blue flowers that the butterfly pea is covered with almost continuously during the growing season. 'As well as looking good these add a colorful pop to salads.'
Add some trellis ideas to give this beautiful plant the right support. Another thing to note about the butterfly pea is that it is annual or biennial in cooler climates. Fortunately, the flowers are followed by seed pods that you can harvest and save for the following season.
Fern is the founder of Tree Vitalize and has planted and currently cares for over 100 different native and exotic fruit, nut, and ornamental trees. She also cultivates an extensive vegetable garden, several flower gardens and cares for an ever-growing happy family of indoor plants. Fern has a special interest in biodynamic farming, food production, and closed loop agriculture.
5. American wisteria
Beautiful wisteria is a must-have for dressing up fences. 'For shady spots, I recommend fragrant American wisteria (Wisteria frutescens),' says Heather Evans, master gardener and founder of DearAvantGardener.com. 'This versatile vine loves any light conditions and, like most native plants, tolerates various soil conditions.'
Indigenous to the eastern half of the US, American wisteria produces lilac-blue flowers in spring that are even more beautiful than its more familiar Asian cousin. 'American wisteria is also the larval host of several butterflies, including the delicately beautiful "marine blue" ', adds Heather. The USDA considers Asian wisteria invasive for its tendency to take over wild areas and crowd out native plants.
Alex Kantor agrees about the importance of choosing native wisteria. 'I have a particular fondness for the 'Blue Moon' wisteria, a remarkable plant known for its cascades of lavender-blue flowers that bloom in early summer. It excels at covering fences and has the potential to reach heights of up to 25 feet and a spread of up to 8 feet.
'The charming color and distinctive shape of this vine instantly infuse any outdoor space with a whimsical ambiance. Remarkably resilient, it can withstand temperatures as low as -40°F. Moreover, the vine emits a delightful, sweet scent that serves as a magnet for hummingbirds and butterflies, adding an extra touch of enchantment to your surroundings.' You can find 'Blue Moon' wisteria here at Nature Hills.
6. Coral honeysuckle
'Coral honeysuckle (Lonicera sempervirens) is a delicate-looking vine that produces vibrant red, tubular flowers that attract hummingbirds,' says Amy Hovis. 'It's a stunning plant that is evergreen in warm climates and considered a perennial vine in colder climates as it may die back to the ground but sprouts back up in the spring.'
It also has many cultivars with blooms in various colors. It prefers full sun to partial shade and has a long bloom time, from spring to summer. It will need something on the fence as it begins to climb up but is fast-growing with great coverage. Find out how to grow honeysuckle for the best results.
'I fell in love with coral honeysuckle when we planted it around an entry to our yellow 18th-century colonial in Providence, Rhode Island,' says Heather Evans. 'It climbed quickly up the trellises, covering them with profuse coral blossoms with bright yellow stamens from spring through summer.'
Native to the eastern US, coral honeysuckle grows more quickly and blooms more in sun, but tolerates part shade. 'Residents of western states can enjoy another member of the family, the orange honeysuckle (Lonicera ciliosa),' adds Heather. 'Both these native honeysuckles attract hummingbirds, which sip their nectar, while other birds eat their berries.'
7. Carolina Jessamine
'Carolina Jessamine (Gelsemium sempervirens) is a charming evergreen vine that covers fences with an abundance of bright yellow, trumpet-shaped flowers,' says Andrew Connolly. 'Its glossy foliage is attractive throughout the year, adding beauty and privacy to outdoor spaces.'
Carolina Jessamine prefers full sun to partial shade and is well-suited for a variety of climates. 'I have personally experienced the joy of Carolina Jessamine in my own garden and its vibrant blooms never fail to raise my spirits,' says Andrew.
Climbing 10 to 20 feet up and over fences, this evergreen vine is a favorite for its heady perfume too. You'll also hear it referred to as yellow jessamine, Carolina wild woodbine, and evening trumpet flower.
8. Seychelles pole beans
Edible plants that climb are another great idea as some of the best plants to cover a fence, with added benefits of course. 'There is a chain-link fence between me and my neighbor, and I plant vegetables there to cover the fence plus get fresh veggies too,' says horticulturalists Gail Pabst, who works for the National Garden Bureau.
One of Gail's favorite crops to grow as part of her vegetable garden ideas, which ensures both a covered fence and a summer-long harvest, are Seychelles pole beans. 'These grow 7-9 feet tall on vigorous dark green vines. I can (almost) guarantee everyone will love the delicious 5-6 inch long, slender pods.'
Gail also advises that any cherry tomato plant will do well as a vertical planting, and cucumber 'Green Light' is also an excellent plant for a fence too.
9. Climbing hydrangea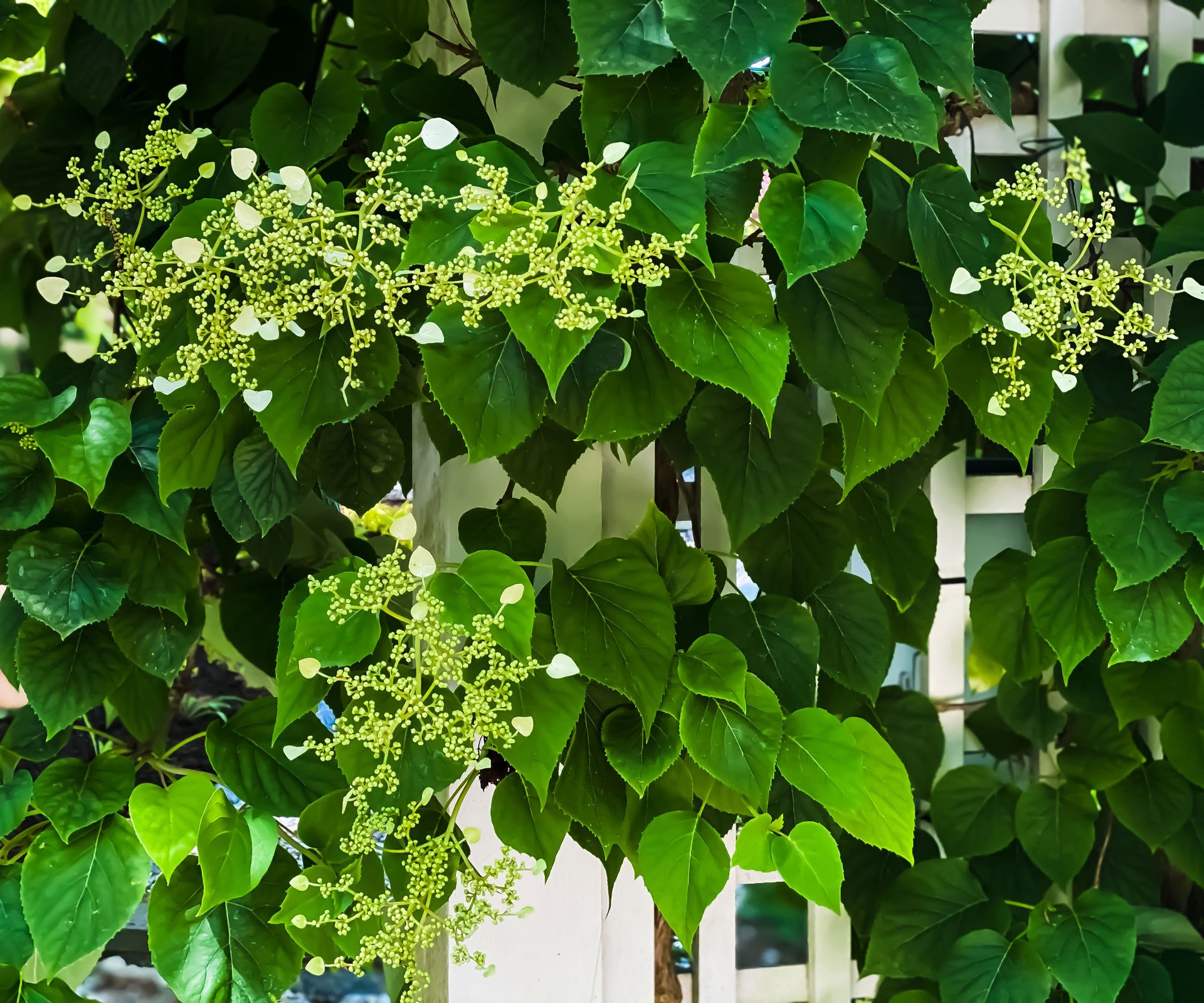 When choosing the best plants to cover a fence, climbing hydrangea is one of the easiest and best-looking options. This vigorous grower is covered in masses of showy, lacy, white flowers in late spring and early summer. It requires no maintenance, is easily trained and looks attractive all year round.
'Climbing hydrangea is a great option for covering a fence,' says David Angelov, founder of Plantparenthood.design, based in Newton, Massachusetts. 'It's a woody vine and some varieties can grow up to 50 feet long. It produces large clusters of white, fragrant flowers in the summer. It's also easy to grow and can tolerate a variety of growing conditions, including shade and partial sun.'
The best-known climbing hydrangea is Hydrangea Petiolaris, which grows to around 20 feet and will creep along the fence sideways.
10. Climbing rose
Roses are one of the best plants to cover a fence, featuring masses of blooms and fragrance too if you choose the right variety. Training climbing roses to ramble over a fence is easy and the result is always a joy. Choose a repeat flowerer so you get two flushes of blooms every year.
'It's hard to ignore the versatility of roses,' says Liam Beddall, senior rose consultant at David Austin Roses. 'From foot-high patio roses to 60-foot ramblers, from the deepest scarlet to the softest apricot blooms, there really is a rose for every position.'
Always one of the first English roses to start flowering, 'Gertrude Jekyll' is one of the best climbing roses. It has perfect scrolled buds that open to large, rosette-shaped flowers of bright glowing pink. The beautiful, perfectly balanced old rose scent is often described as being the quintessential old rose fragrance. You can find 'Gertrude Jeckyll' here at David Austin Roses.
A vigorous grower, it's known as a 'short climber' and grows up to 8 feet, and will beautifully enhance any fence. Just remember to find out how to prune climbing roses to keep those blooms coming fast.
---
There are additional benefits to finding out what the best plants to cover a fence are. As they intertwine and flourish, they will enhance your backyard as part of your garden privacy ideas, beautifying boundaries and helping to create a more secluded feel. Plant-covered fences can also be used as part of your garden zoning ideas to help maximize your outdoor space. So as well as being beautiful to look at, the best plants to cover a fence have practical uses too.
Sign up to the Homes & Gardens newsletter
Decor Ideas. Project Inspiration. Expert Advice. Delivered to your inbox.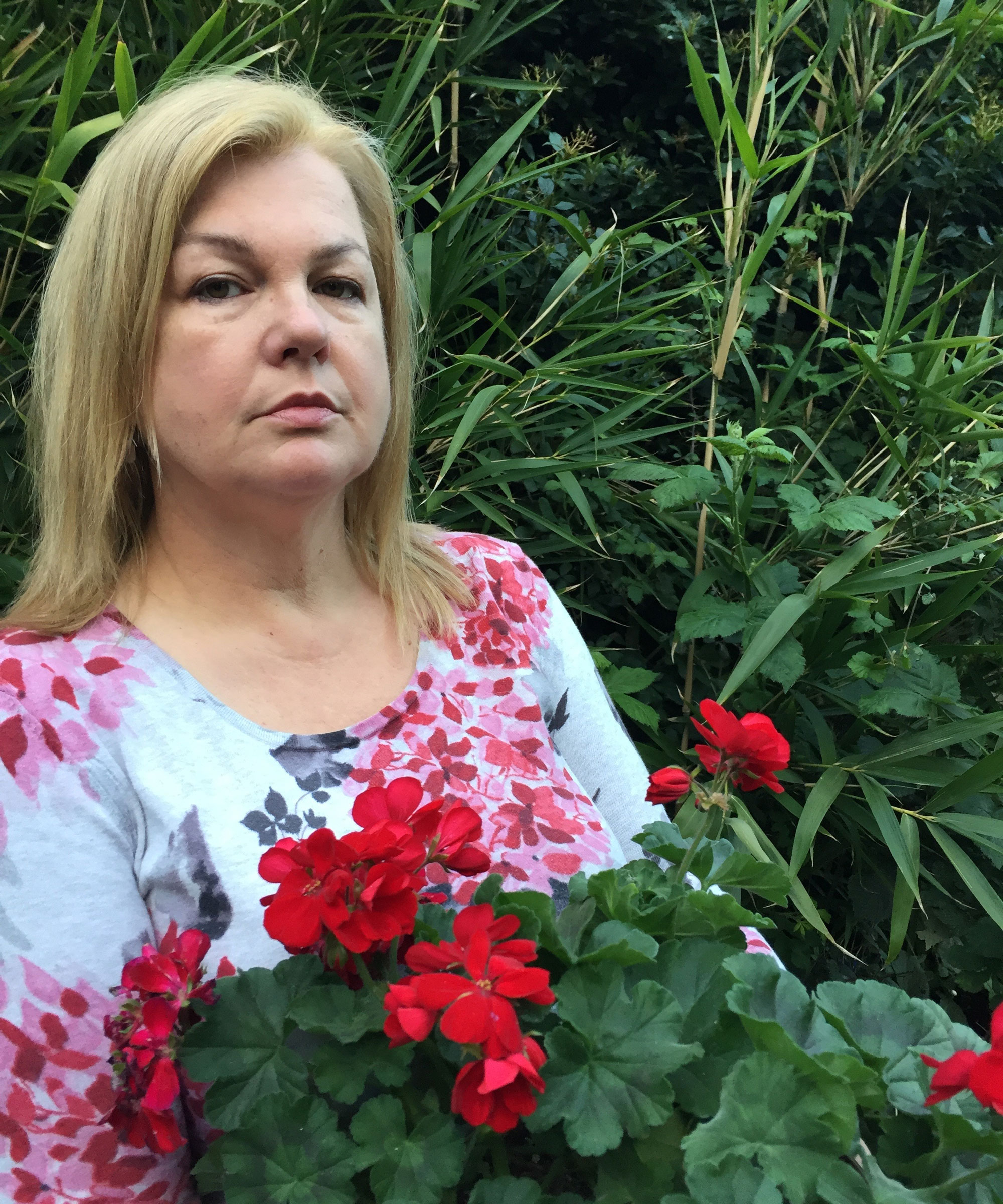 Lifestyle journalist Sarah Wilson has been writing about gardens since 2015. As well as homesandgardens.com she's written for Gardeningetc.com, Livingetc.com, Easy Gardens and Modern Gardens magazines. Her first job on glossy magazines was at Elle, during which time a visit to the legendary La Colombe d'Or in St-Paul-de-Vence led to an interest in all things gardening. Later as lifestyle editor at Country Homes & Interiors magazine the real pull was the run of captivating country gardens that were featured.