Best rabbit repellent plants – 10 plants that help protect your yard
Need to deter rabbits from munching your prized blooms? Then try growing these beautiful rabbit-repellent plants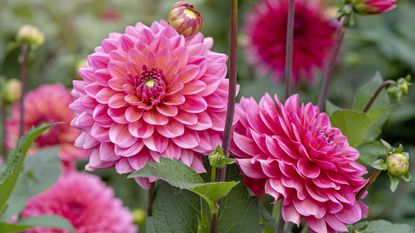 (Image credit: Getty Images)
Discover which are the best rabbit repellent plants so you can prevent your prize plants and crops from being ravaged by these pesky critters. Yes, they have an insatiable appetite but there are plenty of tasty herbs, beautiful blooms and gorgeous foliage plants to fill your yard that rabbits simply won't go near.
From early flourishing hellebores, with their delicate nodding heads to cheery daffodils, statement drumstick alliums through to ostentatious dahlias that continually bloom right through to the first frosts, it's possible to protect your patch year-round.
We've put together a hot list of the most effective plants so you can grow them around the perimeter of your plot, surround your veg beds or just dot them amongst your borders. Like mosquito-repellent plants, they're gorgeous to look at and will keep pests (or pets) away.
Rabbit-repellent plants
Whether your backyard is regularly invaded by wild rabbits or your pets are turning your pretty patch into a wasteland, these are the rabbit-repellent plants that will grow undisturbed by bunnies. Take note, though: many of these are poisonous plants that you may want to avoid if you have pets that like to nibble in the garden, too.
1. Peonies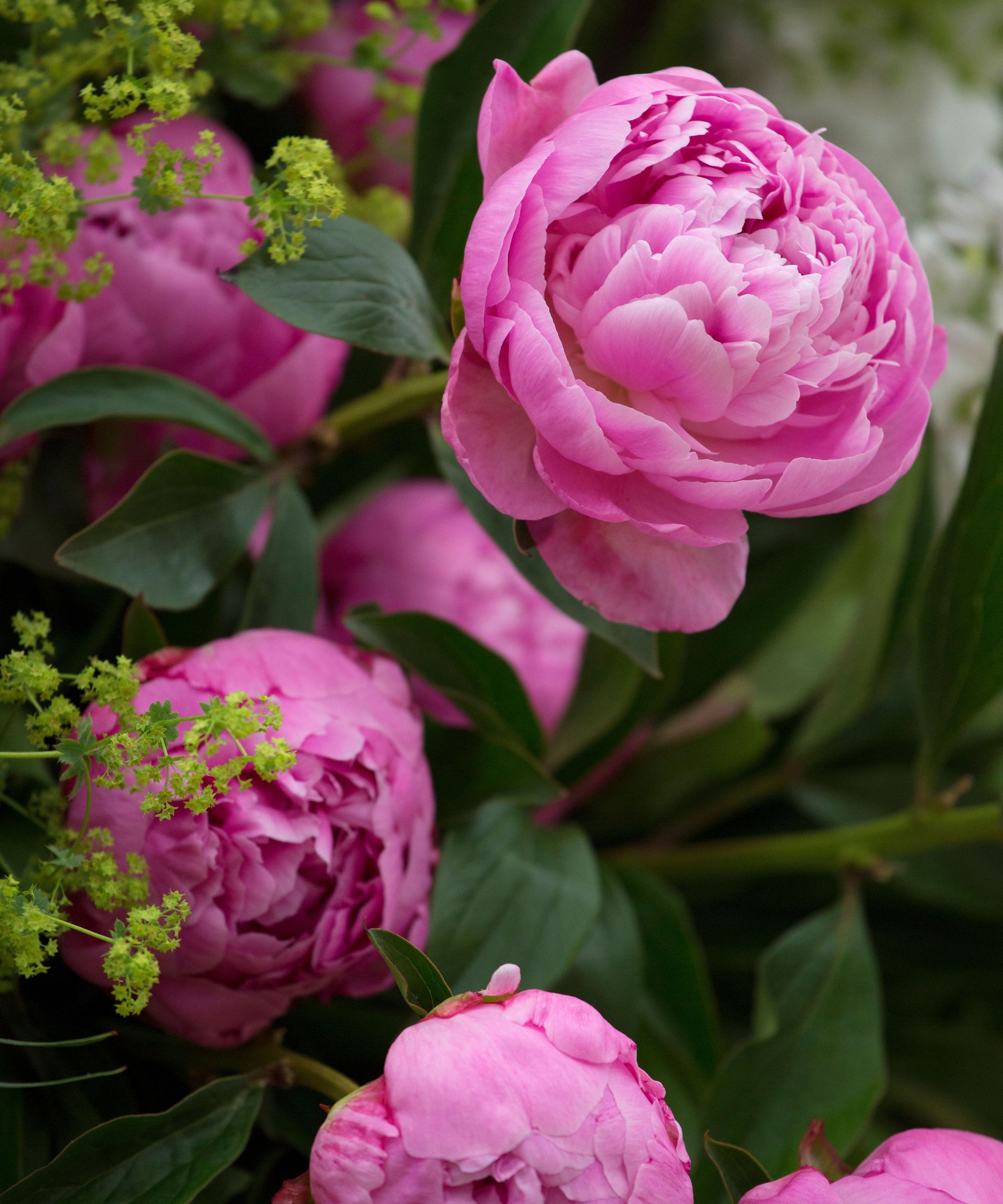 Beautiful and blowsy, herbaceous peonies are real showstoppers and generally given a wide berth by rabbits.
If you are growing peonies, they are best planted in spring or fall, and these long-lived perennials thrive in a sunny spot with free draining soil and contrary to common belief, are hardy and easy to grow.
As plant expert Claire Austin explains, 'Peonies thrive almost anywhere in parts of the world where the temperature drops below freezing in winter and they need almost no attention once established.'
Planting at the right depth is crucial, ideally just 3cm below the surface. Water well when first planted and throughout the following summer but do avoid overwatering. The heavy blooms appear in May/June and do need supporting – choose from simple metal hoops or more decorative baskets.
Discover when to cut back peonies to get the best blooms the following year.
2. Foxgloves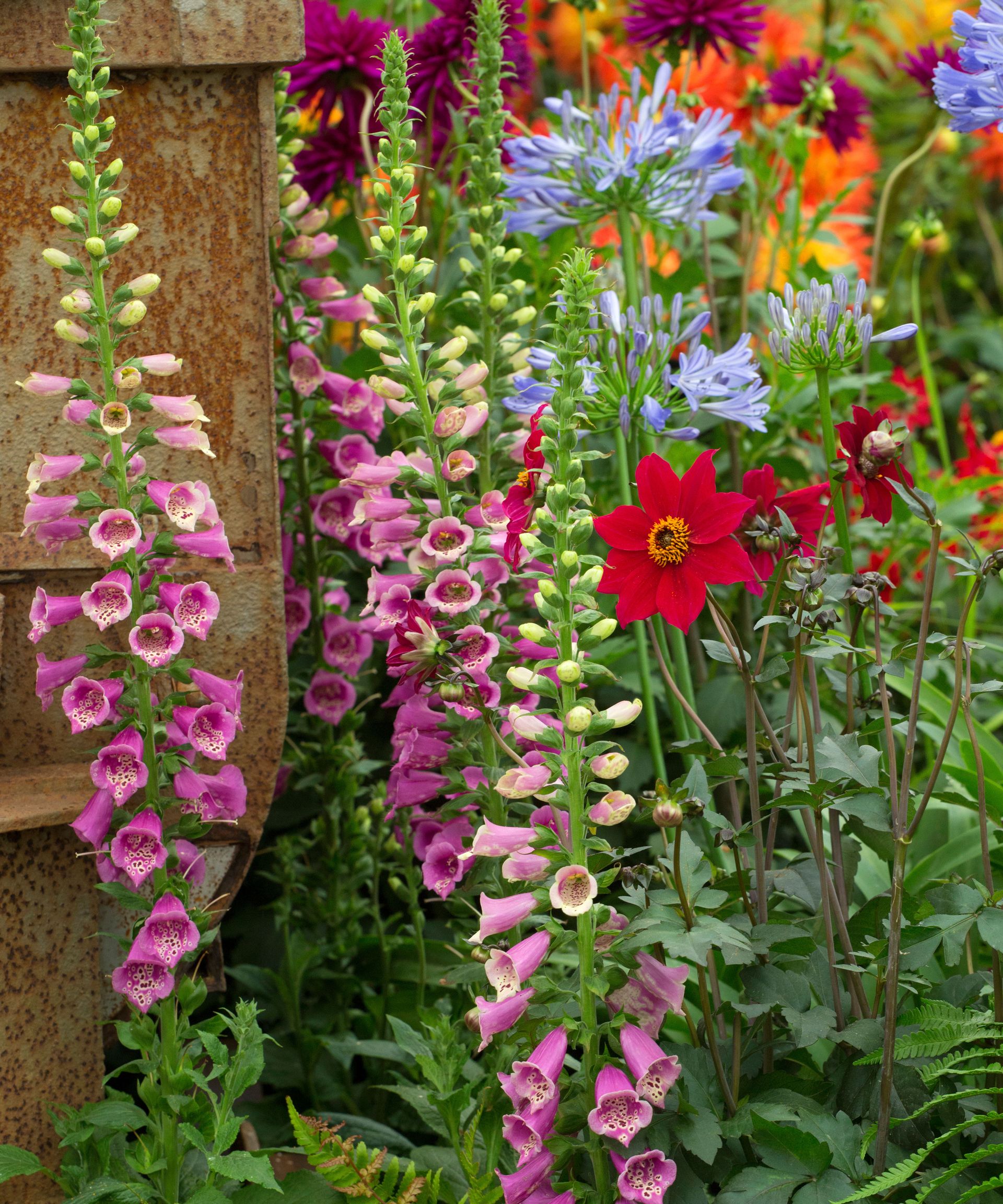 Adored by bees and pollinators, the deep pink spires of foxgloves are a majestic sight in any yard or border. They are detested by rabbits however and this may be to do with the fact that all parts of the plant are toxic; in fact they are poisonous for pets and plants that are toxic to cats.
A short-lived perennial, plant foxgloves in full sun, acidic or alkaline soil but it must be free draining. These elegant blooms do self-seed freely, so you may find that you have a mass display in subsequent years. Hardy in USDA zones 5 to 10.
3. Daffodils and narcissus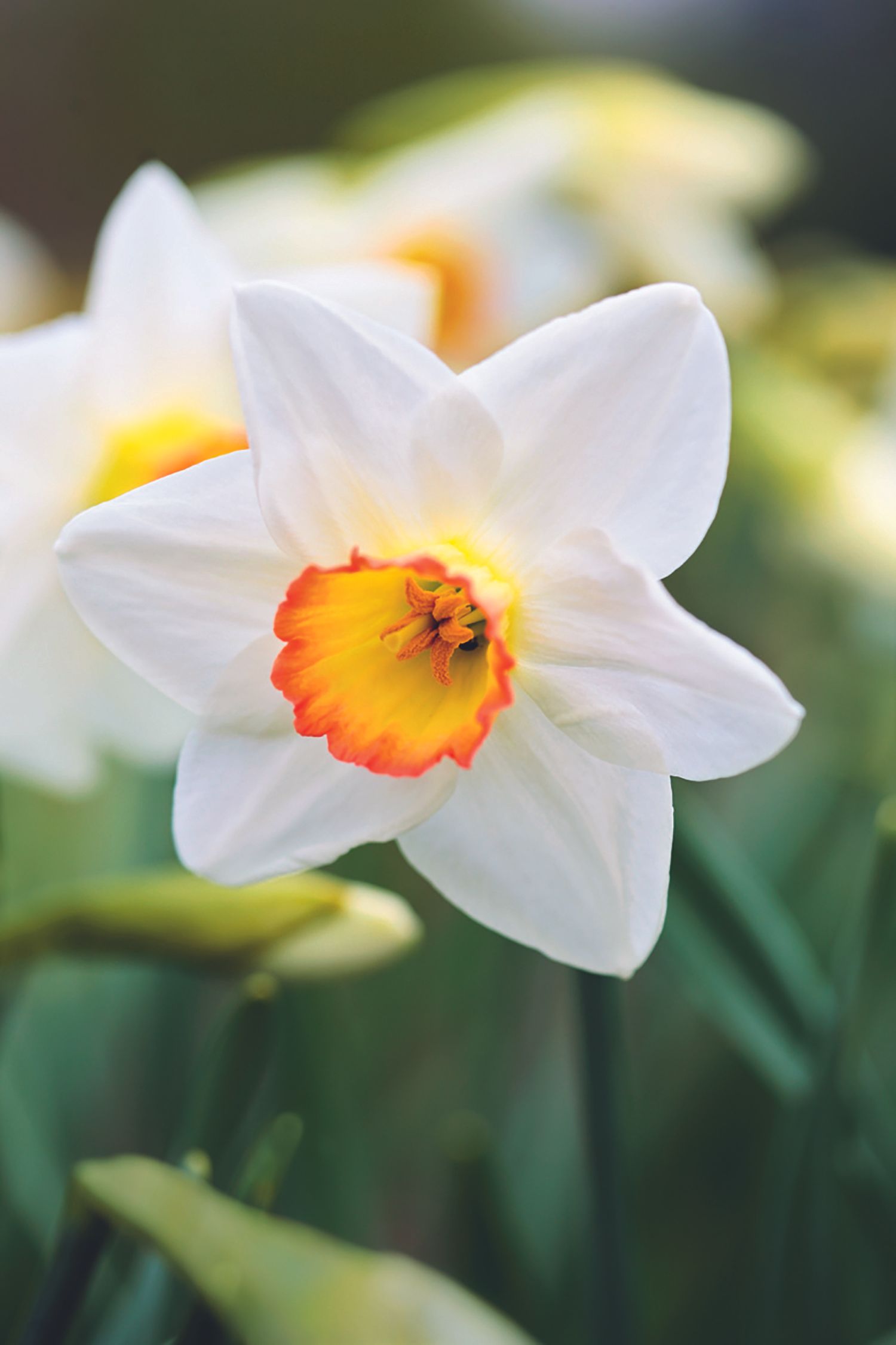 Rabbits stay clear of munching these cheery bulbs as they contain poisonous substance called lycorine (note: they are toxic for cats, poisonous plants for dogs and children, too).
Lycorine is also present in many species of bush lily, and digesting a large amount of this toxin can prove lethal and even a small amount, is a strong irritant.
Capitalize on this natural bunny deterrent by planting daffodil bulbs in swathes along the edges of your yard.
There are many varieties to choose from, so it's possible to enjoy a prolonged and varied display if you plant successionally. Like most flowering bulbs, Narcissi dislike sitting in wet, soggy conditions so if planting on damp ground do add a handful of grit into each planting hole first.
4. Snowdrops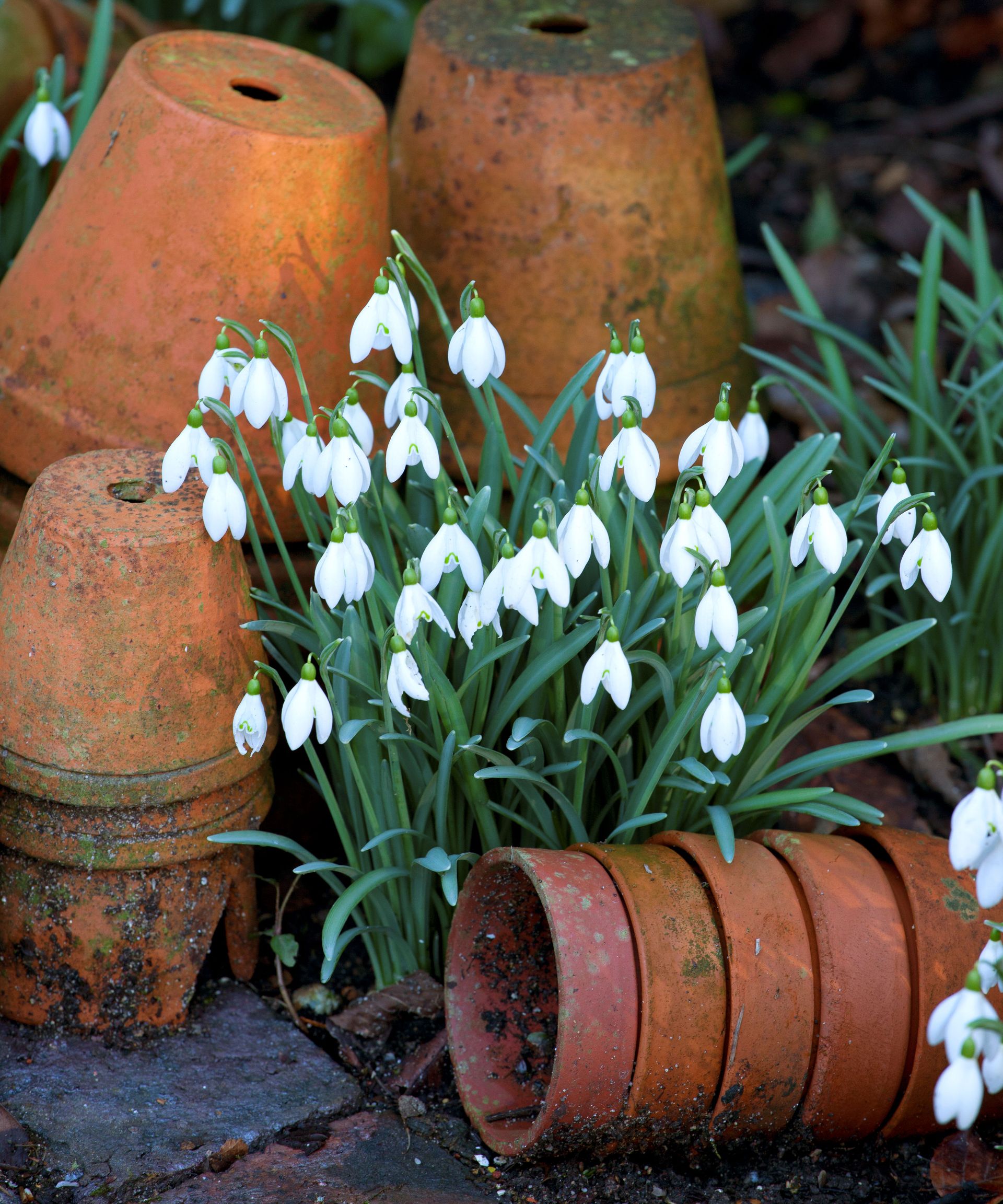 Like other flowering bulbs, snowdrops are toxic (to cats and dogs) and unattractive to constantly nibbling rabbits. In most cases, these pesky munchers will stay well clear and move on, so why not take advantage of their natural instincts and plant them in large numbers around your patch?
Amongst the best shade plants, they do well if planted when they have just finished flowering but still in leaf – also known as being 'in the green', pop them in pots, troughs or generous clumps amongst grass and flower borders.
Plant expert Sarah Raven says, 'Snowdrops like dappled shade and thrive in reliably moist, well-drained soil, rich in organic matter so add plenty of leaf mould or garden compost to the soil prior to planting.
'Plant at a depth of about 4in and space them about 4in apart. Once you have planted them, leave undisturbed for a few years until they start to look overcrowded. Then, just after flowering, lift split them by hand into smaller clumps.'
5. Allium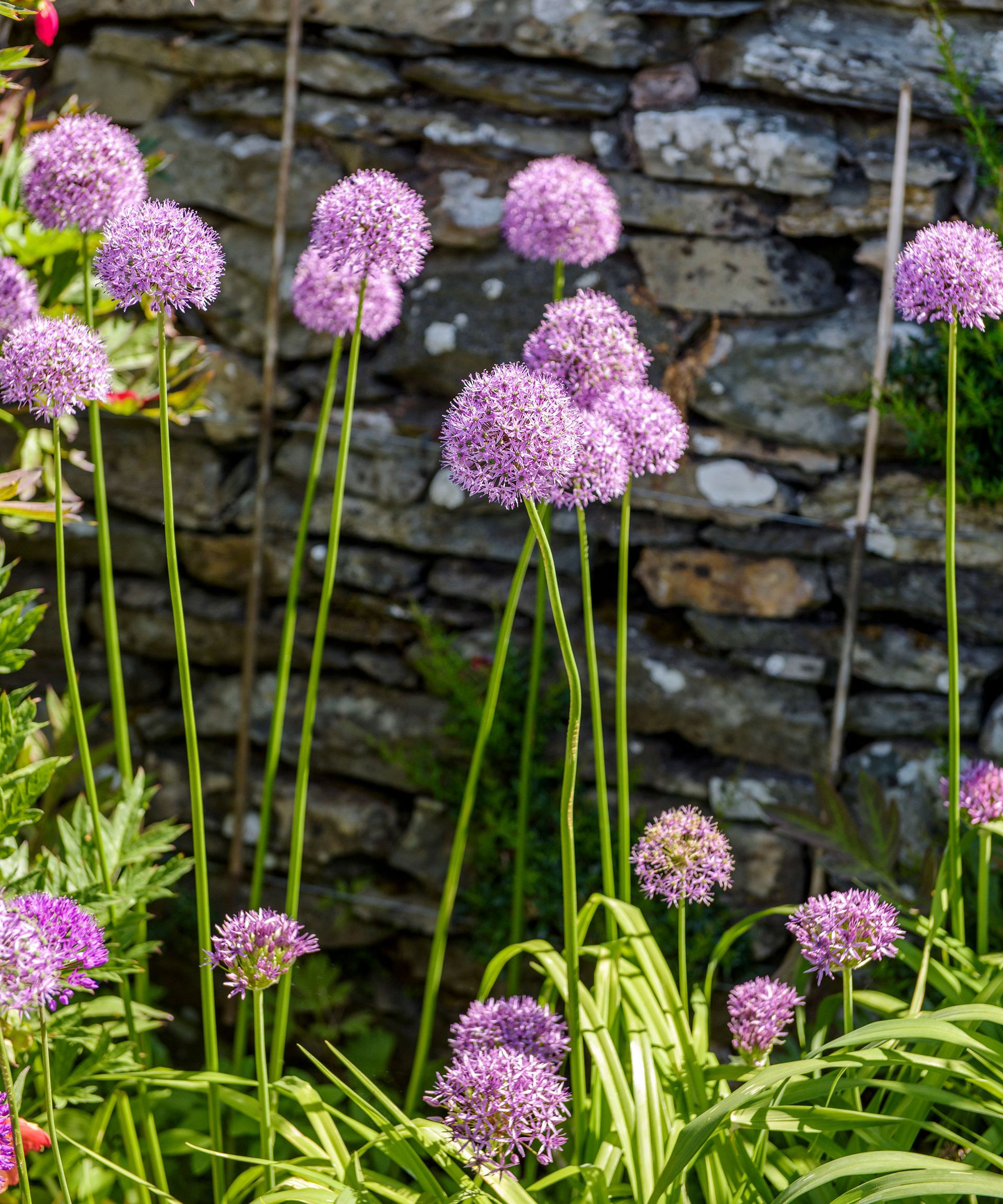 Thanks to their high sulfonic content and pungent smell, alliums are very effective at keeping rabbits at bay. Fortunately, they are stunning flowers too, with their deep purple pom-poms perched atop of straight stems.
Scatter them in the flower border, amongst ground cover plants or grow in shallow dish shaped planters for an eye-catching display.
One word of warning though, the wide strappy leaves are less than lovely and the perfect spot for hiding slugs and snails, so do keep them away from delicate salad leaves and bedding plants. However, they are easy to grow and make fantastic low maintenance garden border ideas.
6. Lavender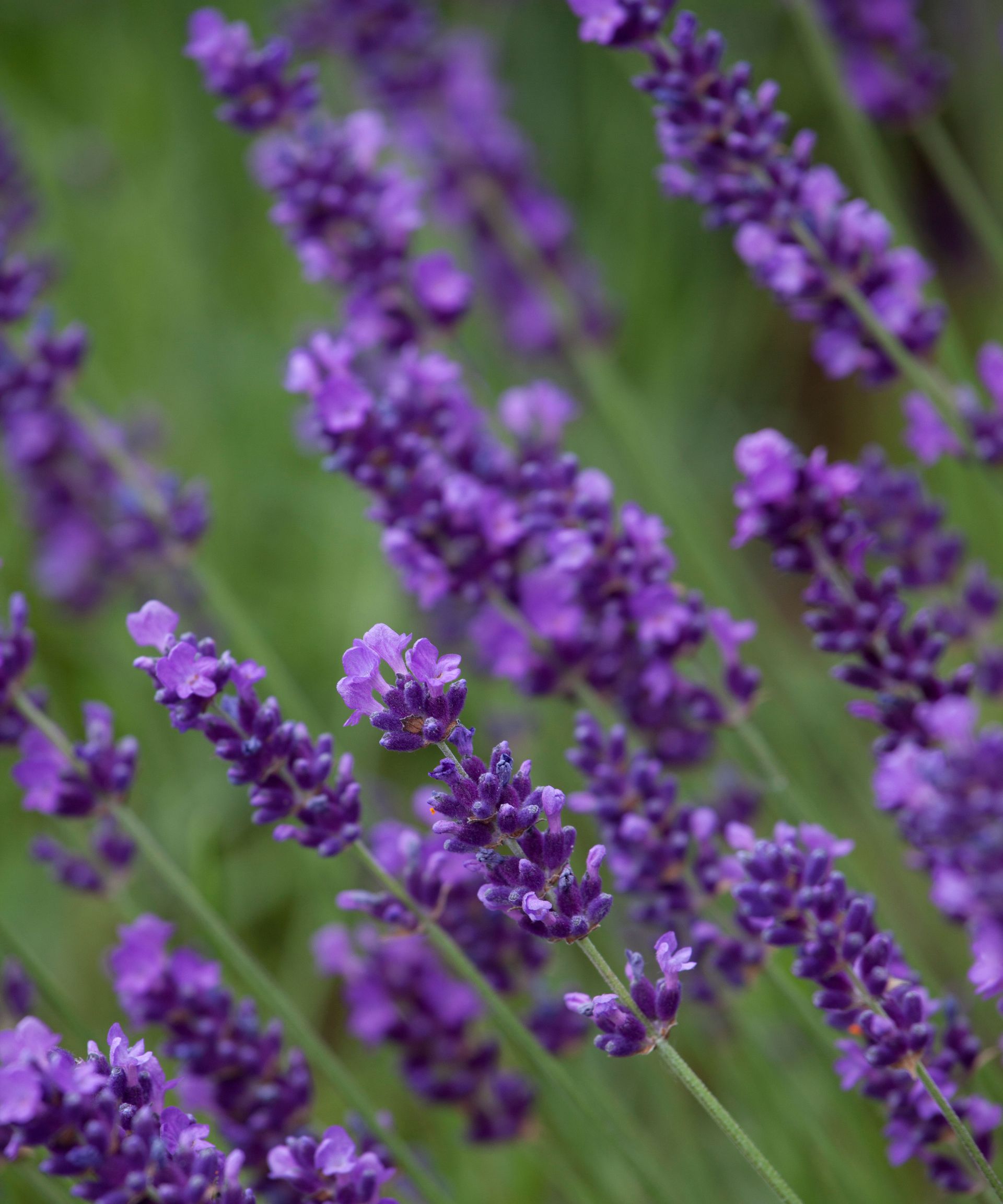 We grow lavender because it's divine in both looks and fragrance, but did you know that lavender is also brilliant at keeping rabbits at bay? Thanks to the high concentration of linalool in the plant's natural oil, it is simply too strong for rabbits to handle, overloading their sensitive olfactory organs. As a result, they stay well clear, leaving us to enjoy the heady scent and gorgeous sight of these tiny mauve blooms swaying above the silvery-green leaves.
Depending on your HDSA Zone you can take your pick from the many different varieties. French lavender is less hardy preferring temperatures above 10°F while the smaller English varieties can cope with a brisk -12°F. It's also worth pruning lavender straight after flowering to promote fresh new growth.
7. Hellebores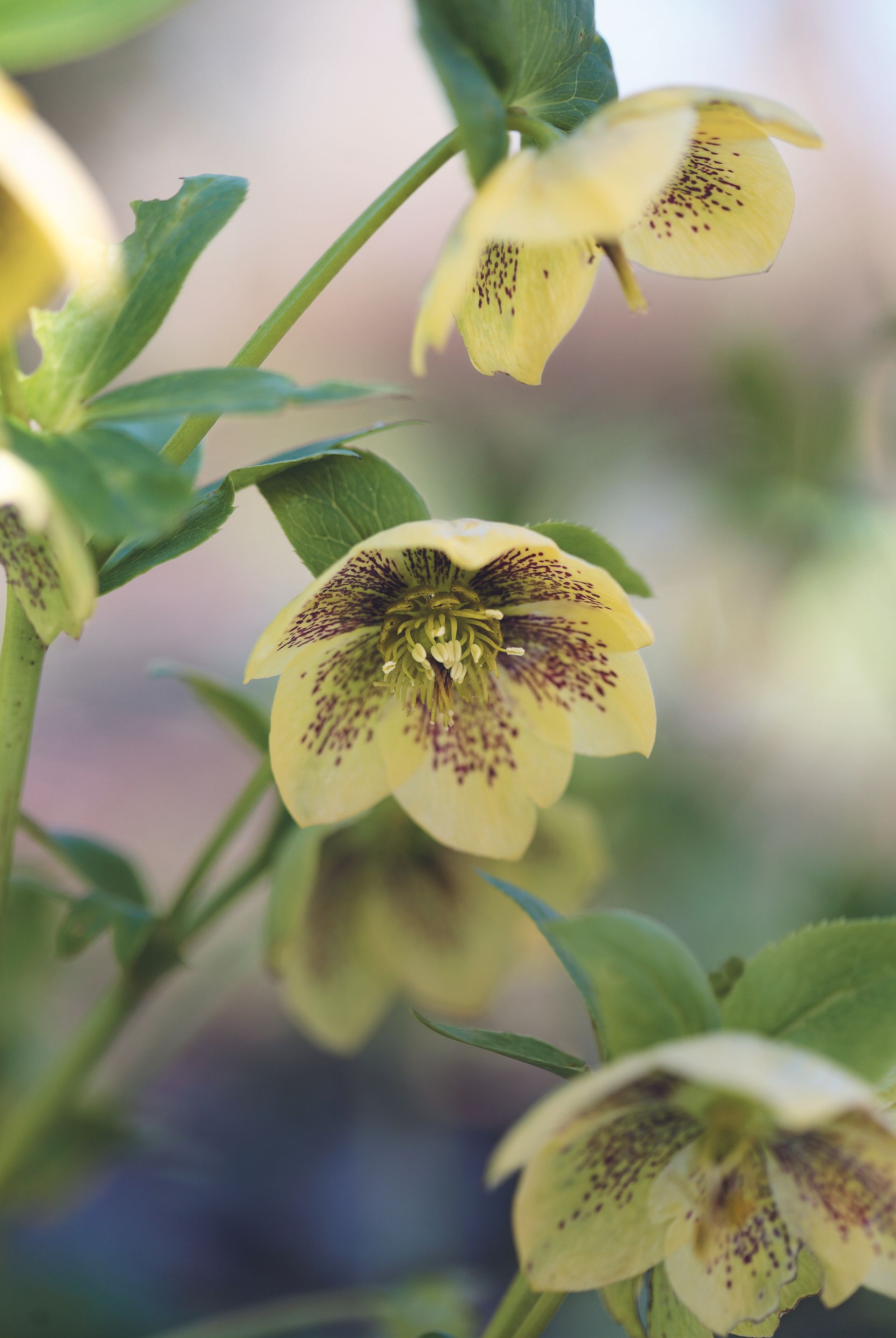 Good news – these early flowering beauties are not only the best winter plants for pots and borders, they also offer early spring color and interest, while most other plants are lying dormant. And, they keep rabbits away too.
Grow hellebores for flowering from January to May. Hellebores will tolerate most positions from part shade to full sun but once planted they dislike being moved.
Flower color varies from white, rose pink, green to deepest burgundy and many have markings such as delicate freckles, stripes, spots to fine contrast edging. There are also single and double blooms and different plants freely self-seed resulting in many unique and fascinating variations. Suitable for growing in USDA zones 3-9.
8. Mint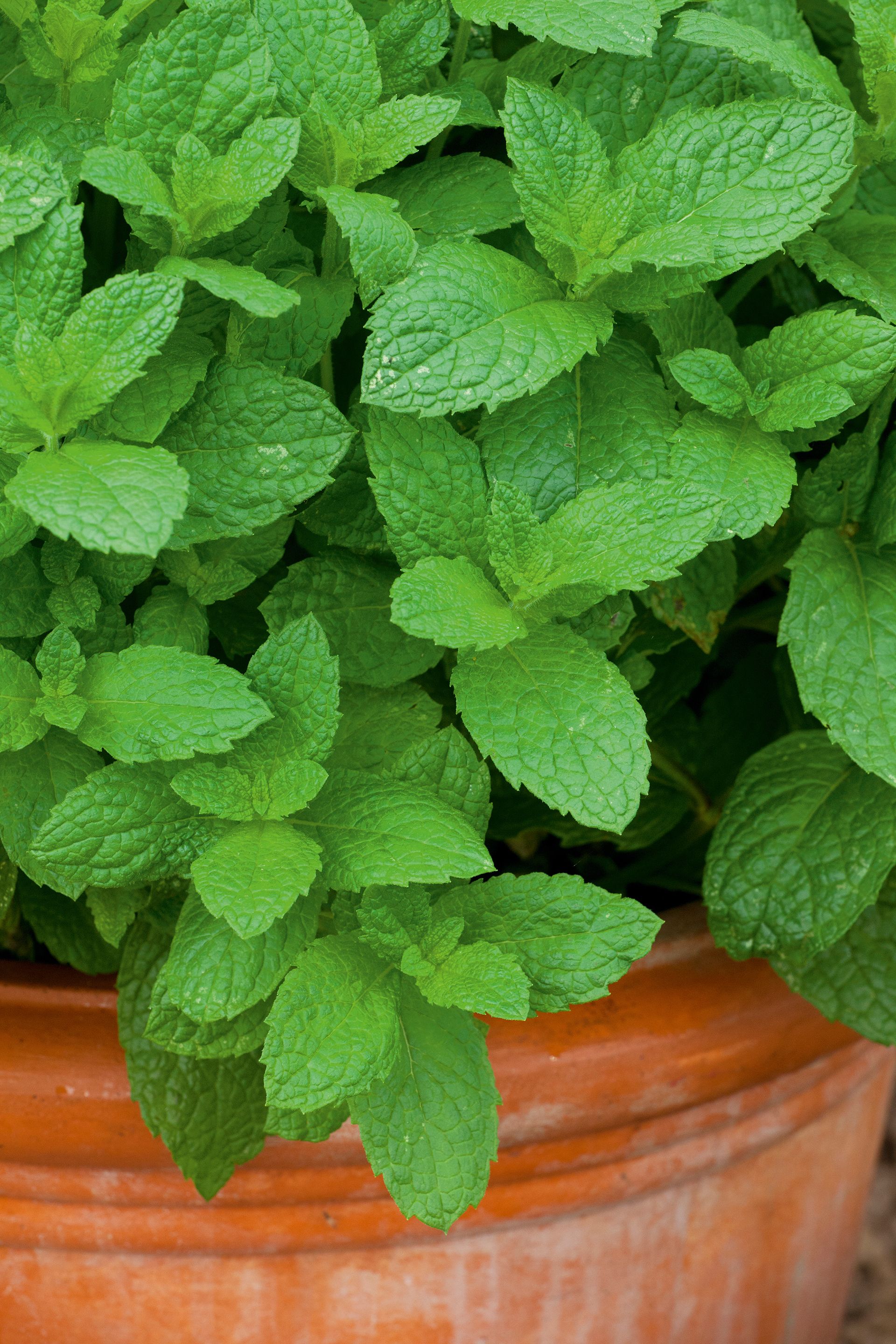 Adored by most but hated by rabbits, growing mint is hard to beat for sheer summer charm. Sun and part shade loving, there are many different varieties to grow, each with their own distinct flavor and fragrance.
Peppermint and spearmint are two of the strongest scented mints so are well worth growing to keep rabbits at bay. These herbs will shoot in spring, to reach around 3ft (1m) before dying back to ground level in fall.
For the best results cut stems back to 2 inches (5cm) after flowering and keep container grown plants well-watered. A word of warning from the team at Crocus: 'Initially upright, the stems become lax as they grow, and begin to root where they touch the ground, so in time large clumps will be formed. If you prefer to keep them under control, they are best planted in large pots or containers.'
9. Rosemary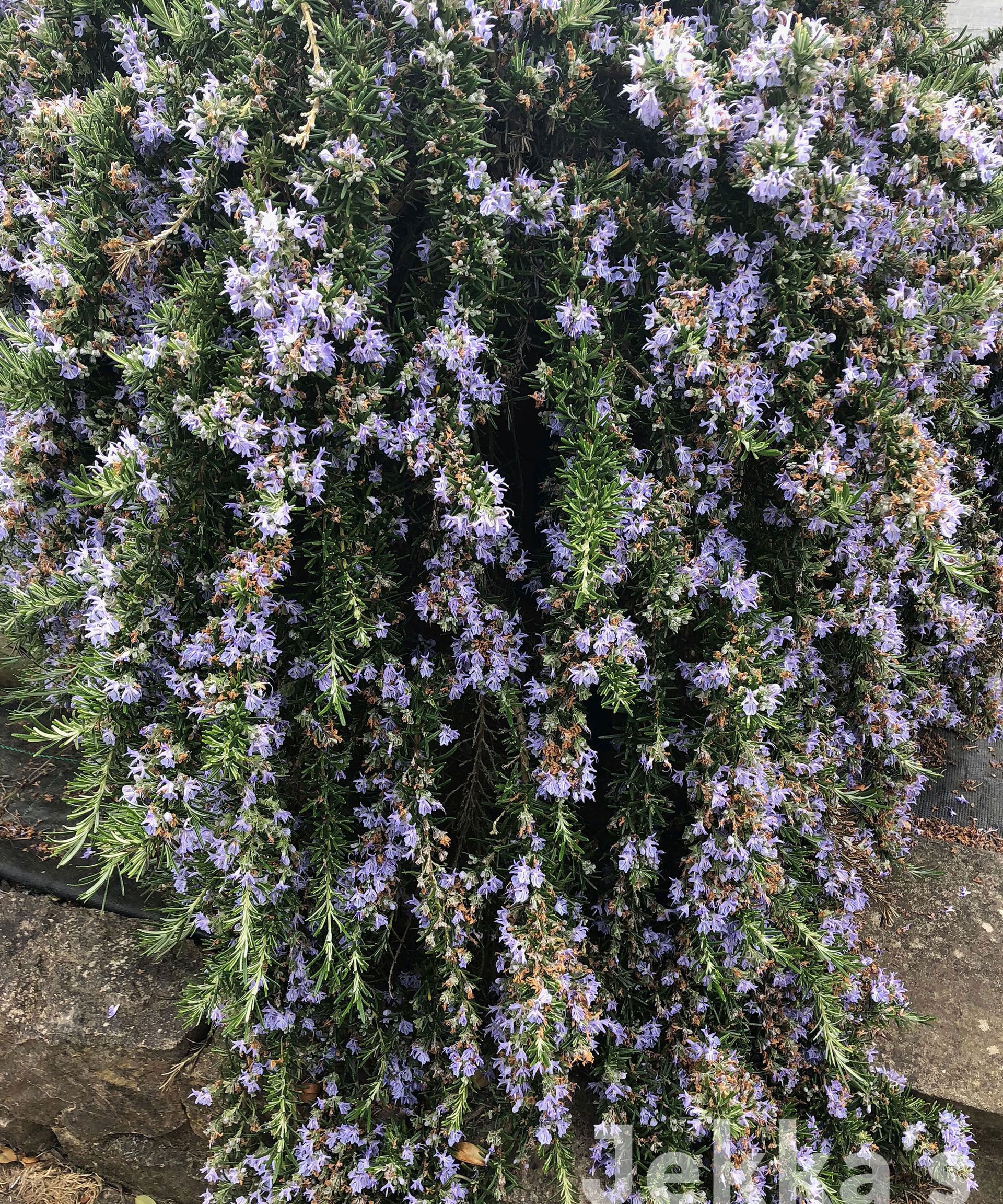 Despite hailing from warm, Mediterranean climes this distinctive culinary herb is pretty tough, and thanks to its delicious woody scent and slightly spiky habit is excellent at keeping rabbits away. Hardy down to Zone 6-20°F it will happily thrive in full sun and free draining soil. Covered in tiny purple flowers in early spring and summer, it looks stunning too and is a real nectar rich magnet for bees.
If you are growing rosemary, you will have to clip it back every spring to promote fresh new growth, as it's these that shoots are packed with the strongest concentration of oils, resulting in the most potent flavor and fragrance. Whilst mostly hardy it may lose some leaves during the winter, unless protected, but the plant should re shoot in spring. Avoid letting soil become waterlogged though as this is rosemary's No.1 pet hate.
10. Dahlias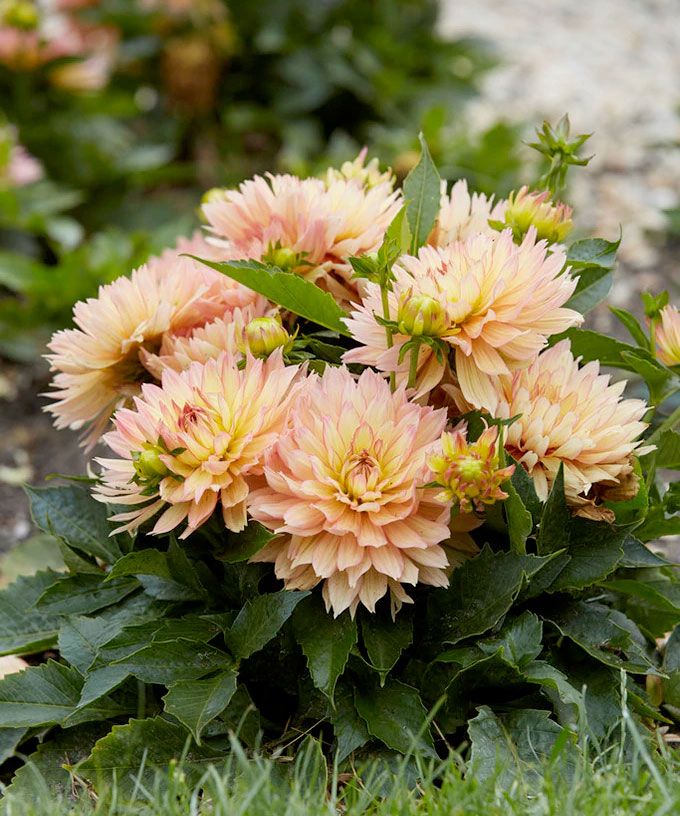 Whether it's their high sugar content or the woody texture of the stems, dahlias tend to be left well alone by rabbits, though they are great plants for pollinators.
Okay, when the juicy shoots first appear in spring one or two furry critters may be tempted to have a nibble, but largely these showy blooms don't appeal at all. All good news for anyone looking to fill their yards with vibrant color and dazzling flowers. In fact, these beauties are pretty popular right now.
'Dahlias have been enjoying a resurgence in popularity, with the rich jewel shades, pollinator-friendly singles and bold structural forms topping wishlists. Nothing can beat them for their abundance of summer flowers,' says Helen Derrin, In-House designer at Crocus.
Grow dahlias from tubers; these tender perennials will quickly mature into 4ft (1.2m) high plants – perfect for borders and large planters. Preferring a sunny spot in moist but well drained soil, these prolific flowerers will perform from mid-summer through to the first frosts. Best suited to HDSA zones 8-11. You can learn to overwinter dahlias for a fine show next year, too.
Which plants will rabbits not eat?
Besides strong smelling plants – including aromatic herbs and flowers – those sporting spines and prickles are also pretty useful for repelling these nuisance critters. Holly, Cotoneaster, Pyracantha, Acanthus, Echinops and Sea Holly all work well and look fantastic too.
Grasses such as Pampas, Miscanthus sinesis and flax can be effective too due to both their rustling habit and sharp-edged leaves.
Toxic bulbs and plants are also a good deterrent, as rabbits instinctively know to stay well clear, but it's worth acknowledging that the fresh shoots of most plants can sometimes prove irresistible to a curious bunny.
How to keep rabbits at bay?
Rabbits can cause utter devastation in your yard in a surprisingly short time, so it's well worth investigating how to keep them away from your plants and crops. Besides growing rabbit repellent plants that they can't stand – either due to their strong smell, toxicity or prickly habits – there are other critter friendly methods you can use.
Creating a physical barrier between them and your crops and precious plants is a good starting point. Happy to much their way through plastic mesh, it's best to go for a wire version with 1inches (2.5cm) holes. Make sure the fence is at least 30 inches (75cm) high plus an extra 6 inches (15cm) buried underground to prevent burrowing.
Biodegradable rabbit repellent sprays and pellets are also effective. Giving off a smell that rabbits can't stand but that is undetectable to humans, it is best sprinkled as a continuous barrier and remains effective for 6-8 weeks.
Sign up to the Homes & Gardens newsletter
Decor Ideas. Project Inspiration. Expert Advice. Delivered to your inbox.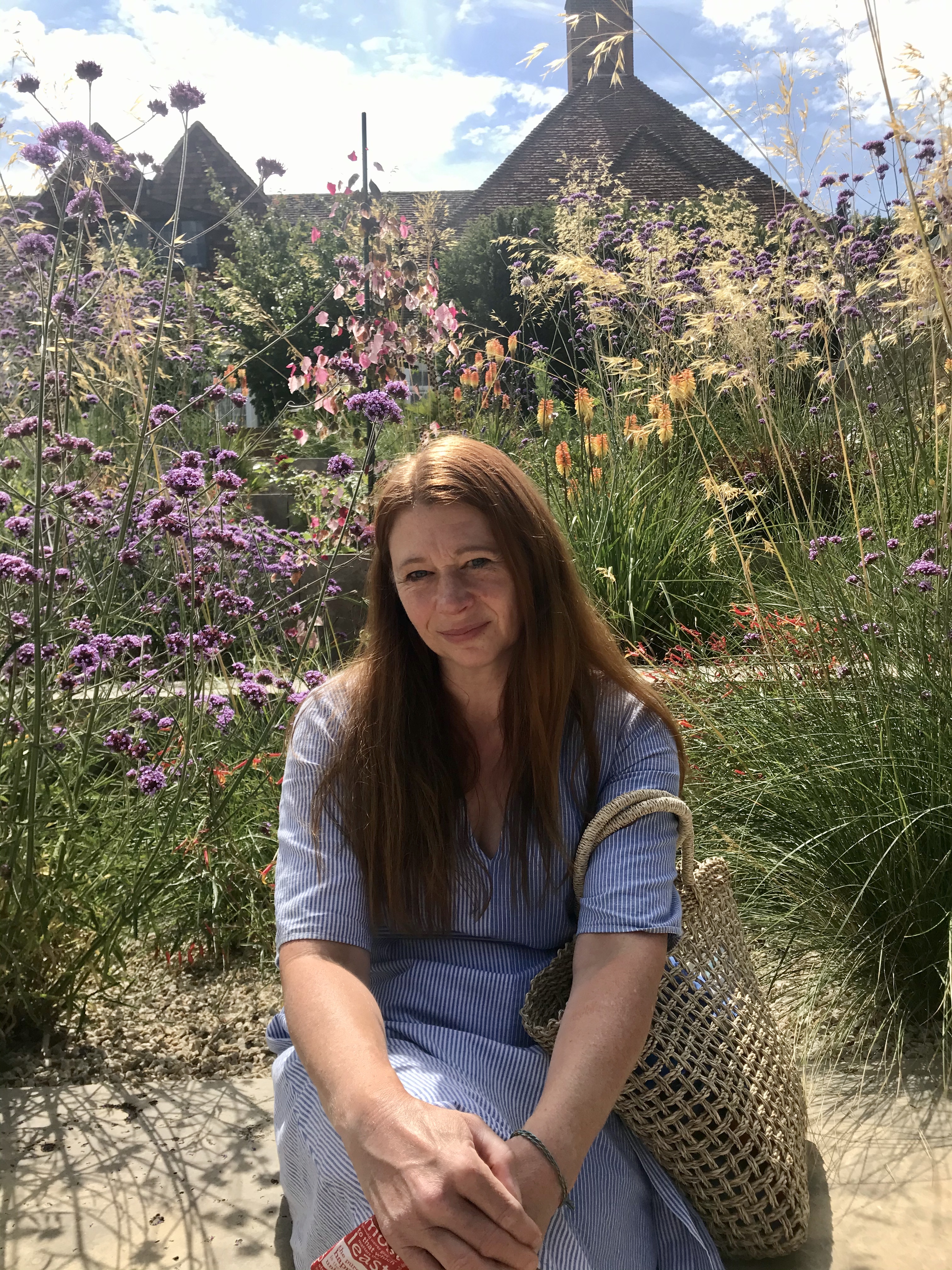 Jill Morgan has spent the last 20 years writing for Interior and Gardening magazines both in print and online. Titles she has been lucky enough to work on include House Beautiful, The English
Home, Ideal Home, Modern Gardens and Gardeningetc.com. Although much of her career has involved commissioning and writing about reader homes and home improvement projects, her
everlasting passion is for gardens and outdoor living, which is what she writes about for Homes & Gardens.