How to clean a fire pit – top tips for giving stone, metal and gas styles a spruce
Keep your fire pit looking as good as new with our expert advice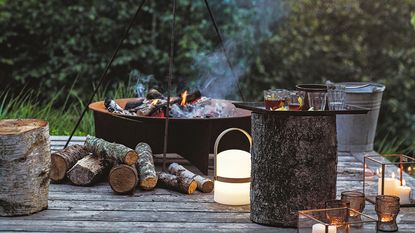 (Image credit: Future Publishing Ltd)
Learning how to clean a fire pit properly is key for keeping these outdoor living staples looking their best. Luckily, it's not too tricky to do once you know how.
In order to maintain their impressive impact, you'll need to give them a spruce now and again. There's a little more to the process than simply spraying it with the hose. In fact, we don't recommend this strategy.
Different types of fire pits require different cleaning methods, so as not to cause any damage. Make sure you know how to tackle yours before you start.
Step by step tips on how to clean a fire pit
We've put together all the tips and tricks on how to clean a fire pit, plus extra advice on how to make your chosen design last longer.
How do you clean a metal fire pit made from copper or steel?
A popular choice for backyard fire pits; 'Though metal, such as steel, is extremely durable and can handle flames and burning wood, it can also be prone to rusting,' explains Leah Nanaa, Head of Content at System Pavers.
So, keeping an eye on the state of your fire pit and giving it regular cleaning is key. Leah outlines her method below:
When your metal fire pit is completely cold, collect up any ashes with a small shovel. Store them in a metal bucket to be used on your flowerbeds, or compost later.
Simply douse your fire pit in hot soapy water. A mild soap works best.
Use a soft cloth to scrub the interior of the fire pit. Rinse thoroughly and wipe it dry with a towel.
Ensure it is completely dry, as rust is usually caused by water pooling up in your fire pit. To prevent this, keep your fire pit covered at all times when not in use.
Leah has spent the last three years working with the nation's leading outdoor remodeling company, System Pavers. Since 2020, she has delved deep into the world of outdoor living, becoming an expert in helping people create inviting outdoor spaces that transform the way they enjoy their own homes.
How do you clean a cast iron fire pit?
Cast iron is another durable choice for fire pit design. Though it tends to be slightly cheaper than steel designs, according to The Home Depot, it requires a bit more effort to clean.
Carefully empty the fire pit as per instructions above.
Grab a piece of steel wool (this pack of 12 steel scrubbers from Amazon will do nicely), and a bucket of warm water, and scrub down the surface of your cast iron fire pit, wearing protective gloves.
Rinse well, and dry immediately with a soft cloth – an old towel is perfect.
Avoid leaving cast iron fire pits out in the rain, as they will rust easily. A patio cover can be useful to provide temporary shelter.
How do you clean a stone fire pit?
Stone fire pits are often installed as more permanent patio ideas. Keeping this type of fire pit clean just takes a few steps:
Carefully empty your fire pit of ash as above.
Wearing protective gloves, scrub the inside of your stone fire pit with a stiff brush to remove any dry, caked-on debris.
Mix together 1-part muriatic acid to 9-parts water and then use this to scrub the interior. Keep your gloves on, and pop on some safety goggles. Ensure you're wearing protective clothing for this, as muriatic acid is incredibly caustic. You should also carry out the job in a well-ventilated area due to the fumes. Alternatively, use a few drops of dish soap mixed with warm water.
Rinse the fire pit thoroughly and dry well. If you've used muriatic acid, avoid rinsing it onto your plants or lawn.
Consider applying a stone sealant, try Thompson's water seal from Walmart, to prevent soot from sticking – this will make cleaning easier next time.
How do you clean a gas fire pit?
Of course, not all fire pits are wood-fuelled. Plenty of outdoor heating runs off gas. They require less maintenance but will still benefit from a spruce now and again. Although you'll need to take a slightly different approach:
Make sure your fire pit is switched off, with the propane tank disconnected, or the gas line shut off.
Carefully remove any leaves, stones, and other debris which may have fallen into the fire pit.
Do not hose down your gas-powered fire pit. Instead, use a soft, damp cloth to wipe down surfaces, ensuring you don't loosen any cables in the process.
Follow up with a dry cloth to remove any moisture.
For a fireproof backyard, it's also a good idea to regularly check your gas lines for cracks or leaks.
General tips for maintaining a fire pit
There are a few other things you can do to keep your fire pit in good condition.
Use dry wood from your log store for your fire pit rather than moist. This ensures a cleaner burn, which means less build-up of soot.
Avoid throwing plastic into the fire pit. Not only will it release toxic fumes as it burns, but it can also melt onto the surface of your fire pit which is difficult to clean off.
Deep clean your fire pit every six months or so, depending on how often you use it.
If you don't plan to use your fire pit over winter, move it into storage somewhere dry, such as a garden shed or garage.
Avoid pouring water over your fire pit to put it out – the sudden change in temperature can cause the structure to crack. Instead, allow it to burn out and cool down naturally.
It's good practice to remove leftover ash from your fire pit regularly. This is because it can absorb moisture, which can cause rust right in the center of your fire pit.
'A thin layer of ash can protect the bottom of your fire pit and help it last longer, but you need to clean your fire pit once you've built up a thick layer of ash,' says Leroy Hite, Founder and CEO of Cutting Edge Firewood.
Leroy Hite, Founder and CEO of Cutting Edge Firewood, started Cutting Edge in 2013 to disrupt the firewood industry. Leroy envisioned a company with ultra-premium firewood and unparalleled customer service. Starting with 3 species of firewood (oak, hickory and cherry), he then branched into cooking wood in 2017.
FAQs
How do you remove ash from a fire pit?
Always wait for it to cool down completely before removing ash from your fire pit. Avoid touching it with bare hands by wearing protective gloves.
Using a shovel or scoop, transfer the cold ashes over to an empty metal bucket with a lid. Sprinkling a small amount of cold water over the ashes, once they're in the bucket, will reduce the risk of fire further.
'Another great way to remove ash is to dig a hole and bury it,' says Leroy Hite, Founder and CEO of Cutting Edge Firewood. 'Ash includes lime and potassium and can be good for gardens that need an alkaline base. Winter is a good time to add ash into gardens, just be sure to avoid placing it near acid-loving plants such as roses and hydrangeas.'
How do you clean a rusty fire pit?
'Rust is primarily a concern on portable fire pits, as opposed to permanent ones made of stone or brick,' says Leroy Hite, Founder and CEO of Cutting Edge Firewood.
If your fire pit has started to rust, Leroy recommends using a paste of baking soda and water, and the rough side of a sponge to remove some rust.
'Another option is to use a piece of wadded up aluminum foil to scrape off bits of rust or a metal cleaner,' says Leroy. Such as Rust-oleum rust dissolver gel spray from Walmart.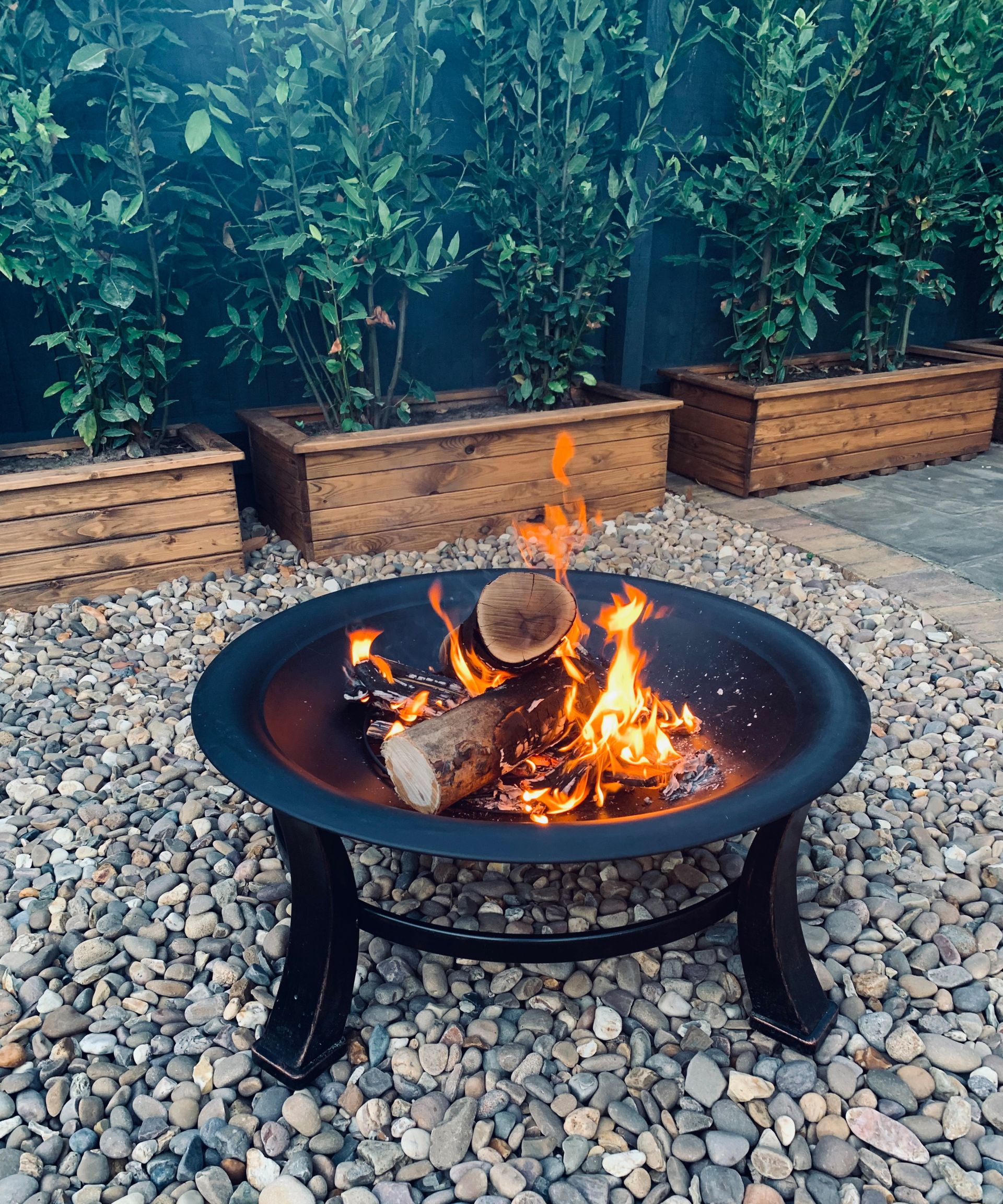 ---
The key to keeping a fire pit clean is to maintain it little and often. Avoid leaving a dirty fire pit sitting unused for months. Give it a good clean, and place it under cover when not in use.
This saves a great deal of effort later on, not to mention, it will keep your fire pit in good working order.
Sign up to the Homes & Gardens newsletter
Decor Ideas. Project Inspiration. Expert Advice. Delivered to your inbox.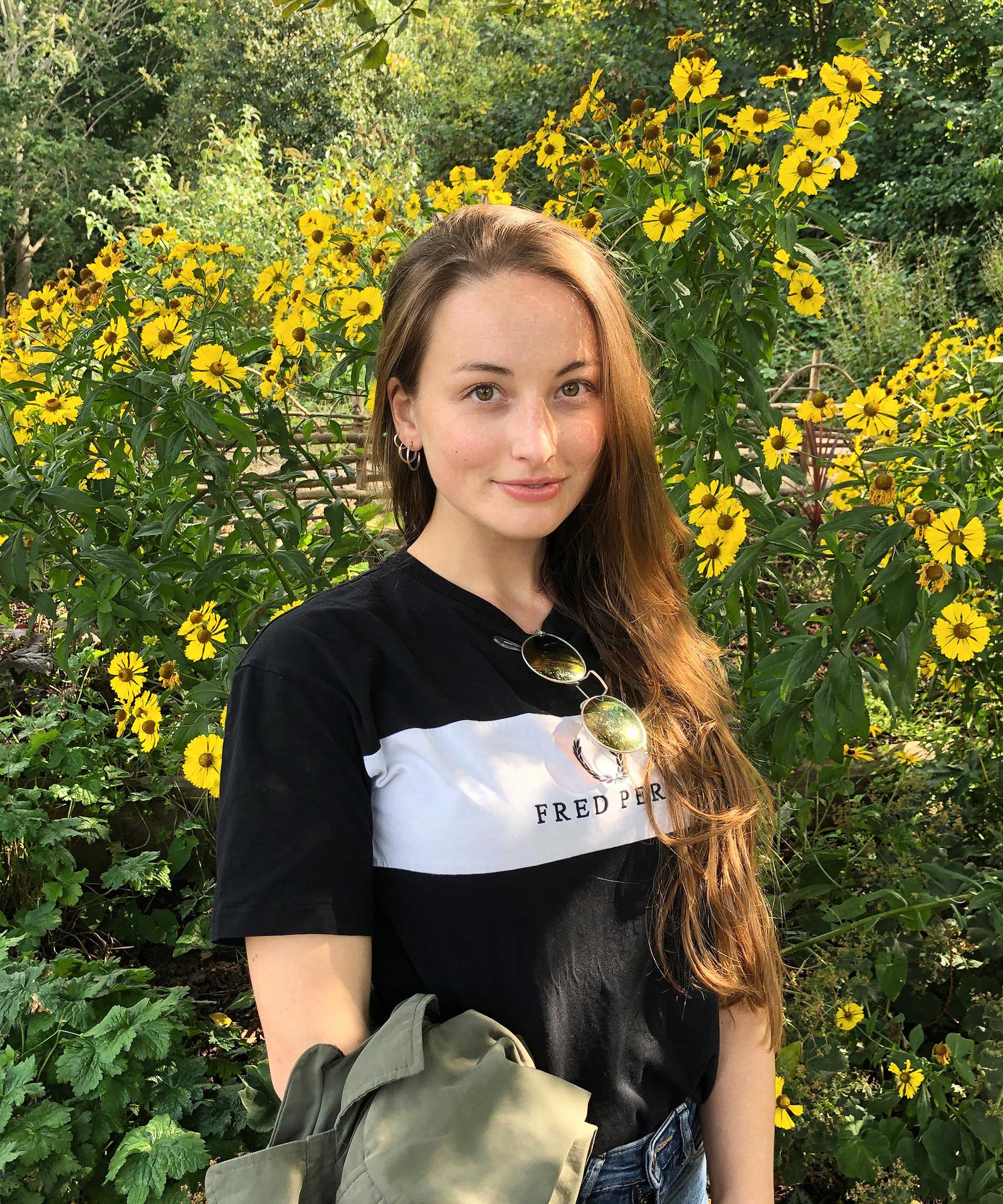 Freelance Gardening Writer
The garden was always a big part of Holly's life growing up, as was the surrounding New Forest where she lived. Her appreciation for the great outdoors has only grown since then; over the years, she's been an allotment keeper, a professional gardener, and a botanical illustrator. Having worked for Gardeningetc.com for two years, Holly now regularly writes about plants and outdoor living for Homes & Gardens.