Best fire pits {2023}: our 9 hot buys, plus expert buying advice
Sit out late into the summer evening with one of the best fire pits, including smokeless, wood-burning and grilling options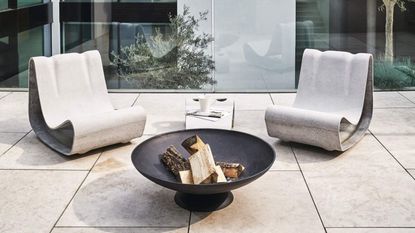 (Image credit: Amazon)
Sign up to the Homes & Gardens newsletter
Decor Ideas. Project Inspiration. Expert Advice. Delivered to your inbox.
Thank you for signing up to Homes & Gardens. You will receive a verification email shortly.
There was a problem. Please refresh the page and try again.
If your backyard is looking a little bland, adding one of the best fire pits is a great way of sprucing up your space. Not only will it enhance the look of your garden, but it'll also help you spend more time outside. You can sit around the fire pit late into the evening and enjoy the warm glow while toasting marshmallows and relaxing with friends and family.
Lots of fire pits are also portable and come with table tops you can swap out for grill trays – perfect for when you're planning a camping trip. Beyond keeping warm and cooking food, the best fire pits have design features for an improved experience. Smokless fire pits are becoming the most popular with decreased mess and longer flame time.
Shopping for a fire pit is a little less entertaining. There are important practicalities like size, fuel type, and safety to think about. And just like the best outdoor furniture, they can get quite expensive.
To help you find the focal point of your outside space, I've curated a selection of the best fire pits on the market. Using expert shopping advice and rigorous research into design features, customer reviews, and ratings, these are the top nine fire pits you'll find online. Including smokeless, wood-burning, and table-top options, there are fire pits fit for every need and budget.
Best fire pits 2023
You can trust Homes & Gardens. Our expert reviewers spend hours testing and comparing the latest products, helping you choose the best for you. Find out more about how we test.
I've split the best fire pits into the different types: smokeless, wood-burning, and table-top. This way you can shop by category and find the best fire pit for your needs. They're all best-sellers from established outdoor brands that have great reviews.
Best smokeless fire pits
Smokeless fire pits are the most popular type of fire pit on the market at the moment. Safer, cleaner, and more portable, they're generally much easier to manage than traditional fire pit designs. Constructed of steel, usually, they're double-walled and have airholes for airflow. This allows for less smoke when burning. They generally have a flat base, rather than feet and will sit a few inches off the ground.
Best smokeless fire pit
Solo Stove Fire Pit Bonfire
Size: H49.5 x W35.6 cm
Material: Stainless steel
Fuel: Wood
+ Lightweight and portable
+ Great for taking away
- Expensive
- Not the most stylish
This fire pit is unlike any other - because it will give off no smoke and leave very little ash residue behind, meaning you can relax smelling smoke-free and without the worry of cleaning up afterward. How? Bottom vent holes feed the fire from below, creating a burst of hot air without the smoke.
Best easy to use fire pit
TIKI Brand Smokeless Patio Fire Pit
Size: H18.75 x W24.75 inches
Material: Stainless steel
Fuel: Wood
+ Reasonable price
+ Stylish modern design
+ Easy to use
- No accessories included
This smokeless pit is Amazon's choice with nearly two thousand great reviews. Found to have great heating performance, customers loved the pallet starting bag rather than using wood for a more controlled flame. The bag states a 30 min fire time which is said to be true, and with no need to prod or keep the flames tame, it's rated as one of the easiest-to-use fire pits.
Best propane fire pit
Cuisinart COH-800 Cleanburn Smokeless Fire Pit
Size: H18.75 x W24.75 inches
Material: Stainless steel
Fuel: Gas
+ 0 set-up required
+ Concase shape provides good heating performance
+ Accessible tray
- Not weather resistant (don't keep outside)
Cuisinart is known for its great kitchen appliances, from the best air fryers to pizza ovens, and its smokeless fire pit doesn't disappoint either. Customers can't stop talking about its easy-to-use design that requires no set-up whatsoever, simply place it in the right location, ignite and you're ready to get the fire going. Given its name, the cleanup process is just as easy with its removable ashtray.
Best traditional fire pits
Also known as wood-burning fire pits, traditional fire pits have a simple, fuss-free design that typically consists of a large cast iron or metal bowl with fit and a fire pick. They'll be coated in heat and weather-resistant paint and are known for lasting a lot longer than more advanced smokeless pits.
Best traditional fire pit
Hampton Bay Piedmont 30 in. Steel Fire Pit in Black with Poker
Size: H22" x W22" x D20"
Material: Alloy steel
Fuel: Wood
+ Removable grill insert
+ Affordable
+ Mesh lid and poker included
- The bowl can't be removed from the stand
There's lots to love with this Hampton Bay steel fire pit – it's an Amazon best-seller. It comes with a mesh grate and poker to keep the flames safe yet flying high. You can toast marshmallows or simply use it as a fuss-free fire pit to keep you warm after dark. It's deep enough to pack full of firewood for a flame that stays lit all night.
Best large fire pit
Real Flame Anson Fire Bowl in Gray by Real Flame
Size: H20.5" x W31.75" x D35.50"
Material: Heat-resistant steel
Fuel: Wood
+ Large size
+ Mid-range price
+ Spark screen and poker included
- Hard to maneuver
If you have a large garden or are planning a gathering with family and friends this large fire pit is perfect. It features a large shallow steel bowl with a sleek minimalist design. Reviewers comment on the easy set-up and fuss-free maintenance. Though this isn't recommended as a portable fire pit as it's pretty heavy and hard to move about. Once you've found its place in the garden, keep it there.
Best budget fire pit
Size: H25.2" x W32"
Material: Iron
Fuel: Wood
+ Affordable price
+ Easy to use
+ Spark screen and poker included
- Small basin size
If you're on a budget, it can be hard to find a good fire pit for less than $200. But this Yaheetech fire pit from Amazon is under $100 and is made from durable iron for a design that's made to last. It might not have any fancy features but if you're wanting to simply set a small fire, (there's not a lot of room for wood) sit back, and relax, then it's ideal.
Best fire pits for cooking
If you're wanting a fire pit that does a little more than just keep you warm, there are table-top and grill-top fire pits that offer you a place to put your drink and dine. Bear in mind that these grill designs are typically more expensive than traditional or smokeless pits as they allow for a more elevated experience.
Best fire pit for cooking
LEMY 32 inch Outdoor multifunctional Fire Pit
Size: H25.2" x W32"
Material: Alloy Steel
Fuel: Wood
+ Large size for gatherings
+ Multifunctional, grilling, heating, cooling drinks
+ Super cheap
- Not the most stylish
Despite its super low price tag, this multifunctional fire pit has an amazing 3000 great reviews on Amazon. With the ability to turn into a cooling station for drinks, a grilling station for hot dogs, burgers, and other bbq food, and an easy-to-use fire pit, this is the perfect hosting station for when friends come to visit. It even comes with a handy rain cover for when it's not in use.
Best value fire pit
BALI OUTDOORS Wood Burning Fire Pit
Size: H25 x W32 inches
Material: Alloy steel
Fuel: Wood
+ Medium size
+ Durable design
+ Optional grilling pan
- Assembly takes time
The Bali outdoor fire pit is the best traditional pit for its mid-size and mid-range price. It holds plenty of wood and has great heat performance, enough that with the optional 18-inch grill pan you can grill hot dogs and melt smores. It's noted by reviewers as really durable and study, with solid construction and a simple steel design. That being said, it does have a lot of peices to get it initially assembled.
Best portable fire pit
Size: H13 x W27 x D15.8 inches
Material: Stainless steel
Fuel: Wood
+ Lightweight and portable
+ Slim for patio use
+ Includes grill pan
- Not that stylish
The Biolite fire pit is made with portability in mind. Light and slim, it's easy to carry and is suitable for most households and outdoor spaces. In particular, reviewers note how good the shape is for their patio. It's great for cooking with an added grill pan and built-in fan that improves heating performance – all without the smoke.
Where to buy a fire pit
There are plenty of places where you can buy a fire pit, from online retailers such as Amazon and Wayfair to home stores such as Walmart and The Home Depot (all these links will take you to the stores' fire pits shopping page).
Arguably the best place to buy a fire pit is Amazon, given their great selection and easy delivery. There are cheap to more luxurious fire pit types to choose from with everything from simple designs to fire pits with more advanced features. Most of the options on this list are from Amazon.
How I chose these fire pits
While I'd have loved to have spent my workday testing fire pits and enjoying my time beneath the stars, this best fire pit guide has instead been curated using my shopping experience and research skills.
We've tested plenty of outdoor products like the best grills and deep-dived into the best hot tubs you can buy, so we know what we're looking for. When choosing these fire pits, I looked into reviews and only selected those with top ratings. I've taken into account product specifications, including assembly, performance, design, and any additional accessories it comes with. Price was also an important consideration as fire pits can vary from $50 all the way into the thousands, depending on size, type, and style.
What to look for when buying a fire pit
The best fire pit for you will depend on your yard and your needs. If you have a small patio space you may need a fire pit with a slim design, or if you love to host and find your friends gathering in your garden often, then a large fire pit may be the best fit. As a general guideline, you should consider size, style, and features when it comes to choosing the best fire pit for you, and how much you're willing to spend. Liisa Matinvesi-Bassett, manager at PriceSpy, the price and product comparison service, explains 'Fire pits come in all different shapes and sizes these days - all with differing price points.' She suggests thinking about the following to help you decide which fire pit to go for:
Style or substance?
'Some brands are better known for their distinctive designs, whereas others have thought more about functionality. Are you looking for a fire pit to fit your aesthetic or one that has the best heating performance?
Additional accessories
Some regulations in the US require you to have a lid for your fire pit if lighting it outside of your home. If you have children or pets, a lid is also a great way to ensure the safest fire possible. 'Lids can be useful for sheltering the fire from wind and are a quick way of extinguishing the fire once the evening ends.' adds Liisa.
Do you want to be able to cook too?
Some fire pits double up as grills so you can cook food above the flames.
Liisa is the country manager for a fully impartial price and product comparison service, PriceSpy. She's passionate about guiding shoppers to the best purchase decision and is regularly quoted in media around the world with her expert insights and education around smart shopping.
FAQs
What is the best type of fire pit for warmth?
While gas and propane fire pits are proving to be the most popular choice, thanks to their smokeless design, wood burning fire pits are usually the best for warmth. The type of wood you choose can alter the heat. Choosing dense woods like hickory and oak, for example, are known for producing bigger flames and higher thermal temperatures.
What style of fire pit is the safest?
Safety should always be a first priority when it comes to fire pit design. The safest style fire pits are gas or propane pits. With a smaller flame, they're less likely to grow and can be controlled easily. Wood fire pits by comparison can grow out of control quickly, and if any accidental debris or flammable materials get caught in the flame, a fire could become dangerous.
Fire pits with legs are also safer than ones without. You should never place a fire pit directly on grass or wood surfaces, instead, it should be raised or situated on fire-resistant surfaces like metal, brick, gravel or sand. Buying a fire pit with feet is an easy way of avoiding any safety issues with where you can place it.
---
Having a fire pit is by no means necessary. But they are the perfect focal point for your outdoor space, creating an area to gather around with friends and family. There are lots of backyard fire pit ideas on where to position your pit and the furniture you want around it for the best garden design.
Sign up to the Homes & Gardens newsletter
Decor Ideas. Project Inspiration. Expert Advice. Delivered to your inbox.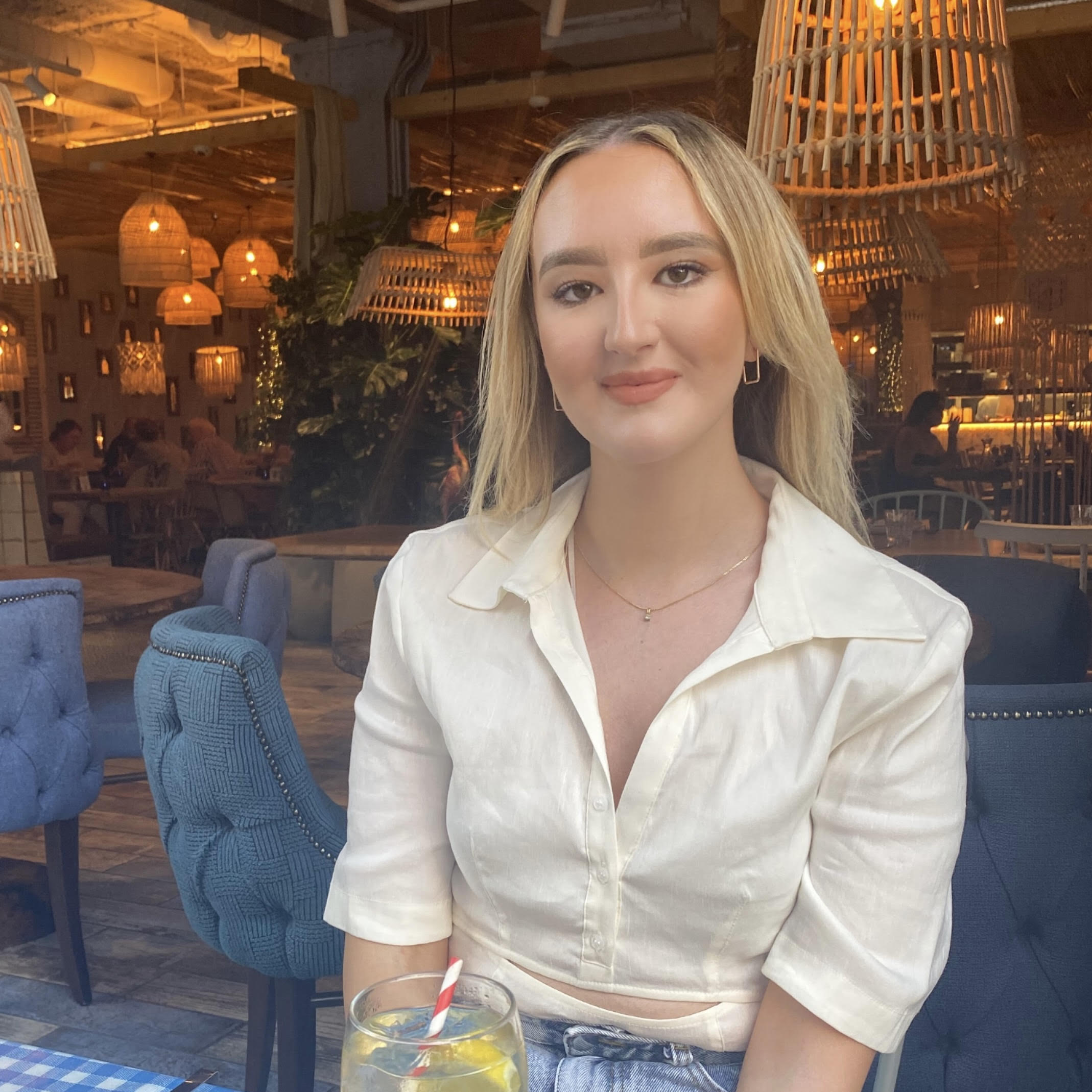 Louise is your eCommerce Editor and sleep specialist to help you wind down well. A connoisseur of the mattress world, Louise previously covered sleep and wellness (as well as the occasional organizational buy) at Real Homes, and has tried, tested, and reviewed some of the buys for your bedroom. With an MA in International Journalism and PR experience, Louise brings bags of bedding expertise and enjoys nothing more than helping readers find solutions and products that best suit their sleep needs.