How to grow a banana tree – even in colder climates
Learn how to grow a banana tree for a burst of tropical character whether inside or outside your home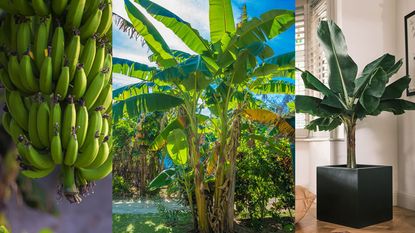 (Image credit: Getty Images/Sproutl)
Knowing how to grow a banana tree will bring heaps of character to your plot. A stalwart of the tropical garden, the banana tree is loved for its broad leaves and impressive stature. However, you might be tricked into thinking that this plant is only available to those in the hottest regions of the country. In fact, even if you live in colder parts, you can still learn how to grow a banana tree outdoors. You can also learn how to grow a banana tree indoors as it makes for a fabulous house plant, too.
Whether you want to know how to grow a banana tree to add to your garden ideas or whether you are looking for a new addition to your houseplant collection, then this guide is sure to help you on your way.
How to grow a banana tree – right plant, right place
There are over 1,000 varieties of banana tree, however, the varieties most popularly chosen for tropical garden ideas are the Cavendish Banana and the Musa Basjoo.
The Cavendish banana is a popular variety to grow outside, while its relative the Dwarf Cavendish is a favorite houseplant variety.
If you live in growing zones 10a, 10b or 11 then you will be able to learn how to grow a banana tree outdoors and be able to harvest its fruit. If grown in a greenhouse, your banana tree might fruit in slightly lower growing zones too. Regardless, in order to get fruit the temperature must be above 60ºF (15°C) for most of the year.
If grown in prime conditions the Cavendish banana will reach an ultimate height of around 16 feet tall with leaves of around 6 feet long. Therefore it is advised to only plant this variety in a garden with plenty of space – don't plant near to your house or your neighbors property or too close to your property lines to prevent any conflict or difficulties further down the line. However, a positive of the banana being such a large tree is that it is a great addition to shade garden ideas, offering lots of privacy and sun-protection.
You can of course still learn how to grow a banana tree even if you live in colder climates. If you live in zones 5 to 9, then be sure to purchase the Musa Basjoo varieity. Also known as the cold hardy banana, this banana tree can survive as low as 6°F. Though the foliage will die back after a frost, the rhizome beneath the soil will continue to survive and then will quickly produce new growth in spring and return to its previous height.
Slightly smaller than the Cavendish banana, Musa basjoo will reach 9 to 14 feet tall, making it a little more compact. If grown in a pot, this will restrict its growth to ensure a more manageable plant that will look great as part of your patio ideas.
How to grow a banana tree
The best way to grow a banana tree is to buy an established tree. Growing a banana tree from rhizome is very time consuming; it can take nearly 18 months to germinate and will be quite slow growing. On the other hand an established tree will grow exceptionally quickly, in fact it is one of the best fast growing trees.
Find a good spot – banana trees do best in full sun with minimal wind. They need also lots of space to grow.
Dig a hole – double the size of the pot that the tree is in.
Plant – place your trees root ball in the hole and infill with rich compost.
Water daily – 'Bananas need watering copiously as they lose water through their massive leaves. Water in the evening, poured around the roots not over the leaves and check your containers at least once a day and water even if it has rained,' advises experts from Hartley Botanic.
Feed monthly – bananas thrive on nutrient rich compost and will heavily benefit from a monthly feeding with 10-10-10 (NKP) plant feed. They will also benefit from feeding with epsom salts – simply sprinkle a teaspoon on the compost at the base of the plant.
How do you take care of a banana tree in the winter?
If your banana tree is potted, then bring it indoors or into a heated greenhouse during the winter months – bring it inside a few weeks before the first frost is predicted.
If your tree is planted in the ground, then you have a few options. If you live in a cold part of the country and your banana tree is not the hardy variety it is well worth lifting it and putting it in a pot. You can cut it back to around 30 inches, leave for a fortnight and then lift into a pot filled with leaf mulch. Then store in a dark, frost free location to protect it from the inclement weather until late spring. Then replant once the last frost has passed.
If the weather where you live is a little milder and/or your banana tree is a hardy variety then cut back to around 30 inches and cover well with mulch and fleece to keep it well insulated. This should keep the rhizome protected so the tree can resprout the following spring.
Can I grow a banana tree indoors?
Yes, you can grow a banana tree indoors, in fact for many homeowners this is the best way for them to grow a banana tree. If hoping to learn how to grow a banana tree as a houseplant look for a smaller variety designed for indoor use such as Dwarf Cavendish or Tropicana.
'A perfect houseplant for those warm summer months, Banana plants can pair wonderfully with both Birds of Paradise plants to transform your conservatory ideas into a tropical dream,' says Anni-Noel Johnson, co-founder and CEO of Sproutl.
'A great pet friendly choice, they also love lots of sun so they can be placed at any level, but really love a good south facing side or window. They do well in humid environments, so make sure they are regularly watered and misted to keep them at their best.'
Can I grow a banana tree from a banana?
No, you cannot grow a banana tree from a commercial banana as they don't have viable seeds. This differs from the process for how to grow mangoes from seed or how to grow lemon from seed as these can be grown from commercially available fruit. Instead, your best option is to purchase an established tree that you can plant into your garden or pot up for your home.
Are banana trees vulnerable to pests?
'No, banana trees are not very vulnerable to pests, but there are a few that can cause problems. The banana aphid is the most common pest, and can be controlled with insecticidal soaps or homemade bug sprays. There are also several species of spider mite that can affect banana trees, but they can be controlled with miticides,' explains Lindsey Hyland, founder of UrbanOrganic Yield.
Sign up to the Homes & Gardens newsletter
Decor Ideas. Project Inspiration. Expert Advice. Delivered to your inbox.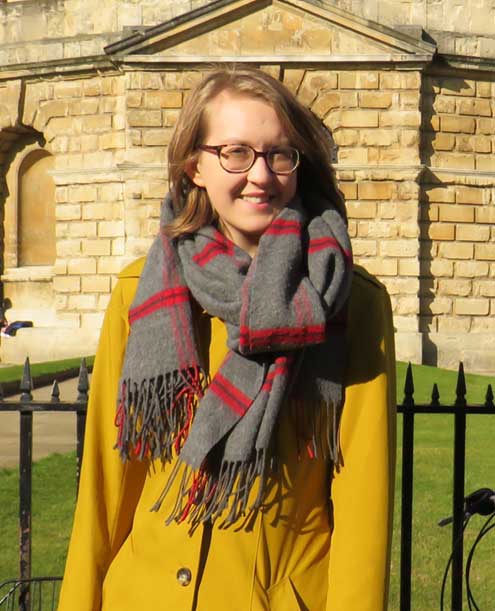 Content Editor and Sub-editor
Having graduated with a first class degree in English Literature, Holly started her career as a features writer and sub-editor at Period Living magazine, Homes & Gardens' sister title. Working on Period Living brought with it insight into the complexities of owning and caring for period homes, from interior decorating through to choosing the right windows and the challenges of extending. This has led to a passion for traditional interiors, particularly the country-look. Writing for the Homes & Gardens website as a content editor, alongside regular features for Period Living and Country Homes & Interiors magazines, has enabled her to broaden her writing to incorporate her interests in gardening, wildlife and nature.