How to grow lettuce in pots – expert tips for quick and easy tasty leaves in containers
You can potentially enjoy a year-round supply of salad leaves by discovering the advantages of growing lettuces in pots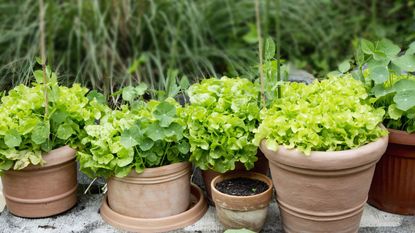 (Image credit: Getty/Westend61)
Growing lettuce is quick and easy and the crop is ideally suited to growing in pots. Utilizing containers to grow delicious leaves offers many benefits, including protection against pests and the ability to move the pots around the yard.
If you are wanting to learn how to grow lettuce in pots, the positive news is that it is simple and there is a wealth of lettuce varieties to choose from. Almost all lettuce can be grown in pots, and you can either buy young plants or sow the seeds directly into the container.
Growing lettuce in pots allows you to crop a range of homegrown leaves of many colors and flavors, potentially year-round. With spring, summer and fall varieties out there, it is possible to quickly become self-sufficient in these salad staples.
Benefits of growing lettuce in pots
Growing lettuce in pots comes with many advantages to the home grower. The first is that using containers opens up the opportunity to grow lettuce even if you are short of space. As lettuce can be grown in small pots or even window boxes, it means that even if you have only window ledges or a balcony garden you can still enjoy homegrown lettuce - you can even grow lettuce indoors in pots.
Using pots also offers the opportunity to start growing lettuce earlier by starting them indoors. Pots can be brought inside to allow for sowing lettuce seeds earlier in the year, thus extending the growing season. Simply sow the seeds indoors and then move the pot outside once the risk of frost has passed for your area.
The portability of pots also means that you can protect lettuce plants from the weather. If there is a forecasted cold snap, then the pots can be moved to protect plants from frost. The same can be done if the lettuce needs to be protected from scorching sun, that would either cause the plants to wilt or bolt, by being moved to a shadier spot.
Growing lettuce in pots also makes it easier to protect the plants from pests, including slugs and snails. It is simpler to cover your container garden than rows of lettuces planted in the ground, while pots or containers can even be raised or hung up to keep the leaves out of the reach of nibbling pests.
How to grow lettuce in pots
Lettuce ranks among one of the most popular and easiest vegetables to grow and it is an ideal vegetable to grow in pots. There are two options available to anyone wanting to grow lettuce in pots.
Young plants are readily available to purchase from stores, garden centers or online in the spring and summer. You can plant lettuce transplants straight into the pot of your choice and you can be harvesting within weeks as lettuce is a fast-growing vegetable.
The alternative is to sow lettuce seeds directly from spring onwards. Packets of lettuce seeds are available throughout the year in a wide range of varieties – all of which are capable of successfully growing in pots.
Seeds of butterhead, crisphead, and cos varieties should be sown three or four to a small pot and then thinned out, while loose-leaf and cut-and-come-again types can have their seeds sprinkled over the surface. All seed packets will have the recommended spacings for each variety, though lettuces grown in pots can be planted a little denser than those out in the ground.
Lucy Chamberlain, vegetable growing expert for Homes & Gardens, recommends sowing different varieties of lettuces in pots in succession to get a year-round-supply. However, she warns of sowing in the height of summer, saying: 'Bear in mind that while lettuce seeds can germinate at low temperatures (46˚F) they can enter dormancy over 81˚F'.
Lucy was a Horticultural Advisor at RHS Wisley and has been Head Gardener on a 100-acre estate in England for many years, but writes regularly for titles such as The Garden, Gardeners' World, The Guardian and Amateur Gardening. She's also the author of RHS Step by Step Veg Patch, available from Amazon, which covers 50 types of fruit and veg.
How to care for lettuce in pots
Place the pot in a sunny or partially shaded area. Find a spot with six hours of direct sunlight a day, although lettuce can grow happily in a shaded spot with closer to three or four hours of sun a day.
Getting the watering regime right is key for growing lettuce in pots, as well as actively monitoring to move pots to a shadier spot in the middle of summer, so regularly check for when to water plants. Lettuce likes to be well watered at all times, so don't let the soil dry out too much – especially in periods of hot weather. A lack of water, or too much heat, will cause the plants to bolt, where it tries to go to seed and puts out a flowering stem. This causes the leaves to go bitter. So keep the soil moist, but not waterlogged, as lettuces sitting in too much water will cause the plant to rot.
The soil in the pot will contain the nutrients the lettuces need for the first month. After that, it is recommended to fertilize lettuces in pots with a feed that is high in nitrogen. Nitrogen is one of the three key nutrients for plant growth, along with phosphorus and potassium, and that trio are referred to as NPK on plant fertilizer labels. The ideal feed for lettuces in pots will be one that is rich in nitrogen as that is the nutrient that encourages leaf growth. One example of a fertilizer high in nitrogen is blood meal, such as Jobe's Organics Blood Meal Soil Amendment available at Walmart.
Watering and feeding are vital, as well as removing any weeds that might start to grow in the pot and checking plants to remove slugs or snails. There are natural slug control methods that can be used when growing in pots, such as standing containers in water or putting copper tape around the pot – you can get Copper Foil Tape on Amazon.
Choosing the right size of pot
Lettuces do not need a large pot and, because the plant has a shallow root system, it means a deep pot is not necessary to grow the crop in. Also, as they are a short-lived crop that also reduces the need for deep pots of soil. Therefore, lettuces are ideal for wide and shallow containers with a depth of at least six inches. Pots can be around 6-12 inches in diameter and a six inch pot can house two lettuces, while three or four lettuces can grow happily in a 12 inch pot.
There is a wealth of outdoor planters available for growing lettuces in a vegetable container garden. Pots can either be round, square, or rectangular in shape, and lettuces can even grow in hanging baskets providing they are deep enough.
Any materials are suitable for growing lettuce in, including plastic, terracotta, metal, or clay. The choice of pot can impact the amount of watering that will be required throughout the season, for example soil in terracotta pots dries out quicker than in plastic or glazed clay containers.
Best lettuce variety to grow in pots
There are hundreds of different lettuce varieties to choose from and almost all types can be grown in pots. Some types are grown to full maturity and, when you harvest lettuce, you cut the entire heads off. While there are loose-leaf varieties that are best for leaves to be picked off a few at a time and cut-and-come-again types that can be harvested multiple times.
Loose-leaf and cut-and-come-again varieties are best for growing in pots, but Graham Rice, gardens expert for Homes & Gardens, recommends cos lettuce as a dramatic and interesting alternative for growing in pots. He claims their benefits include lasting longer without running to seed, which is beneficial 'especially in hot, dry weather or when you're unable to water'.
Graham adds: 'Growing cos as a patio plant may seem an odd idea, but choose ones with red leaves and you have, in effect, edible and attractive foliage plants.'
Graham has a wealth of knowledge in all things horticulture. He trained at the prestigious Royal Botanic Gardens in Kew, England, and since then has written more than 20 books on plants and gardening. He gardened in Pennsylvania for 20 years, but has recently returned to his native England.
FAQs
What soil is best for growing lettuce in pots?
Fill pots with fertile and well-draining soil. Choose a soil mix that has plenty of organic matter, with potting soil or multipurpose compost readily available from stores or online and both perfectly suited for growing lettuce in pots. You can easily find a range of potting soil from Amazon or from stores or garden centers. Consider adding an extra handful of well-rotted manure or homemade compost to the growing medium for an additional boost of nutrients.
Avoid using soil from elsewhere in the yard as using garden soil in pots can harm plant health as it is too dense for pots, can potentially contain harmful bacteria, or be depleted of much-needed nutrients. Also refrain from attempting to reuse potting soil as it will have been exhausted of all nutrients the previous year.
---
Lettuces are a kitchen garden staple and most growers that grow vegetables will currently grow lettuce. However, utilizing pots can extend the scenarios in which people can grow lettuce at home. This opens up the chance to discover simply how superior homegrown leaves are to the ones you can buy from stores. Lettuce is quick, easy, and perfect for growing in pots in even the smallest of spaces.
Sign up to the Homes & Gardens newsletter
Decor Ideas. Project Inspiration. Expert Advice. Delivered to your inbox.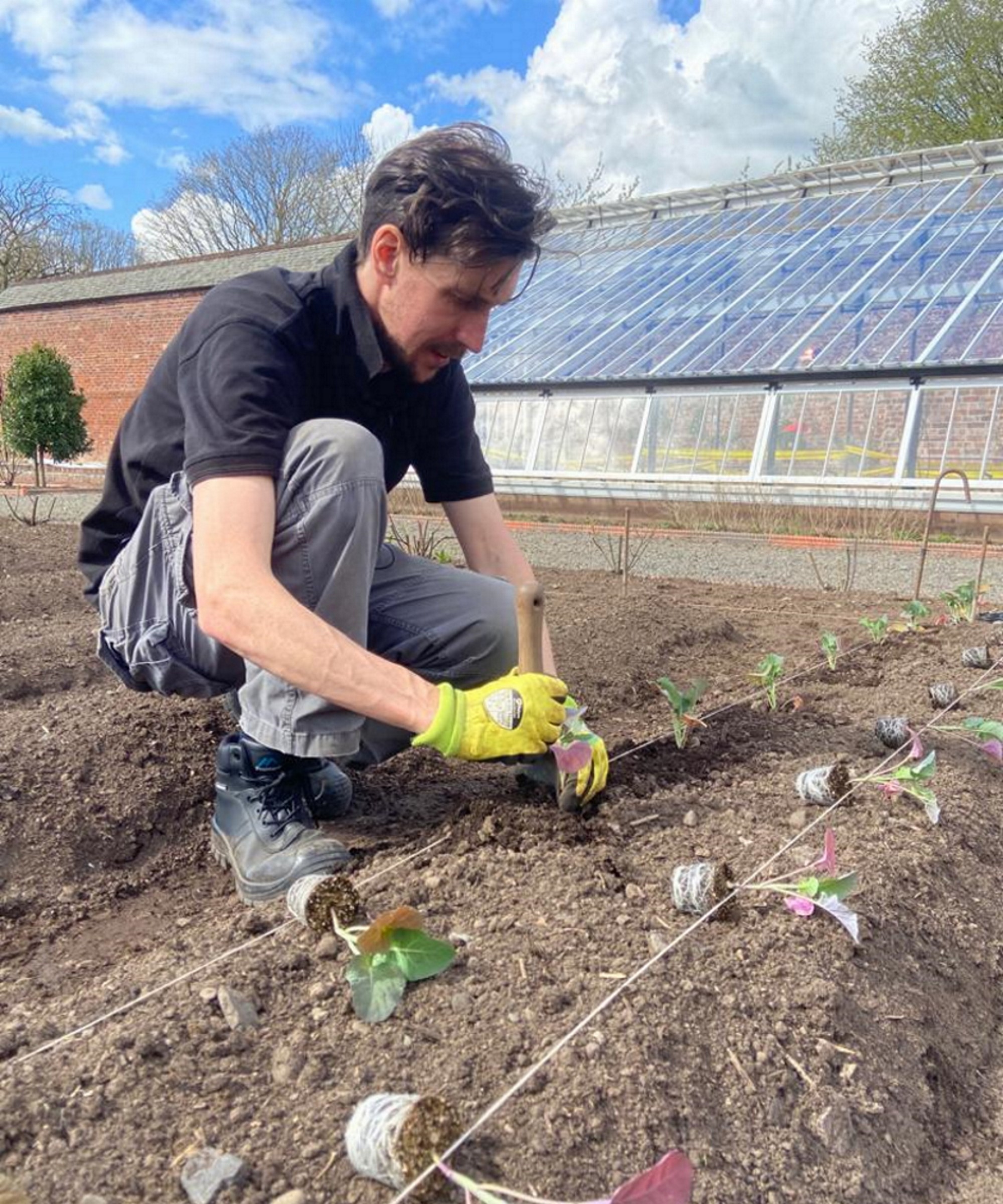 Drew's passion for gardening started with growing vegetables and salad in raised beds in a small urban terrace garden. He has gone on to work as a professional gardener in historic gardens across the UK and also specialise as a kitchen gardener growing vegetables, fruit, herbs, and cut flowers. That passion for growing extends to being an allotmenteer, garden blogger, and producing how-to gardening guides for websites. Drew was shortlisted in the New Talent of the Year award at the 2023 Garden Media Guild Awards.