How to harvest kale so it keeps growing – our experts reveal the ways for maximum cropping
Start from the bottom and work upwards for the longest harvest period possible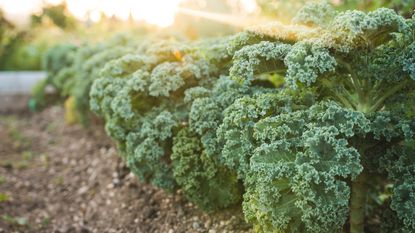 (Image credit: Getty/kovaciclea)
Sign up to the Homes & Gardens newsletter
Decor Ideas. Project Inspiration. Expert Advice. Delivered to your inbox.
Thank you for signing up to Homes & Gardens. You will receive a verification email shortly.
There was a problem. Please refresh the page and try again.
Kale is a nutritious and delicious crop that offers a wealth of options to the grower. It comes in different colors and shapes and is capable of being harvested as a year-round crop.
Growing kale offers versatility, it can be grown as a fast microgreen for a speedy harvest or you can grow it in the vegetable garden to be harvested as baby-sized or full mature leaves. The plants can provide a harvest over an extended period of time and you can crop in a way to ensure that new leaves keep being produced.
During my time as a kitchen gardener, I grew several different types of kale for chefs at a Michelin-starred restaurant in the north of England, including red and green kale and cavolo nero. I have grown kale in several kitchen gardens and on my home allotment too, always picking little and often and making sure never to take too many leaves at a time.
When to harvest kale
Kale can actually be grown and harvested year-round. It is often thought of as a winter crop for the vegetable garden as, along with the likes of growing parsnips and leeks, the cold weather and frosts turn starches in the plants into sugars to sweeten the taste. But kale seeds can be sown in the spring and summer, meaning cropping throughout the summer months all the way into winter and beyond.
Lucy Chamberlain, fruit and vegetable expert for Homes & Gardens, claims that 'kale isn't just a winter crop' and sowings made in April can mean you can harvest kale from July onwards.
'These summer harvests are softer and more buttery than winter leaves hardened by a chill,' she adds.
'Yet the cold-season crop is incredibly valuable. The flavors become more robust and leaves can be harvested well into the spring – that's almost a year of harvests!'
There are different ways to enjoy kale and you can harvest the crop at different stages of its growth. The fastest of these is growing kale as a microgreen, where the seedling is harvested and can be ready to snip in around two weeks from sowing. This can be done year-round indoors or in a greenhouse, provided you can give the seeds plenty of warmth and light in winter months.
If you want to let the kale develop a bit more and enjoy the nutritious leaves young in salads, then the wait is a little longer. However, kale is a very fast-growing vegetable and it is possible to get a first harvest of baby leaves in around 30-40 days.
It may take another few weeks for the kale leaves to mature to full size, which is about the size of your palm. This is the ideal size that you want to be harvesting the leaves at, and palm-sized was always how the chefs I harvested kale for preferred the leaves to be for their dishes. The larger you let the leaves get, the more bitter they taste.
Buy a range of Kale Seeds & Plants from Burpee
Lucy was a Horticultural Advisor at RHS Wisley and has been Head Gardener on a 100-acre estate in England for many years, but writes regularly for titles such as The Garden, Gardeners' World, The Guardian and Amateur Gardening. She's also the author of RHS Step by Step Veg Patch, available from Amazon, which covers 50 types of fruit and veg.
How to harvest kale
Kale is a very simple crop to harvest and you only need to head out to the kitchen garden with basic garden tools. Always make sure that any tools you use to harvest are clean and sharp. This ensures that any cuts you make are clean, meaning the plant is not damaged or left at risk of diseases from jagged, ripped scars. A Pocket Blade Sharpener such as this on Amazon is pocket-sized to take out into the vegetable garden to make sure tools are sharp for harvesting and pruning.
Microgreen kale can easily be harvested with a pair of scissors once the seedlings reach around four inches tall. Take care to gently snip across the seedlings without damaging the delicate crop or taking too much soil with them. Depending on your requirements, and the size of the container you sowed them in, either harvest the entire tray or just a section at a time. In my experience, I found that microgreens could last a week or two in the fridge.
When plants have been planted and grown on for cropping, inspect the leaves for any signs of pest damage, such as tiny holes from caterpillars, or cabbage worms. Make sure to harvest blemish-free leaves, but you can remove damaged leaves or yellowing leaves and use them to make compost.
Using clean and sharp pruning shears, or a harvesting knife, cut the leaves from the plant at the base, close to the central stem of the plant. Take care to remove them gently one by one and avoid pulling hard at the leaves to remove them as this could loosen the entire plant from the soil, or remove it completely.
Harvest kale often to ensure the plant continues producing new leaves. It is better to get regular smaller crops of kale leaves rather than stripping lots of leaves off the plant in one go.
How to harvest kale so it keeps growing
Kale can be harvested over such a long period of time and it is very simple to keep harvesting in a way that ensures the plant keeps growing and gives you more-and-more delicious leaves. Kale will regrow and continue to grow leaves as long as its growing top is not cut.
When you start harvesting kale, begin by removing leaves from the bottom of the plant and taking the outer leaves. Work up the plant as you continue harvesting, taking the older leaves each time. The plant will continue to grow and develop new leaves further up the stem.
Lucy Chamberlain advises to 'pick the leaves little and often, but don't overharvest' and to 'always leave a good sized rosette of foliage at the top'.
If you keep harvesting the lowest leaves, and also removing any damaged leaves as you grow, it will ensure the plant is healthy and keeps producing more leaves. If you go straight in and start removing the smaller top leaves, especially those in the top central rosette, then the plant will stop producing new growth and you will have limited your yield.
FAQs
Will kale come back every year?
Most kale is grown as annual plants, however, you can get perennial varieties of kale. These include Taunton Deane Kale or Daubenton's Kale, which are perennial plants that are hardy to US hardiness zones 6-9 and will give you harvests of nutritious leaves year after year. These plants do not go to flower or produce seeds, and tend to grow higher and wider than usual kale plants.
---
When planning a kitchen garden, kale can offer so much. Not only do the plants look good, but they taste good too. As well as being hardy, kale is versatile, equally at home in a vegetable garden as in borders or being grown as part of vegetable garden container ideas. Take advantage of kale companion planting to lessen any impact of pests or diseases hitting your crops, and that will help you to get the biggest harvest from your plants.
Sign up to the Homes & Gardens newsletter
Decor Ideas. Project Inspiration. Expert Advice. Delivered to your inbox.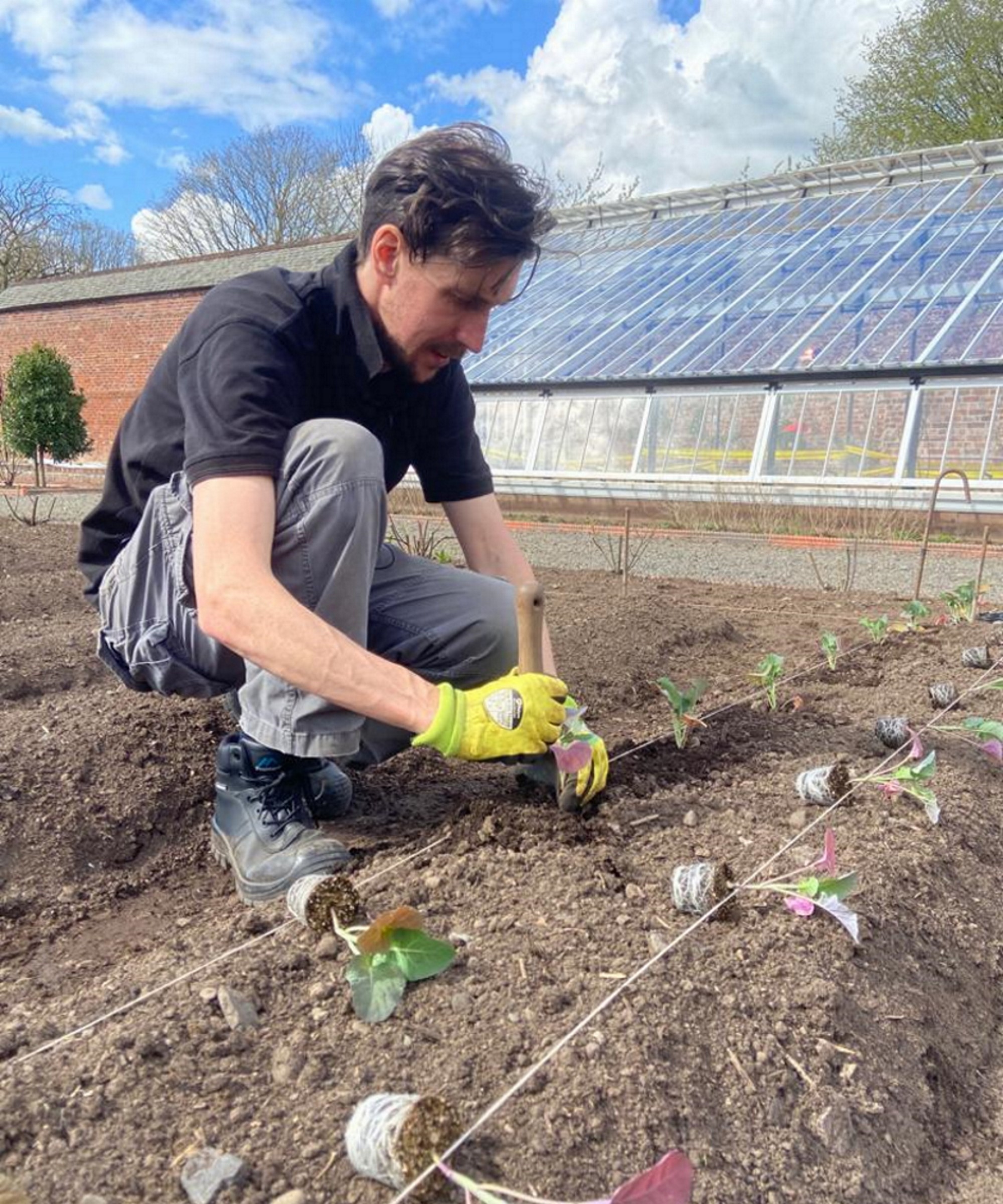 Drew's passion for gardening started with growing vegetables and salad in raised beds in a small urban terrace garden. He has gone on to work as a professional gardener in historic gardens across the UK and also specialise as a kitchen gardener growing vegetables, fruit, herbs, and cut flowers. That passion for growing extends to being an allotmenteer, garden blogger, and producing how-to gardening guides for websites.