Mexican orange blossom care and growing guide – expert tips for choisya shrubs
With their strong fragrance, beautiful flowers and leafy foliage, choisya shrubs are a worthy addition to any planting scheme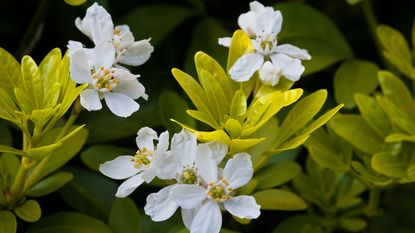 (Image credit: Trevor Chriss/Alamy Stock Photo)
Choisyas, also known as Mexican orange, or Mexican orange blossom, are attractive evergreen shrubs for milder climates. There are about seven species that mostly grow wild in Mexico but also in Arizona, Texas and New Mexico.
All develop into rounded, sometimes noticeably dense, evergreen shrubs clothed in attractive fingered foliage. The leaflets are sometimes long and broad, sometimes more narrow and slender. The tips of the branches and nearby side-shoots carry clusters of white scented flowers in late spring and early summer. Often, flowering will continue through the summer, or the spring flowers will be followed by a second burst in early fall. 'The combination of glistening white flowers against the dark green foliage is spectacular,' says Michael Dirr in his best-selling book Trees and Shrubs for Warm Climates.
The flowers have a strong fragrance that is sometimes compared to orange-blossom and, when crushed, the leaves are said to smell of oranges. At the same time, these comparisons are sometimes seen as overoptimistic. The fragrance of the flowers, however, is delicious and attracts many bees. Mexican orange blossom is impressive as a specimen or in a group, makes an excellent informal flowering hedge, is a good foundation evergreen and also appeals as a container specimen.
Graham has a wealth of knowledge in all things horticulture. He trained at the prestigious Royal Botanic Gardens in Kew, England, and since then has written more than 20 books on plants and gardening. He gardened in Pennsylvania for 20 years, but has recently returned to his native England where he continues to write and offer expert tips on growing everything from flowers to evergreen shrubs such as Mexican orange blossom.
Mexican orange blossom: key facts
Plant type: Evergreen shrub
Mature size: 4-10ft
Soil type: Rich, but well-drained
Soil PH: Neutral, acid
Site: Sun, partial shade, shade
Time of year to plant: Spring
Flowering time of year: Late spring, early summer, and beyond
Flower color: White, pink. Fragrant
Foliage color: Green, yellow, gold
Hardiness zones: USDA 7-10
Scientific name: Choisya
Common name: Mexican orange blossom
The different kinds of Mexican orange blossom
Mexican orange blossom falls conveniently into two groups. There are green-leaved species and varieties that are grown mainly for their fragrant flowers, and varieties with colored foliage for impact all year round.
Mexican orange blossom for flowers The most widely grown, and the most reliable, of these flowering shrubs is Choisya ternata, available from Monrovia. Growing wild over much of Mexico, this is a drought tolerant plant, with a preference for well-drained conditions. The individual flowers are 1.5in across, and gathered into clusters of up to six flowers at the shoot tips and upper leaf joints.
The Arizona orange blossom, Choisya dumosa, has a much more limited wild distribution in southeast Arizona, southern New Mexico and west Texas as well as Mexico. It features pretty, slender, green foliage. Pink buds open to three or four white flowers. 'Aztec Pearl' and Snow Flurries ('Lissflurry') are prolific hybrids between these two species with a profusion of well-scented flowers, slender foliage and neat habit.
Mexican orange blossom for foliage Some of the best varieties of Mexican orange blossom have golden foliage. This ensures that the plants bring your yard a sunny look all year round. Sundance ('Lich'), available from Monrovia, was the first of these colorful evergreens to arrive on the scene and has become widely popular. It has now been joined by 'Aztec Gold' and Goldfinger ('Limo'), both of which feature narrower, more delicate looking yellow foliage on neater plants as well as fragrant spring flowers.
How to use Mexican orange blossom in your yard
In USDA Zone 6, Mexican orange blossom will need winter protection to protect plants from frost. Go for Choisya ternata, grow it as a container specimen and move it into a sheltered, protected place, such as a screened porch, for the winter. Even in Zone 7 it may not always survive the winter.
Narrow leaved types, with their more delicate green or gold foliage, are less vigorous and look better when grown as part of a container garden but are also less winter hardy.
The winter protection offered by the house when choisyas are grown as foundation planting is ideal, choosing green or gold, broad-leaved or narrow leaved to suit the situation and nearby plants. Narrow-leaved varieties also make very attractive low, informal hedging plants.
Plant as a specimen, or in small groups, and keep in mind that the spring fragrance is an important feature so choose a site near a garden path or gateway where the fragrance will be appreciated. Choisya ternata and its varieties have the boldest look, are more vigorous than the finer leaved type and develop into larger specimens.
Where to grow
The stronger and more intense the sun, the more shade Mexican orange blossoms will take and even appreciate. Conversely, in cooler areas, they will be happy in full sun. Golden-leaved varieties always develop the best coloring in full sun and in too much shade the growth will tend to become thin and weak. Narrow-leaved varieties are naturally tolerant of more sun than those with broader leaves.
Mexican orange blossoms will not tolerate waterlogged conditions but, once established, the narrow-leaved types in particular are drought tolerant. Shelter from early morning late winter sun helps prevent damage to the shoot tips as they thaw.
If you're searching for an ideal plant for pots, all will grow well in containers, but those with narrow leaves, green or gold, make more appealing container specimens. It is essential that container-grown specimens are lifted on pot feet to allow excess moisture to drain away and prevent waterlogging.
How to plant
In zone 7 and 8, plant as soon as possible after the last frost in your area. This will give the plants a whole season to settle in and become established before their most testing time of the year, winter, arrives. In zone 9 and 10, fall planting also works well.
Spring planting is advisable in exposed situations, where winter winds may create movement at the root and delay establishment. Root growth is stronger, and establishment quicker, in spring.
No special planting treatment is necessary, so plant in the same way that you would plant any evergreen shrub. Start with a hole twice the size of the plant's pot, mix in some homemade compost or bagged garden soil from the garden center into the base of the hole and into the soil you've removed. This will add extra richness to the soil.
Plant so that the soil from the plant's pot is level with the garden soil. Water in well, then mulching with 2in of bark or other weed-free mulch will help to suppress weeds and reduce drying out.
Care tips
Mexican orange blossoms are not fussy plants. They rarely need pruning, usually developing an attractive rounded shape without attention. However, if yours is damaged, by a branch breaking off a nearby tree, for example, then some discreet tidying up and re-shaping will improve the look of the plant enormously.
Deadheading is not necessary, but definitely improves the look of the plants, although this is easier on container-grown plants and foundation plantings than mature plants in a low maintenance garden border. Cut the fading flower heads off just above the first or second leaf below the flower cluster.
It is wise to irrigate during dry spells in the plant's first summer, until it develops a more extensive root system. Replace your chosen type of mulch every year or two and, if growth seems slow, feed with Rose-Tone (available from Amazon) or another general shrub fertilizer every month in spring and summer.
Ensure that choisyas in containers do not dry out. Although they can tolerate drought, in persistent dry conditions growth will cease and your choisya will begin to look increasingly ragged. Feed with liquid fertilizer such as Bloom! every two or three weeks.
Taking cuttings to get more free choisya shrubs
The best way to make more Mexican orange blossoms is to take plant cuttings, and late summer is the best time.
Select side shoots about 3-6in long and snip them off with sharp pruners.
Recut just below a leaf joint, then snip off the leaves on the bottom half of the cutting.
Choose a 5in plastic flower pot that has drainage holes in the base and fill loosely with a 50:50 mix of bagged potting mix and grit. Tap the pot on the table to settle the compost.
One by one, make a 2in deep hole in the compost with a pencil, dip the base of each cutting in rooting hormone (available at Amazon) and drop it into the hole.
Set five or six cuttings in the pot. Tap the pot on the table again to settle the compost, water until it leaks from the drainage holes.
Put a Ziploc bag, upside down, over the cuttings, secure the bag with a rubber band, and stand in a cool bright spot.
Remove and replace the bag to water every week, keep cool and the cuttings should root by spring.
Move them on into individual pots for a few weeks before planting out.
Common problems and how to solve them
The most common problems with Mexican orange blossoms are caused by the wrong growing conditions. For example, wet soil will cause root rot resulting in weak growth, loose rooting and death. Poor light will cause thin weak growth. So choosing the right site when first planting your choisya is crucial, and this may vary a little according to whether you garden at the cold end of its range, zone 7, or in zone 8-10 where choisyas are more comfortable.
If your plant is damaged by winter frost, wait until spring and then use your pruners to snip out the damaged growth. At the same time, take the opportunity to balance the plant's shape. Even if all the top growth is killed by frost, Mexican orange blossoms will often grow new shoots from the roots.
Slugs sometimes eat the fresh young spring growth. In extended hot and dry conditions spider mite, which produces grey cobwebs of growth and speckled foliage, may cause problems. But the aromatic oils in the leaves deter most pests.
How to buy
Green-leaved Choisya ternata and its yellow-leaved variety Sundance are by far the easiest to find in walk-in nurseries and garden centers. Offered in gallon containers (or larger, more mature specimen are sometimes offered in much larger containers), or balled-and-burlapped – dug up from the nursery with plenty of dirt on the roots and wrapped in burlap for transport and sale.
Other varieties including 'Aztec Gold' and Goldfinger may be found in two gallon containers in high end garden centers, but mail order is the way to go for the best choice.
You can buy Mexican orange blossom shrubs at Monrovia.
FAQs
Are Mexican orange blossoms deer resistant?
Mexican orange (choisyas) are among the most deer resistant of all evergreen shrubs. Their foliage is packed with aromatic oils, a feature of many deer resistant plants. Deer prefer food that is very bland, that tastes of nothing, so they tend to avoid plants whose leaves have a strong taste – this is why they often avoid herbs such as rosemary and sage.
Of course, especially in winters with unusually deep snow and when food is very hard to find, deer may sample your choisyas. But, usually, they should be safe.
Are choisyas native?
The most widely grown choisya, Choisya ternata, is not native, it grows wild in south west Mexico. However, Choisya dumosa grows wild naturally in Arizona, Texas and New Mexico and is a valuable drought tolerant native shrub. It has passed this tolerance of dry conditions on to varieties of which it is a parent including 'Aztec Pearl', Snow Flurries, Goldfinger and 'Aztec Gold'.
In fact, these neat growing shrubs with their fragrant flowers deserve to be grown more widely in drought gardens and in water-wise plantings.
When should I clip my choisya hedge?
Choisyas bloom mainly in late spring and early summer, although in mild climates they may also flower in early fall, and in between. So the best time to clip is in summer, soon after the main flowering is over. Use an electric trimmer, or a hand trimmer or hand shears. This will encourage fresh new growth that will often flower again in late summer or early fall.
Be aware of rainfall immediately after trimming. If it remains dry, irrigate your Mexican orange blossom hedge so that the roots have enough moisture to power new growth.
Sign up to the Homes & Gardens newsletter
Decor Ideas. Project Inspiration. Expert Advice. Delivered to your inbox.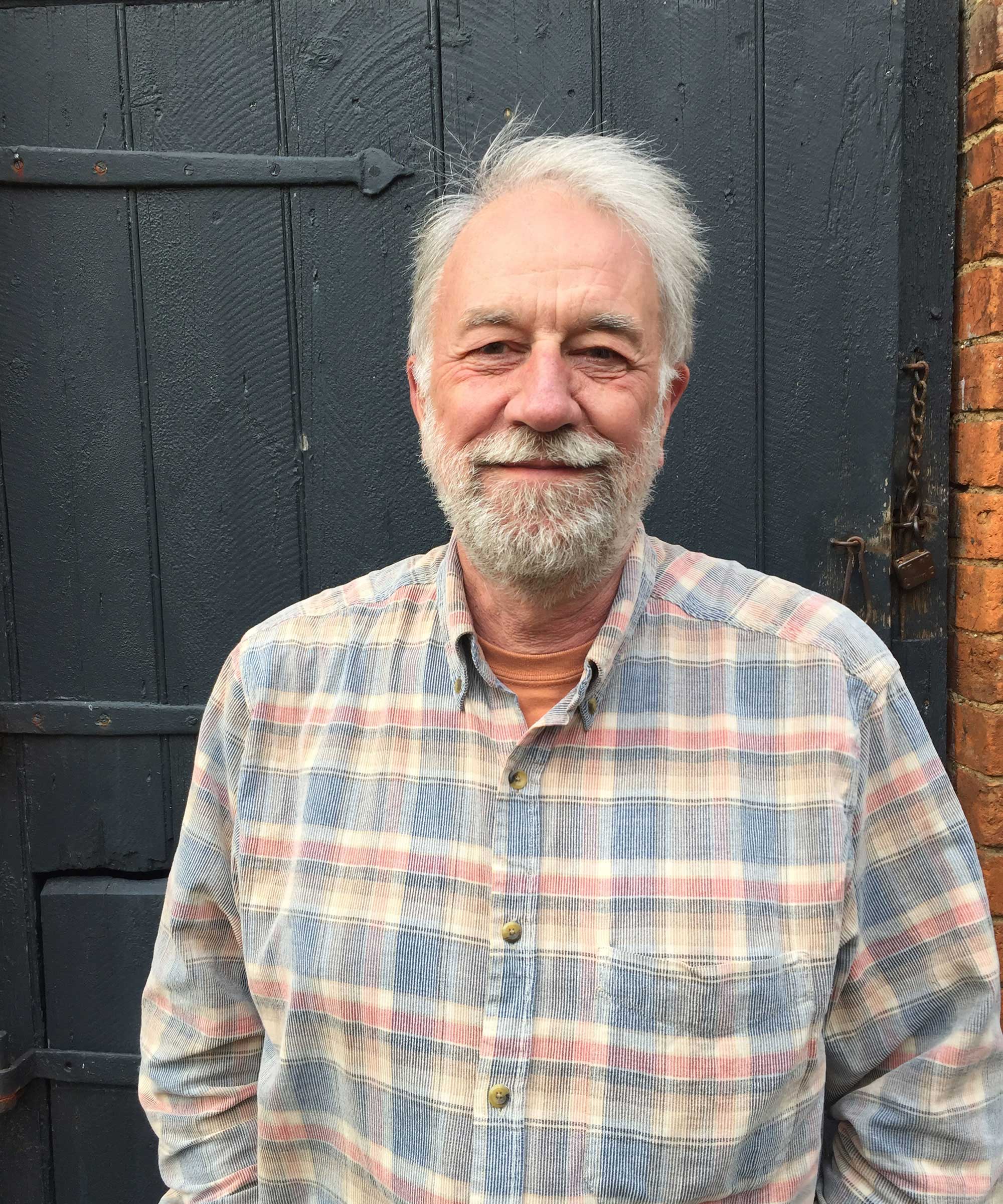 Graham Rice is a garden writer who has won awards for his work online, and in books and magazines, on both sides of the Atlantic. He is a member of a number of Royal Horticultural Society committees and the recipient of the 2021 Garden Media Guild Lifetime Achievement Award. He gardened in Pennsylvania for 20 years, but has recently returned to his native England.