Planting bulbs in fall – 12 ways to plant bulbs for year-round color to your yard
Learn how planting bulbs in fall can pep up pots and borders for color-filled months to come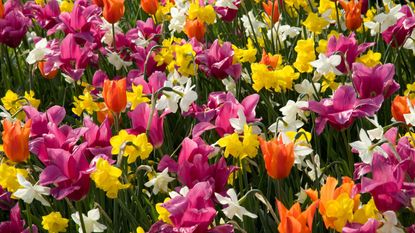 (Image credit: Alamy)
Sign up to the Homes & Gardens newsletter
Decor Ideas. Project Inspiration. Expert Advice. Delivered to your inbox.
Thank you for signing up to Homes & Gardens. You will receive a verification email shortly.
There was a problem. Please refresh the page and try again.
Planting bulbs in fall is a seasonal gardening ritual and deeply satisfying task. From the minute dormant bulbs appear online or on retailer's shelves, many of us green-fingered types are drawn to the promise of growing something new and a colorful show of blooms for months and years to come.
Spring bulbs, such as cheery narcissi, classy tulips, alliums and delicate snake's head fritillaria are just some of the spectacular bulbs that need to be planted during the next month or so, but just how do you plant bulbs, what to choose and when exactly will they flower?
Well, the good news is that by following a few simple pointers you can grow and enjoy a dazzling display. Get to know when to plant bulbs, and how deep, how tall each type grows, and when they flower, to plan beautiful and truly bespoke combinations. Hugely versatile, these homeyard favorites will happily thrive in borders, planters, window boxes and raised beds too, so make the most of them and cram them into every planting opportunity.
Planting bulbs in fall
Celebrate the change of season by planting bulbs in fall. The perfect pick-me-up to the arrival of cooler days and longer nights has to be planning which stunning blooms to grow for the following year – and not just for spring; you can plant summer bulbs, too.
'We recommend you purchase your bulbs as soon as they come into store or become available online to ensure you get the best selection,' says Dan Dunbar, Hillier Bulb Expert. 'Take your bulbs home and store them somewhere dry and cool until you're ready to plant them. Smaller bulbs, like galanthus (snowdrops), dry out quickly so plant them as soon as you can after purchase.'
1. Narcissus and daffodils
The cheery harbingers of spring narcissus and daffodils are easy going and never fail to raise a smile. Reliable performers, most varieties will continue flowering from early February through to May, year-after-year with very little care and attention.
'Daffodils are the most cost effective, pest-free, long-term perennial plants available and make wonderful companions with other bulbs, perennials, annuals and flowering shrubs,' say bulb specialists Brent and Becky Heath. 'They grow in almost all areas of the United States as long as there is a discernible winter.'
Fantastic as cut flowers and mostly pest-free, they are best grown in a sunny spot in soil that has been enriched with compost. Plant daffodil bulbs at three times the bulb depth.
Varieties vary widely from miniature daffodils such as 4in (10cm) tall Heart-to-Heart through to the stately 'Dutch Master' which stands at 20in (50cm) high. Many blooms are deliciously fragrant – look for Poeticus Narcissi 'The Bride' and 'Actaea', while 'Minnow' and 'Tete a Tete' are showy multi-stemmed beauties, that flower early and mid-spring respectively.
2. Tulips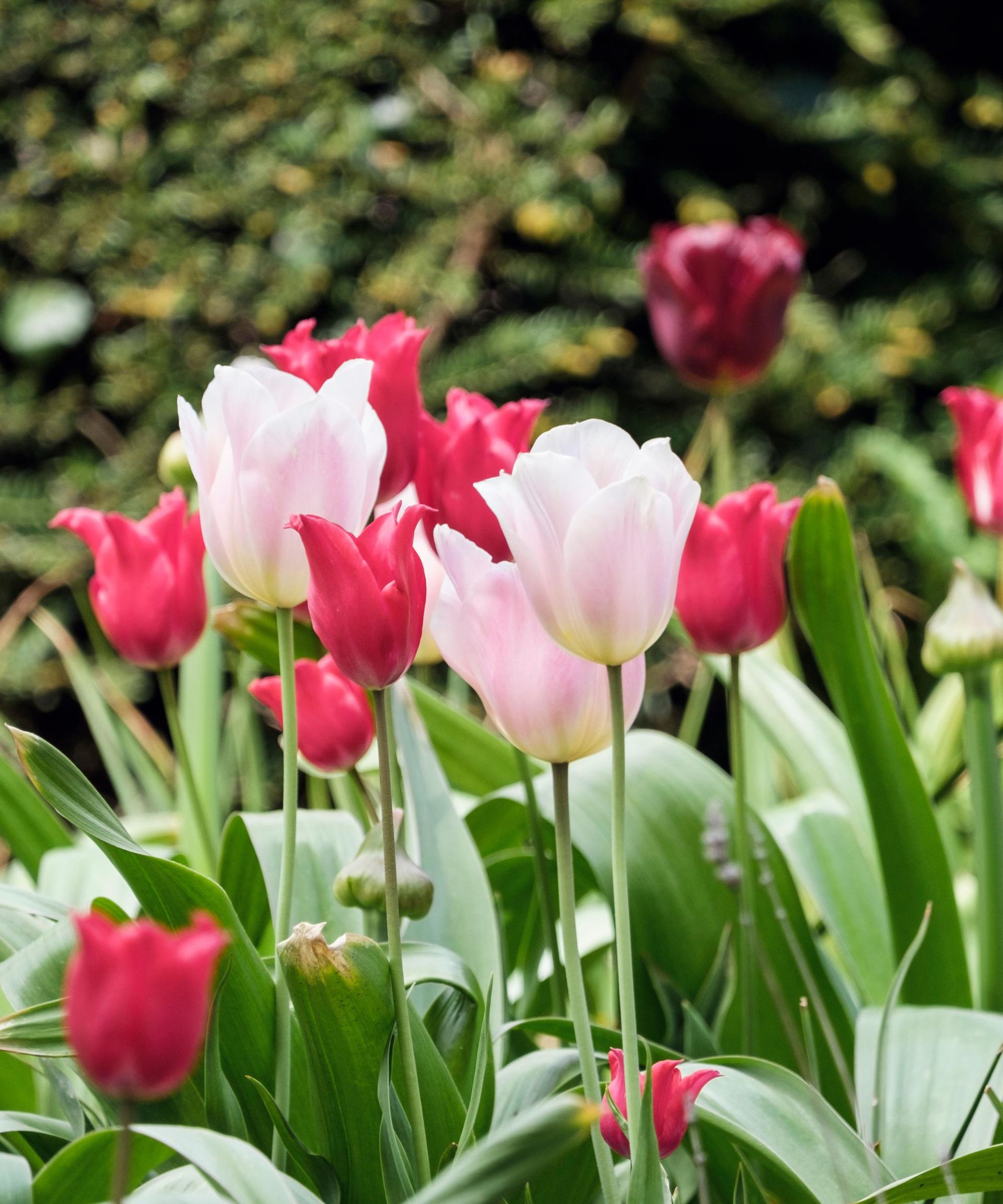 Perhaps the most iconic flowering bulbs, tulips dazzle with their endless flower shapes and spectrum of color. Easy going and extremely long-lasting, they put on a spectacular show in pots, window boxes and borders every spring from March through late May.
Highly prized and proudly traded in Europe during the late 16th century as luxury items, these favorites never fail to please. Chris Ireland-Jones of Avon Bulbs explains: 'Some love simple flowers but the breeding of tulips for cut flowers in particular has led to an ever-widening selection of colors, color mixes and flower shapes.
'Choose between ruffled petalled (the Parrot Tulips), Fringed where the edges of the petals are frilled as though cut with pinking scissors, lily flowered with elegantly longer and flared petals forming a vase like shape and the traditional single and double petalled forms.'
Like most flowering bulbs, tulips thrive in zones with cold winters – USDA zones 3-8. Annabelle Jones from the UK's renown Whichford Pottery says 'Tulip bulbs can be planted in pots from early fall. We use a good peat-free multi-purpose compost and plant the bulbs a few inches apart at least three times the depth of the bulb. We always cram in as many bulbs as possible and often layer with other spring bulbs, like narcissi and crocus, growing up through stylish arrangements of winter-hardy plants, like Myosotis, Erysimum and Violas.'
She also adds, 'Use deeper pots for tall varieties, saving shallower pots for shorter varieties.'
Plant tulip bulbs in the ground right through to late November. Planting during colder temperatures can help prevent fungal diseases which can linger in the soil when it is warmer.
3. Allium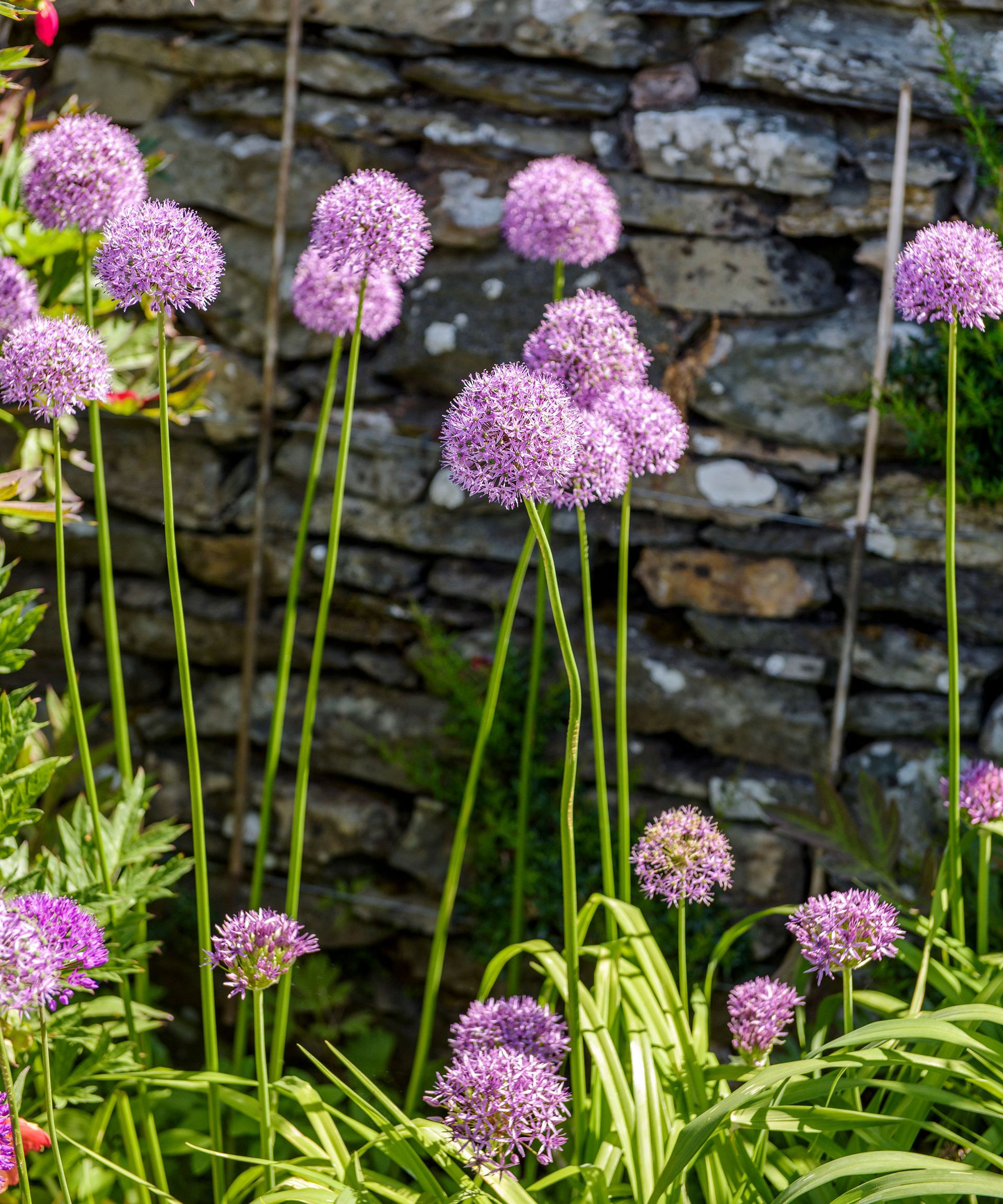 'With striking, globe-shaped blooms alliums are real showstoppers.' says Marcus Eyles, Horticultural Director at Dobbies. 'They typically flower in late spring and are great for big pots or middle of a border of ground cover plants.'
Best planted in October, they are trouble free, loved by pollinators and add plenty of height, color and personality to the garden. They also make dramatic and long-lasting cut flowers.
Closely related to garlic, shallots and leeks there are alliums or 'ornamental onions' with blooms of many different shapes and sizes. 'Purple Sensation' is a classic choice with straight stems measuring 24-30 inches (60-76 cm) tall topped with 3-4 inches (7.5-10cm) diameter spherical blooms in late April – May.
Fancy a flowering giant? 'Globemaster' is credited with producing the largest flowerheads during June and July. Reaching 6 inches (15cm) across they are truly majestic, improve year-on-year and repeat flower too. Other unusual alliums to look out for include unruly and mop-headed allium 'Hair'; the pointy allium 'Red Mohican' and the white explosion that is allium schubertii 'Artic snow'.
Just like their blooms, allium bulbs vary in size. As a rule, plant at a depth of roughly four times the diameter of the bulbs. Space smaller bulbs 3-4inches (7.5-10cm) apart and large with an 8 inch (20cm) gap between them. Eyles also adds, 'When buying bulbs choose ones that are firm and remember the bigger the bulb the better the flower.'
They prefer free draining soil in a sunny spot, where they can remain undisturbed.
4. Grape hyacinth
Flowering prolifically from March to April, grape hyacinths (aka Muscari) create a dense carpet of intense blue or white blooms set against lime green leaves. Lovers of moist yet well drained soil and a sunny or part-shady spot, they reliably appear year-after-year and have a pesky habit of taking over if you let them. One solution is to grow them as container gardening ideas to limit their spread, but they are also very easily lifted and divided after flowering, if grown in borders or along paths.
Standing at just 6 inches (15cm) tall, these miniature blooms are best grown in clumps or drifts. Plant around 3 inches (8cm) deep and apart. Will thrive in HDSA zones 4-9.
5. Ranunculus
Also known as Persian Buttercups, these multi-layered, cup-shaped flowers flourish best in sunny spots that are not too hot. Sitting atop of soft, ferny foliage they bloom from late May through June and reach heights of 7-10 inches (20-30cm), making them perfect for the front of borders or pots. They also look stunning displayed on a tabletop or indoors as a cut flower.
In fall, plant these tubers outside in HDSA zones 8-10. Known as claws – thanks to their unusual and distinctive shape – plant them 'eyes up, claws down' 2 inches (5cm) deep and 4 inches (10cm) apart.
6. Trumpet lily
Hardy in HDSA zones 5 to 9 and best planted in early fall, trumpet lilies or lily longiflorium make a striking statement in large pots or in amongst perennials in a border. Producing a dozen or more large trumpet style blooms on a 5 to 6 feet (1.5m- 1.8m) tall stem during May and June, these fuss-free plants are star performers. Their delicious scent is a magnet for many pollinators and hummingbirds and is particularly enchanting during the evening.
Grown from tubers, roots of this lily type are produced both from the base and stem so plant at a depth roughly two-and-a-half times the height of the bulb. To care for Easter lilies, place in a semi-shady spot and incorporate plenty of grit into the soil to ensure good drainage. Sit tubers on their flat base with the pointed tip of the bulb scales pointing upwards.
7. Crocus
Whether you have room for a single pot or far-reaching carpet of flowers, crocus never cease to impress. Coming in all shades from purest white, golden yellow through to deep purple, these miniature charmers provide plentiful pollen and nectar for bees and, of course, highly prized culinary saffron.
When to plant crocus? Plant spring-flowering crocus throughout the fall for a continuous display. Begin planting in September working through to November to guarantee an early spring show that will last for several weeks. This will encourage the dry dormant bulbs to put out and develop roots while the soil is still relatively warm, before colder temperatures arrive. Amber Williams from Bulb specialists J. Parkers says, 'These bulbs and corms are quite small and should be planted in well-drained soil around two to three times their depth. That's about 4-6 inches (10-15cm).'
The early crocus or Crocus tommasinianus are the best choice for naturalizing in the lawn. Plant them en masse in a sunny, open spot and watch how they multiply and gradually spread in subsequent years. For containers, opt for bold varieties with larger cup shaped flowers such as 'Jeanne d'Arc' and purple-lilac 'King of the Striped.'
8. Hyacinths
An early spring favorite for many, hyacinths always impress with their highly fragrant and intricate blooms. Ideal for planting in baskets, pots or clustered together in a border they create a lavish display March through to April.
These bulbs need a period of at least three months where temperatures remain cool between 40° to 45°F (4° to 7°C), which makes them suitable for growing outside in HDSA zones 3 to 9.
Plant outside from September through to November in sunny spot that enjoys free draining soil. As sizeable bulbs they need to be placed around 4 inches (10cm) below the soil surface and spaced 3 inches (8cm) apart. Do wear gloves when handling hyacinth bulbs though as they can cause skin irritation.
9. Camassia
Originating from the North American prairies, Camassia bulbs put on a stunning show from May through June. Frost hardy and suited to HDSA zones 4-8, they love a moist, humus rich soil but hated standing in waterlogged spots. Instantly recognizable for their starry spires of bright blue blooms, that gradually open from base to tip, they make a stylish statement in any springtime yard.
Plant these bulbs in full sun or part shade, where they can grow undisturbed for several years. Place 3-4inches (8cm) below the soil's surface, spaced 7 inches (20cm) apart.
10. Fritillaria imperialis
Although there are many different species of spring flowering fritillaria to choose from, the most recognizable has to be Crown Imperial. Standing at around 30 inches (80cm) tall they have a ring of bright yellow, orange or red bell flowers crowned with curious green spiky foliage. Majestic and speedy growers, in HDSA zones 5-9, they flower during April and May before dying back right down to ground in early summer.
Plant these tall bulbs deeply – around four times the height of the bulb – in free draining soil. Flower bulb triallist Sarah Raven also says that, 'the large concave types, like the crown imperials are better planted on their sides so that they do not fill with water and rot.'
11. Snake's head fritillary
With their delicate bell-shaped flowers hanging from pin-straight, slender stems in April and May, you can't fail to be bewitched by a group of snake's head fritillary. Standing at 6 inches (15cm) they work well grouped at the front of a border or grown in a shallow planter.
Often naturalized into a grassy spot or meadow area, their plum, white and burgundy blooms dazzle against a swath of lush green grass. Plant specialist and triallist Sarah Raven says, 'These bulbs can be naturalized in grass but make sure you don't cut the foliage until June/July. Avoid disturbance and never cut them right down because they may stop flowering. Top dress annually with manure.'
Unlike many flowering bulbs these prefer a moist soil in full sun or dappled shade and are happier in clay rather than free draining chalk or sand. Plant 3-4 inches (8-10cm) deep and 4-6 inches (10-15cm) apart.
Exceptionally handy down to temperatures of 14°F (-10°C) they will happily grow outside in HDSA zones 4 – 8.
12. Iris reticulata
Available in icy shades of white and palest blue through to intense purple and blue, Iris reticulata always provide a welcome long-lasting show in early spring. Whether grown in pots or in clumps by the front entranceway, you can't fail to overlook their gorgeous scent and what's more, as long as they have a sunny spot in free-draining soil they will reliably perform for years on end.
Iris reticulata bulbs are best planted in October and closely together at 4in (10cm) apart and 3in (7cm) deep. Their tiny size makes them ideal for layering in a container amongst other spring flowering bulbs. Will thrive in USDA zones 5-8.
What if I forgot to plant bulbs in fall?
Try and plant spring flowering bulbs as soon as you buy them but if they get overlooked don't panic. There are a few pointers you should look for to help decide whether they are still healthy and worth planting. The team at Phostrogen explain, 'A healthy bulb should be dry, with no leaves or roots beginning to grow before it is put in the ground. The longer you wait to plant them, the more likely it is that they'll struggle to flower next season!'
You can, of course, look to force bulbs for an earlier showing, too.
Where to buy fall bulbs
You can buy the fall bulbs at your local nursery; ask for guidance if you need help. Otherwise, shop online for the best places to buy plants. These include: Lowes Garden Center, Home Depot's Garden Center and Burpeefor the best buys.
Sign up to the Homes & Gardens newsletter
Decor Ideas. Project Inspiration. Expert Advice. Delivered to your inbox.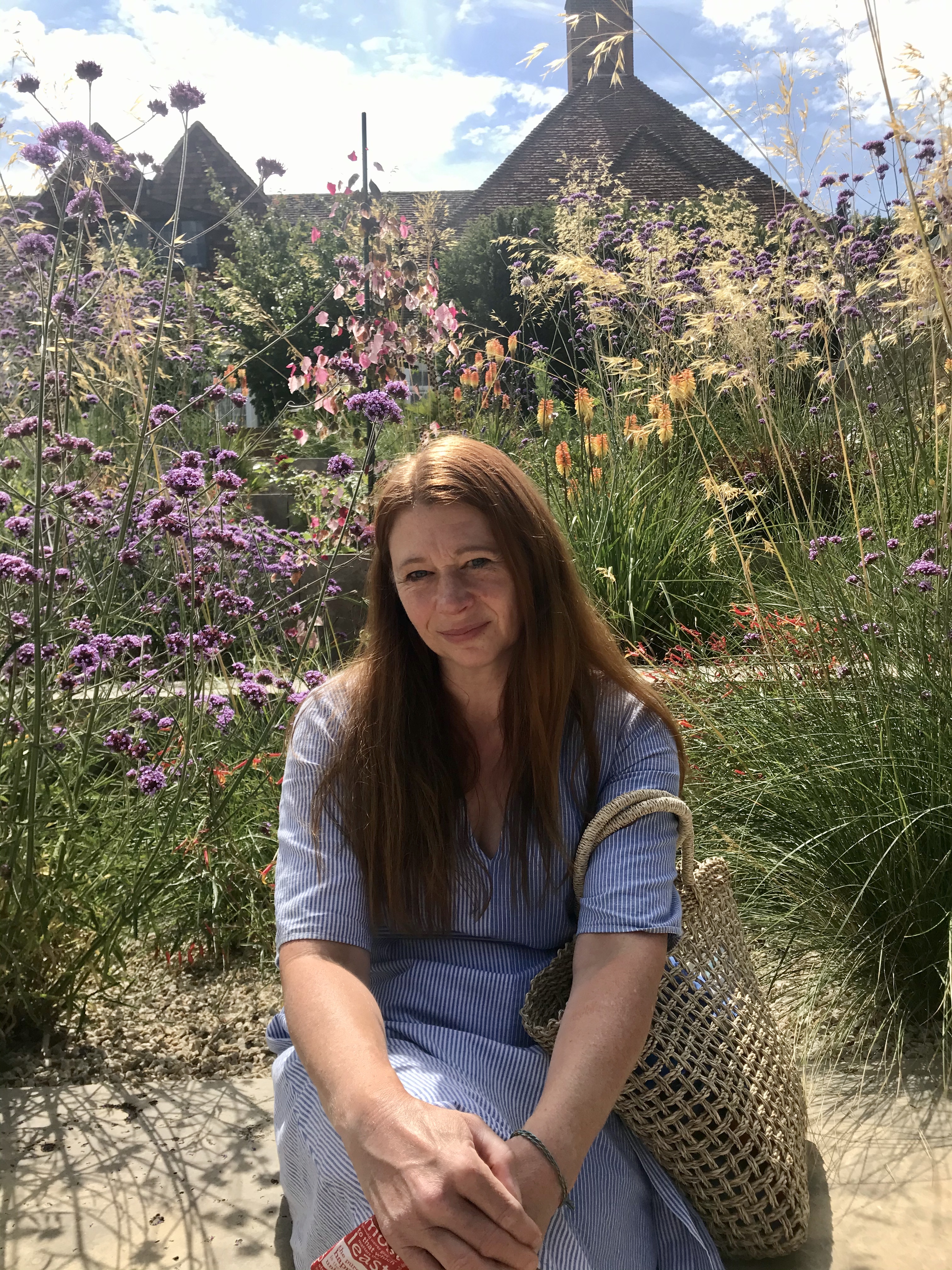 Jill Morgan has spent the last 20 years writing for Interior and Gardening magazines both in print and online. Titles she has been lucky enough to work on include House Beautiful, The English
Home, Ideal Home, Modern Gardens and Gardeningetc.com. Although much of her career has involved commissioning and writing about reader homes and home improvement projects, her
everlasting passion is for gardens and outdoor living, which is what she writes about for Homes & Gardens.