When to plant spring bulbs – for spectacular flowers
Plan a beautiful garden display with these tips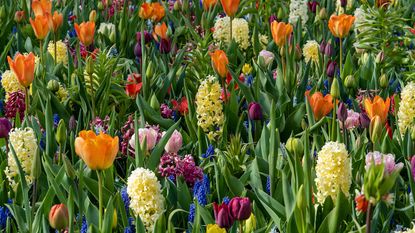 (Image credit: iBulb)
Knowing when to plant spring bulbs is essential if you want to enjoy a spectacular floral show in your garden when winter comes to an end.
Whatever spring bulbs you choose, the correct time to plant is in the fall – whether you're putting together bulb lasagnas in containers, planting up pots for your porch, or adding them to borders.
Time it right, and you can enjoy a cheery carpet of snowdrops and crocuses once the temperatures begin to rise, followed by golden daffodils, colorful tulips, fragrant hyacinths, and more. What better way to give your spring garden a boost?
When should I plant spring bulbs?
Hardy spring bulbs need a period of winter cold to grow and flower the following year, which is why it's important to plant them in the fall. The exact month in which you should plant them will largely depend on your USDA plant hardiness zone: in warmer climates, plant slightly later in the fall. For instance, in zone 5, most bulbs can be planted between September and October, while in zone 8, plant in November.
'It should be noted that tulips should go in slightly later than other bulbs,' says Holly Crossley, a gardening expert at Homes & Gardens. 'Get them in the ground towards the end of fall or even early winter, before the ground has frozen. Doing so greatly reduces the risks of them developing a disease called tulip fire, which makes the leaves look scorched and twisted.'
If you've missed the chance to plant your bulbs in the fall, you can always fill up a spring container or a small flower bed with ready-grown plants, Holly adds. 'These appear in garden centers from early spring to be planted out straight away. However, growing from bulbs is a more inexpensive method, especially if you want to fill large areas of your yard with flowers.'
A former professional gardener and allotment-grower, Holly now spends her days writing about plants and outdoor living for Homes and Gardens, caring for her large collection of houseplants, and drawing her favorite blooms. Spotting spring flowers fills her with joy after the long winter months, and she particularly loves discovering new varieties of tulips to swoon over.
FAQs
When should you plant bulbs in pots?
Plant bulbs in pots at the same time as they would be planted in the ground: in the fall. Ensure the soil is well-draining, the pot is raised up on pot feet (available from Amazon), and plant the bulbs closer together than you would if planting them in borders for a full and dramatic display.
Creating a bulb lasagna is a popular method for containers and again, these can be planted in the fall. The bulbs are planted in layers, with the smallest and earliest flowering bulbs at the top, and later flowering bulbs, such as hyacinths and alliums, planted deeper into the soil. The result is a display that offers months of flowers, as when some go over, others come up and take their place.
Can you plant bulbs at any time of year?
'Spring bulbs need a period of dormancy to bloom, while summer bulbs do not. Planting at the wrong time of year can result in the bulbs not blooming or producing fewer blooms than usual,' says Stephen Webb, the founder of Garden's Whisper.
'However, if you live in an area with a mild climate, you may be able to get away with planting bulbs at other times of the year.'
My spring bulbs have bloomed earlier than expected – will they survive?
Sometimes, mild winters can result in spring bulbs flowering earlier than usual. Whether they will survive or not all depends upon the garden's microclimate, says John Negus, a gardening expert from Amateur Gardening magazine.
If a hard frost is forecast, cover flowers with fiber fleece, removing it when the temperature rises, he advises.
As editor of Period Living, Britain's best-selling period homes magazine, Melanie loves the charm of older properties. I live in a rural village just outside the Cotswolds in England, so am lucky to be surrounded by beautiful homes and countryside, where I enjoy exploring. Having worked in the industry for almost two decades, Melanie is interested in all aspects of homes and gardens. Her previous roles include working on Real Homes and Homebuilding & Renovating, and she has also contributed to Gardening Etc. She has an English degree and has also studied interior design. Melanie frequently writes for Homes & Gardens about property restoration and gardening.