Podocarpus care and growing guide – expert tips for these coniferous trees
Podocarpus is an on-trend evergreen conifer that works well with most backyard styles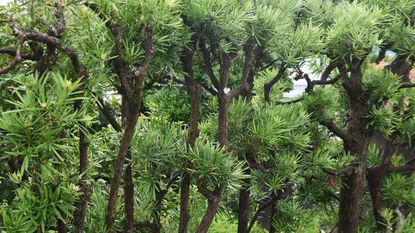 (Image credit: undefined undefined/iStock/Getty Images Plus/Getty Images)
Sign up to the Homes & Gardens newsletter
Decor Ideas. Project Inspiration. Expert Advice. Delivered to your inbox.
Thank you for signing up to Homes & Gardens. You will receive a verification email shortly.
There was a problem. Please refresh the page and try again.
Podocarpus is a conifer that's caught the eye of garden designers in recent years. Its characteristic fine, narrow foliage has an elegant feel, and it's been seen at garden shows in contemporary planting schemes, alongside dwarf pines and cryptomeria.
Members of the podocarpus genus come in different sizes, colors, and foliage shapes, so can be used as privacy trees, specimen trees, ground cover plants, and more. There are varieties that suit all sorts of backyards, provided you're in USDA zones 7-11. Some are reminiscent of pine and yew, others of willow, hence the common names of Japanese yew, willow-leaf podocarp and Buddhist pine. They're all low-maintenance and can tolerate a range of environments.
Podocarpus key facts:
Types of podocarpus
Podocarpus is the second largest conifer genus after pines, with over 100 species. A good range of podocarpus varieties are suitable for growing as backyard trees and shrubs, from ground-covering varieties that only reach 3ft high to lofty specimen trees that get to 15-20ft and beyond.
Here are some varieties to consider:
How to use podocarpus in your backyard
Podocarpus is a super versatile evergreen tree when it comes to planting schemes and styles. Just make sure it's positioned somewhere that gets sun for most of the day and where there's shelter from cold winds.
It blends well in mixed borders with other plants that enjoy similar growing conditions such as ceanothus, nandina, hebe and acacia. Its narrow evergreen foliage and naturally bushy habit work particularly well with jungle-themed gardens alongside cannas and palms, and in Japanese garden schemes with bamboos and acers.
You can also use podocarpus to hide an unsightly fence. It grows moderately fast, so it's not a hedge-in-a-hurry like arborvitae. But, it's worth the wait, as the foliage is so lovely. Begin pruning when plants have been in the ground for at least a year, clipping in spring or midsummer to keep plants nice and bushy.
When left unpruned, podocarpus are superior specimen trees for shade. They'll eventually grow up to be tall trees, so if you're not planning on doing any pruning, ensure you have a large enough yard for them. 'Their evergreen foliage is ideal screening against neighboring second-story windows, and it's a nearly litter-free tree for swimming pool areas and driveways,' says Monrovia Plants Nursery. The American Conifer Society suggests removing the lower branches when growing it as a specimen tree to reveal the attractive light brown bark.
With pruning, or by selecting shorter varieties like Podocarpus 'Maki', it's a superior choice for smaller suburban backyards, too. In contemporary settings it looks particularly good as a multi-stemmed tree or cloud pruned, and partners up well with other modern plants like phormium, festuca grass, senecio and asparagus ferns.
The hardier dwarf podocarpus are great trees for small gardens and for those at the outer reaches of its growing range (USDA zone 7). Dwarf podocarpus are suitable for rock gardens, patio pots, at the front of the border or as ground cover and can be used to make a very good low hedge, says Ashwood Nursery. 'Naturally growing into a low dome-shaped mound, they can be easily trimmed into shape (much as you would trim yew), best carried out in spring for maximum foliage effect.'
When, where and how to plant podocarpus
Early spring and early fall are the best times to plant conifers. Fall is preferable, as the soil is still warm from summer. Avoid planting anything when the soil is frozen or during hot, dry weather.
The ideal location would be an area where the plant receives six hours of sunlight per day. The experts at Caerhays Garden in Cornwall, UK, which has the national collection of podocarpus, says 'greens will do best with some shade but the colored leaf forms perform best in full sun.' Your chosen site should also have average to well-drained fertile soil with average moisture.
'If the soil in the planting area is compacted, dig it over to loosen it,' says the RHS. This will encourage the conifer's roots to spread out. With heavy or sandy soils, dig in organic matter such as garden compost around the planting area (not in the planting hole) to improve the soil's structure.
When planting, the point where the roots flare out from the stem should be level with the surrounding soil. On container-grown plants, scrape away the compost from the top of the rootball to reveal this point. If planting a hedge, space plants 3ft apart.
Podocarpus plants have the special advantage of naturally occurring nodules on their roots that help the plant store nitrogen. So, they'll grow even in the poorest soil conditions where nitrogen is deficient (nitrogen is what keeps plants looking healthy and green). Because they're not heavy feeders, podocarpus will thrive without additional feeding. However, the RHS recommends applying a general-purpose granular feed (available on Amazon) in the spring for optimum performance.
The conditions podocarpus doesn't like are thin chalk, cold, drying winds, waterlogged soil and too much shade. If the plant is grown in too much shade, it will become leggy (long and thin) and won't grow as dense.
How to make more podocarpus
Podocarpus are very easy plants to propagate from cuttings. These should be taken in late summer to early fall, when the new growth has matured but not fully hardened off.
It can take as little as four months before the cuttings will root and be ready to pot on. This is much quicker than many other evergreens (including camellias) which take six to eight months to callous and root properly.
Break off a 6- to 9-inch-long piece of new growth. Strip off the foliage growing along the bottom half of the stem.
Dust the bottom inch with hormone rooting powder (available on Amazon) using a small paintbrush or cotton swab.
Put the cutting into a small pot of moistened sandy compost, pushing it in to about half the length of the cutting. Place it in a propagator that has a lid and a heated bottom.
After several months have passed, tug gently at the cutting to check whether it has rooted, and when it has, pot on into fresh compost.
Common problems with podocarpus
Apart from the risk of cold winters to some of the Chilean and South African species, podocarpus are as risk-free as almost any conifer genus, says the experts from Caerhays Garden.
This may be due to the resilience and hardiness which results from their nodular root systems, they explain. 'Like all conifers, podocarpus are very susceptible to spray drift (from pesticides), but that's about it.'
Are podocarpus fast-growing trees?
No, these are not fast-growing trees, as they only put on between 6-12in a year. However, most get tall eventually so it's wise not to plant them too close to the house where they might grow up to the eaves or block the light to upstairs windows. Their roots are not particularly invasive and don't push through sidewalks or patios, meaning you can plant them near walkways or structures.
Happily, their size can easily be kept in check with regular pruning, and, as mentioned, they're great for turning into hedges or topiary.
Where to buy podocarpus plants
Fancy introducing a podocarpus to your backyard? These quicklinks will help start your search.
Sign up to the Homes & Gardens newsletter
Decor Ideas. Project Inspiration. Expert Advice. Delivered to your inbox.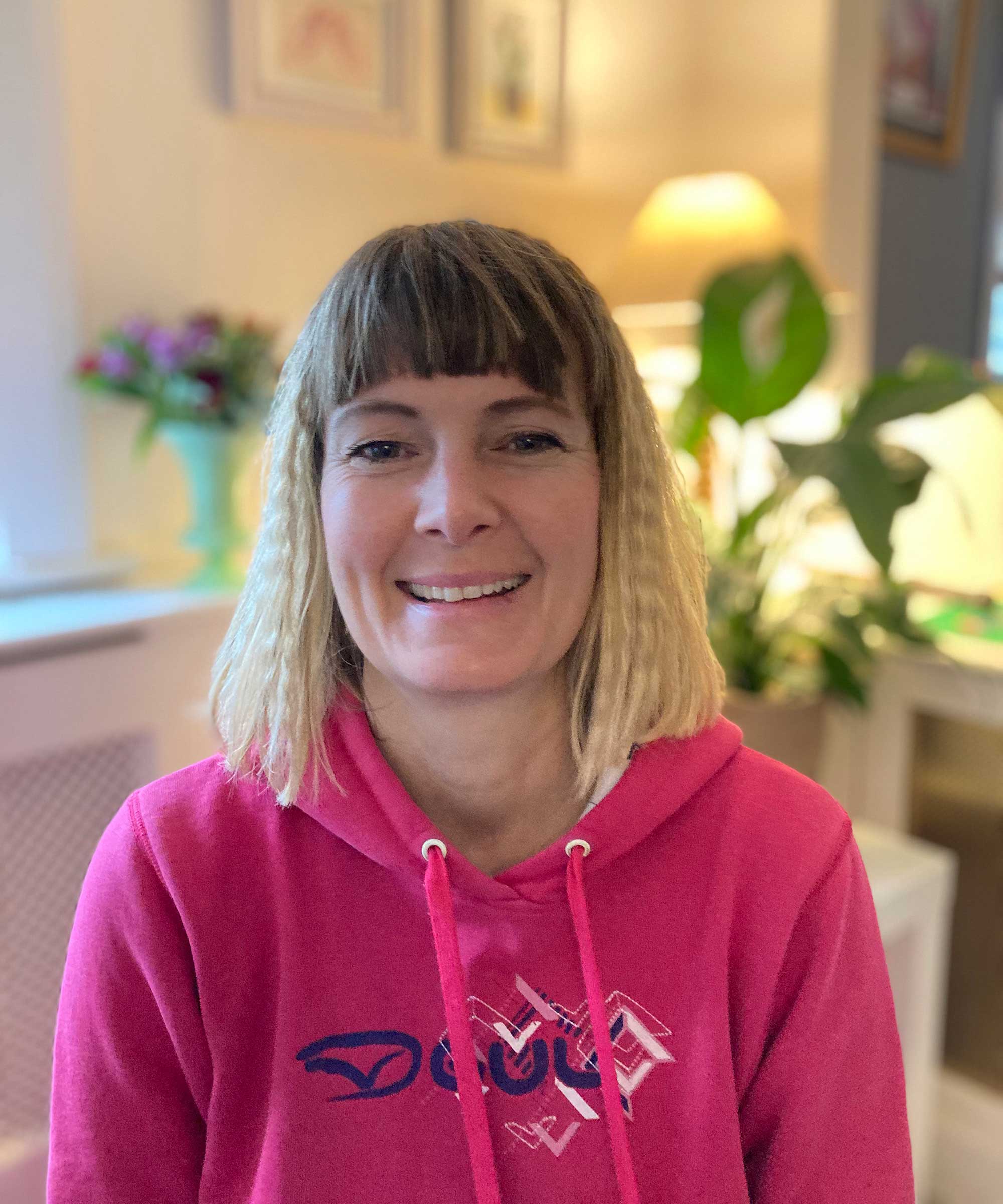 Working at a garden center when she was 23, Sally realized straight away the therapeutic power of being around greenery and nurturing plants. She's horticulturally trained to degree level and has worked on gardening magazines for over a decade. Sally now gardens in Bournemouth, UK, zone 8a.